My mother-in-law, God rest her soul, must've been horrified when she figured out her son was in love with a Yankee. She tried her best to Southernize me — with marginal success. After 24 years as a Southern resident, I think I'm fully entrenched, (Big Daddy would likely debate that) but just to make sure that I had a constant reminder, she bought me a subscription to Southern Lady magazine and he's continued it.
She's been gone for a couple of years now, but to this day, I have warm thoughts of her as I page through it. I'll admit, I (now) thoroughly enjoy reading it and many of the recipes and decorating tips within its pretty photos of magnolia trees and blue and white dinner tables. Most issues I read and recycle, but there's one issue that I've hung onto for more than 3 years because I thought the teacake recipe on the cover looked delish. I finally made it last month and ever since I've become completely obsessed with it.  I've been coming up with excuses to make it again and again because it's DELICIOUS, and you can make the little cakes look real purty. See?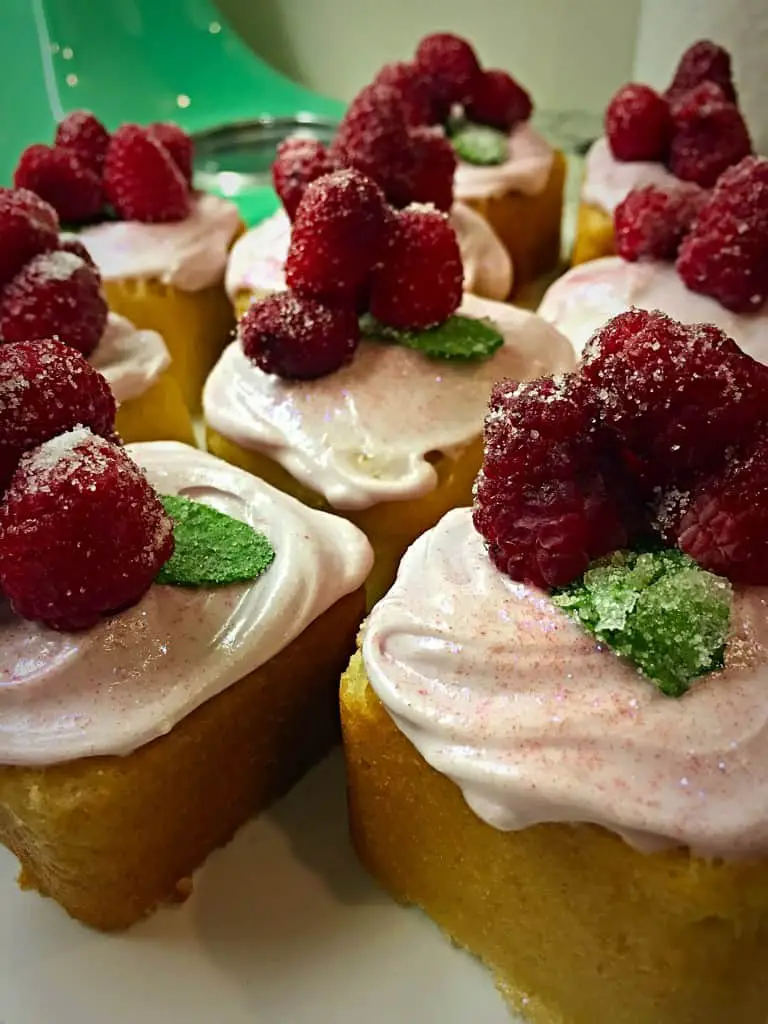 My family loves them so much, they serve as meal replacements in our house. I even made the recipe once as the crumb coat for a homemade marshmallow fondant covered cake. OMG, it was the best tasting cake I've ever made.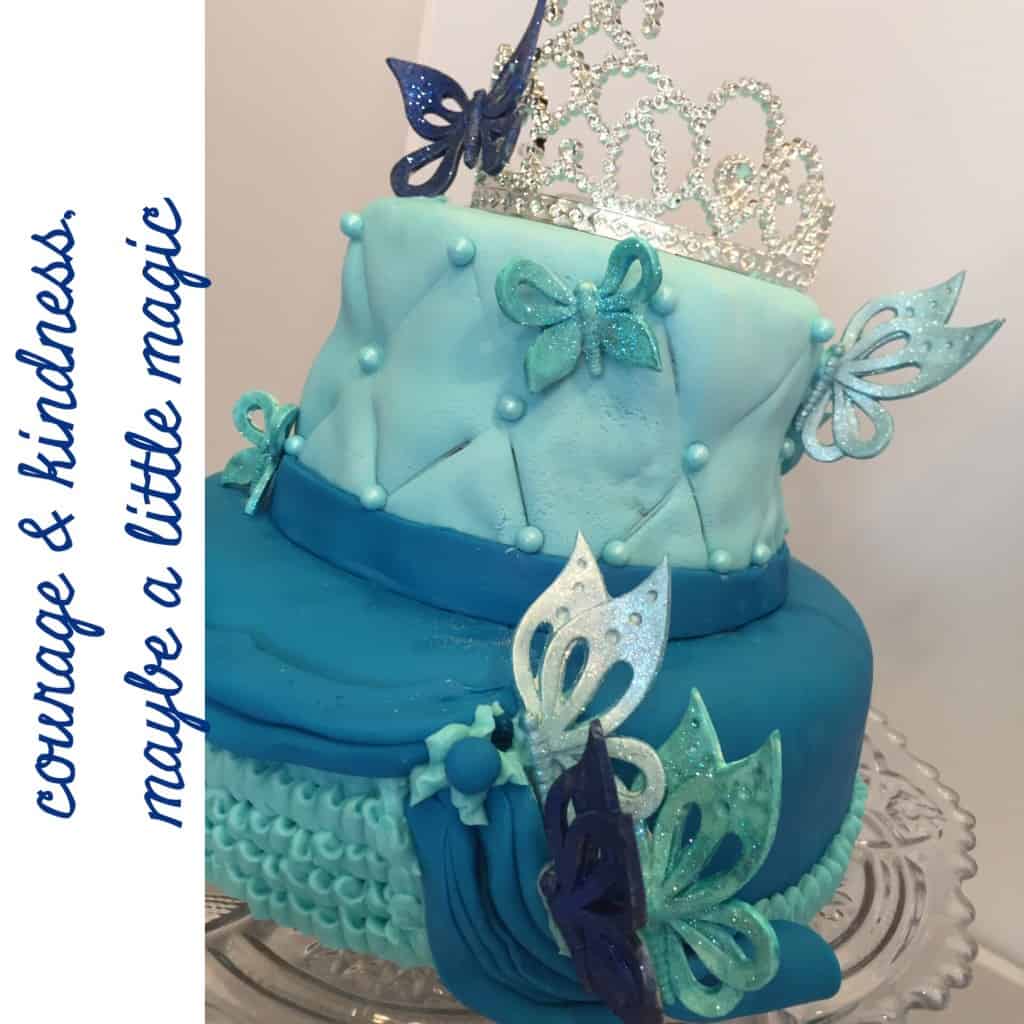 I have a few tips if you make this recipe, so pin this page and come back to it when you're ready to make the best cake ever.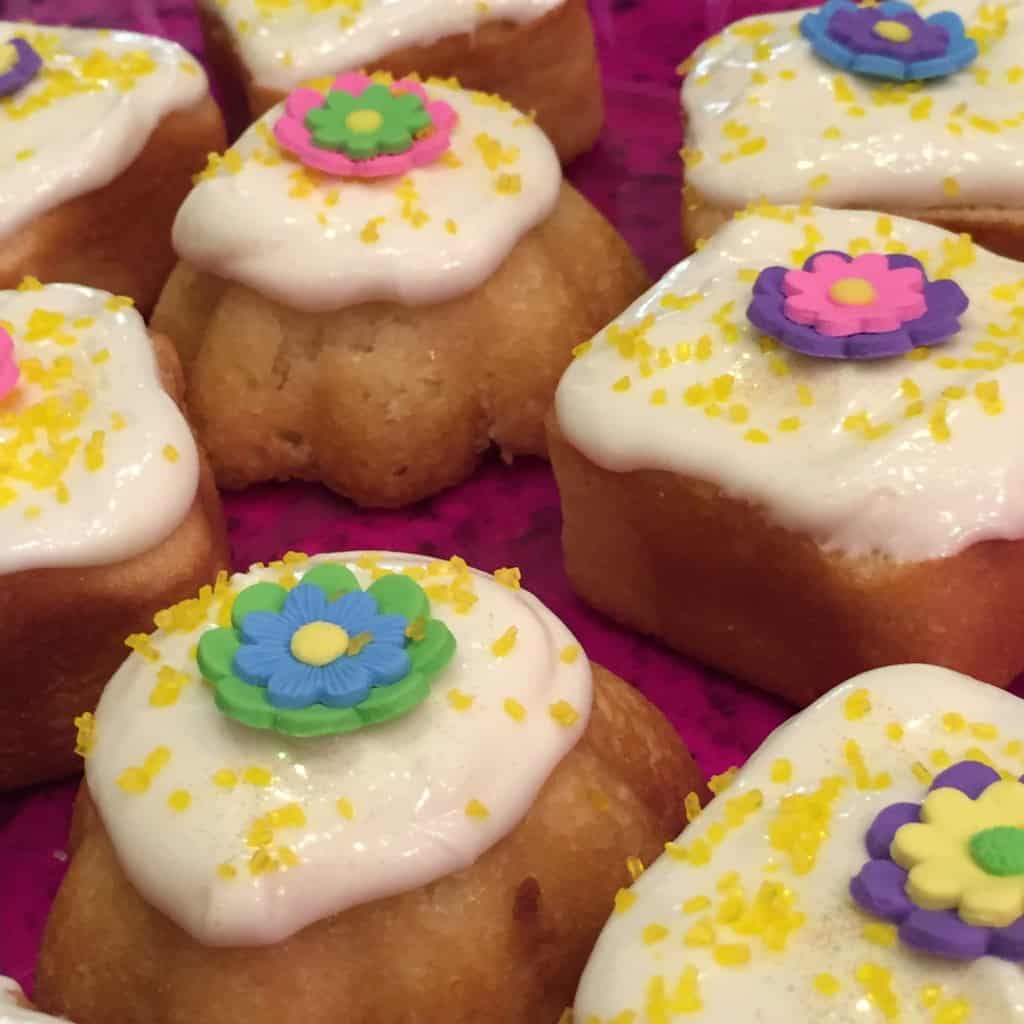 Trista's Favorite Southern Tea Cakes Recipe
From Southern Lady Magazine, February 2012
What you need:
1 cup butter, softened
2 cups sugar
4 large eggs
2 teaspoons vanilla extract
3 cups all-purpose flour
1 tablespoon baking powder
1/2 teaspoon salt
1 cup whole milk
1/2 cup sour cream
Cream Cheese Frosting
Sugared fruit or other decorations
 What you do:
Preheat oven to 350 degrees. Spray a 13 x 9 inch baking pan with nonstick baking spray with flour. (I use a petit four pan or other shaped mini pans, although I have also made this in different size rounds)
In a large bowl, beat butter and guar at medium speed with an electric mixer until fluffy.
Add eggs, one at a time, beating well after each addition.
Beat in vanilla.
In a medium bowl, combine flour, baking powder, and salt.
Gradually add flour mixture to butter mixture, alternating with milk, beginning and ending with flour mixture. Beat until well combined.
Beat in sour cream.
Spread batter evidently into prepared pan.
Bake for 35 to 40 minutes (less if you are using mini pans — I always bake for less than the given time anyway) or until a tooth pick inserted in center comes out clean. Cool in pan on a wire rack for 10 minutes. Remove from pan, and cool completely on wire rack.
Trim 1/2 inch off each side of cake. Level cake by using a serrated knife to trim off rounded top. Cut cake into 3×2 inch pieces. Spoon Cream Cheese Icing on top of each cake piece. Garnish with Sugared Fruit, Mint and Zest if desired.
TIME OUT: Here's what you need to know about this cake.
IF you make the sugared fruit, you need to eat it that day because the fruit doesn't keep. In fact, if you don't stuff it all in your face, just take the fruit off and toss it if you don't eat them.
The cake frosting has cream cheese and milk in it. You CAN leave it out for a couple of days (we have many times and lived to tell) but most people will tell you to refrigerate it, but KNOW that if you refrigerate it, you need to bring it to room temperature before you serve it and it will dry it out a bit. This is a REALLY REALLY moist cake, but the fridge sucks that out of it and makes it not obsession-worthy.
When I used this cake to make this birthday cake with fondant on top, as soon as the cakes were cool I wrapped them in press and seal plastic wrap and froze them. That kept the moisture inside and they were perfect.
Okay, here are the rest of the recipes you need to make this heaven on a plate.
Cream Cheese Icing
Makes 2 cups
What you need:
1 (8 oz) package of cream cheese, softened
2 cups confectioners' sugar
1/4 cup whole milk
What you do:
Ina  medium bowl, combine cream cheese and confectioners' sugar and beat at medium-low speed with an electric mixer until smooth.
Beat in milk.
Spoon over cake.
Sugared Fruit, Mint and Zest
What you need: 
1 egg white
1 tablespoon water
Fresh raspberries, blueberries mint sprigs
Sugar
Lemon zest
Orange zest
What you do:
In a small bowl, whisk together egg white and water. Using a small paintbrush, brush fruit and mint with egg white mixture. Sprinkle with sugar, shaking off excess. Place on a baking sheet lined with parchment paper to dry. Toss lemon zest and orange zest in sugar to coat.
Place of baking sheet to dry.
ENJOY!