I am a sucker for all things shabby chic, vintage, upcycled, boho… you name it. When I learned the LOOT Vintage Market was coming to Market Hall this past weekend, I cleared my calendar to make that shopping event happen.
Fueled by Starbucks, the Cupcake and I were off on our morning adventure to the shabby "sheep" market. In case you didn't have a chance to go yourself, I am going to show you some photos and highlight our favorite vendors that were there. I gathered that these cool vendors frequently exhibit at lots of shows in the area, so if you like what you see, you can follow their social media to find out where they'll be next.
We were barely in the door to hear the live music when I started dropping dough on shoes. These lovelies from Sbicca Vintage were screaming "BUY ME because your Fall boots are on backorder at Nordstroms and these will see you though."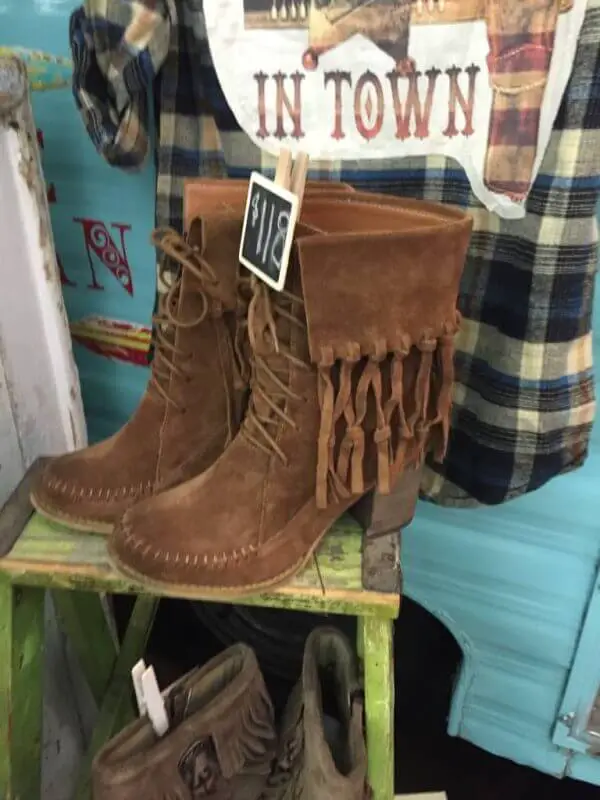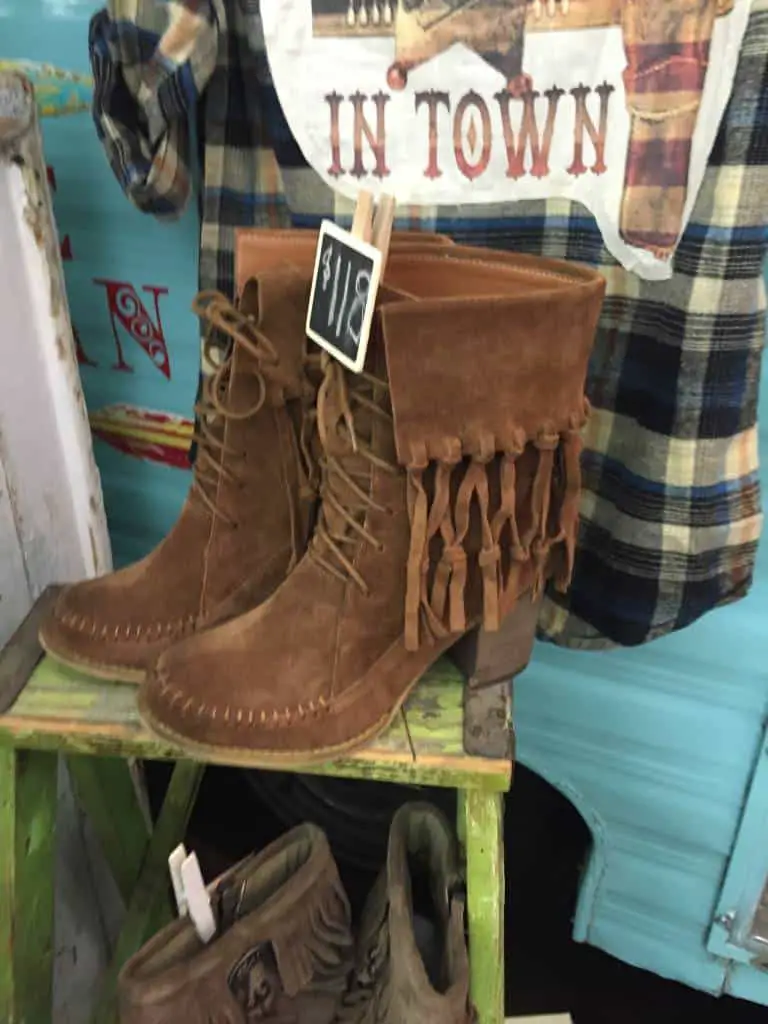 Sounded logical, so… I did. I can't wait to wear them with my jeggings and long sweaters. Hurry up fall weather.
Actually, this was my favorite booth at the show, The Brave Bohemian (thebravebohemian.com). The clothes were ridiculously rad and even the other vendors spoke of their awesomeness.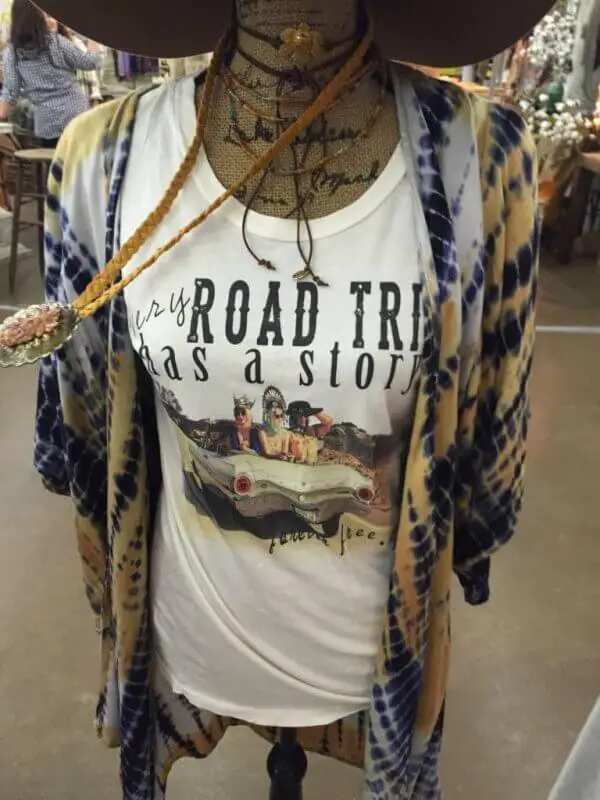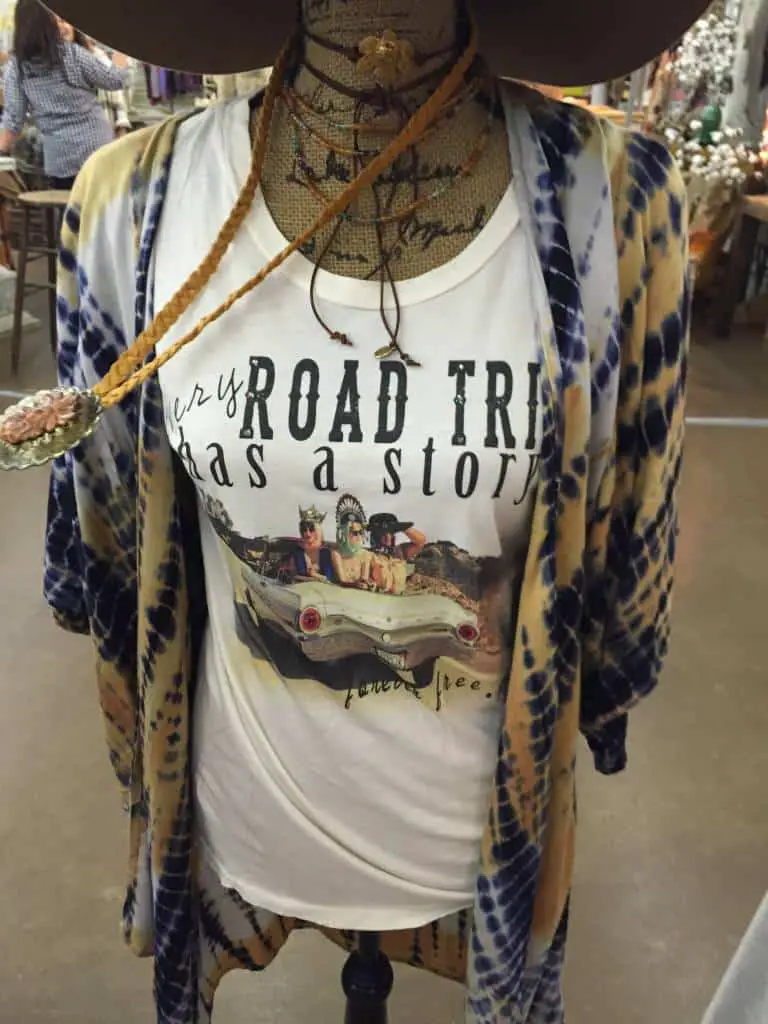 There was a flannel shirt duster that had my name on it but since I was only 5 minutes fresh into the market, I decided to pace myself. I've since been to their website and put it in my cart and I may be adding some of these Indian inspired shirts to wear before the weather turns cool.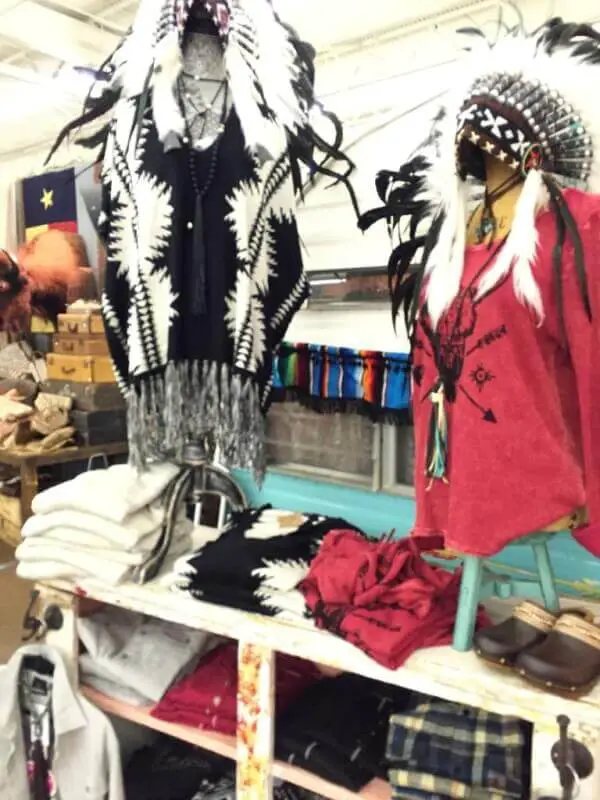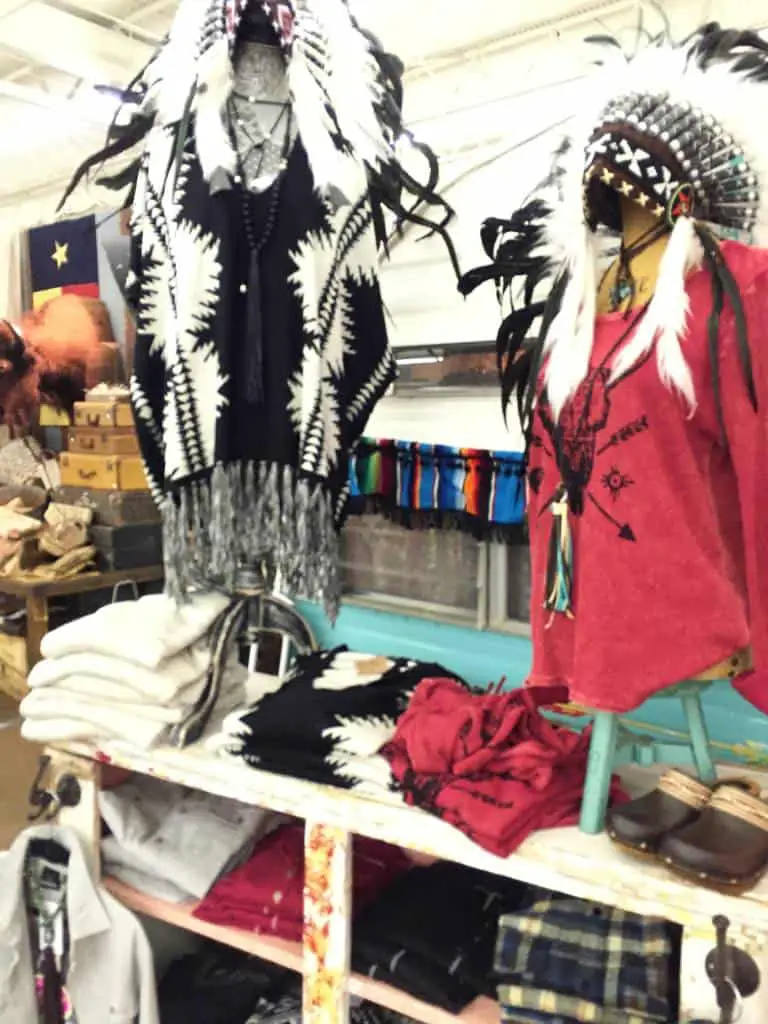 Sorry the photo is crap. Sometimes I feel like they wouldn't want me taking photos so I try to do it all stealth-like and snap it before my iPhone can focus. #bloggerissues
They had some stinkin' cute girls' versions of these clothes too – but the Cupcake wanted boots JUST LIKE mine so we were off to see what else we could find.
Next up, I grabbed up this fringe tank shirt from The Charming Arrow Boutique, "where uptown chic meets southern charm."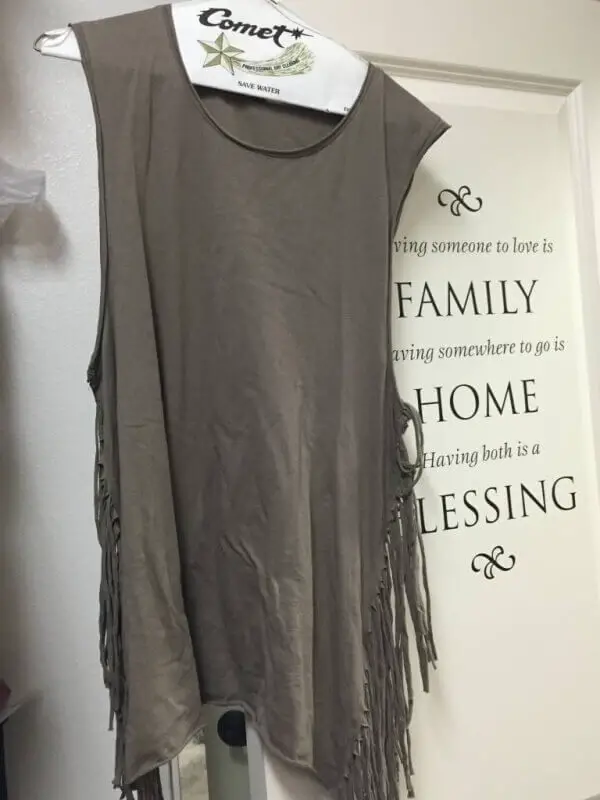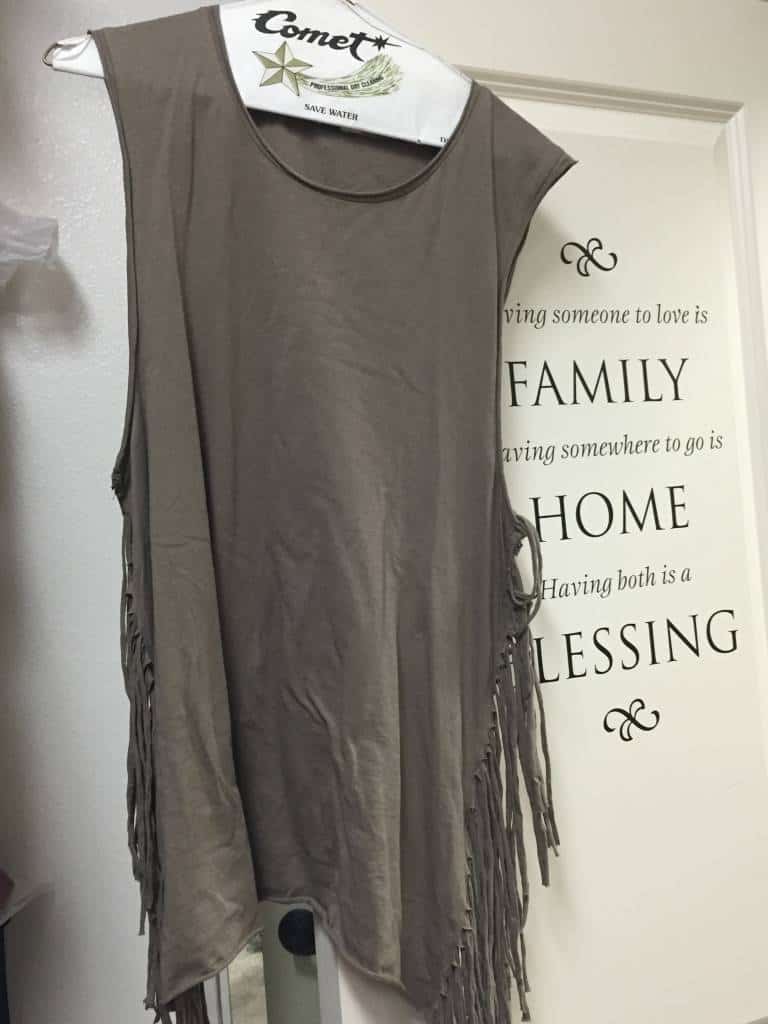 It's way more impressive on display in the booth, but well, you get the unstyled photo from me because, like I keep reminding you… I am *not* a fashion blogger. I thought I'd wear a black tank under it, and she suggested a "bandeau." Well. She does not realize that's really pushing edgy for me. (But I'm thinking about it.) Regardless, this booth has great stuff, good prices and lots of fun jewelry on their website. Check it!
You'd think I was on a clothing mission, but the last grown-up girl clothes booth that I fell in love with was The English Nook. Maybe because I enjoyed chatting it up with them about England and our connection to Norwich, but likely more so because I got some incredibly cute black eyelet shorts for only $12 (which I've already worn),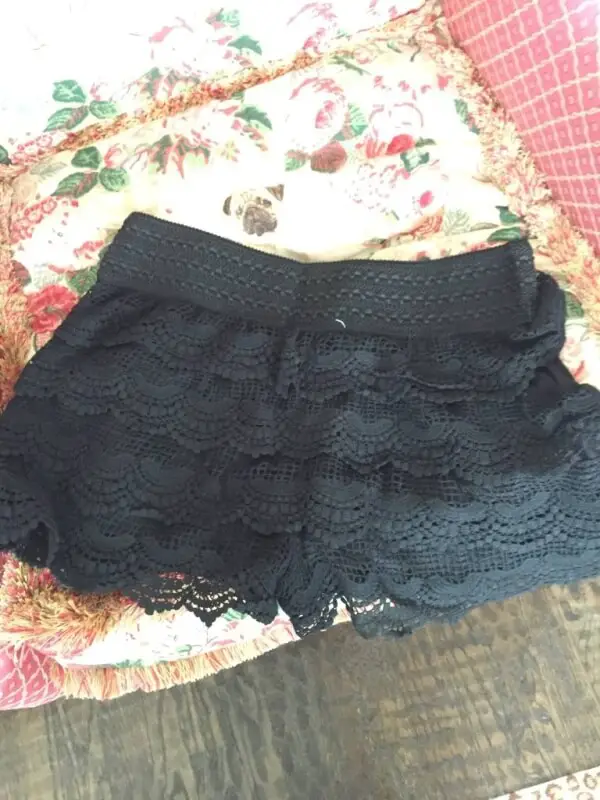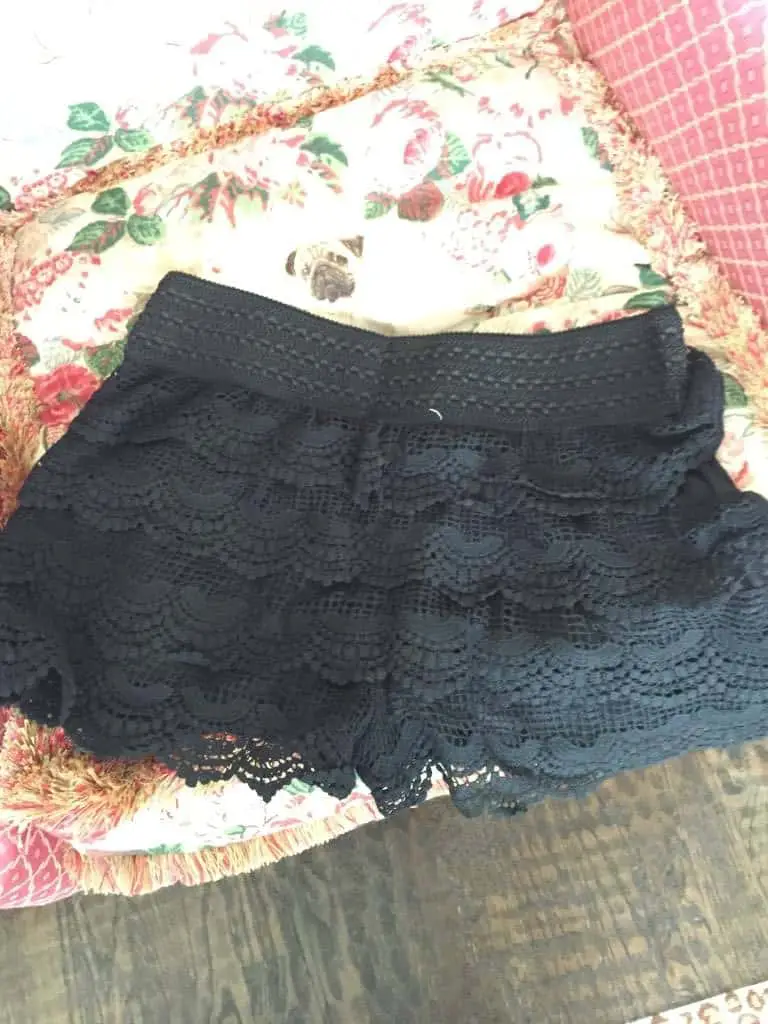 and an adorable shirt that when I tried it on in the bathroom, two people stopped to tell me how how great it was. I'll be wearing this to my Macy's event later this month. Oh… haven't I told you about that yet? (Big smile) It's pretty exciting! Stay tuned for more details this week.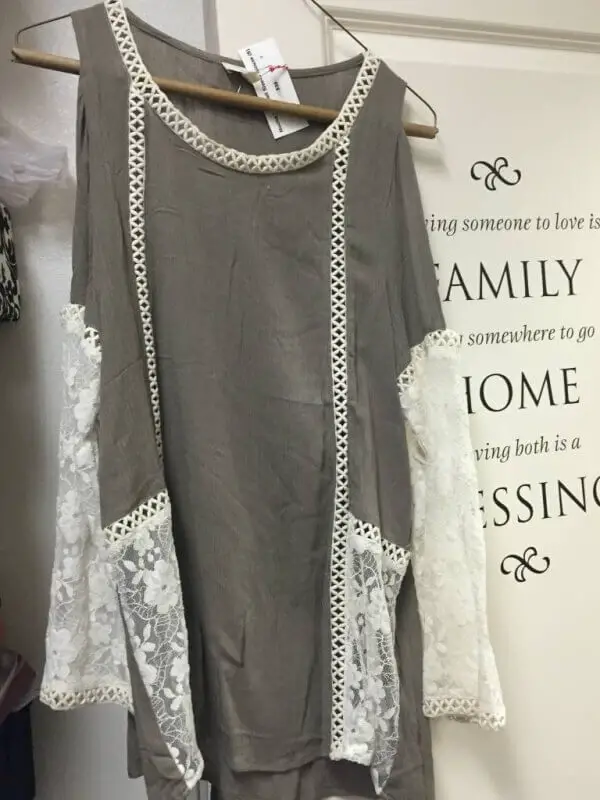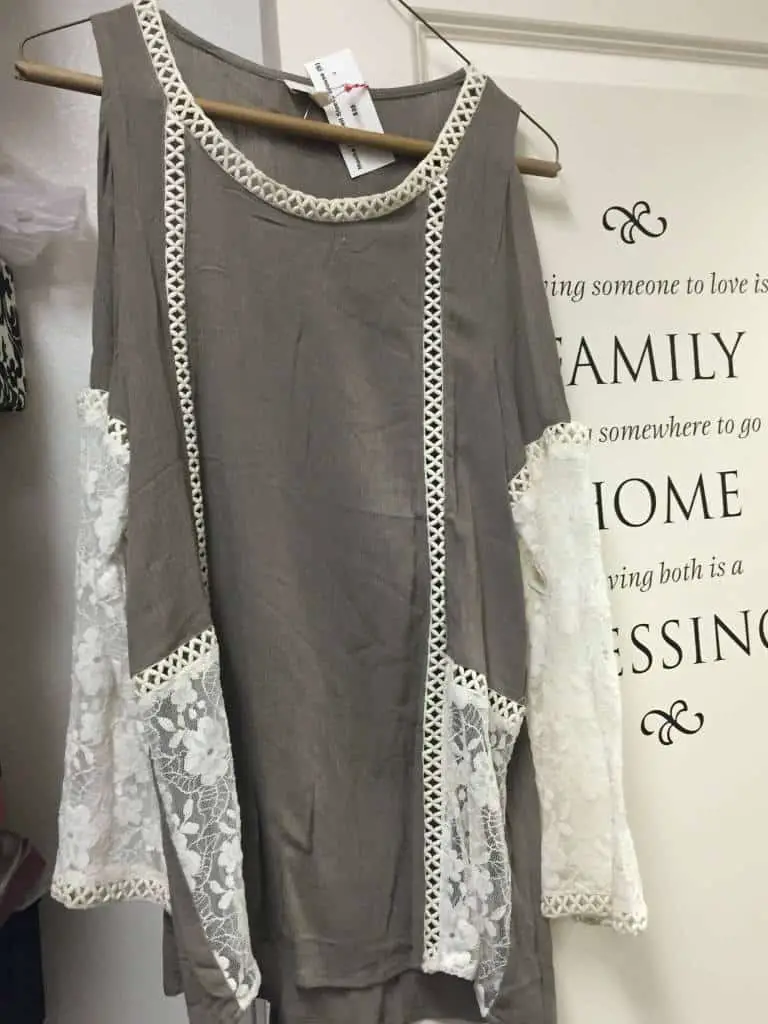 But back to our shopping mission. Sorry, no website for The English Nook, but visit their facebook page here.
We did find a few booths with girls' size clothing in them. I got a lacy boho duster for Cupcake at Helene's Closet for only $20. We chose cream, but they had them in fuschia, turquoise, and red as well. She wore it straight out of the booth and didn't take it off until swimming that evening. It was so cute that another vendor asked me where it came from – she wanted to sell them in her booth too. You can find her on Facebook here. Sorry, I don't have a photo of her in it, but trust me, it's adorbs. Too bad they don't have these in my size.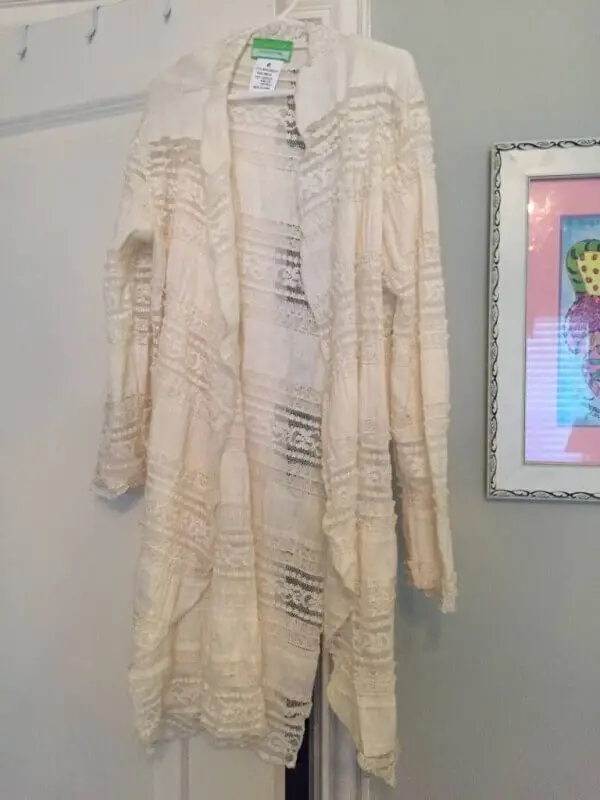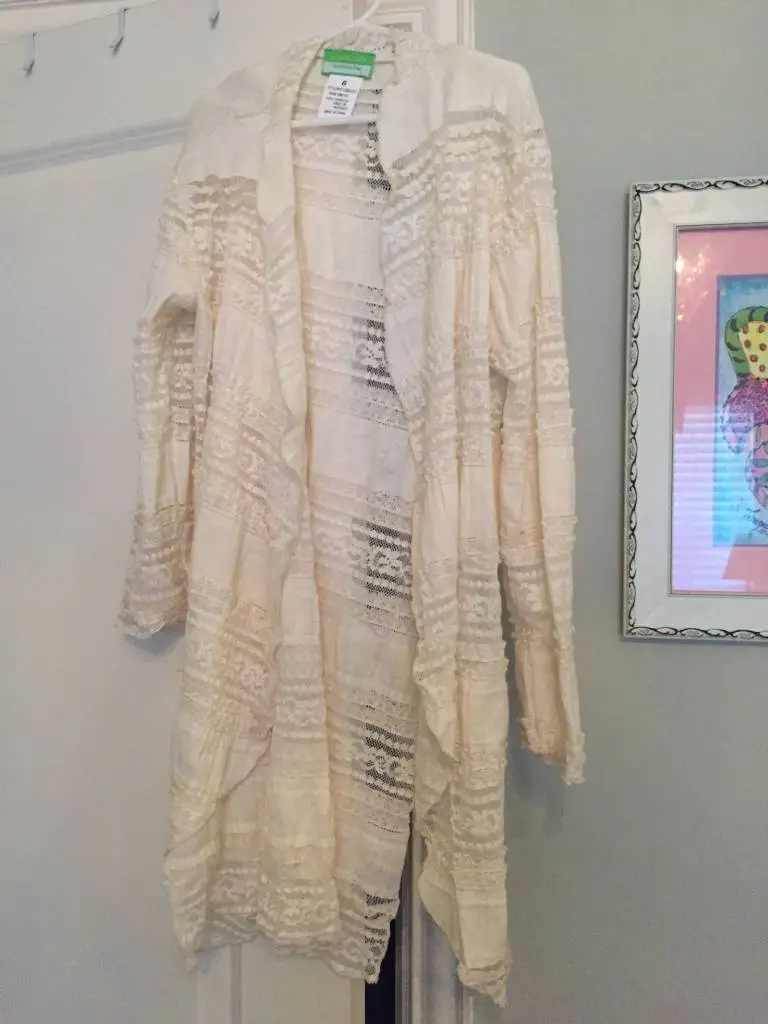 LOOT Vintage market has another rockin' kid's clothing booth – Peacocks and Ponys. The Cupcake picked out a cute baseball-style shirt with turquoise lace sleeves that has the state of Texas on it and says, "Home Sweet Home." She's rightfully crazy about it. She wore it the next day to the Air Show.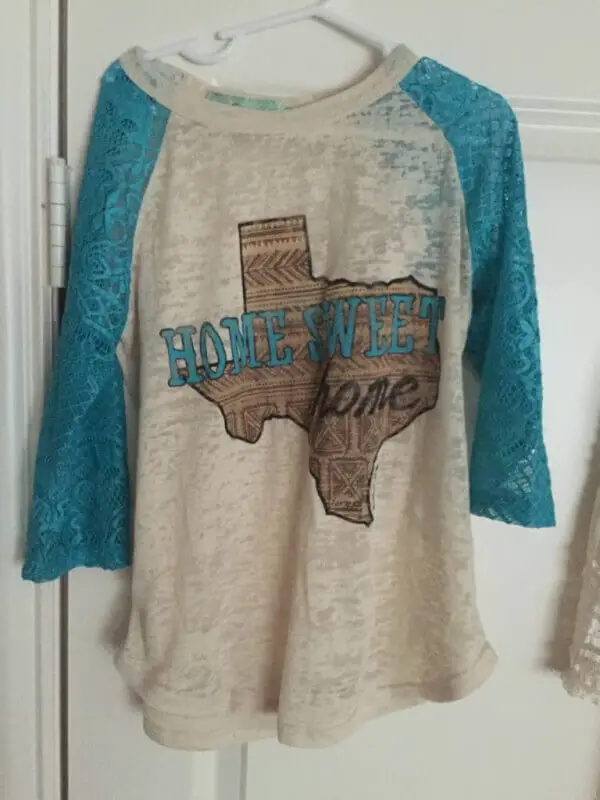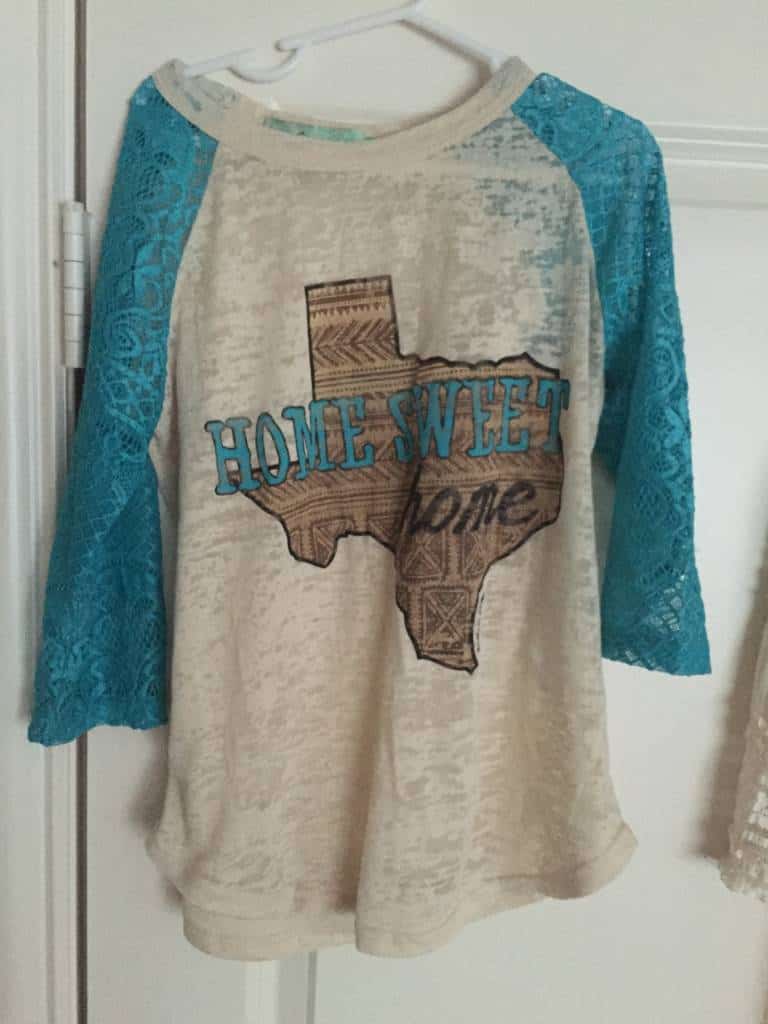 She also found the cutest gold rhinestone bangle that was her perfect size at this booth. She wanted these gold boots but … too bad, not in her size.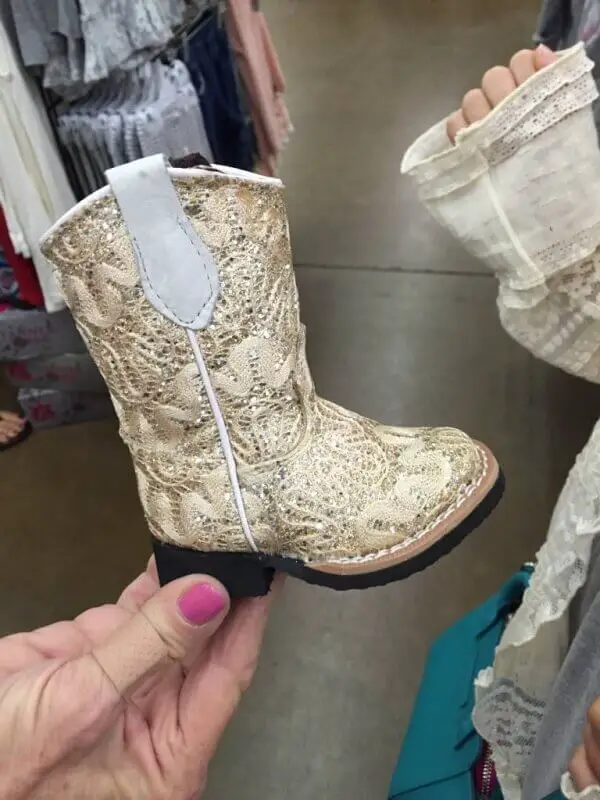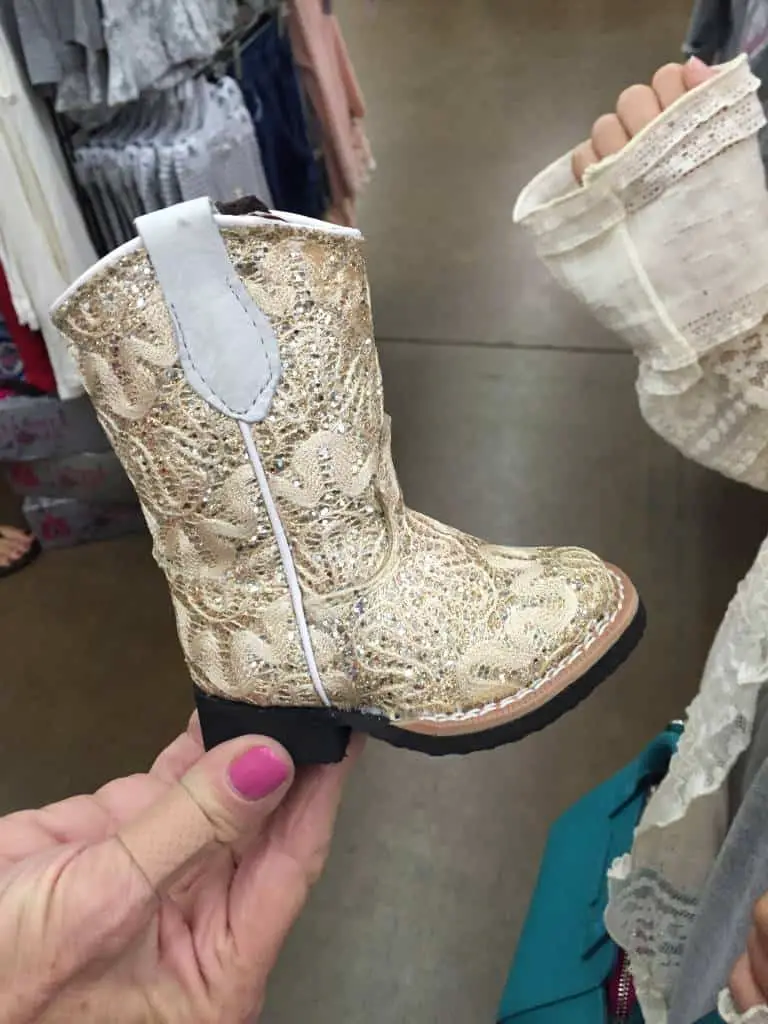 You can follow Peacocks and Ponys on Instagram here.
The kid has a good eye… Who wouldn't fall in tove with the "Gnomadic Fashion Truck" that brought their whole lime green utlity truck into the market?! The cupcake bought (with her own money!) a beautiful grey agate pendant for $8 – which she promptly wore. I'd show you a photo, but she's hidden it from me. I think she knows I'll want to wear it, lol.
I'm still lusting after this shirt on the right.

Maybe next time. I'll be stalking them to find their next show for sure. You should visit their website here.
Now onto the stuff, stuff. If you remember not long ago, my friend Sabrina made this kickin' letter book for our craft exchange?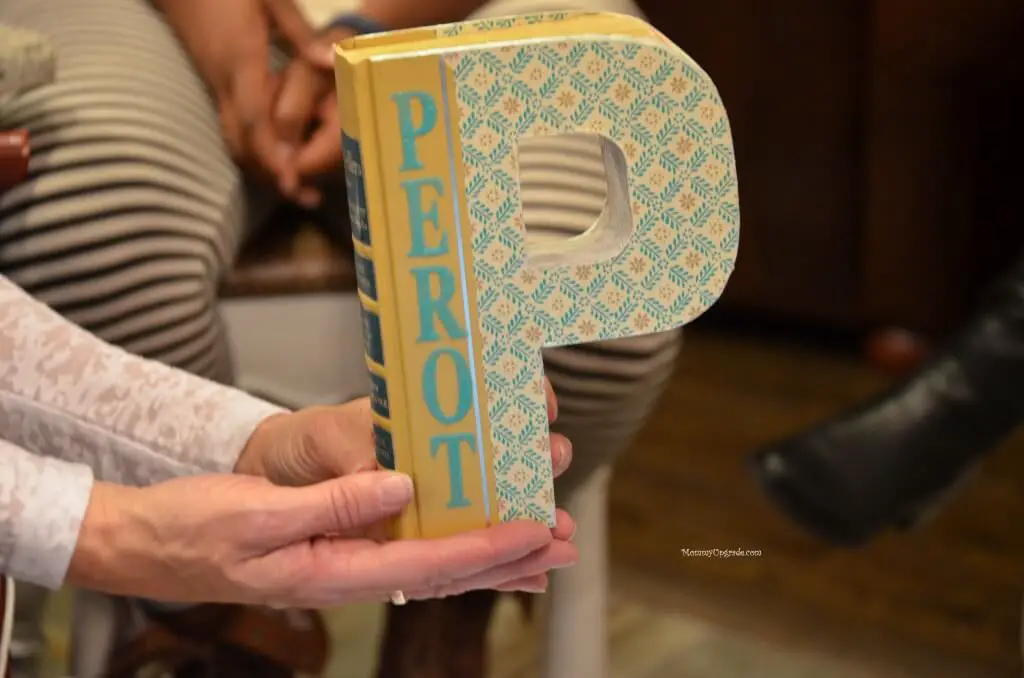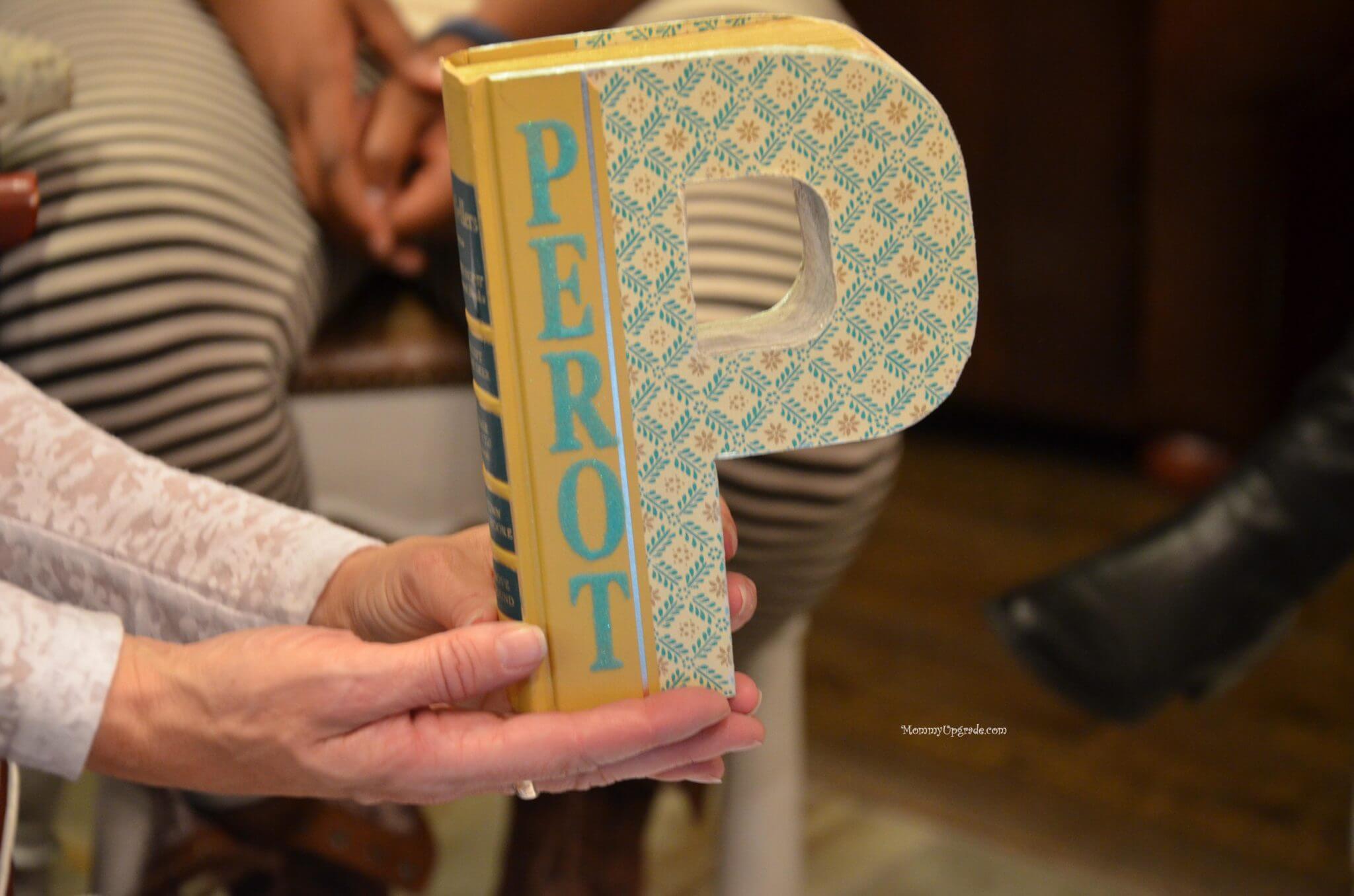 I was happy to see a whole booth FULL of these so you too can get one if you didn't have a husband to cut a vintage book up for you. Visit LetterLounge.net to get your reclaimed copy and find their next show.
But if you want to talk about a crack up, the Missy Madewell booth was HYSTERICAL. I had no idea tea towels could make you bust a gut. Just one favorite: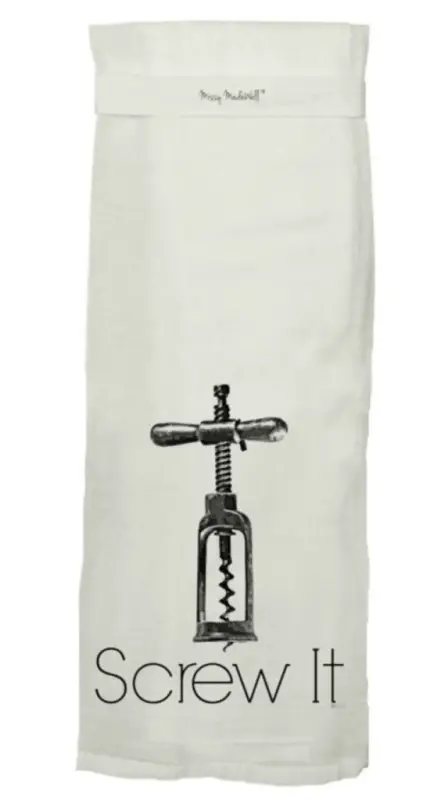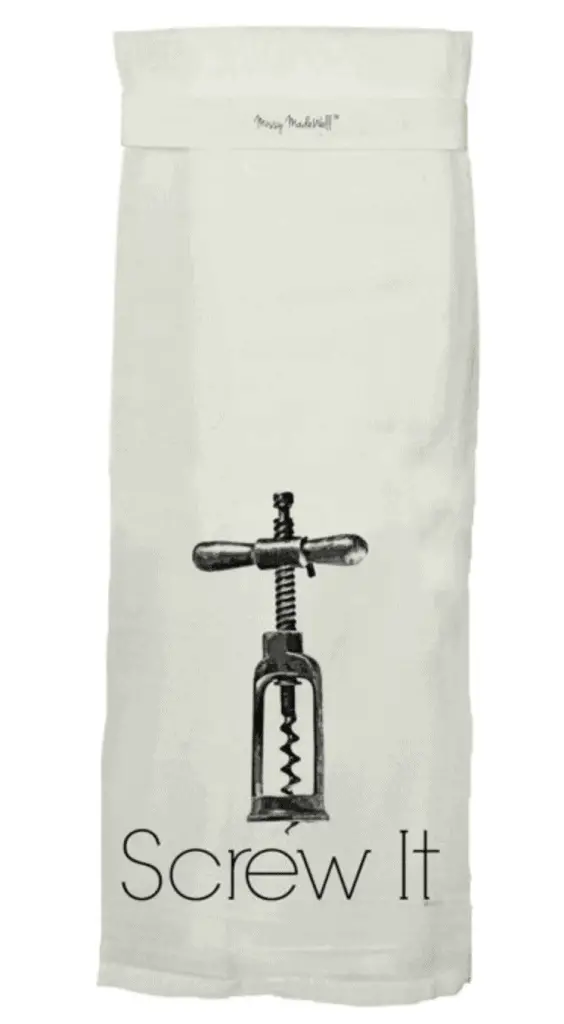 I didn't have the restraint to NOT buy all her towels, so I backed away and didn't get any… big mistake. These are on my Christmas giving list for this year. Soooo funny. You can also be overwhelmed at the hilarity in her Etsy shop here.
Speaking of being overwhelmed.. I fell in love with the kitchy charm of the Iron Willow metal work booth.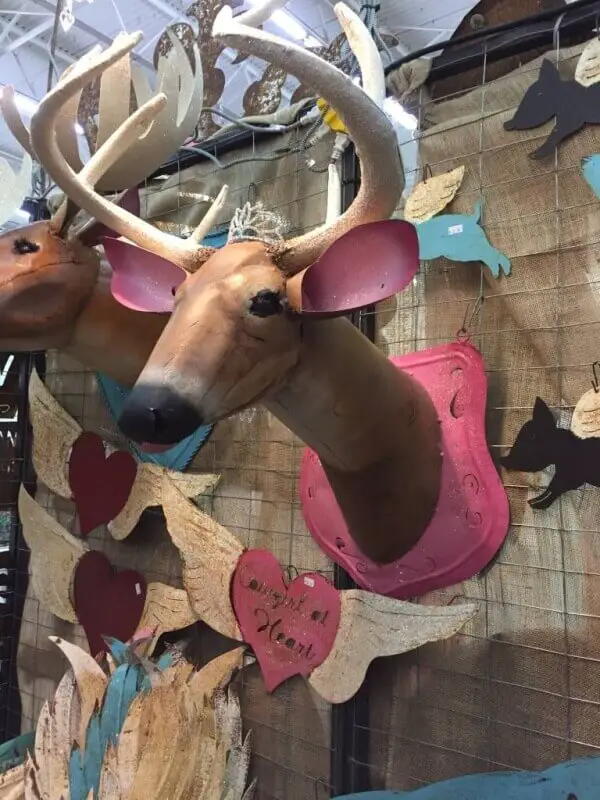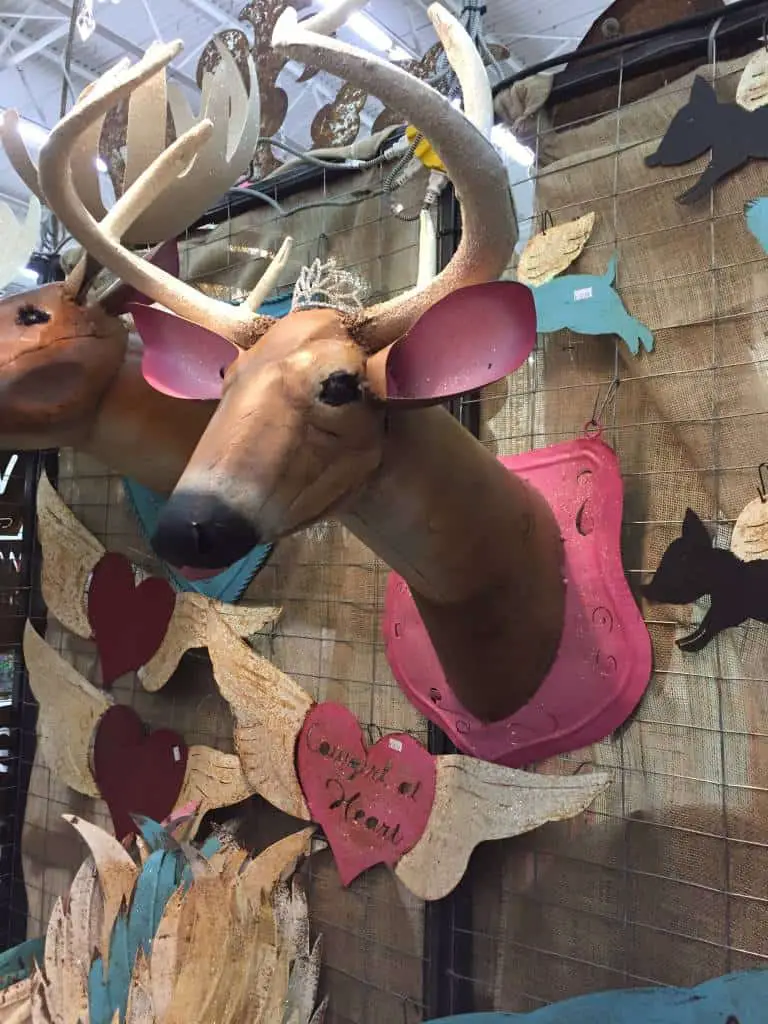 There's a flying pig here that's destined for my wall. I couldn't pick which or how big or what wall, but I'll be back. I may have to get that camper chandelier too – although that one may be tougher to work into our stately antique décor…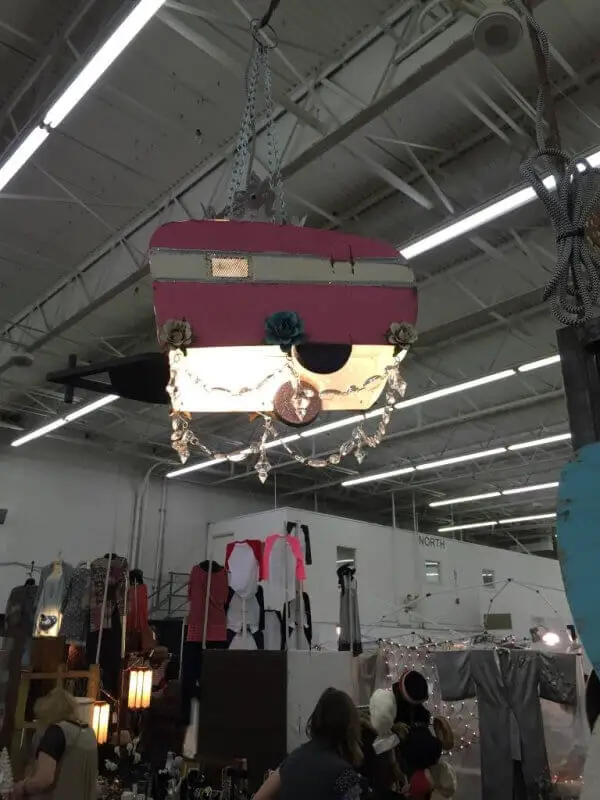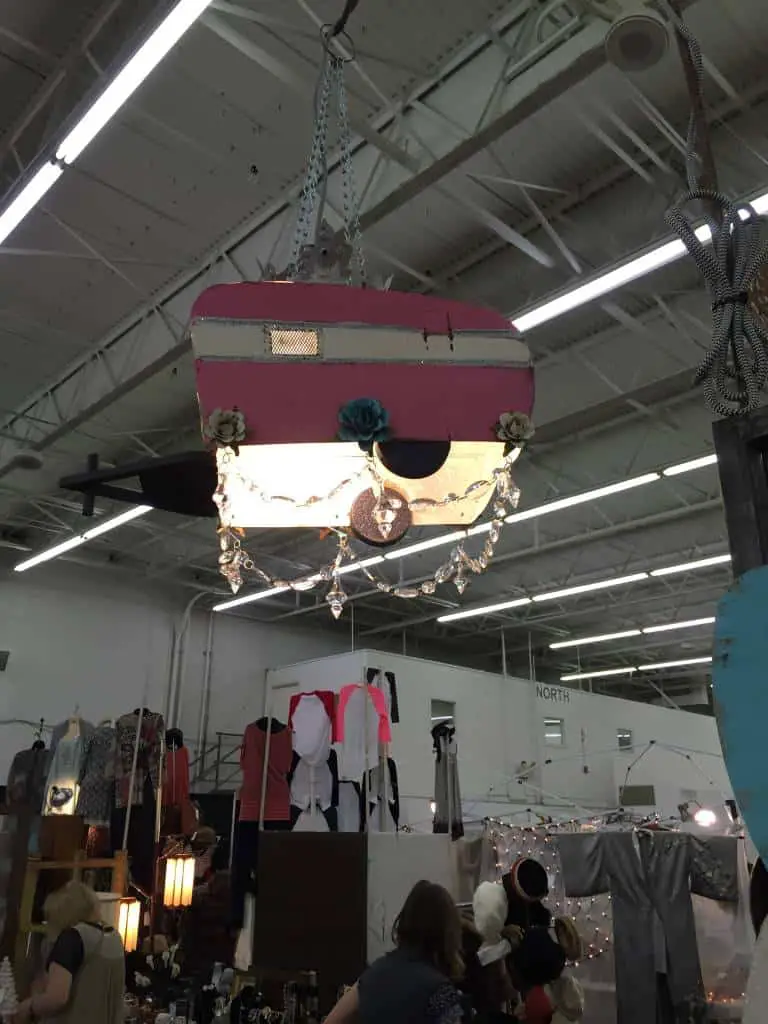 One more laugh out loud tshirt though. This "Old Spool" is so tongue in cheek that the sewing side of me is lusting for it.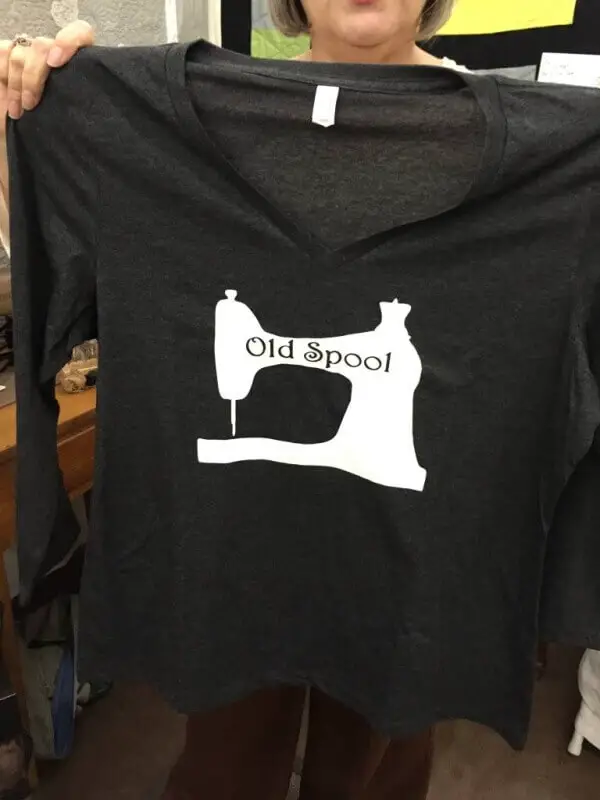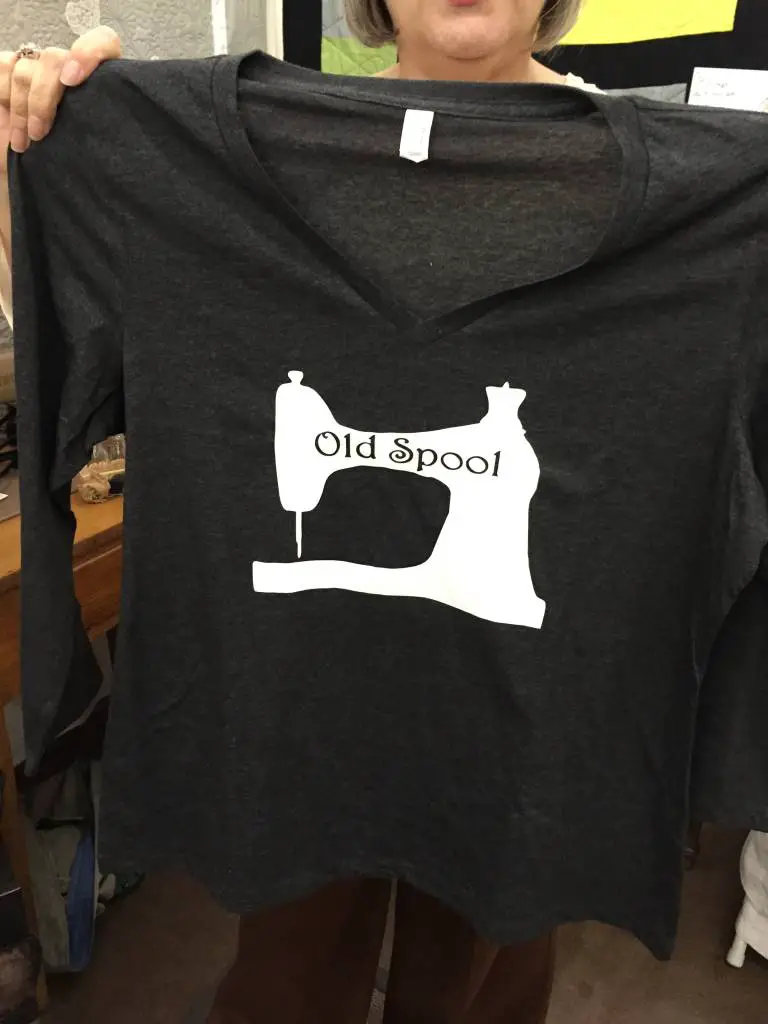 They were out of my size, although this is another that may end up under the Christmas tree for my step-mom who amazes me with her stitchery. The Annie McHugs booth was chalk full of quilts and hand-sewn goodness. I'm not worthy seeing as how I have 4 unfinished quilts piled up, but I can admire someone with better follow-through.
I resisted the temptation to shop for furniture – heavens knows we have more than our fair share, but I did end the show on a classy note. Carolyn Westbrook HOME had the most inviting cotton bed linens. I took a photo to remind me to come back to this once we complete the furniture shuffle in our bedroom.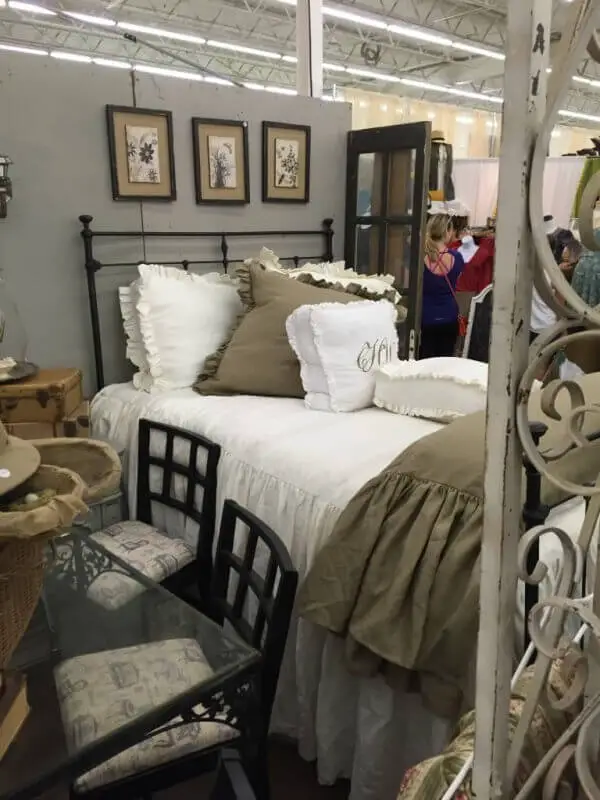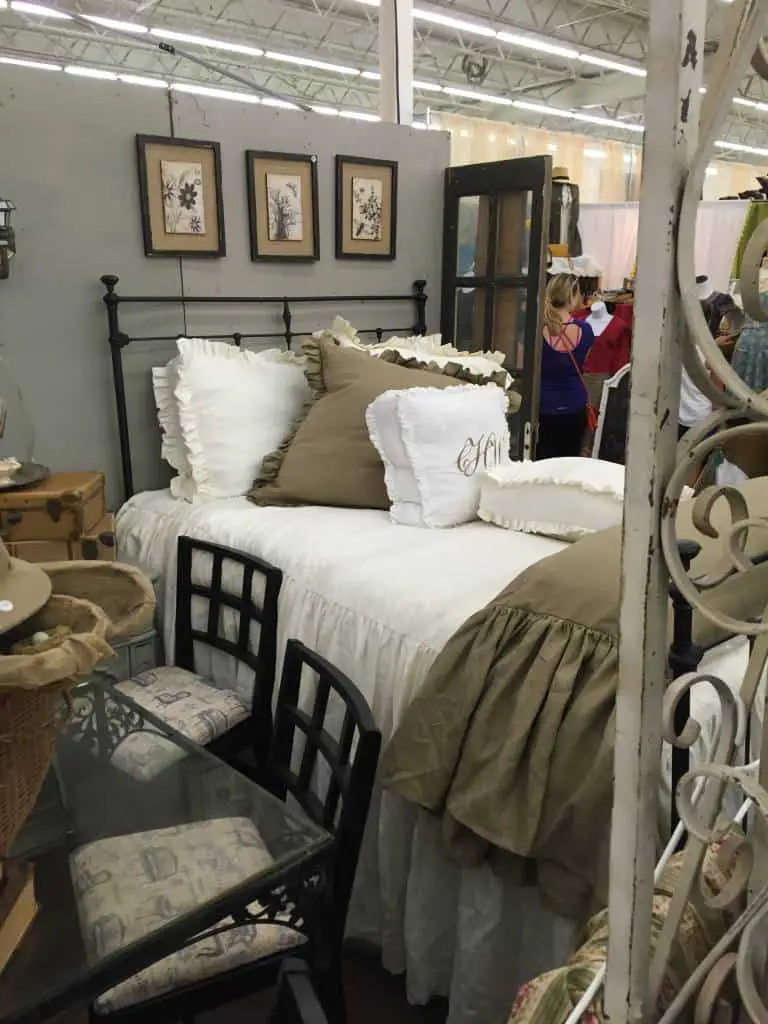 Since we were on the way out and the Cupcake was due at a swim party but still tugging at me to look at her size clothes, I didn't have nearly enough time to soak all this beautiful booth had to offer. Had I realized that she was the amazing designer and actual author of the GORGOUS books there, I would have bought one and had her sign it, pulled up a chair and a coffee and chatted her ear off about how durable the bed set would be against 40 pounds of black pug. Big sighs for lost opportunity and the conflict of little one's playdates on my décor inspiration. While I wish you could find Carolyn in my house providing decorating advice, you can actually find Carolyn's webpage here and Facebook here.
LOOT was a hoot! The Perot girls give it 2 "shabby-sheep" thumbs up.