Boo! Happy Halloween to you!
I had some homemade marshmallow fondant in my refrigerator just begging to be used — and a pre-trick or treat gathering that needed a snack to share. And look what happened?!
MUMMIES!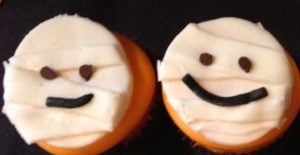 These Halloween mummy cupcake toppers are super easy to make. Take you fondant and roll it out to 1/8 inch thick. Layer strips haphazardly in a second  and third layer on top. Then take your circle cutter and cut through the layers to make the mummy faces. I used mini-chocolate chips for eyes, or you could use fondant or any dark candy, or even the Wilton eyeballs would be cute. I thought they were adorable without mouths, but decided to complete the face anyway.
First I tried drawing the mouths on with a food writer, but with all the mummy layers it looked messy. Then I resorted to my Zoku cutters and cut out some mouths from black fondant.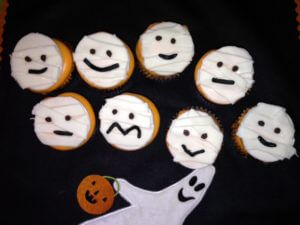 The mummy cupcake toppers are sitting on orange cupcakes with cream cheese frosting dyed orange, and a couple have white butter cream frosting if you can even notice the difference in the photo. Don't ask why they don't match. Let's just say, it's been a scary week. 🙂
Happy Halloween from this "mummy" to all my favorite "mummies!"