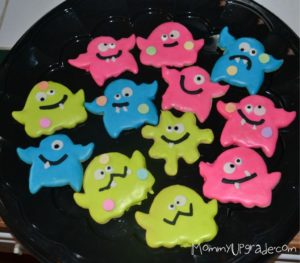 Preschool was an eye-opener for us, the move to "big girl school" with uniforms and recess with older kids. Each of the brightly colored preschool classrooms had a theme for the school year, and Princess Cupcake's teacher chose monsters.
It was adorable. Monster stickers, monster books, monster decorations, and a monster mascot that each child got to bring home for a week and was auctioned off at the end of the year.
So when I saw these Wilton cookie cutters during Halloween, I couldn't have been more excited. I envisioned making monster cookies all year. Pink and white for Valentine's Day, purple and green and orange monster cookies for Halloween, red and green monsters for Christmas…
Yeah… I only managed to make them for the last 2 hours of school. Better late than never. 🙂 But hey, it was a monsteriffic year and a monsteriffic last day. What better to celebrate with than an unexpected breakfast snack of monster cookies?
Here's how to make your own cutie patootie monster cookies. I made them over two days:
Day one – make the cookies.
This is my FAVORITE cookie recipe. Ever. It's from Southern Living:
Old Fashioned Christmas Cookies
1 cup butter or margarine softened
2 cups sugar
¼ cup firmly packed brown sugar
2 eggs
¼ cup plus 2 tablespoons of milk
2 teaspoons vanilla extract
4 cups all-purpose flour
2 teaspoons baking powder
½ teaspoon salt
1) Cream butter. Add sugar and eggs, beating well. Stir in milk and vanilla.
2) Combine flour, baking powder, and creamed mixture, mixing well.
3) Chill overnight or several hours.
4) Roll dough to 1/8 inch thickness (I like mine a little thicker) on a lightly floured surface; cut with monster cutters. Place 2 inches apart on greased cookie sheets. Bake at 350 degrees for 10 to 12 minutes. Remove to wire racks to cool.
Yield: about 5 dozen.
After the cookies are cool, you can start the royal icing.
I made the royal icing with Wilton meringue powder (you'll need powdered sugar and water too). I have used it before and had difficult with the consistency but this time it was perfect. I think the key is following the directions –> exactly. 🙂 Mix the icing on the lowest speed. Anything higher and it will be too stiff. Trust me on that.
I halved the recipe provided on the meringue powder instructions and made three batches, coloring each with Duff's neon food gel colors in blue, green and pink. Even with half the recipe, I had a little bowl left over when I was done.
Instead of putting the icing into bottles and messing with outline icing and flow icing (again, afraid of consistency issues), I just dipped the front of the cookies into the royal icing and tapped the excess off. If there was too much, I scraped off a layer of royal icing excess into a bowl. To scrape it off evenly, I created a little scraping station by taking a grilling skewer and put it over a bowl, took a rubber band and wrapped it around each end of the skewer to hold it in place.
Let the royal icing firm up overnight.
You can save the left over royal icing for up to 2 weeks. Push some plastic wrap all the way down so it's touching the top of the icing, pressing all the air out. Then put a moist paper towel on top of that. Then a lid or another piece of plastic wrap to seal it all together. If you haven't used it in two weeks, don't throw it out! Make some flowers or other shapes with it. It will last for like, forever.
Day two – Making Faces for Monster Cookies
The easy part of the monster cookie faces was the Wilton candy eyeballs. I used one eye for each monster cookie and glued it to the cookie with Wilton cookie icing (the kind that comes in the bottle).
The second eyeball was made from some left over white marshmallow fondant (Marshmallow fondant keeps for weeks in the fridge. I now try to always have some on hand). I rolled it out and used a small round circle cutter from my Zoku popsicle kit for the other eye. You could use any small round fondant cutters. To make the black dot, I used a edible ink food writer from Americolor.
The monster cookie mouths are made from Wilton black fondant and cut out with another of the Zoku popsicle cutter kit. You could free-form these though. It only requires a small amount of fondant, or you could use the Americolor writer on this part too.
I put a few dots on some of the cookies with some leftover Wilton decorator candies.
I was prepared to have to "glue" the fondant to the cookie with water or vanilla extract, but I found that with a little smush, it adhered fine without the extra step.
Let your little culinary monsters dry for a couple hours and you're good to go. You can even stack them up to travel once they're set.
Enjoy!