Mermaid Birthday Party Cakes
The hubs thinks I am insane.
Three birthday cakes for the Princess turning 5.
Seems totally logical to me:
1 – Her party with friends
2 – Her party at home
3 – Her party at school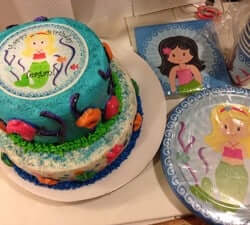 The school party is notably the most low-key and the one I don't stress about. I even thought about buying her cake. Don't fall over. Thought about it.  Of course I didn't do it. I made it, like always.
The Princess Cupcake requested a mermaid theme for her school birthday party, so that's what she got. She specifically did NOT want Ariel (peculiar for her, but okay…) so we went with generic mermaid. Actually, I like it much better. My kid has good taste.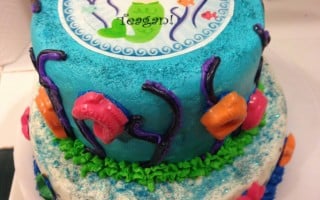 I ordered the party supplies and made a chocolate cake because, "Jack likes chocolate." Why we care what Jack wants for HER birthday, I'm not entirely sure but I suspect he was the boyfriend du jour that week.
All in all, turned out pretty cute.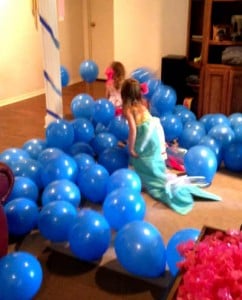 I am pretty sure the request may have been inspired by a recent mermaid birthday party we attended. Super cute idea to fill the room with balloons as the "ocean,"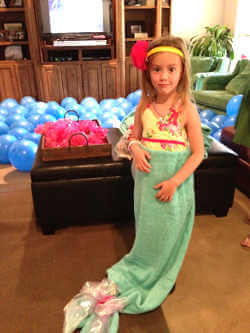 … and the mom even made adorable mermaid tales for each of the girls from bath towels, and had leis and shell necklaces for them to wear.
Since the party I have found the Cupcake wearing her mermaid tail while playing in her room on more than one occasion – the true sign of a great party favor!
Seaside and Beach Themed Cupcakes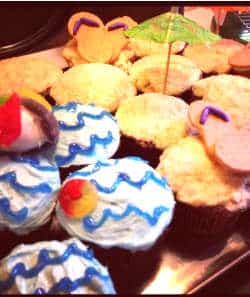 You could even throw in some beach-themed cupcakes. We — and yes, I mean WE… (She was highly involved.) WE made these for a Memorial Day Splash party but they'd be just as cute for a mermaid party.
If you like the mermaid idea (sans our beloved Ariel) you're in luck. Due to a — shall we say — "issue," with the company I ordered from, we received excessive party supply extras which I now have on eBay for sale. If you'd like a Mermaid party in a box for a steal, here's the listing on eBay.
And because I'm all about making things easier, I'll even offer to make an edible image for you like the one on the top of our cake with your little girl's name on it for a small fee plus shipping. Email me for details at trista (at) mommyupgrade (dot) com.