Do you find yourself dreading the commercialism of the upcoming holidays? The demand for "stuff" from your kids can be overwhelming and giving in, can damage your bank account.
I've seen plenty of moms embrace the 4 gift rule: 1 gift they want, 1 gift they need, 1 gift they wear, 1 gift they read.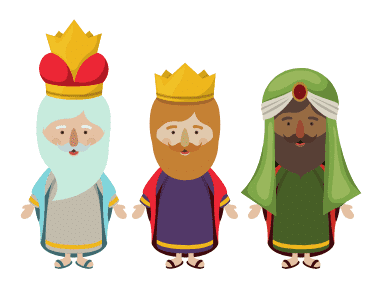 I like it, but if you crave ways to emphasize your faith throughout the season, here's a symbolic way you can build on that simplified giving rule by emphasizing the true meaning of the season. Incorporate these gifts of significance with a Three Wise Men Christmas. (Special Thanks to Donna L. for sharing this with MommyUpgrade!)
A Three Wise Men Christmas is inspired by the three gifts that the wise men brought to Jesus—gold, frankincense, and myrrh. Here's how it works:
GIFTS OF GOLD
Gold is a precious metal and in biblical times was commonly a gift given to kings or those of authority. For the wise men, it was the best gift of what they had and symbolized their realization that Jesus was not just an earthly king but also the "King of kings".
A gift of gold should be something your child will treasure such as a favorite toy or keepsake (for younger children) or a piece of gold jewelry (for older girls) or an engraved pocketknife (for an older boy).
GIFTS OF FRANKINCENSE
In biblical times this aromatic resin was used in incense and perfumes. It was very expensive and was used as part of sacrificial offerings and in worship.
A gift of frankincense should be something that will be used for worship or to enhance your child's spiritual life. Younger children might enjoy a children's Bible or a praise and worship CD. Older children might enjoy a subscription to a Christian magazine or a novel, a CD of their favorite Christian artist, or tickets to a Christian teen retreat weekend.
GIFTS OF MYRRH
Myrrh is another aromatic resin. It has been used throughout history as a perfume, incense, and medicine. In biblical times it was used to embalm the dead and make them smell nice. The wise men's gift of myrrh symbolized the ultimate bitter sacrifice that Jesus would make—His life.
A gift of myrrh should be something your child would use for their body such as shoes, clothing, perfume/cologne. You could give younger children bubble bath or scented body wash, etc. Older children might enjoy a more expensive perfume or cologne.
You can symbolically decorate the gifts in gold, brown and black paper or gift bags to differentiate them from other Christmas gifts. Explain the biblical significance of each gift in an age-appropriate way on Christmas Eve or Christmas Day. As your children get older, you might want to read the biblical account of the wise men's gift-giving before your children open their three gifts.
You don't necessarily have to partake in the biblical teaching aspects of the Three Wise Men Christmas. You can participate in an alternative Three Gift Christmas and still curtail over-abundant gift giving. Simply ask your children to come up with a list that includes something they want, something they need and something to read.
A Three Wise Men Christmas is a great alternative gift-giving idea allowing you more time and money to spend making important memories with your children. We'd love to see pictures of your meaningful Christmas giving.