I have been obsessed with learning how to use fondant for months. I took at class at Michaels to learn how to use it. And because when I'm in, I'm all in… I also bought a Cricut Cake machine (more on THAT later) so that I could not only use fondant, I could spend a lot of money making it look professional. I'll even confess to cake stalking C-Star cakes both online and in person. I might have a problem.
And so while I am – admittedly — still firmly planted in the realm of the amateur cake decorators, I am thoroughly enjoying stretching my limits with various fondant opportunities. My most recent was to create a "Hoppy" Birthday cake for the Princess Cupcake's Easter birthday.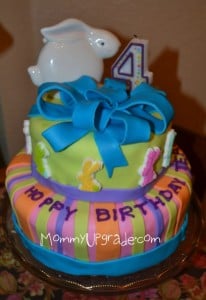 Not bad, eh?
So really my only obstacle with conquering my fear of fondant has been that – I don't like the taste of it.
Yeah. That's a problem.
And I am not alone – there's an army of people who flat out won't eat it because the store-bought variety is so bland tasting. I mean really, if you're going to have cake, let's have some flavor, right?! I am not going to waste those calories on something I don't enjoy. And I really enjoy buttercream frosting so this fondant was going to have to kick it up a notch.
Rumor had it that homemade marshmallow fondant was the bomb so off to Google I went. I found a few recipes online for homemade marshmallow fondant and thought I'd give it a swirl.
Here's my slightly modified version and the tips for how to make homemade marshmallow fondant and the very simple Hoppy Birthday cake:
Homemade Marshmallow Fondant Recipe
Here's what you need:
¼ or less of Crisco – this is used for greasing the bowl. And you can also use it to soften up fondant as you're working with it. Don't mistakenly think that it is frosting. It does not taste like you want it to.
16 oz of mini marshmallows
1 tsp of clear vanilla
1 tsp of butter extract
2 tbsp water
4 cups of sifted powdered sugar – I wouldn't use a whole 2 lb bag because I've found a lot of variation among different brands and how much is in the 2 lb bag. I made this same recipe before using a 2 lb bag and it turned out way too dry – and trust me. This causes a lot of problems when you're trying to work with it for the first time on your daughter's birthday cake. The other cake. Not this cake. The cake that was for her Princess and Knights Birthday Party. Way more on that later. Anywhoo…
Here's what to do:
Grease inside of microwave-safe bowl.
Put marshmallows, flavorings and water into the bowl.
Microwave on high for 60 seconds. Stir and microwave at 30 sec intervals until there are no more lumps when you stir it.
Put powdered sugar into large mixer bowl and mix the marshmallow batter with a dough hook.
Mix well until it forms a ball.
Sprinkle powdered sugar over the area where you will be rolling out your fondant.
Knead the fondant until you feel it's in a good texture. Form the fondant into a ball or a loaf. Wrap tightly in plastic wrap for at least 1 hour before using.
You can store the fondant for a few weeks in the refrigerator if you seal it tightly in plastic wrap and a zip lock bag (squish all the air out!).
Before you use it again, let the fondant come to room temperature on the counter because unless you have super human strength, you won't be able to do anything with it when it's in it's rock-hard refrigerator form.
And finally, here's how I made this simple fondant cake.
1. Cover the cake completely (this was a zebra stripe cake) with a thin layer of buttercream frosting. I always make mine homemade.
2. Roll out your fondant to about 1/8 inch thick. You'll need to cover your cake completely. To determine how wide your circle should be, measure the width of your cake. Measure the height of the sides of your cake. Now add the width to two of the heights. Did I lose you? So for mine, I had a 9 inch round bottom cake with 3 inch sides. I needed a circle that was 15 inches in diameter (9+3+3). I use a fondant mat to help me measure the size as I am rolling the fondant out.
3. Carefully lift the fondant from the mat and drape over the cake.
4. Smooth out any wrinkles.
5. Trim the bottom.
6. Roll out and cut long strips to make multi color stripes. I placed mine vertically from bottom to top layer. You can adhere fondant to fondant by brushing water or vanilla on it like glue. Once I got the stripes on, I put the top layer of the cake on.
7. I did the same with longer strips and covered the circumference of the bottom of the cake.
8. For the bow on top, I cut 4 strips again that were 1 inch wide. I cut the corners off the bottom of the strips. I folded them in half and put some balled up paper towels inbetween the layers so they wouldn't collapse. Then I cut 4 more that were just slightly shorter and did the same. Sorry I didn't take photos of these.
9. Make a small loop that will be the center of the bow using the same technique.
10. When dry, put the four larger loops on the bottom and off-set the smaller loops on top. Add the small loop to the top. Glue the pieces again with water/vanilla.
11. Add candles and writing with an icing tip.
Blow out the candles and enjoy!