I love crafting and science mashups, don't you?
So does my (recently retired) dad. Remember when he helped me out with the DIY shrinky dinks? Well… the mad scientist chemical engineer is at it again. But this time, he wasn't interested in crafting with ME as much as he was the grandkids.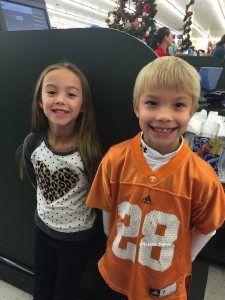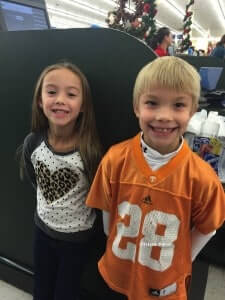 Those precious faces, can you blame him? So I was pretty much just there to take the photos.
See… Dad's a busy person at heart (must be where I get it from), so when his Sweetheart wanted to keep a cool whisky bottle to display, he thought – as most chemical engineers would – "Why don't we make it look like there's still whisky in it?"
So he did. See?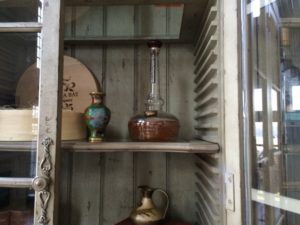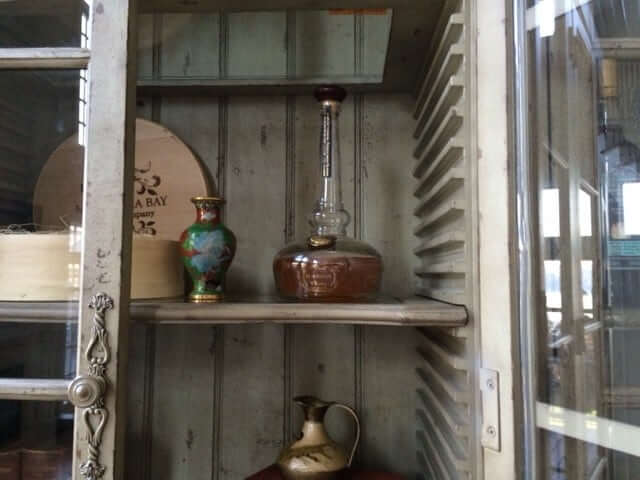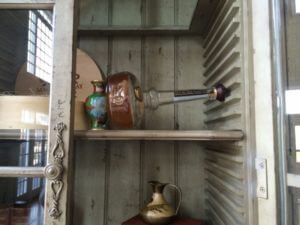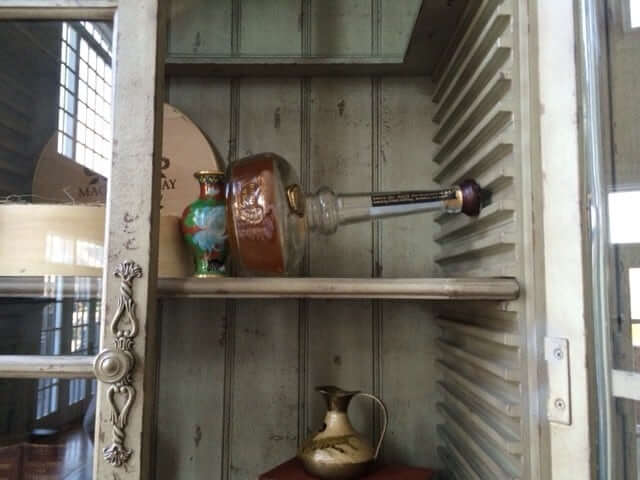 I was intrigued. Possibly more so than the Cupcake.
The project required a Grandpa-sponsored field trip to Hobby Lobby where he had the kids pick out flowers and a vase. My nephew had eyes only for orange and white florals so he could give his to his mama who loves the Tennessee Volunteers.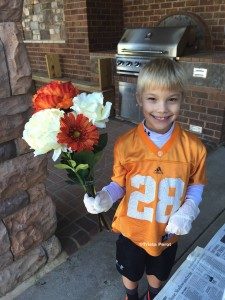 I steered the willing Cupcake towards a more neutral palette.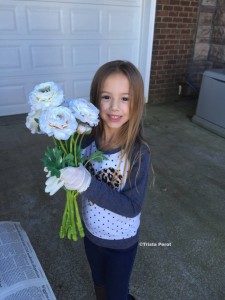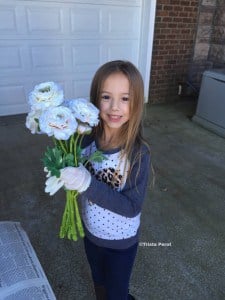 Once back at home, we gathered our supplies so Grandpa could show them how to stir up the magic. Pun intended.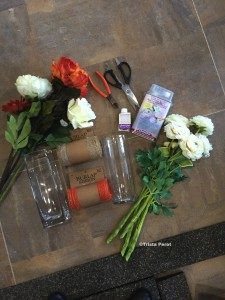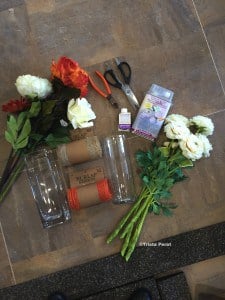 He used these things:
Clear polyester casting resin and an activator which is included. See in the cap? (Links to order this stuff at the end.)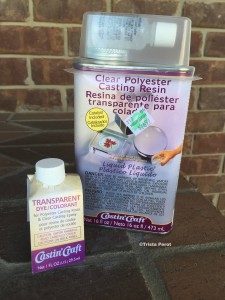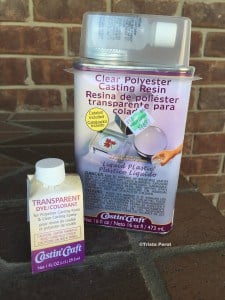 He also used a colorant shown above on left. If you want to make the water whisky-colored like in the first photo, you'll want to use a colorant with an amber tint, however there are other colors as well.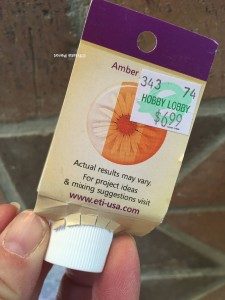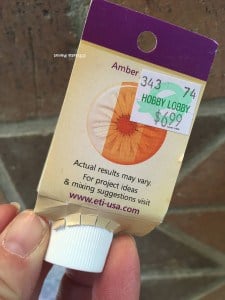 It's also wise to have rubber gloves, a wooden stir stick, an old plastic container, and some newspaper, paper towels, and some old plastic party flutes to use as a funnel (cut the bottom off) and to hold your flowers in place.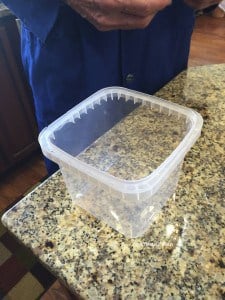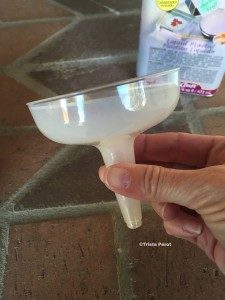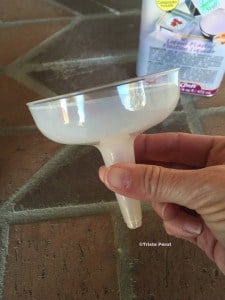 DO THIS OUTSIDE
Put your newspapers down on your work area and your gloves on.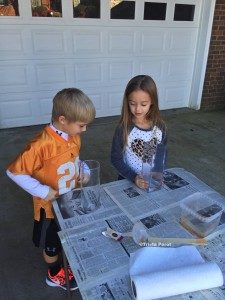 Measure and trim your flowers. Make sure they are the length you want them to be in the vase.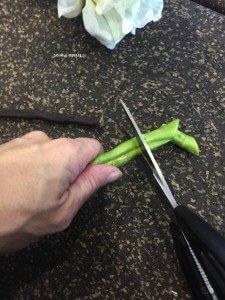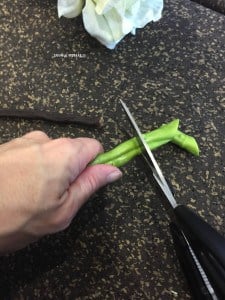 Stick them in the vase to make sure they are the right height.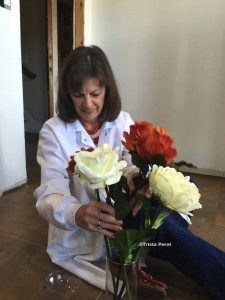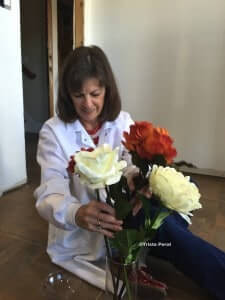 Following the instructions on the bottle, pour your desired amount of casting resin into the plastic tub.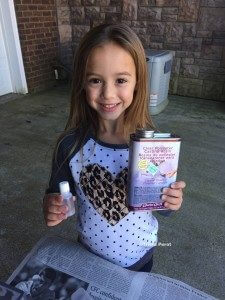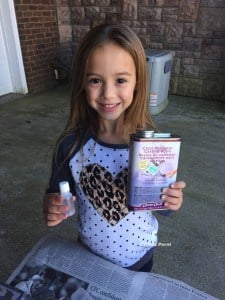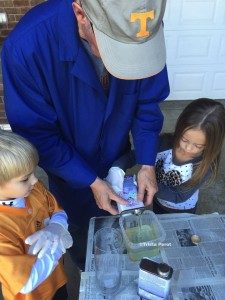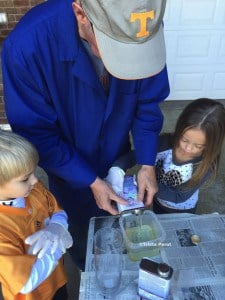 Add 2 to 3 drops of colorant per ounce of resin.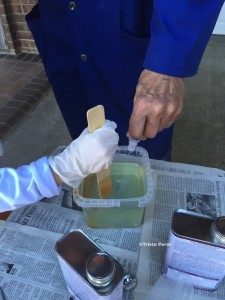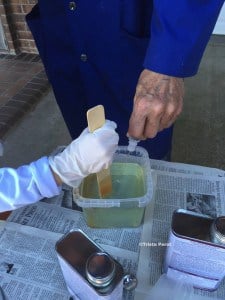 Add in the activator. This is where it gets a little sciency. This is what the eplastics.com recommends.

If you use too much catalyst, your project will cure more quickly, but if you use too much, your glass may fracture. Cold outside temperatures, the amount of colorant used, and a deep depth of the casting will slow down the catalyst.
So now that you're totally comfortable with that guessing game. Move onto stirring with your wooden stick until well blended.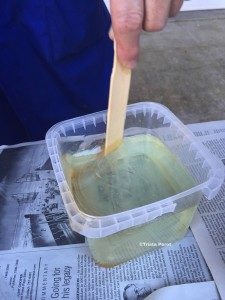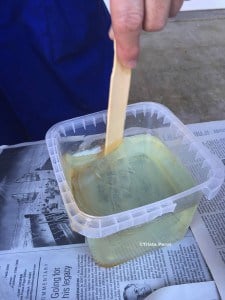 Pour into your vase. We decided not to use the funnel, but for smaller openings, you'll definitely need to use one.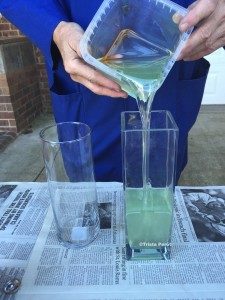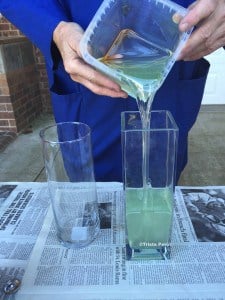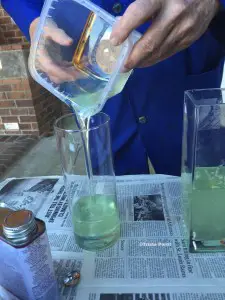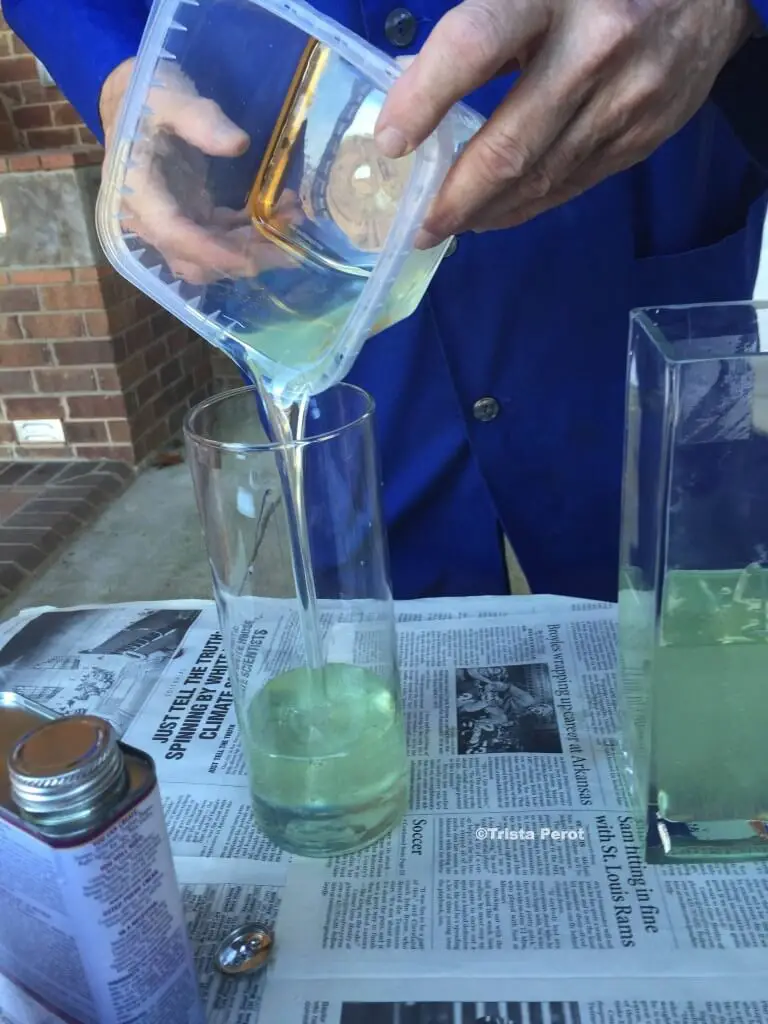 Wipe off any excess off the sides.
Add your flowers.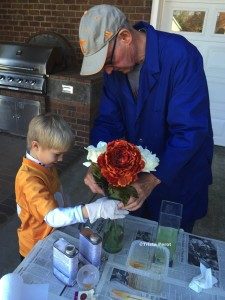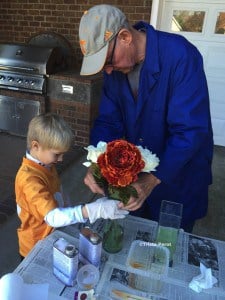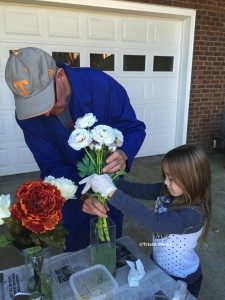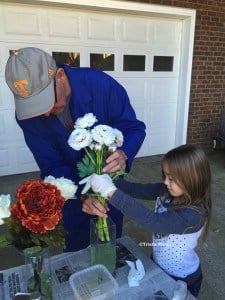 You may want to put something around your flowers to hold them exactly where you want them. Once you're happy, don't move it at all.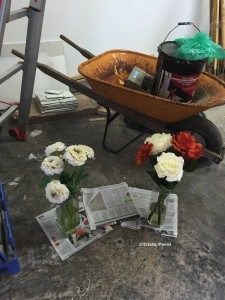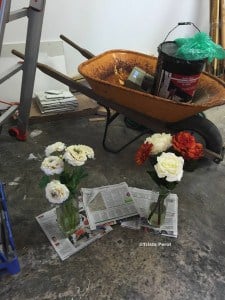 The resin will heat up and cool down as it goes through several stages. First it will convert to a soft gel stage, then a firm gel stage, and finally a "click hard" stage. It will be cured in anywhere between 1 – 24 hours, depending on the thickness of the resin and how much catalyst was added. It's really neat to feel the warm glass as the chemicals begin to react and harden. That's the fun part!
To be safe, we left these alone in the garage for 24 hours.
Once cool, you're all set. Literally!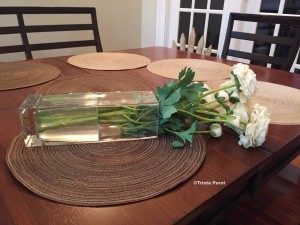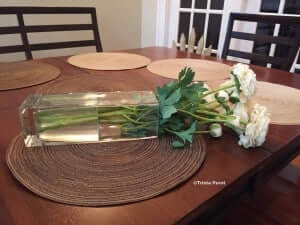 And here's where me and sweetheart took over for Grandpa. We raided her ribbon stash and prettied them up a little.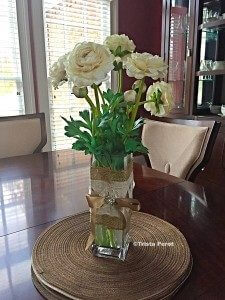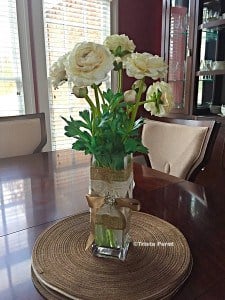 I absolutely LOVE it, even though I accidentally covered up the water line. Ooops.
And in the off chance you're wondering, you CAN get one of these finished projects through TSA security but you WILL be subject to a bomb scan – even though it's rock solid. And… they're heavy so if you're travelling with your gorgeous project like we were, plan ahead!
I can't wait to see what his next mash-up will be! Thanks Dad!
Photo
Title
DR. CRAFTY Clear Epoxy Resin 16oz Kit for Jewelry Making - Crystal Clear Resin, Art Resin, Epoxy Resin for Tumblers - Complete Epoxy Resin Kit: Quality Epoxy for Art, Jewelry, Resin Molds
FanAut 18.5 Ounce Epoxy Resin Crystal Clear for Art, Crafts, Tumblers, Casting and Jewelry Making with 2 Droppers, 2 Sticks,2 Pair Gloves and 1 Pack of Resin Glitter
Art 'N Glow Epoxy Resin for Clear Casting and Coating - 16 Ounce Kit - Perfect for Molds, Crafts, Tumblers, Jewelry, Wood - Food Safe, Non Yellowing, Bubble Free, and Made in The USA
Epoxy Resin Crystal Clear Kit for Art, Jewelry, Crafts, Coating- 16 OZ Including 8OZ Resin and 8OZ Hardener | Bonus 4 pcs Measuring Cups, 3pcs Sticks, 1 Pair Rubber Gloves by PUDUO
Photo
Title
DR. CRAFTY Clear Epoxy Resin 16oz Kit for Jewelry Making - Crystal Clear Resin, Art Resin, Epoxy Resin for Tumblers - Complete Epoxy Resin Kit: Quality Epoxy for Art, Jewelry, Resin Molds
Photo
Title
FanAut 18.5 Ounce Epoxy Resin Crystal Clear for Art, Crafts, Tumblers, Casting and Jewelry Making with 2 Droppers, 2 Sticks,2 Pair Gloves and 1 Pack of Resin Glitter
Photo
Title
Art 'N Glow Epoxy Resin for Clear Casting and Coating - 16 Ounce Kit - Perfect for Molds, Crafts, Tumblers, Jewelry, Wood - Food Safe, Non Yellowing, Bubble Free, and Made in The USA
Photo
Title
Epoxy Resin Crystal Clear Kit for Art, Jewelry, Crafts, Coating- 16 OZ Including 8OZ Resin and 8OZ Hardener | Bonus 4 pcs Measuring Cups, 3pcs Sticks, 1 Pair Rubber Gloves by PUDUO