Girl, you know it's Easter this weekend!
Are you ready? Are you? I was on KTEN in Denison this morning with anchor Gregg Watson and we were getting the low-down on last minute bunny issues. Specifically, how to step up your Easter entertaining game. 
In case you missed us, or we were too rabbity for you to get the lowdown, here's what we featured:
BUNNY CUPCAKES
Seriously, these bunny cakes are for the win. If you're making cupcakes for the kids, you need to take a couple extra steps to get these on your table. (Adorableness from OneLittleProject.com). All you need are cupcakes, canned frosting (or the real stuff — yum!), marshmallows, pink sugar, pink jelly beans and a handful of chocolate chips. <3
Next up, this really easy twist on the classic cheese ball. I mean, what family holiday doesn't have a CHEESE BALL? This year, you're going to be the envy of all the bunnies in the yard when you put out this carrot ball instead. (Genius from YummyHealthyEasy.com) All you need extra: A bunch of parsley and extra cheese. Done and done!
And now that we've got my two favorite courses covered, appetizers and desserts, let's make sure we have a napkin to wipe our mouths. You know Martha has a corner on this guys. Make your napkins into bunnies!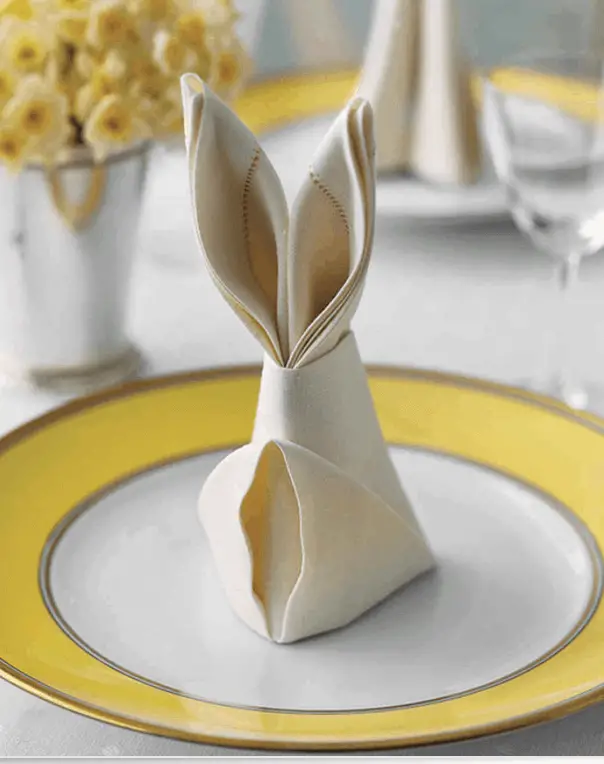 Here's the how to here.
Or if you're like me, you need to learn by seeing. Here's a great video that I modified for our bunny nappies:
For mine, I added a tail with a safety pin that had a cotton ball hot glued to it.
Hoppy Easter!