Labor Day weekend.
One of those weekends where it was mostly nothing special, mixed in with a few remarkables.
A funeral, a football game, gourmet hot dogs and a pecan pie. And I totally unplugged from work. Yes, I did.
Saturday started with the funeral for my friend Cindy, who you've heard me talk a lot about lately. While it was sad, it was funny. It was closure.
Then it was time to do an emotional U-turn and head out to Jerry World, Cowboy Stadum, AT& T Stadium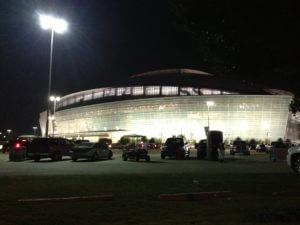 to watch the LSU Football season opener against TCU.
Geaux Tigers!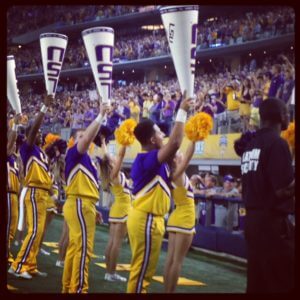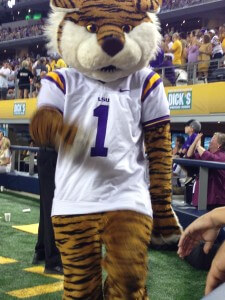 Can you tell we had some great seats? We could fist bump the band…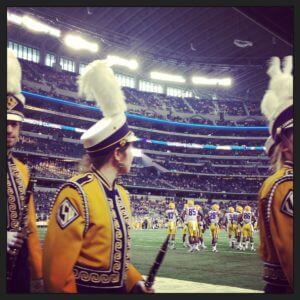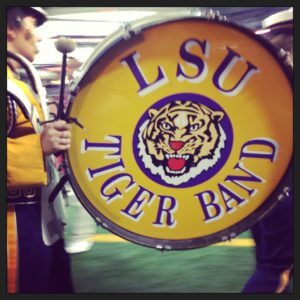 And yell at the coaches.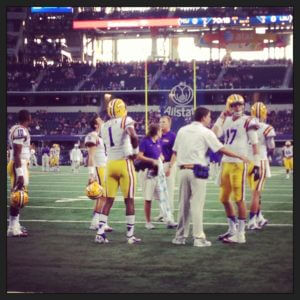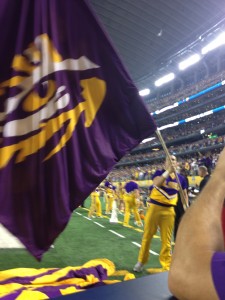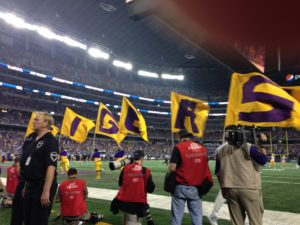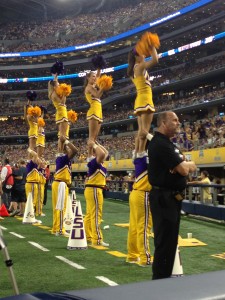 We tailgated in 104 degree heat, argued the enforcement of the new NFL bag size limit, and maybe had a few adult beverages, sans the shorties.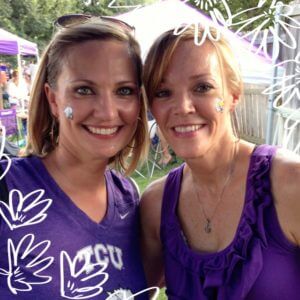 My TCU alum friend Camille and my LSU alum self.
And I missed the Cupcake the whole time.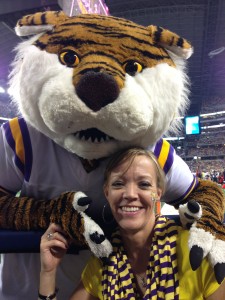 Well, about 75% of the time.
I can't even tell you where Sunday went but I know it involved a lot of coffee (Did you know that Starbucks has Pumpkin Spice Latte already?!),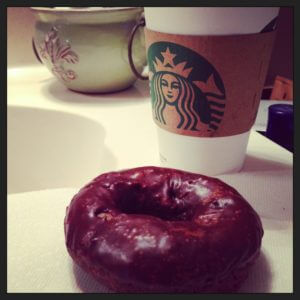 a vacuume cleaner, some paint, and numerous bags for Goodwill. It's amazing the stuff you can get done at home – when you're actually at home.
Monday was family fun day. Thanks to the rain, we all three went antiquing at a local mall, a scouting and recognizance mission for all the antiques we're about to have to move.
I have always wanted a lion for the front of my house – this one is so sweet.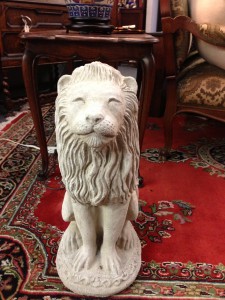 Be still my heart, this booth was shabby chic central.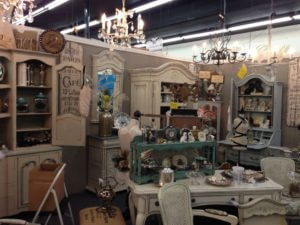 Then a spur of the moment decision to visit Hoffman Hots, the unique hot dog restaurant just across the "bridge to nowhere" as the locals call it.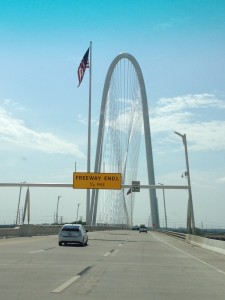 But I beg to differ. It's the bridge to Hoffman Hots, and hotdog nirvana.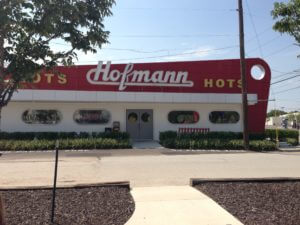 Located in Trinity Grove: 304 Singleton Blvd, Dallas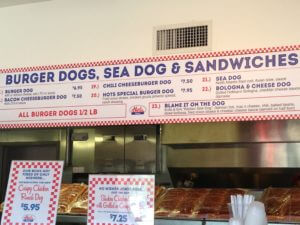 Your choice of German Frank or Kielbasa, I went for the Ranch Dog (fried onion straws, chipotle ranch, sweet pickle relish), the hubs for the Reuben dog (Swiss cheese, chopped bacon, sauerkraut, Russian dressing) with a side of  Asian slaw, and the Cupcake got the "Puppy Dog" (only $1 Monday – Sunday!) with a side of creamy mac and cheese. See the Hoffman Hots menu here.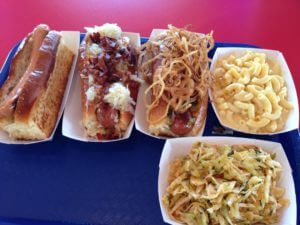 She and I may or may not have split an old-fashioned Oreo custard shake too. (The chocolate one was the hubs, I swear. So was the Tabasco.)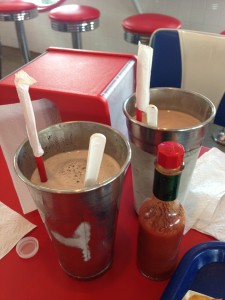 I will plead the 5th in case any of my freakishly healthy friends happen to be reading. I'm sure they're doubled over in horror at the thought of a hotdog AND custard shake in one sitting while they sip their freshly juiced kale, yard grass and flax seed concoctions.
But let me tell you – that hot dog was awesome.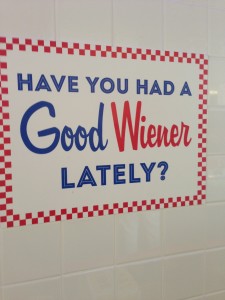 And I'm going to go again. And I'm not waiting for another 3 day weekend to do it.
The weekend was topped off with a special delivery all the way from Louisiana. My wonderful traveling friend Bianca literally hand-delivered another little slice of "home." A pecan pie from Lea's Lunchroom in LeCompte, Louisiana.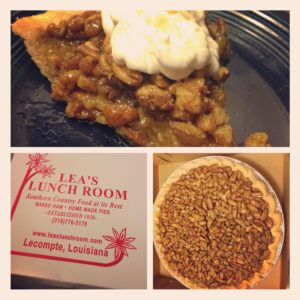 Now that's how to wrap up a weekend!
How was your Labor Day weekend?