It's time to celebrate America! Let's get our red, white, and blue food ready for your backyard parties, shall we? Here's a round up of what I featured on KTEN with Sarah Stackhouse this morning.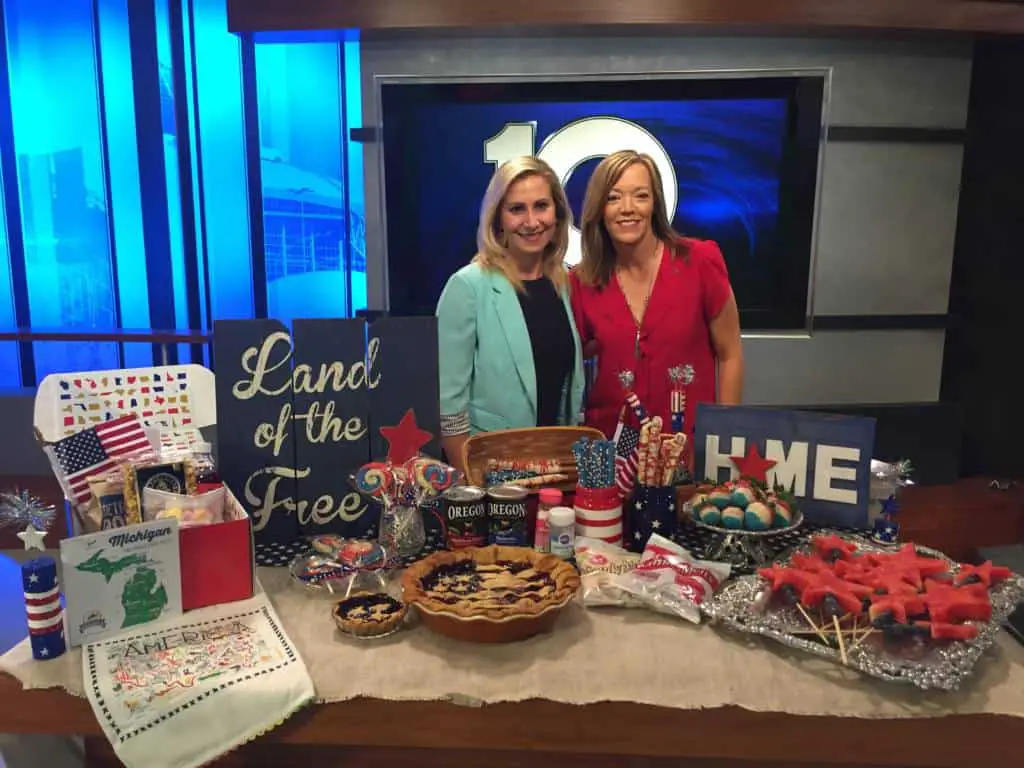 Everyone loves food on a stick. It's so efficient, right? Here's a simple way to say BOOM and keep it healthy!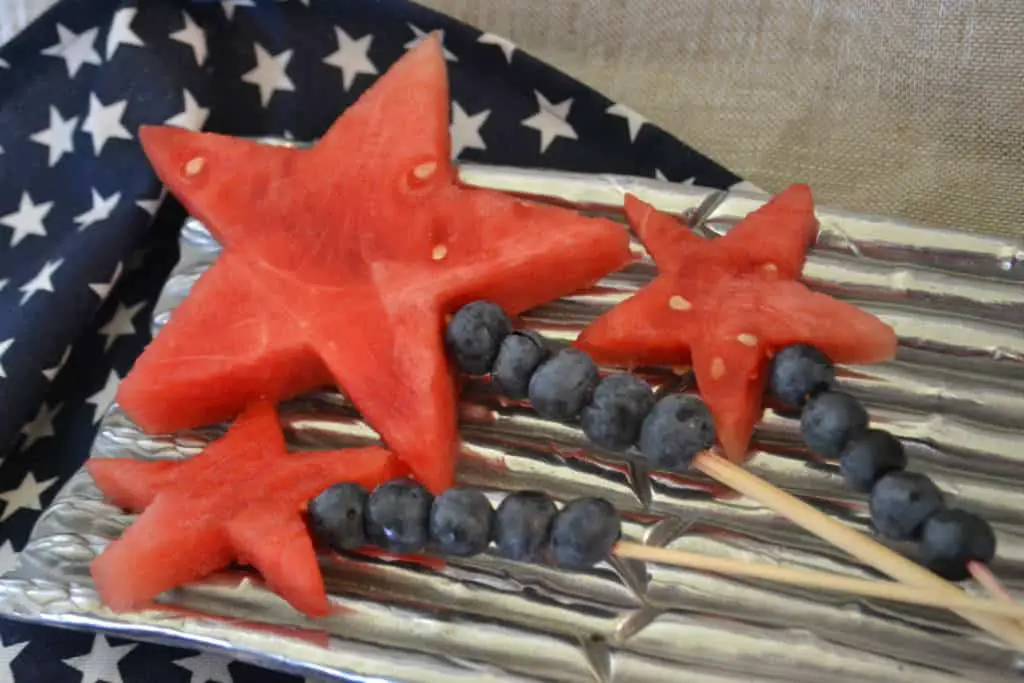 Slice your watermelon about one inch thick and use a star cookie cutter to cut your shapes just as you would cut cookie dough. Grab a wooden skewer (find these in the grocery store) and thread a few plump blueberries on first. Top with the watermelon star and place on a platter. (Best served cold.)
These make ahead pretzel flags are super easy and fun for the kids to help with.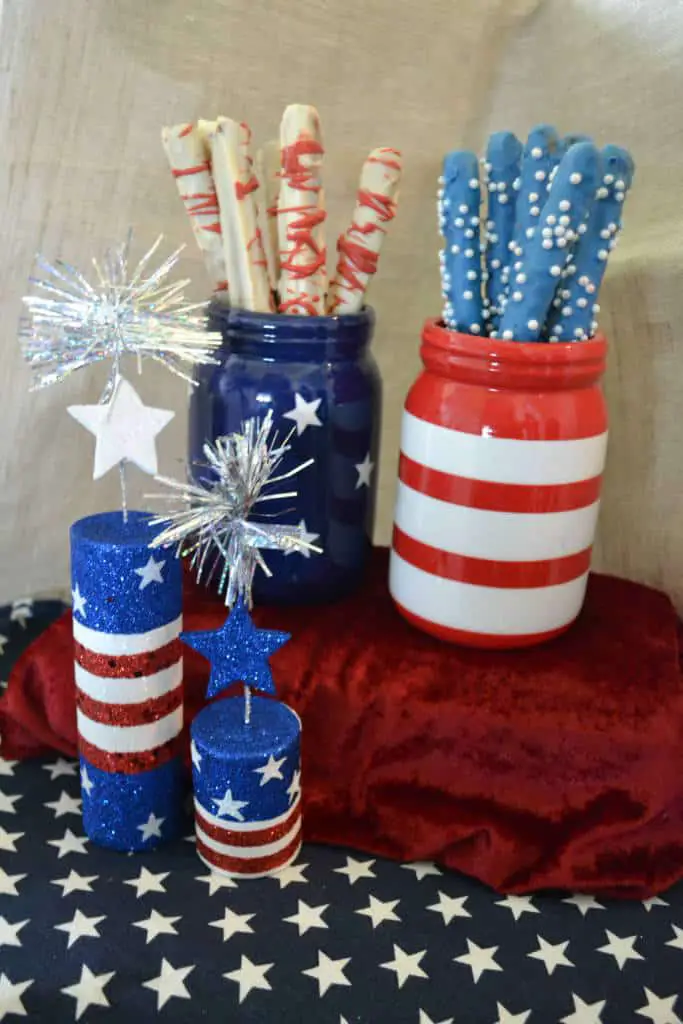 Melt candy wafers (found at your local craft store or cake supply store) in a double boiler, microwave, or candy melter. Add just a touch of vegetable oil to thin the candy a tiny bit and make it more shiny.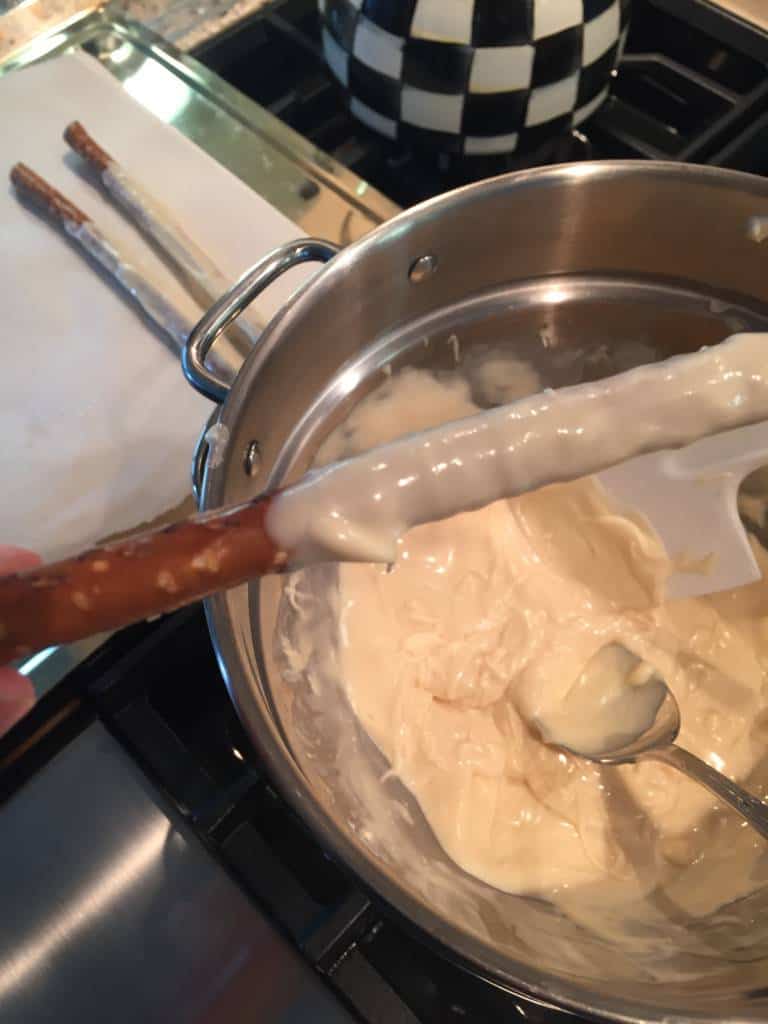 Grab a bag of pretzel rods and dip half of them in blue melted candy, covering about half to 2/3 of the pretzel rod. Sprinkle with white cookie decos while still wet. Place the blue rods on a cookie sheet lined with parchment paper until they have firmed up.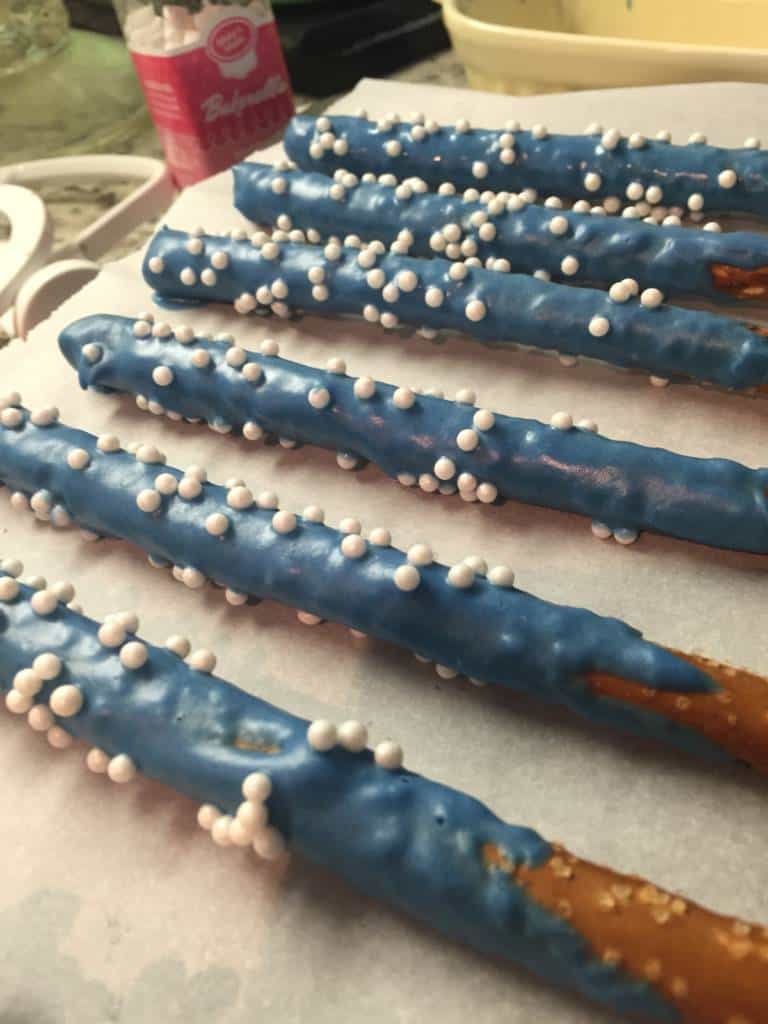 Dip the other half of the pretzel in melted white candy melts. Lay parrallel on a separate cookie sheet to dry. While drying, melt your red chocolate candies. Dip a spoon into the melted red candies and gently drip the red melted candy over the white portion of the pretzel rods in a waving motion. Voila! Stripes!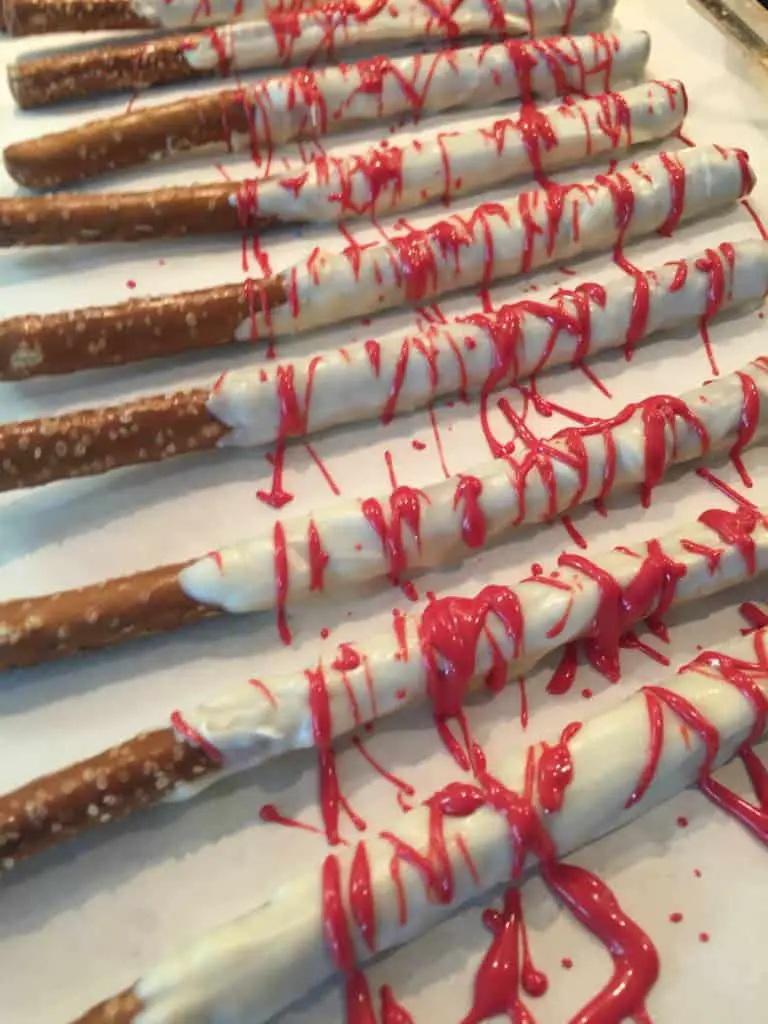 I feel like this next one has become a classic July 4th treat. Since you're melting chocolates, grab a basket of washed and dried, room temperature strawberries. Dip the berries into the white melted candy and then dip the tips into a bowl of blue decorators sugar. Kids LOVE these, both the making and the eating part of these.
Nothing says summer better than pie! Here's a fun twist on this American classic: make it a flag pie!  Find your favorite cherry and blueberry pie recipes because this is a mashup that will leave your guests talking.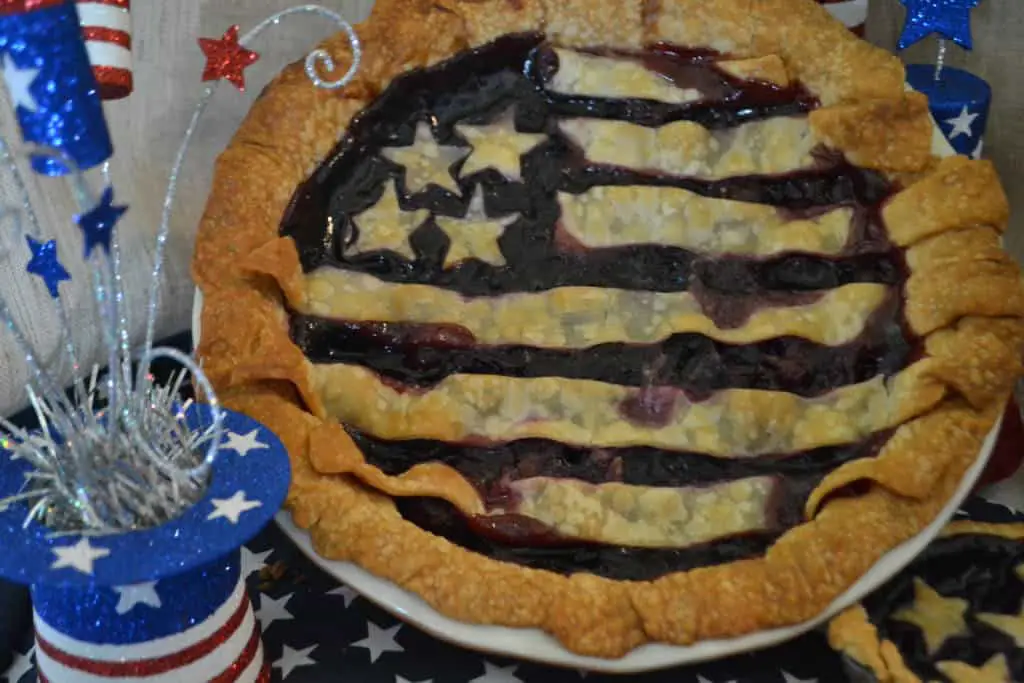 Prepare (or buy canned) both pie fillings as you normally would. It doesn't matter if you buy a crust or make a crust. Position your crust into your pie plate as you normally would. Now, here is the fun part! Take a piece of aluminum foil and fold it to be several layers and crimp to a 90 degree angle. Place the foil on top of your unbaked pie dough with the point in the middle, smushing it even with the edges of the pie dough.
Now fill the ¾ portion with your cherry pie filling and the ¼ part with your blueberry filling. Cut your pie dough reserved for the top into strips with a pizza cutter, and a handful of stars using a cookie cutter. Put the stars on top of the blueberry section, and the stripes across the cherry section.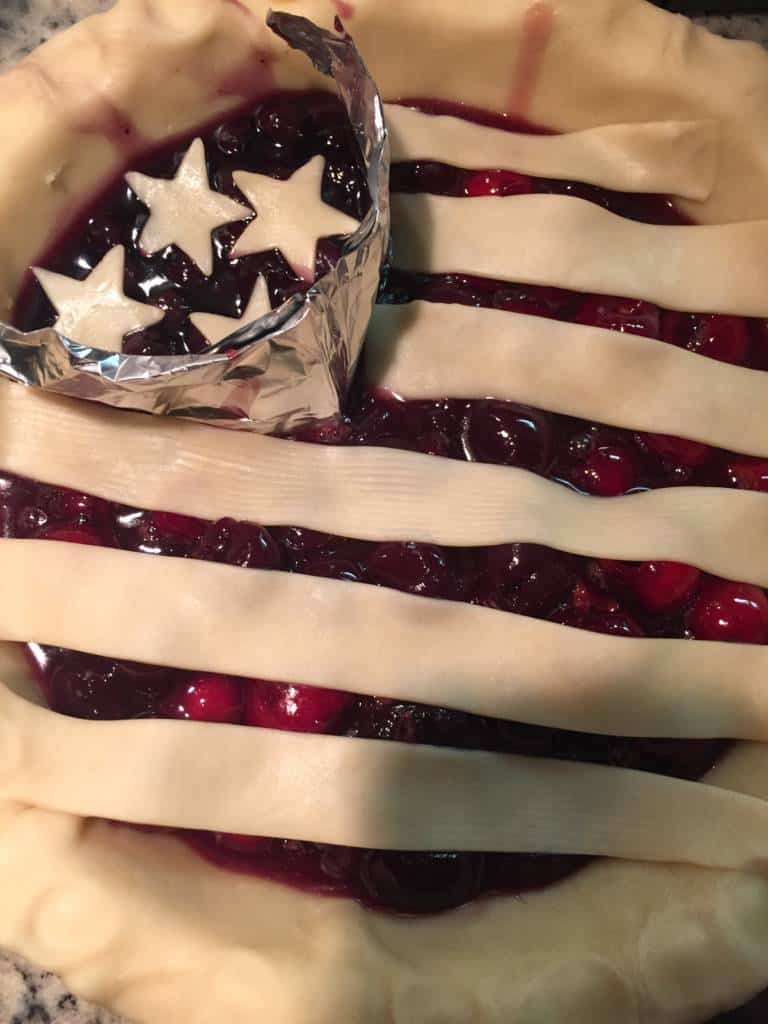 Bake according to recipe (but maybe not quite as long as I did, lol). It's patriotic pie at it's best!
These adorable lollipop cookies are a little more time consuming, but another delicious and fun one for the kids to help with (as long as you don't freak out over quality control).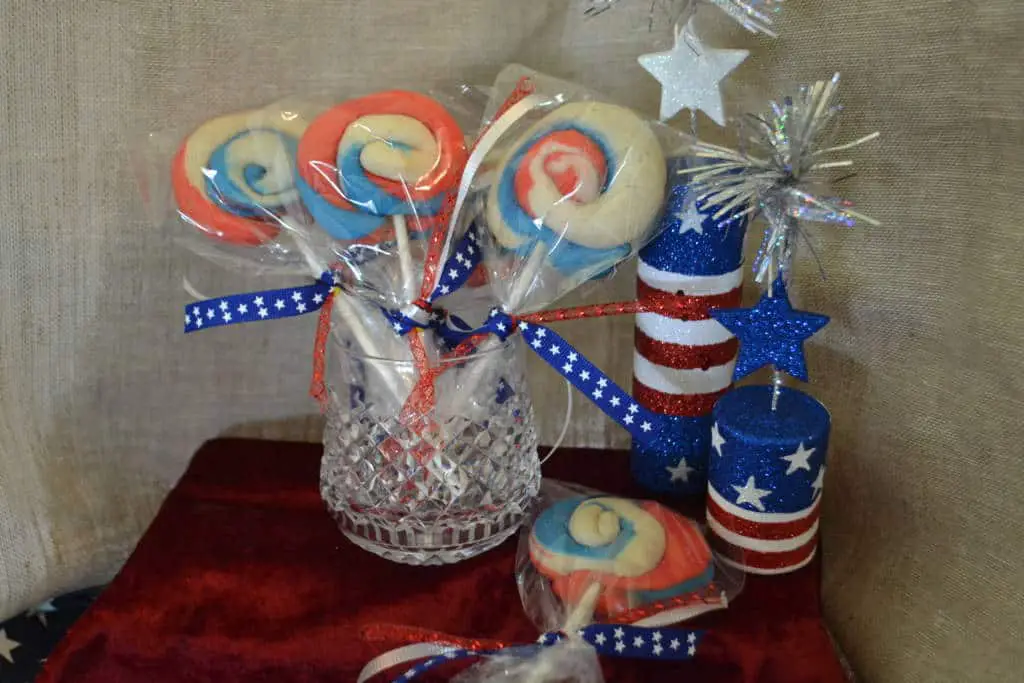 I have a detailed recipe and step-by-step here. The short of it is: divide your dough into three equal amounts: color one red, one blue and leave one with no color. I use gel colors that you can find at the craft store or cake supply. Create several approximately 1 inch round balls of each.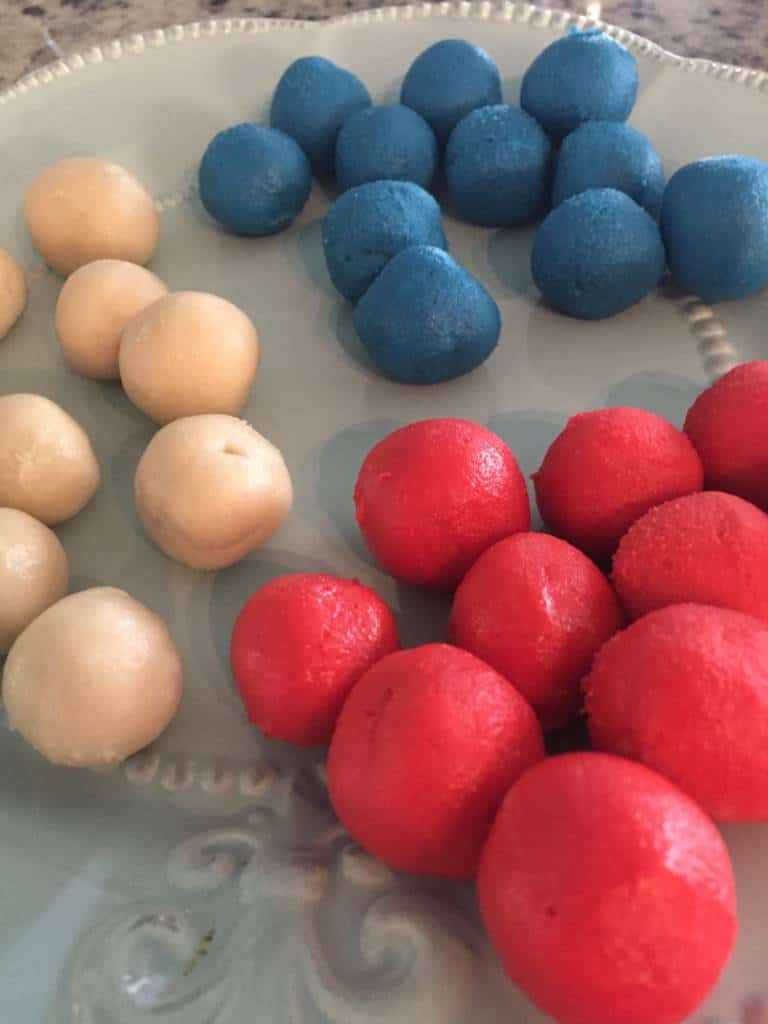 Grab one of each color and create a ball.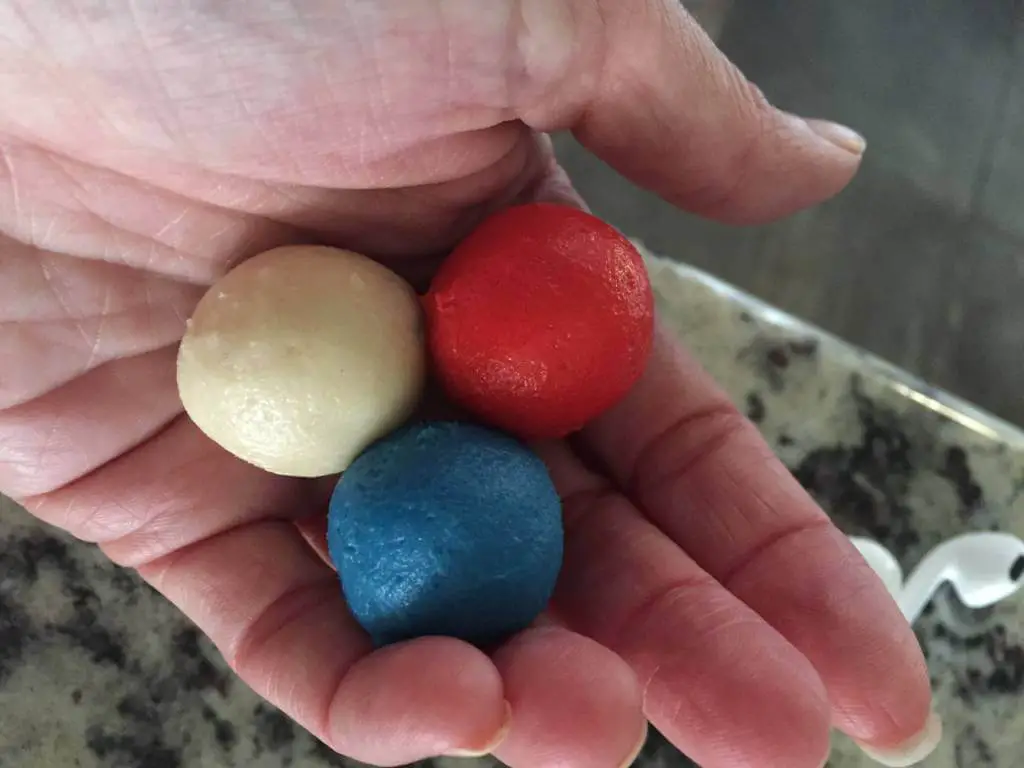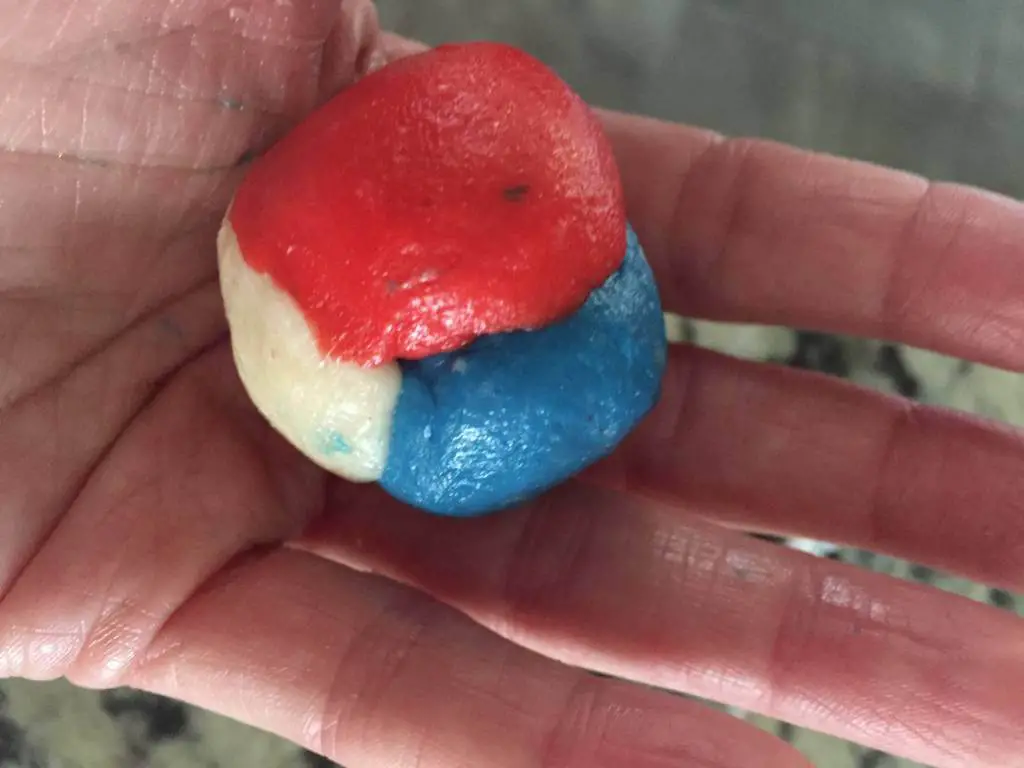 Now roll the ball between your hands like you're making a play dough snake. Curl it into the lollipop shape and place on your cookie sheet. Insert lollipop stick (find at craft store/supply store) and bake according to recipe directions.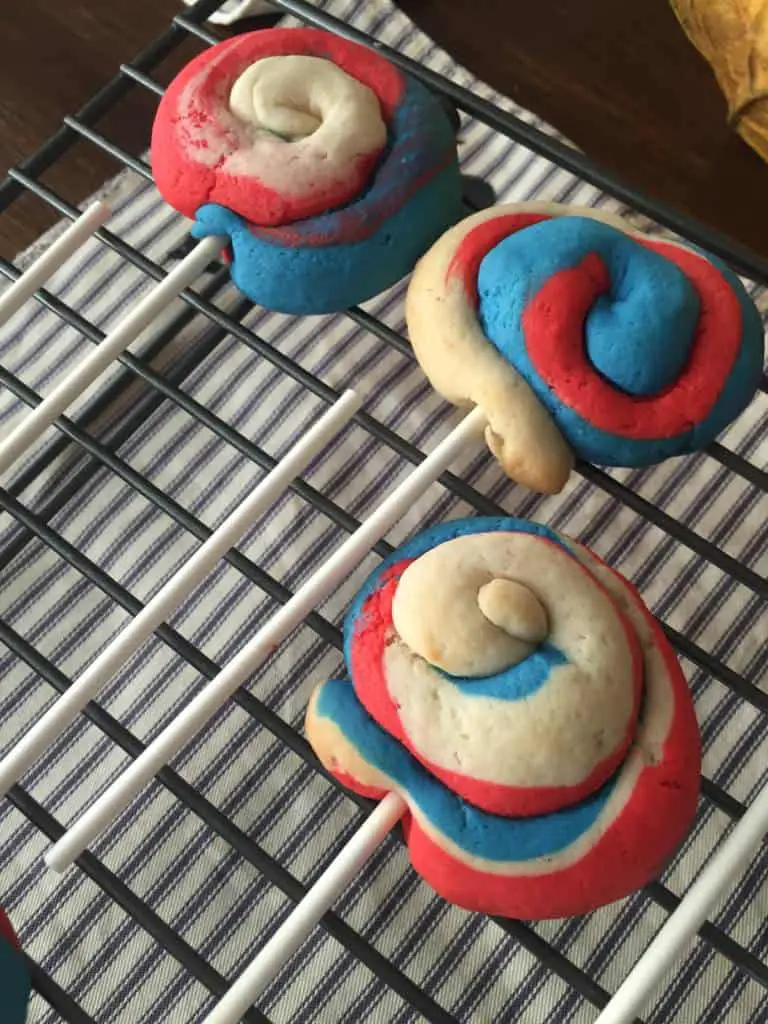 Tie a ribbon to the stick and this is a sure-fire favorite for kids and adults alike.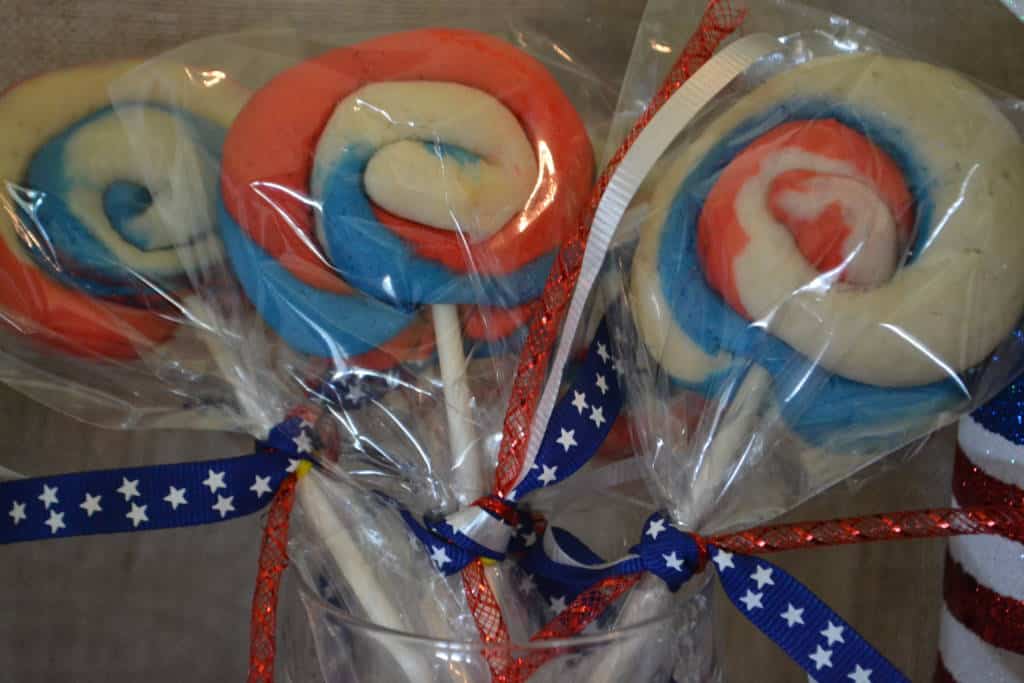 Okay, this last one isn't red, white, and blue, but it's a great way to celebrate our great nation. Keep the love for 'merica going all year long with the Discover Our America subscription box.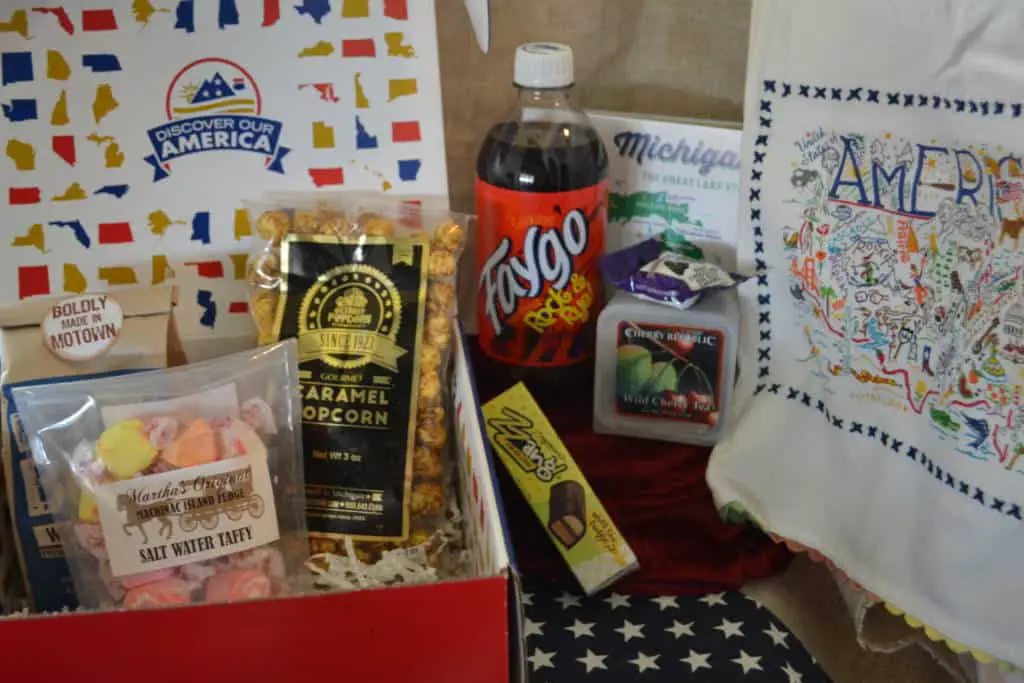 The monthly delivery features a different state with 5 – 7 carefully curated food treats accompanied by a fun trivia/facts booklet. How fun would this be for a road trip – open each as you cross the state line? Seriously love this! More about this here.
Want to decorate your table like the one on the show?
Here are details on how to make your own "HOME" palate sign here. Or save yourself a lot of trouble and purchase the Land of the Free sign and tea towel at the Vintage House in Carrollton. (Yep, they ship!)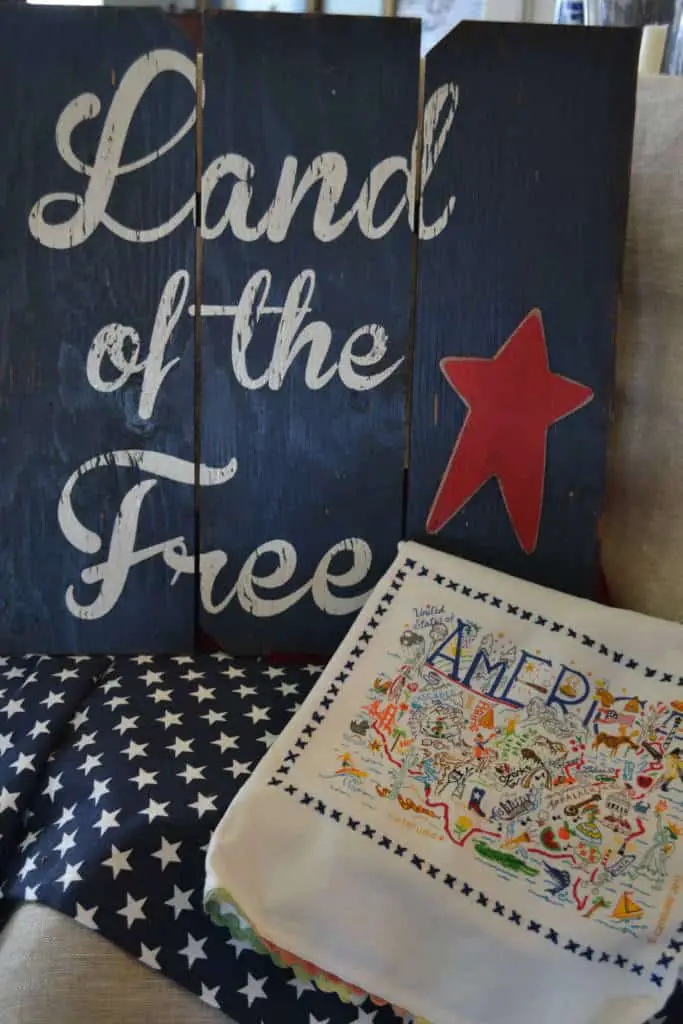 The fun little firecrackers are from Tuesday Morning.
The cute themed mason jars, ribbon, flag and star runner are from Hobby Lobby.
Happy July 4th!