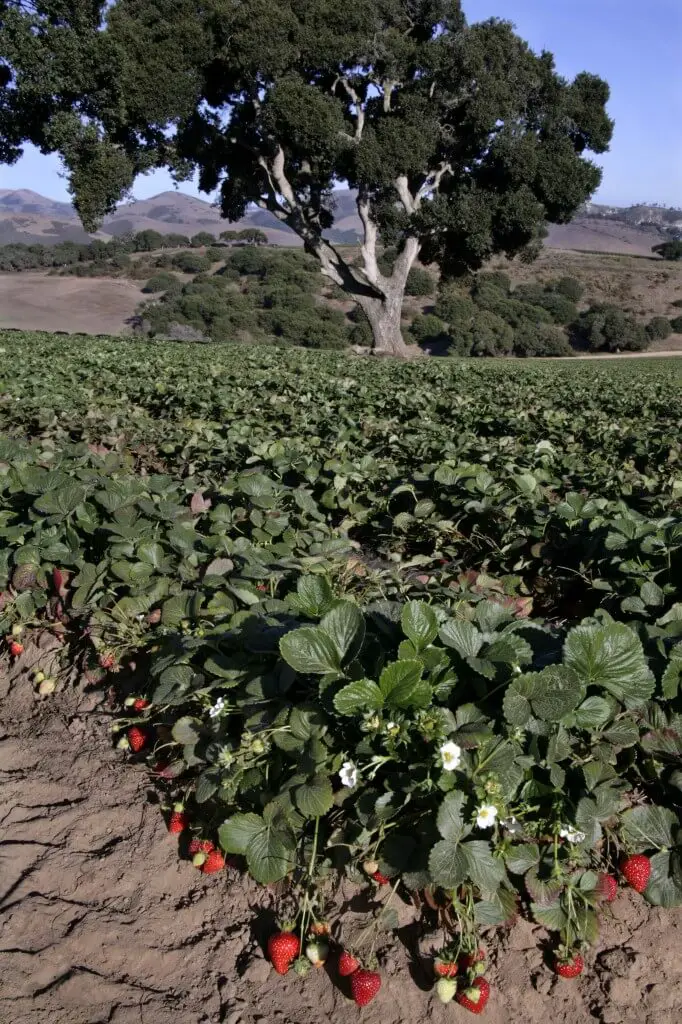 The strawberry mojito was pretty evening changing as well.
In fact, the more I ate and the more I heard during the California Strawberry Tour, the more I became convinced that I was a strawberry in a previous life.
Really I mean, California strawberries adore a view of the ocean, thrive in a temperate climate and require a nice course cuddling of dirt around them to flourish.
Once picked on, within an hour they are separated and chilled to the perfect traveling temperature where they can rest blissfully from the gentle jostling of the truck that's carrying them across country.
I swear, that's exactly like me! I just crave the ocean, I cannot STAND the heat of Texas summers, you pick on me and I definitely need a few hours of separation to cool down. And like a dog, I just love to relax and ride in the car.
See? Me = California Strawberry.
Or maybe it's the "you are what you eat" that is the result of the dawning of realization.
Strawberries are a staple in our house. Thankfully the west coast keeps the Princess in berries all year 'round as they are her go-to fruit. We always have them, but I will admit to holding back from eating as many as I'd like because I don't want to run out of any for the Princess. Because bad things happen when the Princess does not have her strawberries.
But the reservation of PC's berries has got to change. Immediately.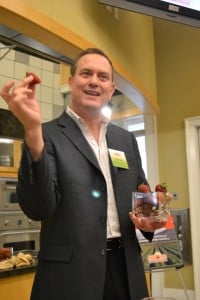 Between the decadent strawberry sliders dessert and sipping on the strawberry gazpacho soup, (my taste buds were thanking me for the escape from another painful evening of chicken nuggets, cheese sticks and peas….) I was thrilled to learn that our favorite red hunk of love is indeed, a SUPER FRUIT. And I know this because the "GUY-atician" David Grotto said it was so. He also said that having a strawberry yogurt smoothie for dinner was A-OK. Hubs? You hear that, hubs?! Gives a whole new meaning to "liquid supper" at our house doesn't it.
I've regaled my fear of dietitians to you previously, and I've since caught on to the hostess' @TexasHolly's conniving ways to get me to come clean on my dirty little carb secret because all of her gatherings at the Milestone Culinary Arts Institute inevitably include a dietician of some sort to ensure that I'm on my best behavior. No worries, I just stuff my tote bag with the contraband for later. I dare you to frisk me.
And even though this GUYatician and self-proclaimed "honorary mom" (I think he just said that because he was the only man in the room… okay and he has 3 daughters) was one of THEM, he spoke the magic words:
Strawberries (one cup a day) will help me remember where I left my keys
Strawberries will be better for me than Botox because they will repair my collagen and make me look like a super model
I will also look like a 10 year younger version of said super model because strawberries slow down the aging process
Strawberries will kick all the day care crud to the curb because they have 160% of my daily vitamin C and I won't get sick anymore
Strawberries will make a deal with my ticker and promise not to let my  arteries harden so I can worry about what I'll wear when I'm 105 and on the Today Show for my birthday.
And speaking of what to wear… because strawberries have enough fiber to help keep me regular (we all know what that means), I won't have to worry about bloating ruining my waistline of my favorite dress. Ta-dah!
Alright, so that's not REALLY exactly how he said it. I've certainly taken liberties to personalize his information… but honestly, let's bring it down to what really is important:
He said he lost weight eating strawberries. He did. I think it was like 20 pounds. He might have exercised along with it, but whatever. The Guyatician claims that he didn't deprive himself of anything he liked, he just started adding more strawberries into his diet and gradually he wasn't as hungry for the other crap – and he felt great.
So let's bottom line it, shall we? Strawberries are dang good for you, they taste incredible, I have culinary proof that they are one of the most versatile ingredients you can use in the kitchen and you can even work them into happy hour. Top off that grand list with the fact that Princess Cupcake loves them and they're great for her little growing self too.
What more reason would you need? Back up the car, clear out the trunk. I'm headed to Sam's Club because Princess isn't the only one getting dibs on all the good food anymore.
Favorite Strawberry Recipes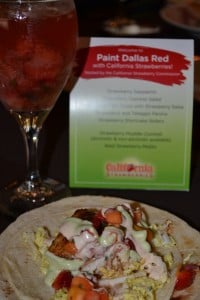 Special thanks to the California Strawberry Commission for the truly wonderful evening of amazing food, really engaging educational program and goodie bags that allowed me to share the fun with you! Several of the recipes that we enjoyed that evening are posted below, and videos and other really great strawberry information here. 
I'd encourage you to look at all of it when you have the time – it's really interesting to hear about the growers and their practices, and how to incorporate more of this amazing fruit into your daily life. And don't forget to enter the drawing for one of three strawberry cookbooks or the 101 Super Foods book that the California Strawberry Commission and David Grotto donated for my give-away! I will choose winners randomly on June 30th.
And lastly I couldn't forget to thank Holly Homer (@TexasHolly) for inviting me to the party. Smooches