I know you have a friend like this. She throws together a party with such effortless style that you are envious of her low blood pressure and the depth of her accoutrements.
That was the Pinkalicious party that we stepped into on Saturday morning. It was Pink, Pink, Pink everywhere. Pink food, pink decorations, pink tables, pink clothes, pink bags…
I admire Leslie's bravery for having a birthday party in her home for a gaggle of 3 year olds. Really, one doesn't recover from that without the help of a full truck of Merry Maids.
But if you saw what she did for little Nora's 2nd birthday party – at the PARK – where she had art tables and chafing dishes and paper flower balls handing from the pavillion, good God —I'm guessing she thought this fit-for-a-magazine spread was "slacking off."
Well, I thought it was perfect from the pink poofy paper lanterns to the pink crafty tables with Pinkalicious coloring pages, and wands and cupcakes, the pink lemonade, the all pink spread of food for the little ones – complete with pink yogurt and bowls of special toppings to dress it up – and pink cupcakes and.. and… and….
Well, just take a look:
I love the pink paper flowers hanging everywhere!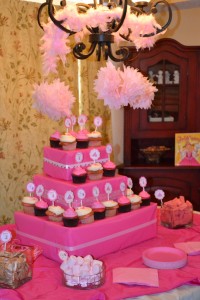 Leslie always has great craft ideas for the kids.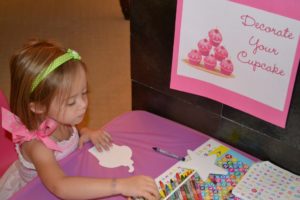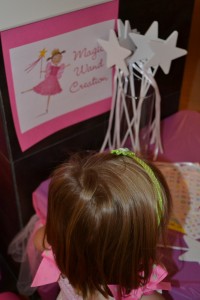 Looking down from the loft.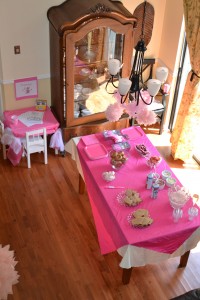 Isn't this great? Just tying the tables with tulle adds so much. I never would have thought to do that!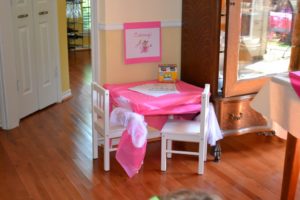 I love it when she wraps plastic ware!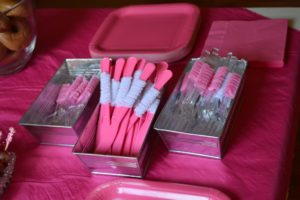 These cupcakes are GOOD!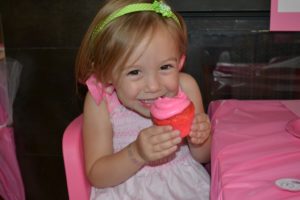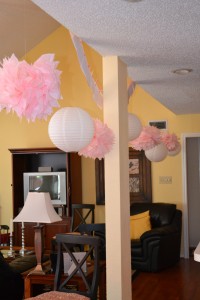 Grown ups had multi-color food and spirits in the other room, but the girls had pink lemonade, grapes, mini bagels with strawberry cream cheese, strawberry yogurt with bowls of toppings to choose from (including strawberries), pb and j sandwiches shaped like crowns, pink marshmallows, pink cupcakes, pink animal crackers, pink wafer cookies, and I'm SURE I have left some super cute edible pink finger food out…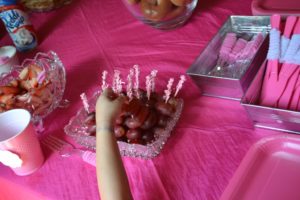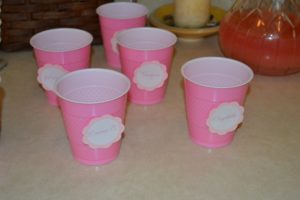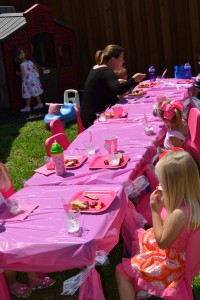 And as we gathered to go, we got Pinkalicious bags topped with pink tissue and filled with pretty pink bracelets and a PURPLICIOUS book that Princess read to me the whole way home. I guess she's setting us up for next year's theme…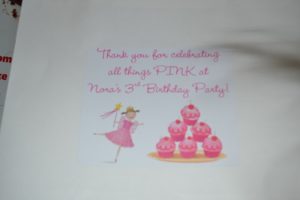 Such fun. ☺