It's time to prepare for elf n the shelf.  Yes, Moms, I know.  It's a fun but hard few weeks. Lots of creativity, lots of things to remember. It's so worth it every morning to see your kids happily find the Elf on the Shelf in its new location and up to whatever mischief you have mustered up.
And let's talk about the added benefits that Elf provides… the sheer calming magic that one word provides in moments of chaos, "Elf." Instant order. Such brilliance. So we can agree, the Elf is important. We don't want to screw this up, do we? No, we don't. Here are my essential tips to kicking off a successful Elf on the Shelf season.
Find the Elf.
Seems elementary, but I assure you,  elves can be misplaced. When that happens, there's sheer panic because if you need to replace them, they may not look the same and your child will know so prepare your story. Ours took an extended hiatus one year but eventually found their way back. It was a stressful few nights for mama though.
Calendar it out.
Holidays are busy. You'll have late nights when you arrive home and the last thing you're going to want to think about is where that elf is going to land or what it's going to do. Go ahead and map those days out on a calendar so you're not stressing when you're likely not your best. We have a downloadable weekly planner that can help you manage your elf shenanigans day by day.
Get your welcome back breakfast planned.
Lots of Elf on the Shelf arrive back to business with a bit of a breakfast spread. It's good to plan these snowy feasts with a little pre-thought. It doesn't take much, but stocking up (and hiding) the powdered donuts and peppermint sticks is a good idea. Pinterest has some great suggestions for what to plan.
Plan out any gifts.
Does your Elf on the Shelf give gifts? Ours gives an advent calendar on the first day they arrive and Christmas Eve pajamas when they leave. That checks two days off our calendar. 🙂
Take inventory of the "stuff," and think about what you can do with it.
If you look back at some of the Elf on the Shelf antics through the years, you'll see that our Elves often get into some things we had on hand. One year, they found a stash of bubble wrap and wrapped the tree. One year, we had a bunch of glass blocks leftover from a home reno, and they trapped Elsa in them. A bunch of water balloons? Not safe around our Elf. The bathtub was full of them to create an Elf balloon ball pit.
Set your alarm.
Such an easy thing to do. Set your recurring alarm for every evening at 10:30 p.m. or whatever time you know the kids are asleep and you have a regular reminder. Done and done.
Find a good-bye poem and print it out.
Here's a link to a cute good-bye poem similar to one that I've used in the past. I typically like to pair it with an I CAUGHT SANTA photo and a note from the Elf duo.
Wine, you'll need lots of wine.
Kidding, not kidding. It's important to keep a sense of humor during the Elf season, so cheers Elf families! Here's to another fab season to us!
Free Elf Planner and Elf Name Downloads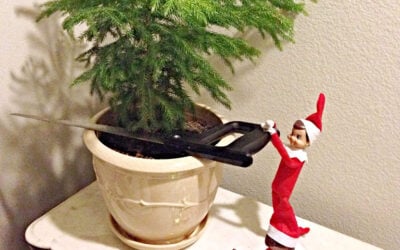 I think Chintz and Jewel have recovered from the shunned weekend. They're back to their usual no good. Take a look at how we found them this morning, just in the nick of time I might add...Chintz found Daddy's saw and is trying to cut down our juniper tree -- I...
read more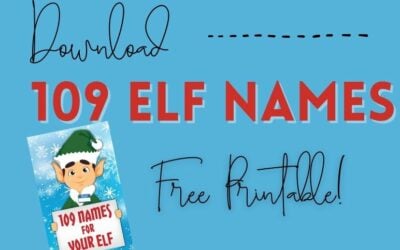 Naming your elf on the shelf matters. A lot. Here is an early Christmas present from me to you – 109 Best Elf on the Shelf names.
read more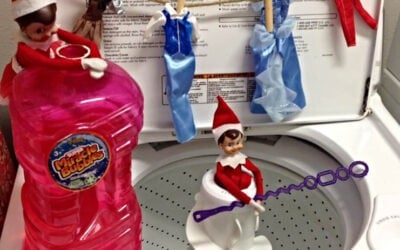 It's kind of sweet that our Elf on the Shelf decided to do the princess dolls' laundry today. Nice except that they are using Miracle Bubbles in the washing machine… reminds me of the Brady Bunch episode with the washing machine, LOL.Free Elf Planner and Elf Name...
read more