A client of mine, Global Data Vault, is the bomb-diggity when it comes to data security and disaster recovery. And in the name of cloud disaster recovery, they asked me to write a review of some items typically found in an emergency supply kit — but to put a twist on the use of each one. So I did…with some help from the Princess Cupcake.
The Emergency Supplies kit is obviously not a laughing matter but I took a serious subject and had some fun with it. Everything from the face masks and glow sticks to a traffic baton, a headlamp and triage tape was re-purposed. Just shows you that when it comes to getting crafty, there is no limit on what you can press into use. (Just make sure you have another Emergency Kit standing by in case of … you … know … emergencies).  (See our turtle, Darth Vader, boogie man hunting hat and fashion bracelet here.)
My FAVORITE however, was the glow sticks. And I'll confess that I saw this as a joke in my Facebook feed so I have no idea who to give the original credit to, but it's genius and so funny. Thank you whoever thought of it!
Halloween Decorations – Creepy Glowing Eyes in the Bushes!
This looks great in the bushes and super creepy. Plus it is it's super simple.
You need:
Glow sticks
Empty paper towel or toilet paper rolls
Black paint
Tape
Scissors
What you do:
Measure your glow sticks. Mine were the industrial kind and were too long for the toilet paper rolls I had already painted, so I switched to paper towel rolls. Yes, I stockpile these for a crafting emergency.
Cut eye holes in your cardboard rolls. I used a paper punch to get them started, then cut them a little larger with scissors.
Paint your rolls.
When dry, activate your glow sticks and put inside the cardboard rolls. Tape them down to make them secure.
Go plant them in your bushes and landscaping in your front yard to make it look like lots of creepy glowing eyes are watching!
What are you doing for Halloween this year? Tell me below or check out some more Halloween Decorations, Halloween Costumes and Halloween Treats ideas.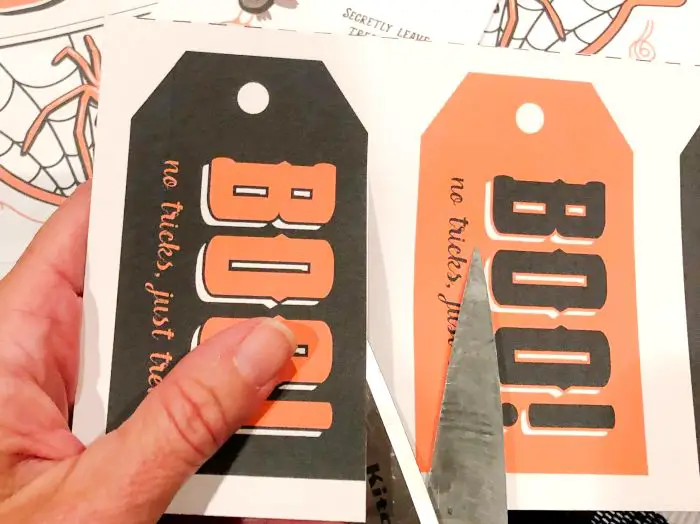 Feeling neighborly? Halloween is round the corner and it's the perfect time to surprise your friends with a little "Boo." If you aren't familiar with the tradition, it's a fun one! Simply put a few treats together and leave them at a neighbor's house to make their...
read more