With Memorial Day being the "official" kick-off to summer, what better way to recognize our fallen heroes than with a American flag banner to hang on your door? (See here for deco mesh wreath instructions)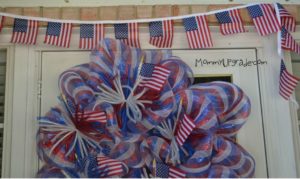 This flag banner was sooooo super easy to make and the Princess Cupcake was thrilled to decorate with red, white, and blue. My only redo on this one would be to make it a little bit longer.
This red white and blue pennant banner (sometimes referred to as bunting) is weather resistant so you can use it to decorate your door, mailbox, or anything outdoors or indoors. It's also the perfect addition to any party for the 4th of July.
What you need: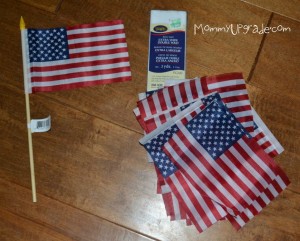 This flag banner was made with 2 packages of mini American flags from Mardi Gras Outlet (minus 7 that I used for the deco mesh wreath and another uncoming project.)
One package of ½ inch white bias tape (3 yards) – you can get this at any fabric store or craft store that sells fabric
How to make the flag banner:
1) Unpackage the American flags and slide the flags off the sticks
2) Open the bias tape and line up the end of a flag with the center of the bias tape.
3) Fold over each side of the bias tape around the flag like you're making a sandwich.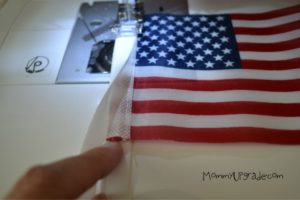 4) Sew down the middle of the bias tape, securing the flag inside. If you don't sew, you could just staple them.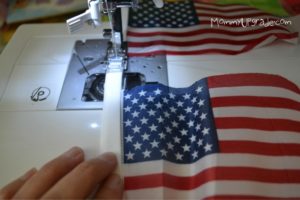 5) I left about 1 and ½ inches between each flag to make the flag banner, and a few inches on each end.
If you're going to make this to frame a doorway, you probably want to double or even triple it, but this version only took a couple minutes to finish. It couldn't have been any easier and so reasonably prices. You can use year after year. You can even wash it if you need to.
Supplies for this flagtabulous project were provided by MardiGrasOutlet.com.