Don't stress when the holidays roll around. Get started early with this FUN step-by-step holiday planning guide!
When summer is just a little too long and you'd give your right arm for cooler weather, THAT's the perfect time to get your holiday planning mojo on. Whether you're all in for Christmas in July (Hobby Lobby sees you raising your hand 6 months before Santa shows up), or just getting a jump start on the holiday season in mid-September, I have the perfect plan to harness your mood and motivation.  Get ready to dive into that tinsel before the eggnog even hits the shelves!
Ready reindeer? Let's go! (If this sounds like fun to you, join us for the Holiday Survival Club HERE)
ONE: Seasonal Videos
Some of the best, most heartwarming videos run on repeat during the holidays so first things first: you must download the Hallmark Holiday movie app or Hallmark Movie Now and set your DVR to record the early releases of every one of the Hallmark Holiday movies. Good news, if you miss the recording, you can purchase the DVD's!
[amazon_link asins='B01MQVI6GM,B07KLR41TS,B017MI0Z9I,B07HYGG77D,B01C9CADL2,B077128BTL,B01MSUANAV,B00O1D3C6Q,B00GX54CQY' template='ProductGrid' store='tpgbusinessse-20′ marketplace='US' link_id='c20514db-6ea3-432b-8c47-d524c151c6c8′]
TWO: Heartwarming Drinks
Make a cup of decadent hot cocoa, mix in Jackson Morgan Peppermint Mocha and top with whipped cream and sprinkles. Always, always, add the sprinkles.
View this post on Instagram
THREE: Holiday Watching
Now the easiest but really important part: Watch the movies to get yourself in a gingerbread state of mind.
FOUR: Holiday Decorating
Once the movie marathon is over and you can't help but think about how to decorate this year, you're going to have to go into the attic. That's tough – especially if you're in Texas like I am. To take your mind off the heat, load up the Christmas station on iHeart radio, pump up the volume on your phone and dive in. You need to do an inventory evaluation of your holiday décor, and yes, pull the boxes out from the way back. Ask yourself:
View this post on Instagram
Has my style changed? If yes, find things that don't fit and put into a box to donate.
Throw away anything broken that you don't want, fix what you do. Now's a great time to call for back-up. Ask the hubs and the kids to set up the repair station before everyone has holiday madness.
How's your tree? Is it still in good shape? Test the lights. Are the branches getting bare? If yes… start stalking King of Christmas (They have the BEST trees with so.many.options!!! GET 10% off with code MOMMYUPGRADE) for their early season deals and order a new tree so you're not waiting on a tree when everyone is sending holiday cards.
Make a list of everything that needs replacing or purchased.
Find the Elf! Whatever you do, don't forget to get your Elf on a Shelf and start noting down ideas for some new mischief he (orshe9 can get up to this year.
FIVE: Holiday Relaxing
That was quick! Back from the attic already? Okay, time to cool off.  Put your feet up and maybe refill that Jackson Morgan for this next step.

(If you're still hot, try this peppermint mocha milkshake or their peppermint White Russian.) Start searching Pinterest for any holiday projects you want to make for décor or gifts.
SIX: Holiday Decoration
Get in the car, it's a reconnaissance mission. If you're in or near Texas, make a trip to Decorator's Warehouse in Arlington. It's the largest Christmas store in the state!
[embedyt] https://www.youtube.com/watch?v=HsUK9Etrtcs[/embedyt]
While you're there, pick up a copy of their guide for the perfectly decorated tree and a piece of pie from their newly opened coffee & pie shop! Not nearby? Don't sweat it. Many of the craft stores are putting out holiday inspiration items super early. Use your coupons and start stocking up week by week. Be sure to take your list of supplies needed for any projects.
SEVEN: Holiday Planner
Get or download a holiday planner. Start mapping out when you'll make your projects. I like this one from Shop Carrie Elle.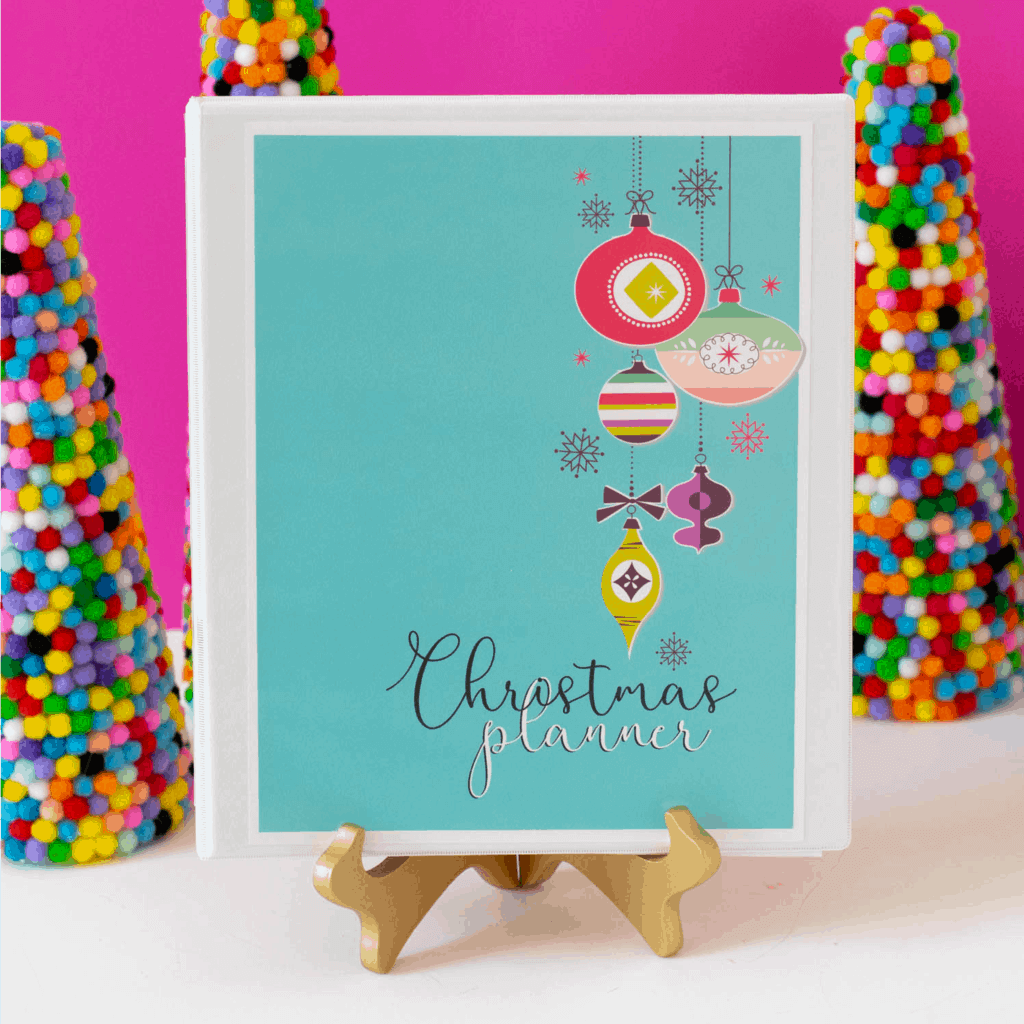 Make a list of the gifts you'll be giving, or at least the people you'll be giving them to. Make your budget and start putting a little away each month for purchases and keep your eye on sales for special items.
EIGHT: Holiday Card Photos
Assess the family photo situation. Do you have a photo for your card this year? If not, you still have time to get the fam together and have some photo fun. What about any photo books? Now is the time to start uploading photos and building your photo books so that when the discounts happen, you can just add to cart and go, because we all know how crazy it gets as soon as October hits. No one has time to make those books!
NINE: Holiday Card List
Update your Holiday card list and reach out to anyone who's moved since your last mailing. Do it before the crazy happens so you are ready with labels before Thanksgiving even hits! If you're the one who's moved, you really want a jump start on cards so everyone can get your change of address.
TEN: Holiday Party Planning
Lastly, do you have a holiday party for work or friends? If you don't have it at home, now is a great time to reserve your space at your favorite restaurant or event space. Waiting until Winter is a sure way to miss out on that booking! If you do throw parties at home over the holidays, gather your favorite family recipes (or start looking at catering menus) and find all your serving pieces.
So… are we ready yet? Let's Fa-La-Lah!!!