Oh gosh. Have you ever been shopping and had that HSGD adrenaline rush (huge sale, great deals)? That's awesome right!? I had it Tuesday and I'm going to tell you about it.
Let me start by asking you if you've even been to The Children's Place lately?
I had NOT.
My last recollection of shopping there was, it was an okay place to get the basics but nothing I'd go out of my way for. Just being honest.
Welp. It's totally changed. Totally.
They have all new designers which are hitting the fashion trends spot on, and the store has a fresh new look to it.
Yesterday, I took a friend and visited the Galleria Dallas store for their media Holiday Shop Day (yes, I received a gift card as enticement to come see what was new). The whole store was 40% – 75% off – for everyone, not just us. Add in their 20% off coupon for joining their mailing list and well, everything we bought averaged out to about:
$4 for T-shirts
$7 licensed character T-shirts
$7-8 for girls outfit pieces
$3-4 headbands/jewelry
$7-8 pants/jeans
$10 button down shirts
$12 sweaters
$8-12 PJ sets even licensed character ones
$4 hats/gloves/scarves
$7 hat/glove set
$15-18 shoes
At those prices, we threw budget to the wind and spent way more than our gift cards.  We just got so excited about what we found!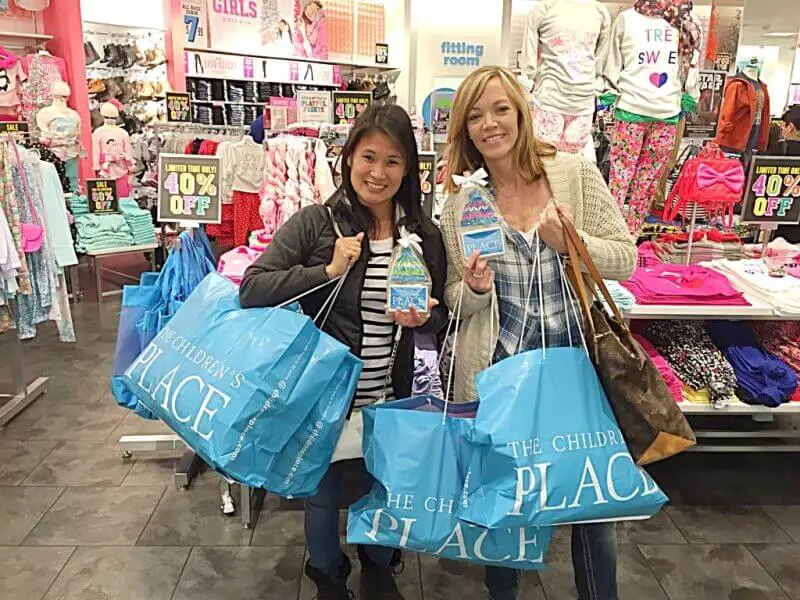 Yeah. We were there a while.
So let me show you some of the great collections that we saw in store (I'd say 95% were machine washable), and then I'll show you photos of our kids wearing some of what we bought. I say "some" because I set a few things back for the Cupcake to put under the Christmas tree. With a return with receipt good through January 15th, I don't have to worry about whether she loves it as much as I do. If she veto's something I chose, we can make a return or exchange after the holidays.
Thanks Children's Place! We had a blast updating our (collective) 4 kid's closets!
You can shop the Children's Place sale online or in any of their nationwide stores. Post your favorite buys with #MyStylePLACE!