The Cupcake and I have been listening to Harry Potter audio books read by Jim Dale lately. His mastery of impressions and artful presentation has completely changed our outlook on driving absolutely anywhere. Instead of dreading the 40 minutes to dance class, it's now it's an opportunity to revel into the magical wizarding world that JK Rowling gifted to the world and we love so much.
The Cupcake is 7, and I'm guilty for getting her hooked on Harry Potter so young.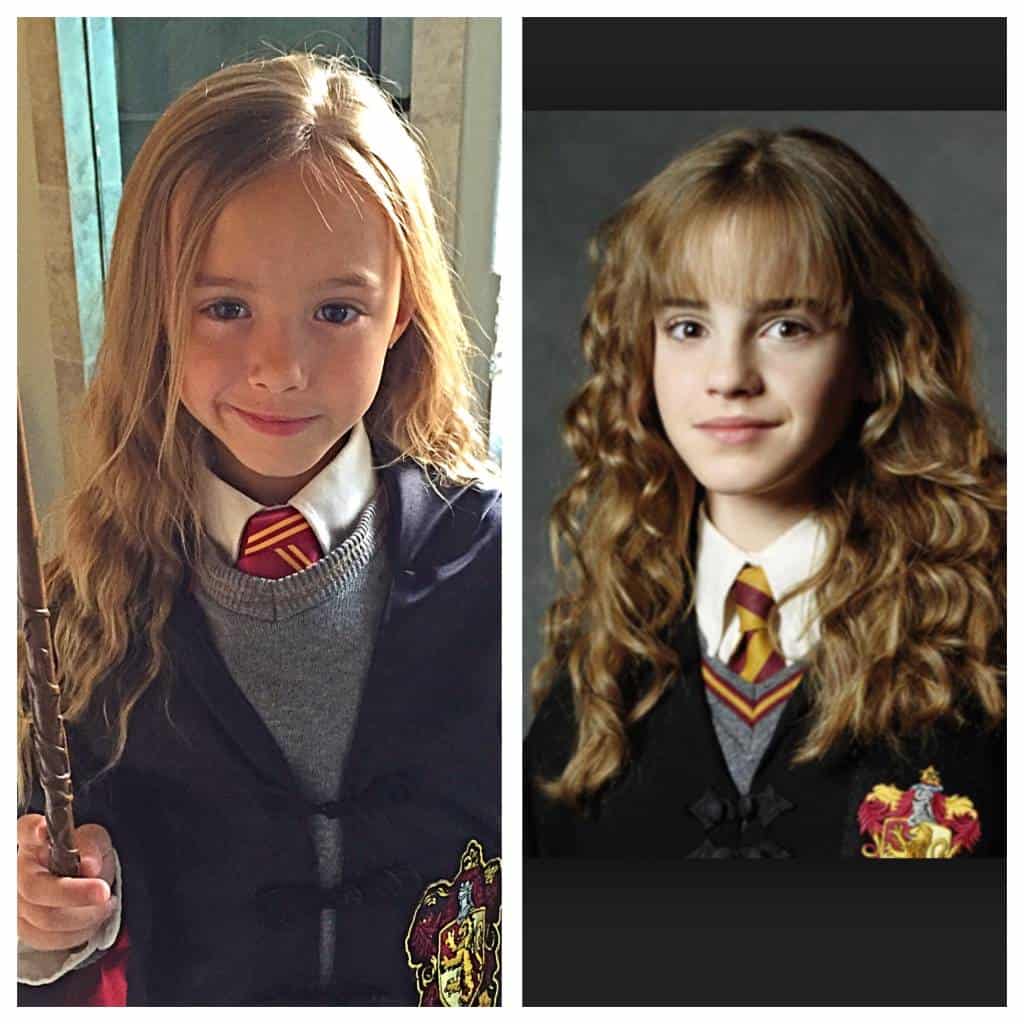 When we were traveling in the UK, one of the highlights of our trip was to be a day at the Harry Potter Warner Brothers Studio Tour London. Of our car of 5, I was the only one who had read the books, although Big Daddy had seen the movies with me. It was sheer selfishness that I made her watch the Chamber of Secrets as we sped across England from Scotland, just so that she would be inclined to stay longer at the Harry Potter Tour,  and I could soak it all in. I mean, I could barely sleep the night before!
My plan worked much better than anticipated, and now I have a full-fledged Harry Potter fan on my hands. I don't know that she will remember all of it when she gets older, but I have a camera card full of photos to help her remember.
This is the to-scale model that was built for all of the landscape scenes of Hogwarts. It's truly beautiful — and massive!

One of my favorite parts of the day, was strolling along Diagon Alley. How I wished the stores were real and we could go inside!

Olivander's wand shop!

I may have gotten chills entering the great hall.

And definitely creeped out in Snape's potion classroom.

Probably could have hung out in the Gryffindor house all day.

As suspected, Dumbledore's office was all in order.

And this gave me some decorating ideas. (Not)

Buckbeak looked like he needed a hug.

But this guy didn't.

Outside we got to play a little chess.

Sample some butter beer.

Take a ride on the night bus.

To Privet Drive, of course. (Complete with owl droppings.)

But one of my favorites was the Weasleys' house.

Of course, the bad guys were hanging around.

And lest we not forget all the kitten plates in Delores Umbridge's office.

There's SOOOO much more, this is only the tip of wand. I literally could have spend the entire day there and taken 3,000 photos.
If you're traveling to the UK – and are a Harry Potter fan – this is a must-do venue. The Harry Potter tour covers two soundstages and a backlot filled with original sets, incredible special effects and animatronic creatures – some of which you'd prefer not to encounter. Definitely pay for the digital guide to tour you though each room. It is full of details and behind the scenes stories you would otherwise never learn. I am sad to say that the Cupcake would not ride the broomstick or the blue muggle car with me for a photo (perhaps our next visit), however she did allow me to spend all my galleons to stock up on all things Gryffindor in the gift shop.
The website has excellent tools to help you find your way to Leavesden, where the Studio Tour is located. Upon arriving at the Watford Junction train station, you simply cannot miss the Harry Potter wrapped double-decker buses that will take you directly to the entrance. They even have the movies playing for you inside.
There's a nice food court area where you can gather before or after your tour in case your timing is just a bit off, and of course the Privet Drive area where you can sample butter beer and other snacks when you're hungry.
My best recommendation if you're traveling to London and want the Harry Potter studio tour experience, is to buy your tickets early as this is a wildly popular tourist attraction. You can do this online, or by phone, and I found the customer service to be very helpful.
More information about the Warner Brothers Studio Tour London can be found here. If London is a bit too far or a studio lot tour isn't exciting enough for you, you can always head to Orlando or (coming in April) Los Angeles for the Universal Studio's The Wizarding World of Harry Potter experience. There you can visit either Hogsmeade or Diagon Alley theme parks where they have rides, stores and simulated Diagon Alley attractions.
Want to see more? Check out my flickr album below for LOTS more photos!