"I've never experienced anything like that before in my life."
Can I just tell you how difficult it is to get a statement like that out of my husband? He's been talking up our visit to the Great Sand Dunes National Park in Colorado, to everyone. It was initially a random stop on our family vacation that I was hoping to maaayyyybbe squeeze in. It was to be a "nice to have" experience if we could work it out. At least, that was my opinion before we went. After visiting, I would urge everyone to go if you're anywhere in the vicinity. It's definitely a "must-see."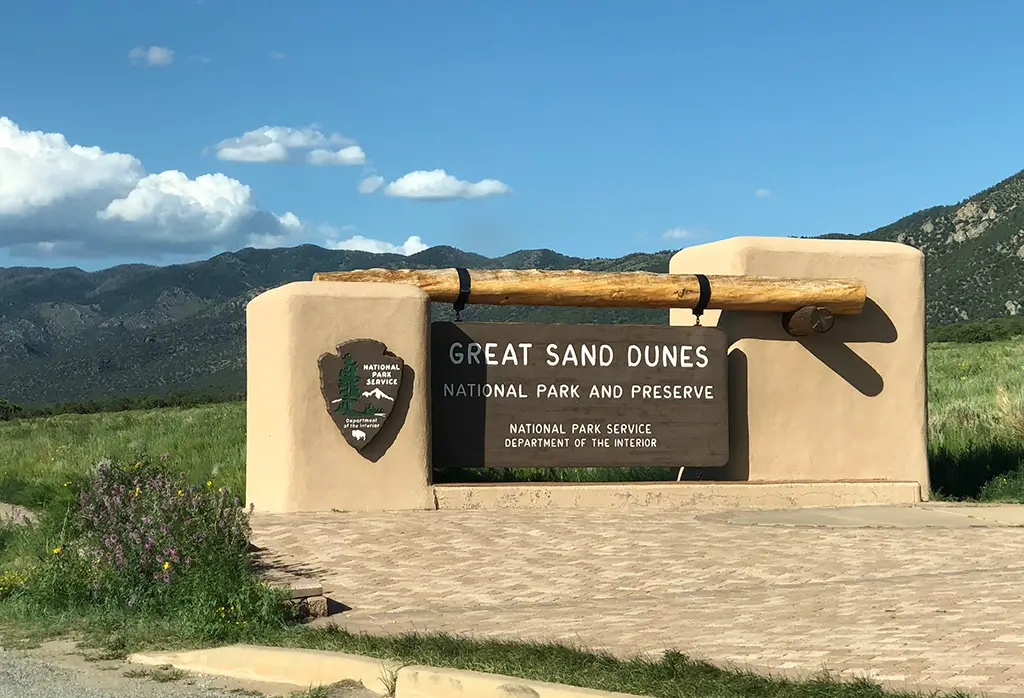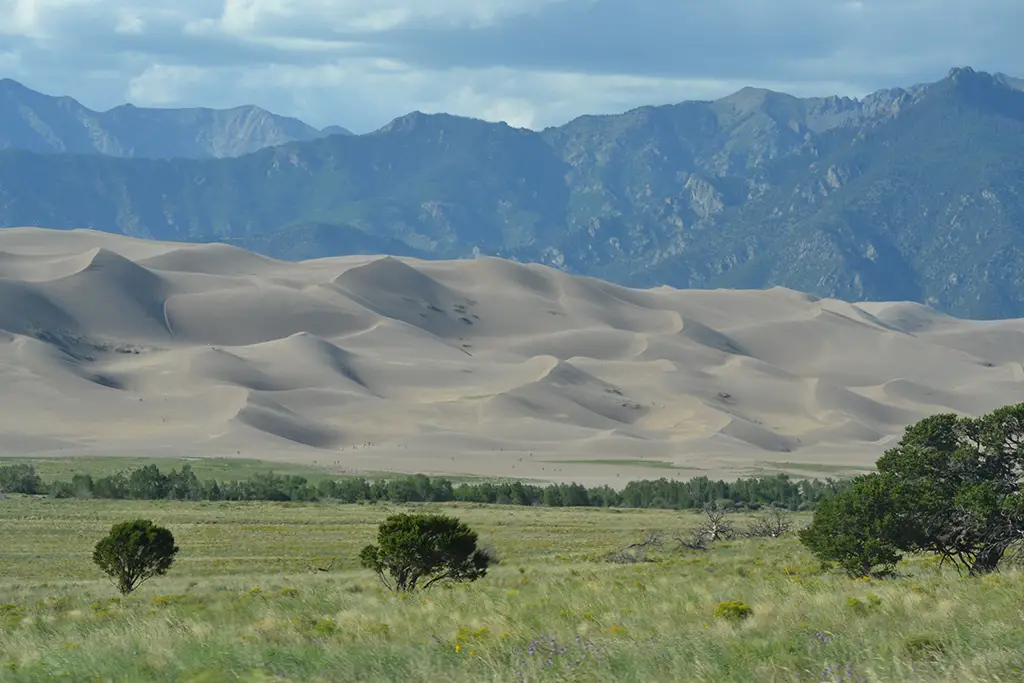 When I tell you that you need to stop and see Great Sand Dunes National Park, I mean that with emphasis. It's difficult to find the words to explain this incredible gift of nature, and the sheer magnitude of it just can't be felt in photos. I would wager a bet that I'll never see the Sahara desert in person in this lifetime, but now that I've been here I feel like I've got a tiny sample of what it might be like — but without the camels and with snowboards. More on that in a minute.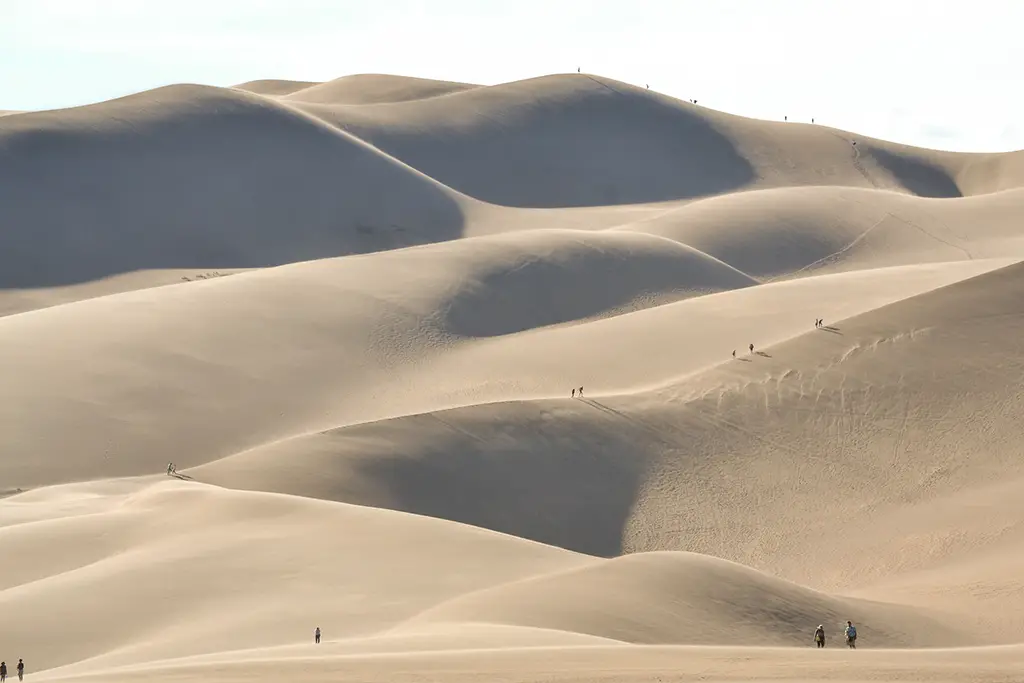 Seeing the dunes from a distance
If you were merely meh about The Great Sand Dunes National Park before going, your excitement will build as you approach it. You can literally begin to see the dunes from 20+ miles before you actually get anywhere near them. The whole experience felt like they were always just out of reach as we're driving, and as we're walking to them.
These are massive.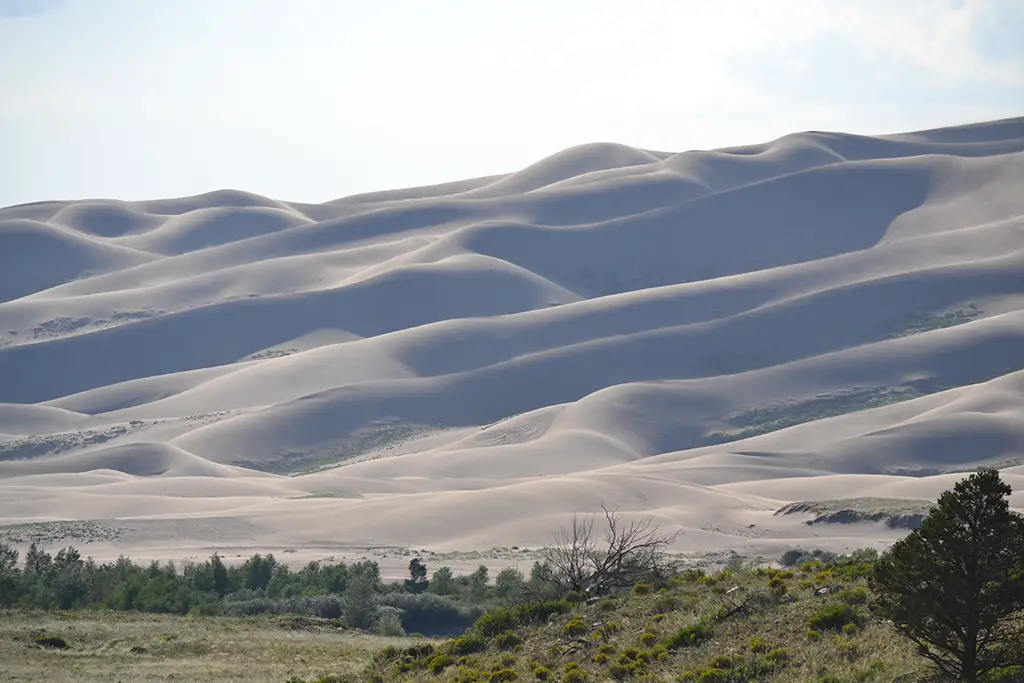 We visited during mid-August so it was interesting that the Medano Creek was dried up while we were there. Only since our visit, I've seen videos of the flowing water and waves that are naturally created at the base of the dunes, and now I want to go block my calendar for earlier in the summer to experience this as well. For us, the area where the water had been in previous weeks was dry, but still slightly damp, giving the sand a dense texture. It was clearly more compact with retained moisture than the actual dunes, and also easier to walk on. As we got closer to the dunes, the sand became more beach-like and dry.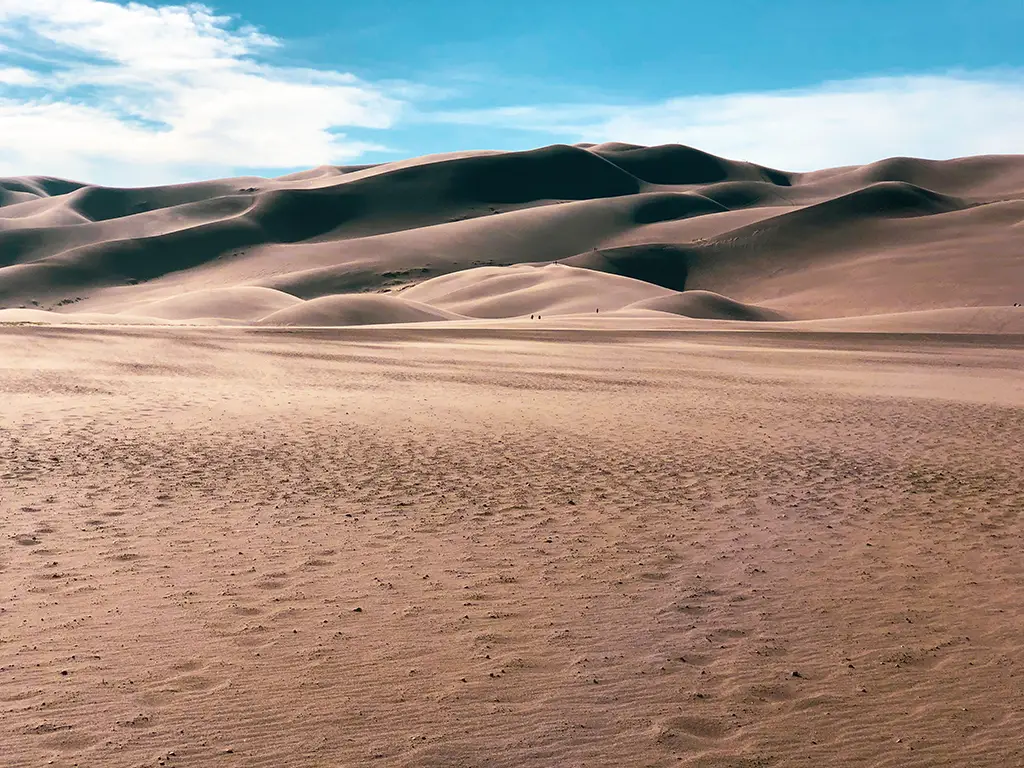 Be prepared for a trek
The dunes are a deceiving distance from where you park the car so if you have small children, mobility issues, or a senior dog (like we did), be prepared for a very long walk. This was an adventure that I was really happy to have a doggie backpack for our little old lady pug. Bonus in that it has mesh zipped windows which could shield her eyes from excessive wind and sand particles.
As for humans, I recommend wearing sunglasses for extra protection. It's VERY windy. And did we mention, the area is all sand? And bring water too.
These incredible dunes are the tallest sand dunes in North America with the highest standing at 755 feet, with a 30 square mile dune field. They are backdropped with mountains and surrounded by forest, and the view is truly spectacular. I can appreciate why people like to camp nearby.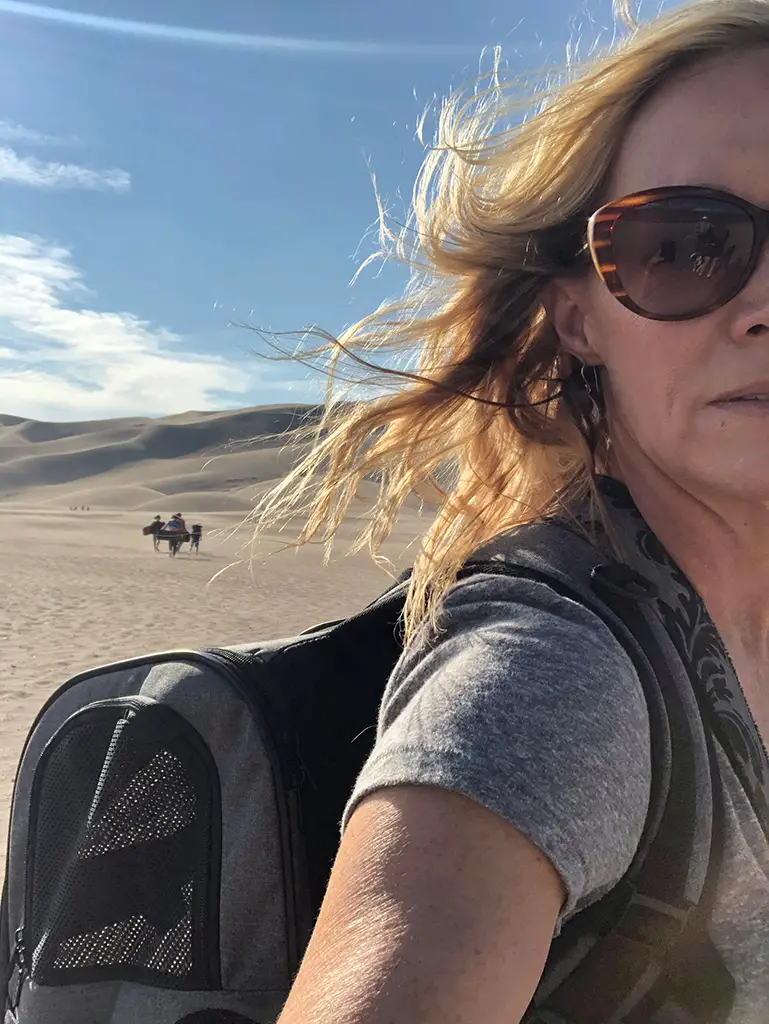 Sand surfing the Great Sand Dunes
Our stop to admire this natural wonder was brief (this time), but many people plan whole get-a-ways and afternoons around the park. We saw several families with "snow" boards and sleds so they could "sand surf" down the dunes which might just be the coolest thing ever. That said, don't haul your winter gear with you to the park though. Regular snowboards and sleds won't work. You can rent special boards made to be used in the gritty sand near the dunes. (100% doing this next time we go…)
The most mind-blowing thing about the dunes? Did you know that sand can sing? It's caused by avalanches moving down the face of the sand dunes. Take a listen!
Great Sand Dunes National Park Website
This is one of those places that you should put on your bucket list, especially if you're on a quest to visit all the National Parks. Visit their website for helpful resources on planning your visit, camping information, the history of the dunes, the nature you can expect to see, and more.
And speaking of national parks, did you see the National Park Craft Challenge post?
Buy the Palisade peaches!
Side note: I'll assume that if you're headed to The Great Sand Dunes National Park, you'll be driving and in this part of Colorado, there is a roadside stop you must make. Whenever you see a sign for Palisade peaches, STOP. BUY the peaches. I'm convinced they are the best peaches on the planet. There is something about the unique about the high altitude and the snow melt that make them magical. This was our first time trying them, but I was thrilled to discover that whole truckloads of these drops from heaven come to Texas in the summertime! Visit Cunningham Peaches for their peach truck schedule.