Y'all. I haven't lived in Louisiana since 1996, but even my short 5 years there gave me a love for Cajun food. It doesn't hurt that I married a Louisiana guy and get to go back and visit on the regular. When you're residing on a suburban peninsula in Texas, Cajun food is a hotly debated topic among us transplants. The restaurants are few and far between, and most aren't worth the drive to get to. Others are.
So Tuesday night, I left my mainstream bubble to attend a "Let's get saucy" media event at Razzoos Cajun Cafe. (Did you know they have a room that can be used for private events?) Not that Cajuns EVER need a reason to party, but that night they were debuting several of their new sauces and wanted us to test them out. I came hungry which worked out well for me because they were serious about making sure we could try all the dishes. And I mean, all the dishes. Try not to drool on your screen over these photos.
Back to the sauce thing… you know how you can get a "flight" of wine or beer to sample? Well, this was almost the same thing. They brought out some of their fried foods and a rainbow of different sauces to try – sauces that they use to put the magic on all the dishes.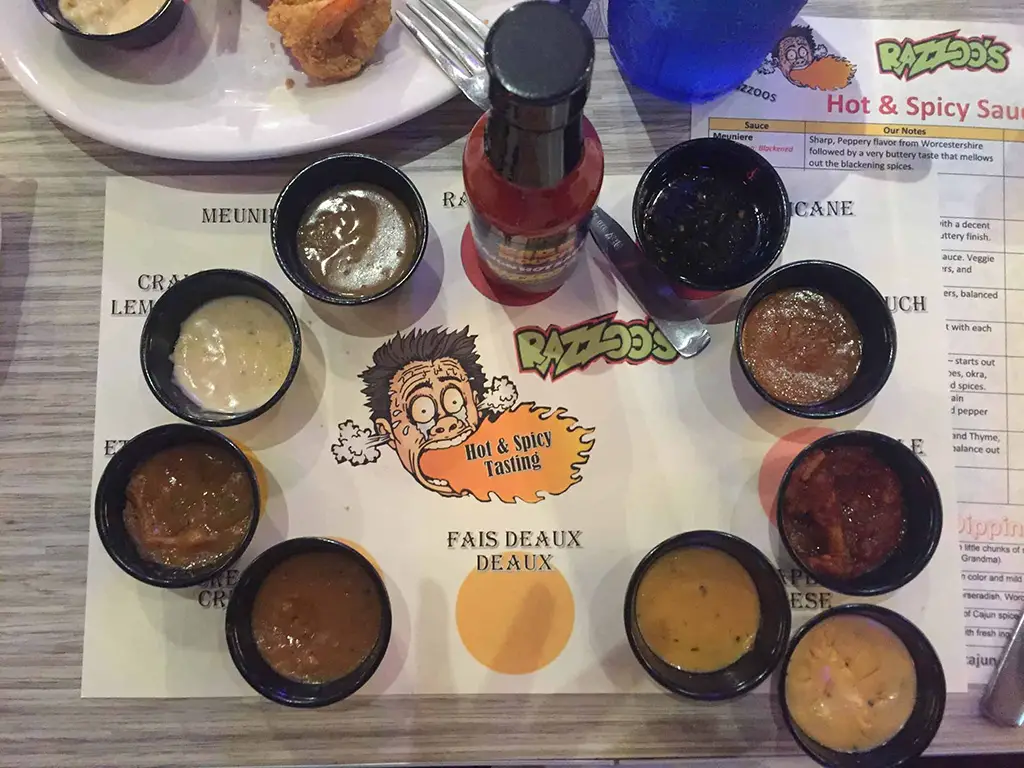 Hands down my favorite was the top of the clock, the "hurricane" sauce. As a dipping sauce, it was spicy but sweet at the same time full of  flavors of oregano, thyme and honey. They use this on the salmon and hurricane shrimp and it's delicious! You can stop right there when you order.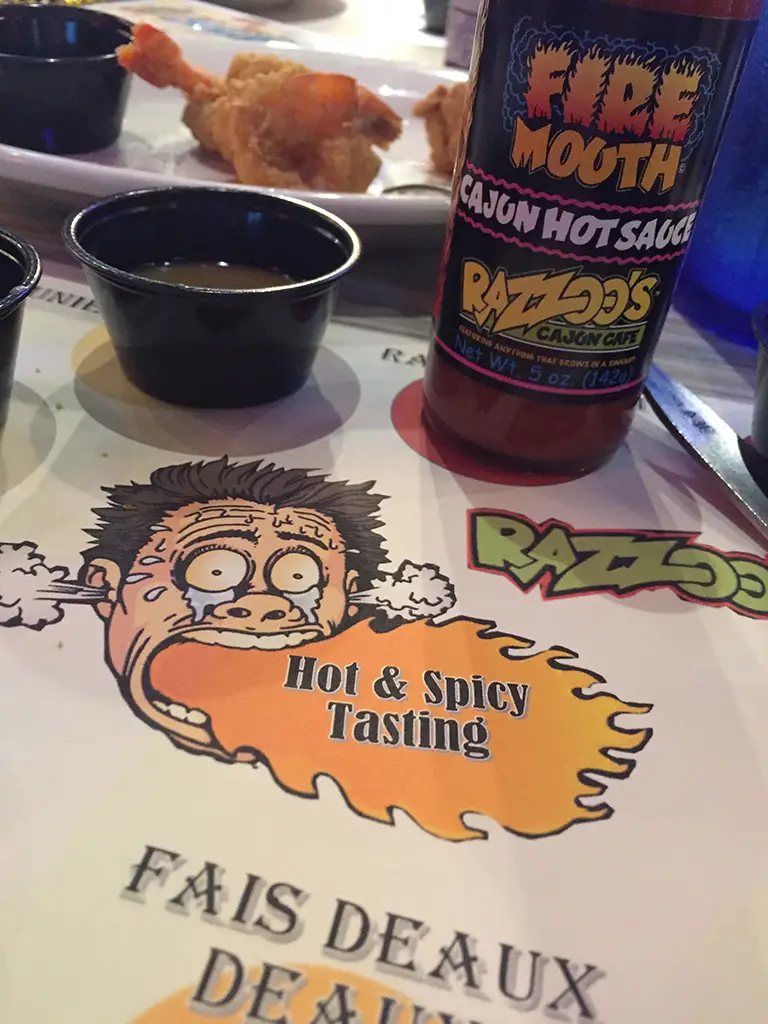 If you want to keep the flavor adventure going though, check out the "Cajun queso." That's the unofficial nickname for the rich jalapeno cheese sauce. Just take my advice and go dunk the garlic bread in it. You know you want to. Or order it on the catfish, either works.
Not to be dismissed, the buttery meuniere sauce is delicious as well. For you Americans, that's what you'll find paired with the blackened tilapia and it has just a hint of Worcestershire in it.
Truthfully, they're all good. The etouffee, the Fais Deaux Deaux, the creole creme… I could go on and on.
Since you'll be eating on and on too, you'll need one of these mason jar cocktails to wash it down.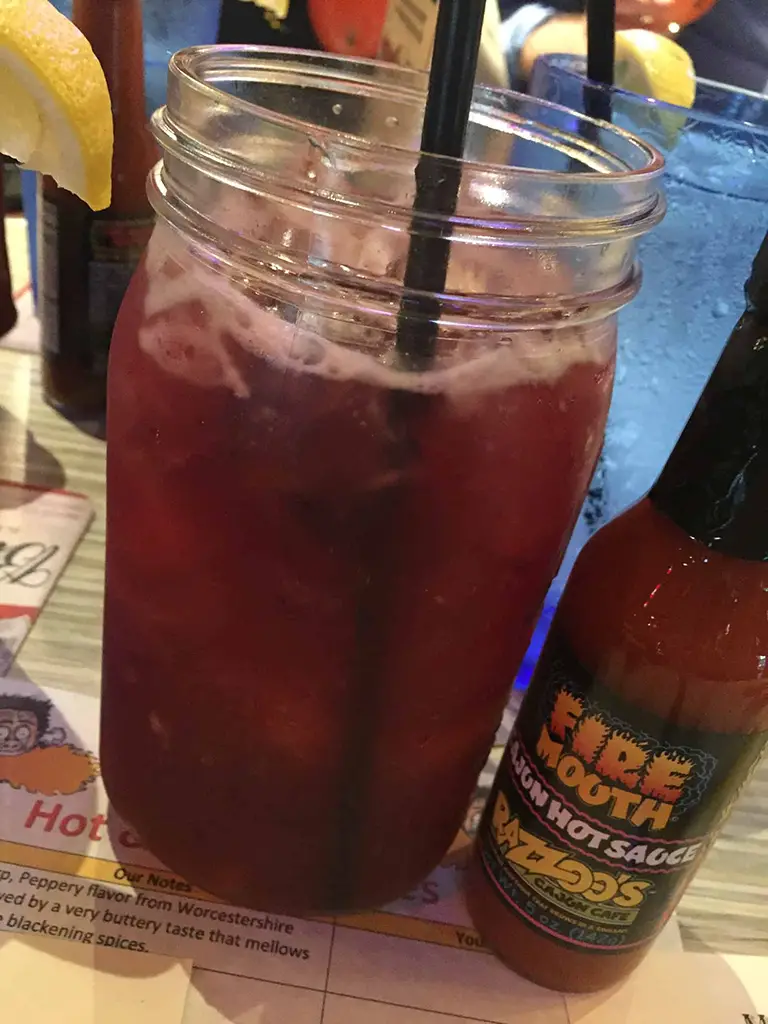 I stayed in my channel and tried the Boxwine Boogie which (sadly for my photo has no giant watermelon or umbrella in it) is Razzoo's tasty twist on sangria.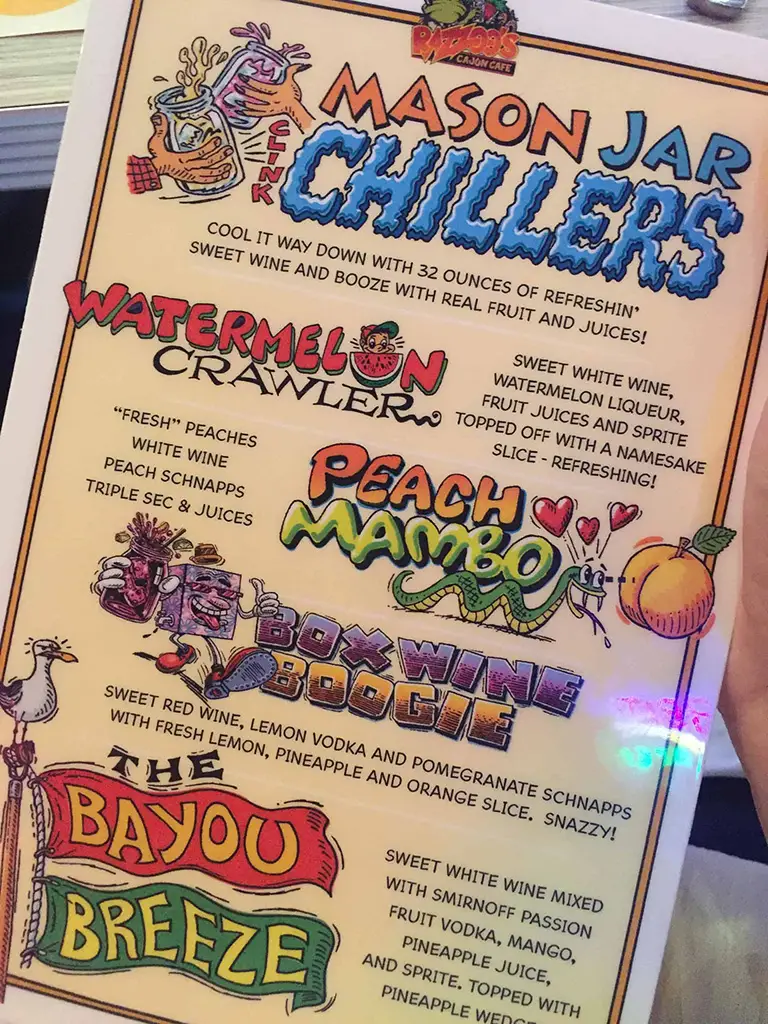 I have it on good advice that the Peach Mambo and the Bayou Breeze are quite good as well. The table drained a number of the Watermelon Crawlers too so I'm thinking all 4 are pretty rad.
Fun Razzoo's facts?
The first location was in Richardson, Texas, 26 years ago.
There are 19 locations total, all in Texas said for one in Concord, North Carolina.
They are all privately owned and operated.
All the food is made from scratch in each restaurant, every day.
(Spoiler alert) In October, they are debuting 4 new cocktails and 4 new appetizers. Get excited!
I love Razzoo's Cajun Cafe for a casual dinner of great food, in a setting where it's impossible not to relax and laugh. Find a Razzoo's near you here.
Thanks Razzoos! I loved my culinary vacation back to south Louisiana with your DELICIOUS food, the fun atmosphere and ALL the color. <3