This is a sponsored post. All opinions are my own.
I recently had the cool opportunity to test drive the 2021 Chevy Trailblazer for a week, and naturally, we took it to the 2020 State Fair of Texas event since Chevy is a headlining sponsor. As you likely know, the State Fair was a drive-thru experience this year, in an effort to keep people socially-distanced (COVID or not, you can't expect us Texans to pass on tradition), and if y'all didn't go, you missed out on some good eatin'! Read more about what filled our bellies at The Big Tex Fair Food Drive-Thru. You'll see our favorite fair foods from the food drive-thru, the new car models at the auto show, all from the big comfort of our Chevrolet-sponsored Trailblazer. Pretty sure I've never had so many compliments on a car I was driving in some time.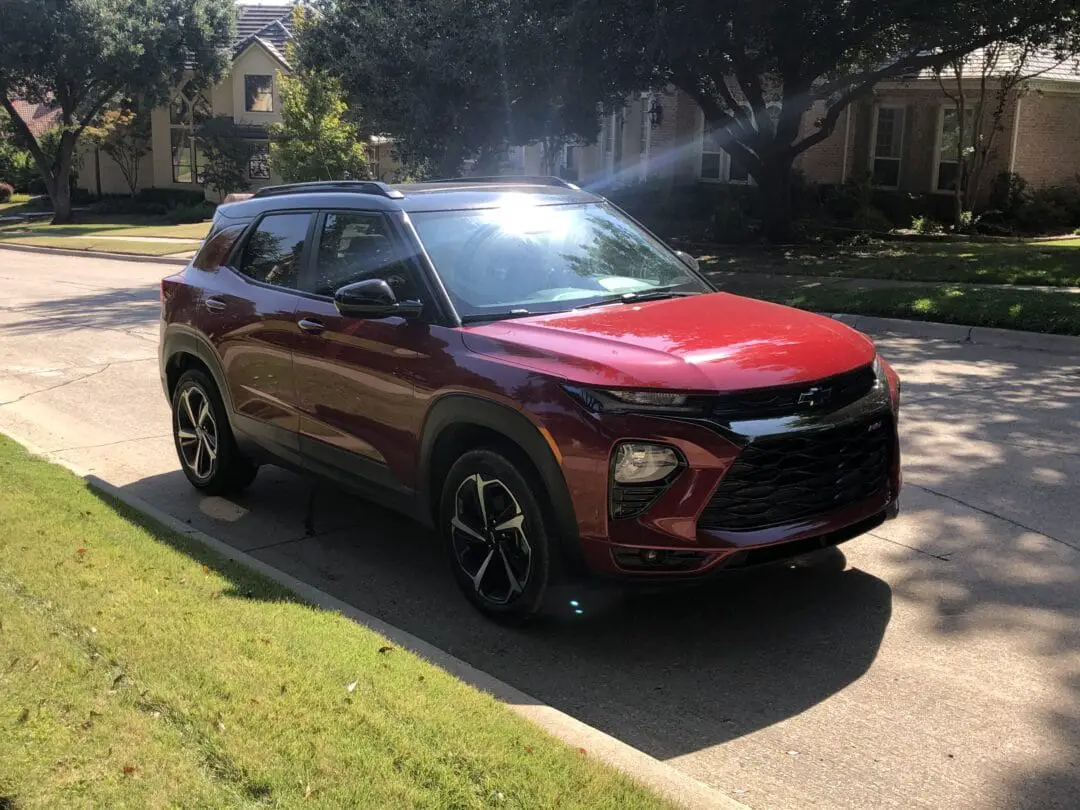 This Trailblazer is more than just a beaut. She's a solid package of safety and fun, in a compact SUV which means she's a cheap date too with gas mileage like that. Let me show you around my girl.
First up, there are five options for the Chevy Trailblazer: L, LS, LT, Active, and RS. The one I got to test out was the RS. It's a subcompact crossover that, in terms of size, is on par with the Toyota C-HR, Buick Encore GX, Honda HR-V, or Jeep Renegade. One of the first things I noticed was how spacious it was, providing a lot of headroom. My 6-foot husband was definitely comfortable! She's some eye-candy too, the one I was loaned had a metallic red exterior with a jet black interior and red accents. It was super sleek and stylish, and it was fun to drive while looking good.
As we drove through the fair, I was able to feel how sensitive the brakes on the car were. It might've been the perfect test for that! The brakes on the Chevy Trailblazer are more sensitive than the ones on my current car, which I'll admit took some getting used to. But I did like the responsiveness – the hubs maybe not so much as he drank his coffee and I took a good stomp. (I swear it was an accident, lol.) The 2021 Chevy Trailblazer also offers emergency auto braking and front pedestrian braking, which are becoming must-haves for safety. Other safety and security features included lane keep assist with warnings if I happen to drift out of my lane (never!), and forward collision alert (egads, can you imagine in a loaner?!). These features are especially important to me since I like to drive around with my family, especially now during COVID because we drive just to get out of the house), so it was comforting to know that the Chevy Trailblazer makes safety a priority.
That's not all. The 2021 Chevy Trailblazer also comes with rear park assist, lane change alert, rear cross-traffic alert, and side blind zone alert. This is the "driver confidence package"—aptly named because these features will give any new driver (and experienced drivers!) the confidence they need to drive safely. I know options like these will help my daughter when she starts driving – which thankfully is still a few years off. I wouldn't put her in a vehicle without safety features like this!
The numbers on the Trailblazer were top of the line, too. With gas mileage of 28 miles per gallon, we could have gone through the fair countless times without refilling the tank if we wanted. The transmission was 9-SPD automatic. The Trailblazer also offers a 36,000-mile bumper-to-bumper limited warranty for three years, a 60,000-mile powertrain limited warranty, roadside assistance, and courtesy transport with Onstar.
The list goes on. The Chevy Trailblazer I got to test also had some fun and practical features. There was a panoramic sunroof, LED logo projection, power liftgate, adaptive cruise control, information center, Apple CarPlay, Infotainment 3 Plus, wireless charging in the front, and USB ports in the back. My family made good use of these features on the drive to the fair by arguing about listening to our favorite music and charging up our phones so we could take lots of pictures! See them HERE.
Overall, the 2021 Chevy Trailblazer was such fun to drive. My entire family enjoyed it, and it made for an extra-fun trip to the drive-through fair. If you're interested in the 2021 Chevy Trailblazer, the starting price is $19,995 with my model at an MSRP of $32,350. Thank you, Chevy, for letting me test drive this amazing car!