This post is sponsored by Happy Cards. All opinions are my own.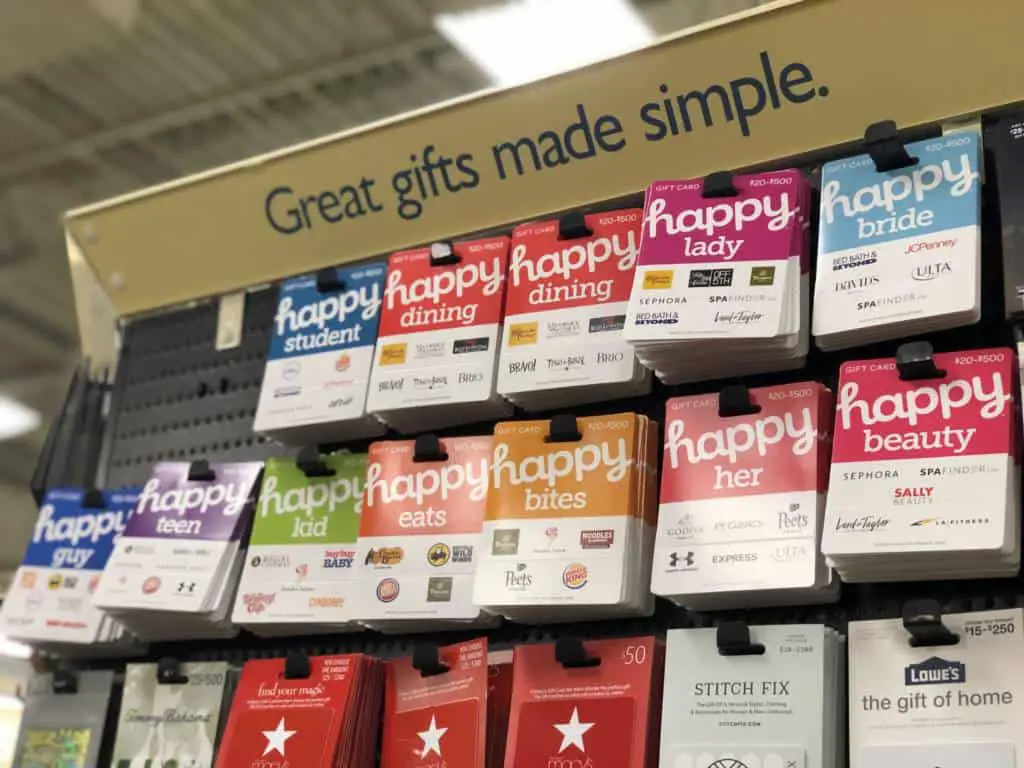 Every year, I think that I will have more time before the holidays to prepare. I'll be able to coast into the holidays sipping hot cocoa and watching Hallmark movies all the time. I'll  enjoy the holidays this year,  without all the last minute frenetic to-do's.
I'm delusional, because that's never going to happen.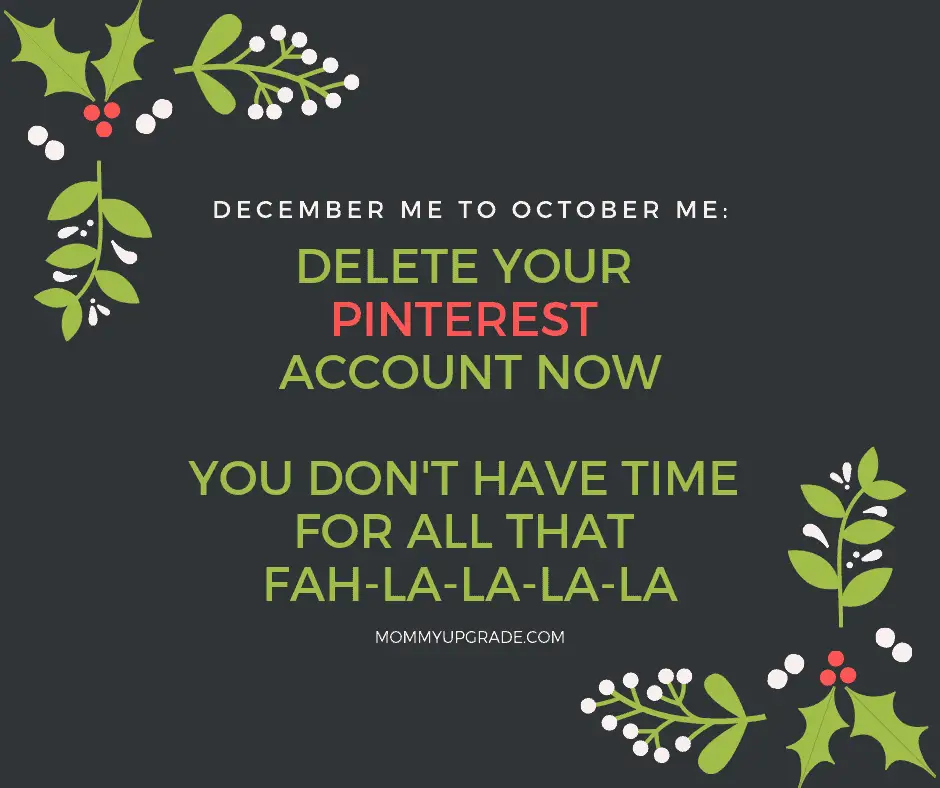 This is me, in Phoenix. 11 days before Christmas, hosting a Christmas party for a client.
It's cray-cray this time of year. And what am I NOT doing? I'm not getting my Christmas shopping done. I'm not out shopping for that perfect gift. I'm 100% immersed in all things client before the end of the year. Oh how I'd love to be leisurely strolling the malls, finding the ONE GREAT THING for everyone on my list.
Bahahahaha, who am I kidding? I hate the mall. (I do love finding the perfect gift though.)
And for some people, I mean, SOME people are just too hard to buy for. You know deep down in your heart that the coach doesn't want one more thing with a soccer ball on it, and the teachers really don't want apple anything, and who even knows what your husband's administrative assistant wants because you know he's clueless. Unless they offer up a list of suggestions, you're flying blind, hoping they like candles or socks or whatever is shrink-wrapped up with a bow ready to gift from the warehouse club.
Until now.
I'm so excited to show you this new gift card.
It's called the Happy Card. And it's brilliant. And quite possibly, life-changing.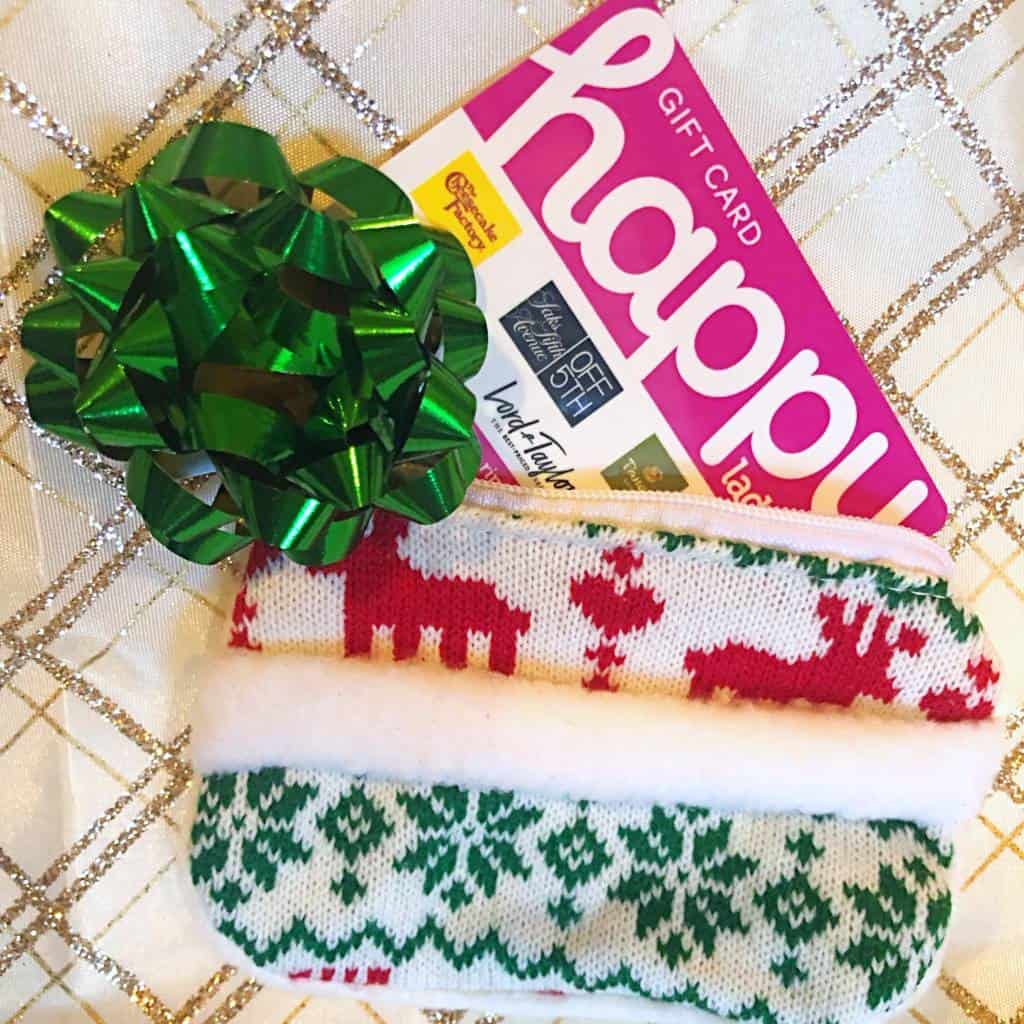 *cute gift card holder is from Target dollar spot!
I remember back when we hosted company events with a slew of gift cards from every store you could imagine just so everyone could find one they liked.
I'M DONE with that nonsense.
And you will be too. Meet your best friend, the Happy Card. (Gnome not included.)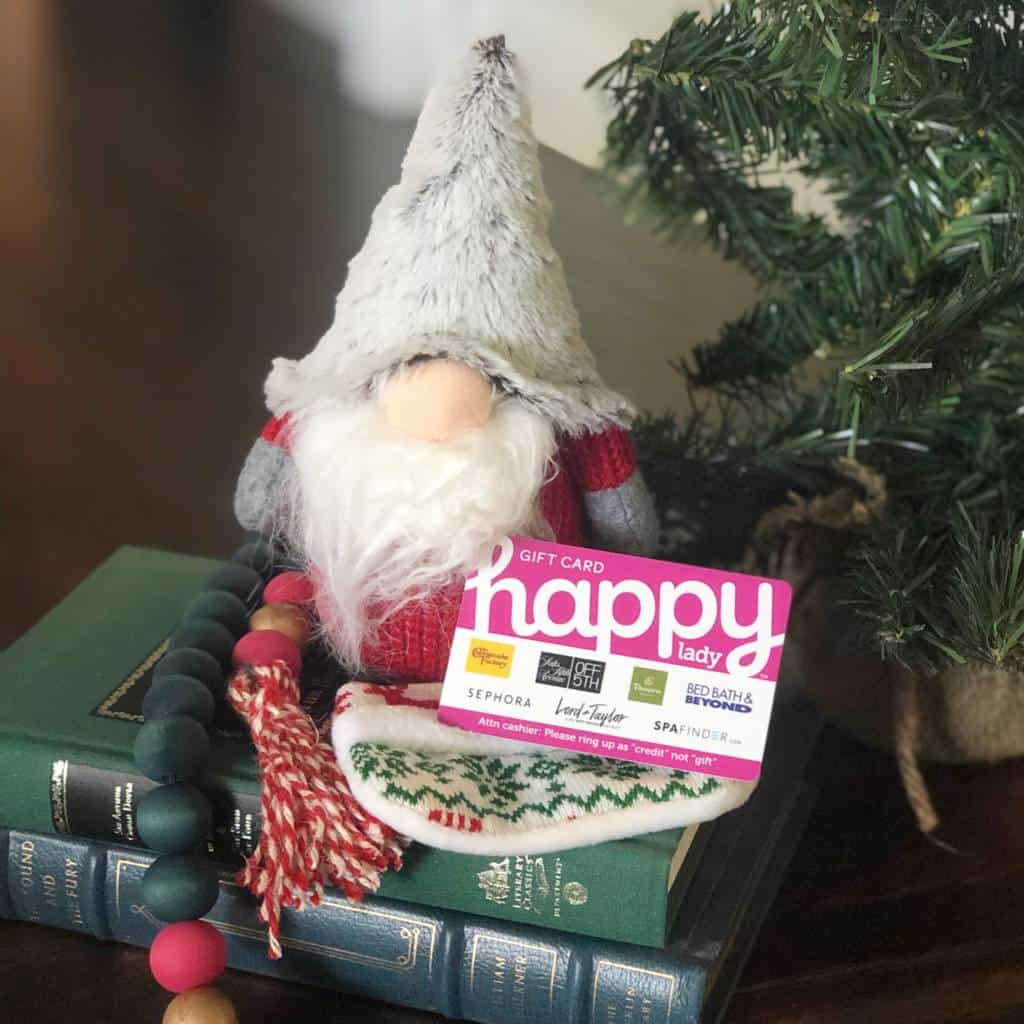 The Happy Card features a bundled group of stores on each gift card. The recipient can redeem it at ANY ONE of those places. For example, the "Happy Lady" card is perfect for cool moms like me, and can be used at:
Sephora
Cheesecake Factory
Panera Bread
Saks Off Fifth
Bed Bath and Beyond
Lord & Taylor
Spa Finder
And there are so many versions of the Happy Card. Check it out!
happy dining
happy kid
happy teen
happy lady
happy guy
happy bites
happy eats
happy eats west coast
happy beauty
happy bride
happy student
happy her
One card, good at all those places. Imagine how easy those gifts are now… No more debating which gift card to buy with your tweenager on the way to the party. Just keep a stack of these and you're golden. (That's called time-management, people.)
Happy Cards take the guesswork out of gift-giving by pairing your favorite people with their favorite brands. It's the perfect fit, every time. Happy Cards can be found wherever gift cards are sold. I found them at the top of the gift card display so LOOK UP to find it and you can be happy too!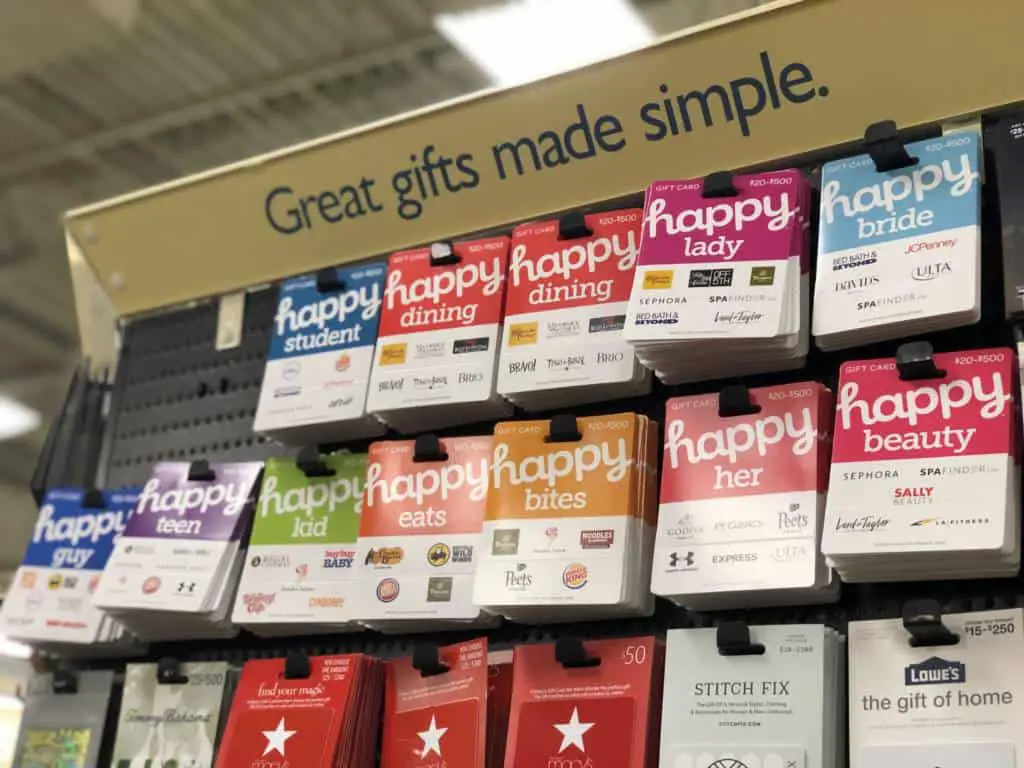 I think this is brilliant and a great gift for YOU, you crazy Christmas elf. I know you deserve a gift for yourself under the tree so I've partnered with Happy Cards in offering a $100 Happy Lady Gift Card Giveaway. Get excited!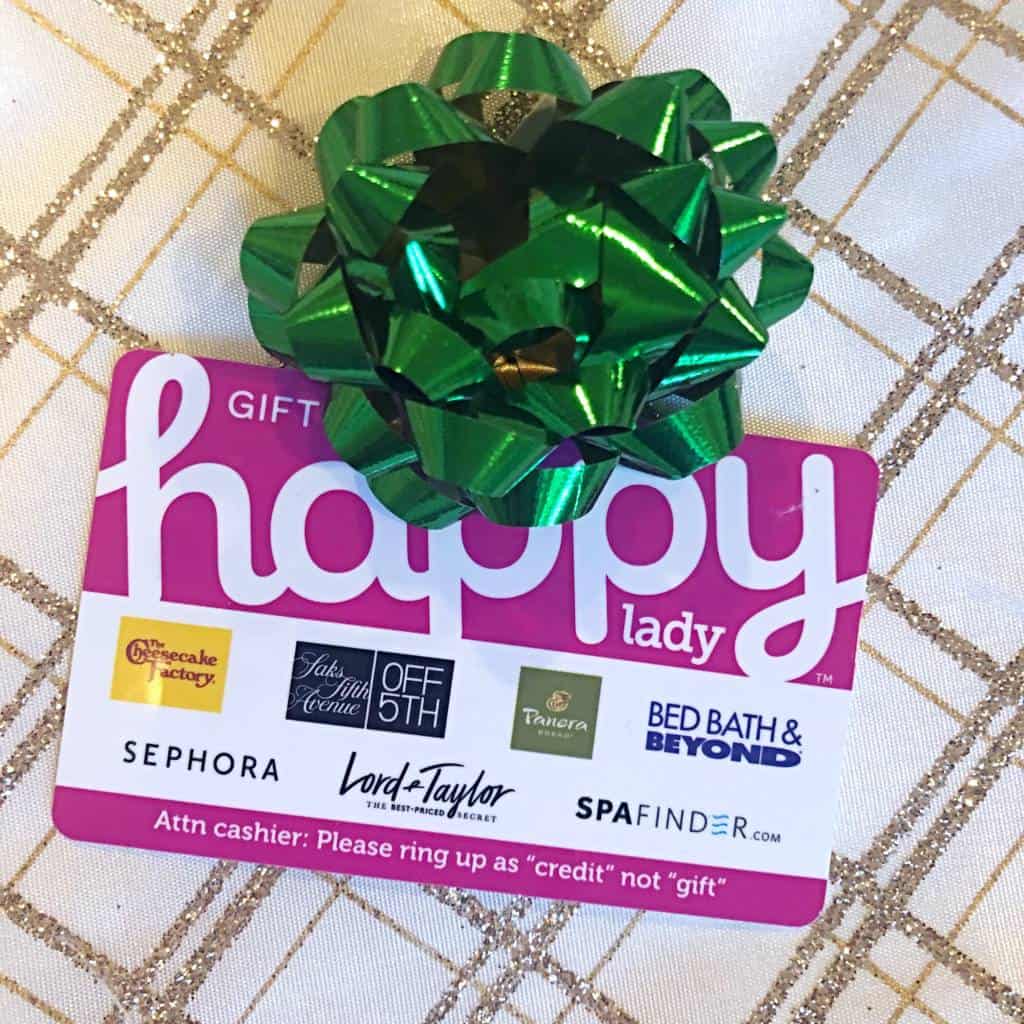 Enter below for your chance to win! I'll announce the winner on December 23rd, and will ship it out on the 24th. You can use it to treat yo-self to all those after Christmas sales. 🙂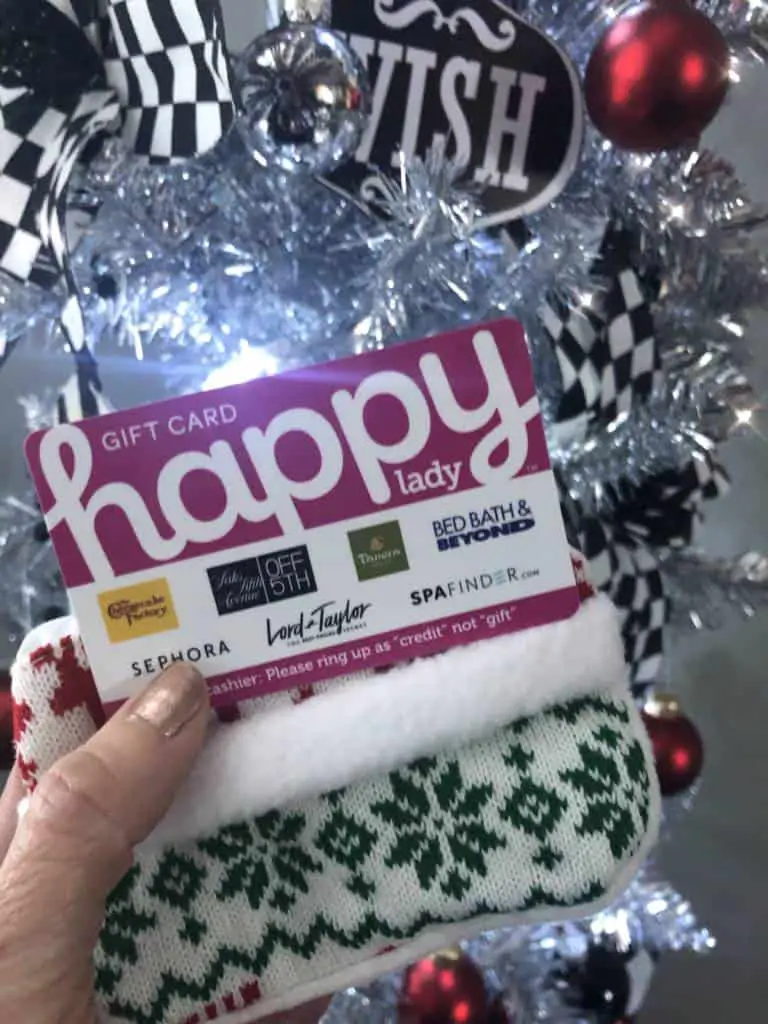 Thank you Happy Cards for sponsoring this fab giveaway for MommyUpgrade readers!