Like you, I look forward to the Gaylord Texans' ICE event every year and I've even posted about Gaylord ICE events in the past. However, the last two years have complicated the whole "ice" aspect of the festivities, so I bet you're wondering if you should still go. I've got tips, a discount code (at 05:00 but SPOILER – it's TRISTA), and some previews of the event to share with you, so let's spill the tea about the Gaylord Texan Resort.
Every year they have this amazing Christmas experience all centered around the ice, right? They bring in millions of pounds of ice and internationally renowned sculptors, and it's a whole big thing. But for the last few years, there's been no ice because of the complications of travel and the pandemic. Not to worry — The Gaylord Texan still delivers in a big, beautiful way. ( I received media passes to review this event, however, all opinions are my own). #ChristmasAtTheGaylordTexan
Pretty much any excuse to go to the Gaylord Texan is a good one because it's such an amazing place at every time of the year. At Christmastime though, they really go next level. Even without the ice, there is still so much to see and do. The Christmas decorations inside the hotel area are jaw-dropping. You'll definitely want to walk around and investigate every little nook and cranny and take part in the Snoopy scavenger hunt. There are so many photo opportunities, and with all the restaurants and shops, it's just a cool place to go and explore and put you in the holiday mood amidst Christmas trees and nutcrackers.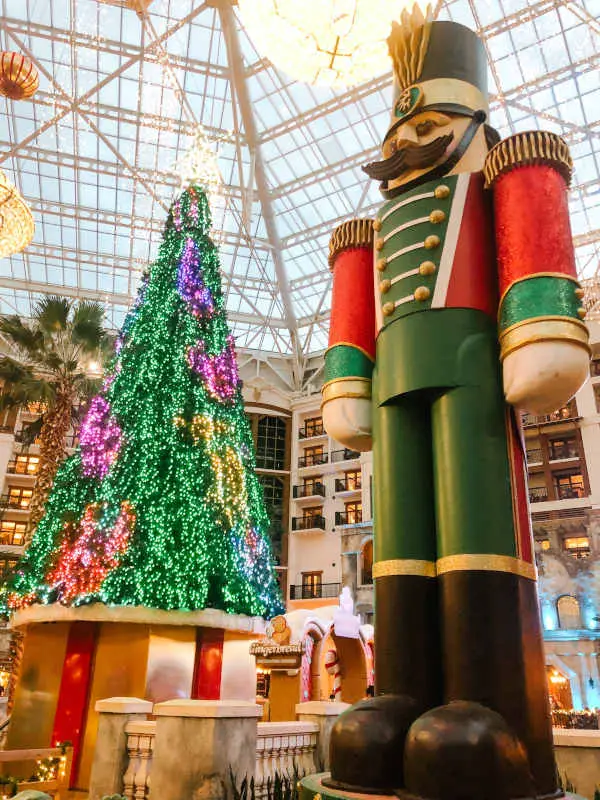 The Gaylord Texan ensures that there are lots of activities for people of all ages. I took my 13-year-old — and only my 13 year old so she was stuck with JUST me — and she still had a good time. We enjoyed the Mission: Save Christmas featuring Elf™ activity. This was a fun walk-through experience with a number of interactive games. A friend of mine said it best, "take your time going through because it is not super-long." It was, however, long enough for me to beat her in a one-to-one challenge. 🙂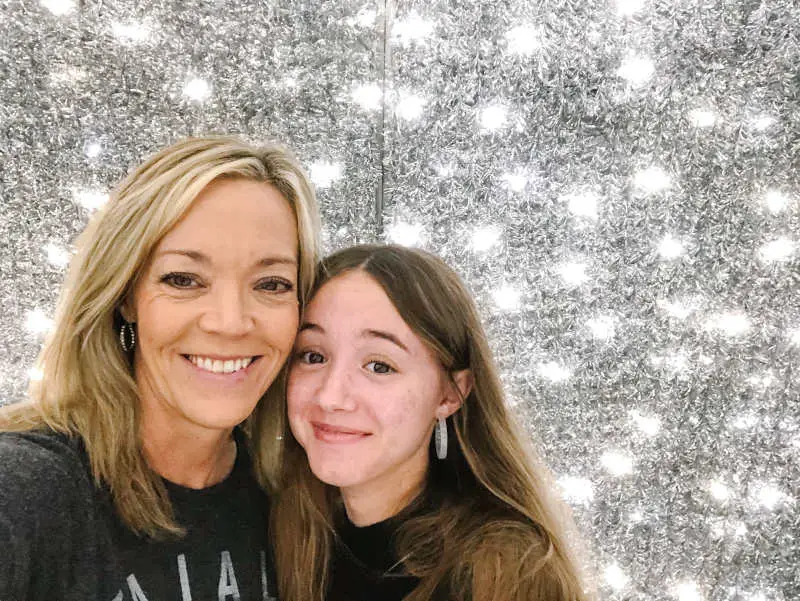 You can also try your hand at gingerbread decorating and painting for the kids. I had my own Gingerbread Decorating Competition coming up, and my teenager opted to skip the directed paint projects, so we skipped those and went on to the snow-tuning, and I will say I had probably more fun than she did. We had unlimited passes and I could have done that all day long but she got tired of it sooner than I did. Something about studying for midterms, I mean. Whatever… lol.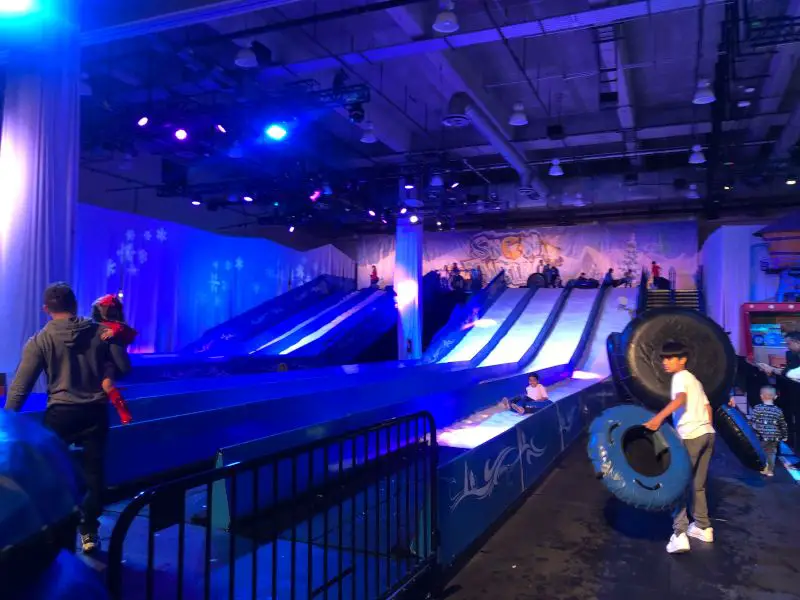 But there is so much more to do. There's a carousel, there's ice skating, there's hot cocoa, there's a number of retail stores, but the big Christmas one is smack dab in the middle of the festivities. Ultimately what we both really, really enjoyed was Merry & Lights, Gaylord's spectacular outdoor light show. They're just beautiful and offer plenty more photo opps all accompanied with Christmas music to get you in the festive spirit.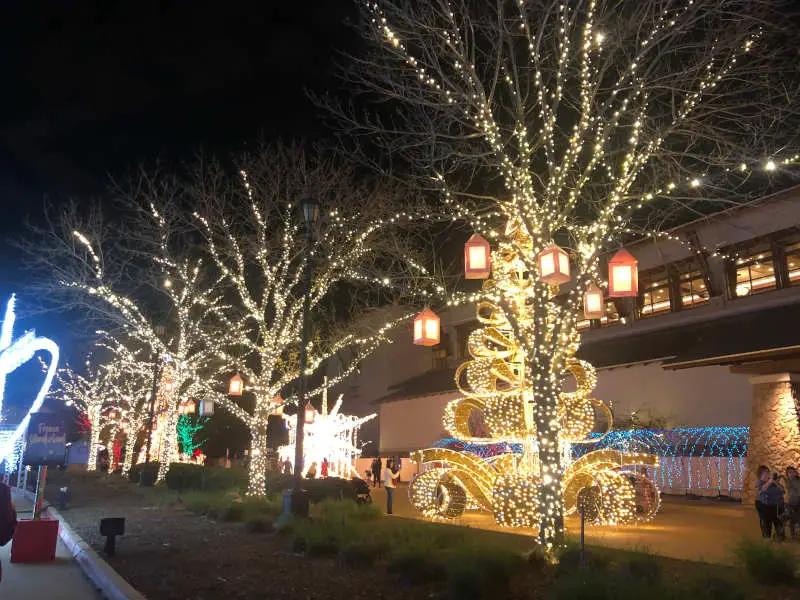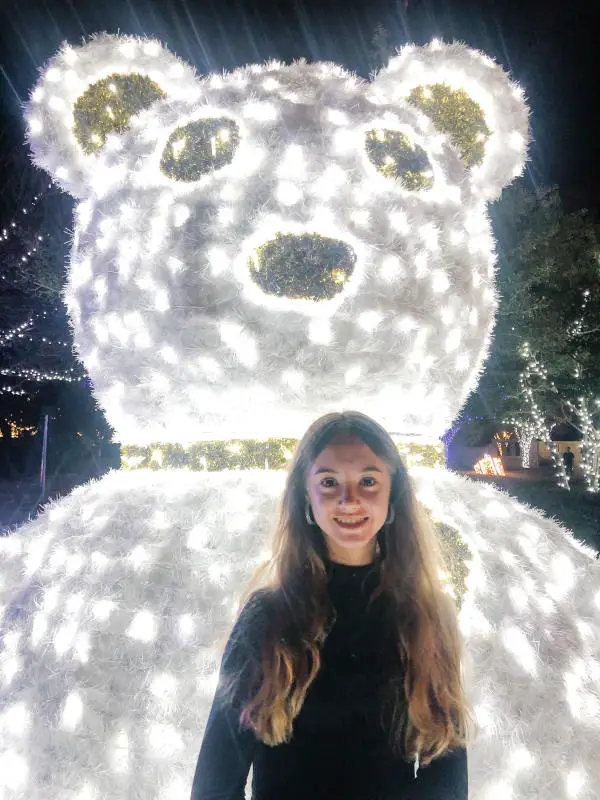 If you're planning your visit to the Gaylord Texan, remember that while most of the activities are any time, the lights are only on at night. If you enjoy the twinkling lights (and you'll love these) keep that in mind. If you have littles, plan to arrive earlier, let them go through all the kid's activities first (check out the brunch with Charlie Brown and friends!) and then cap off your day with the Merry & Lights experience.  Mrs. Claus and a couple of elves were there for a photo op, so that was pretty special.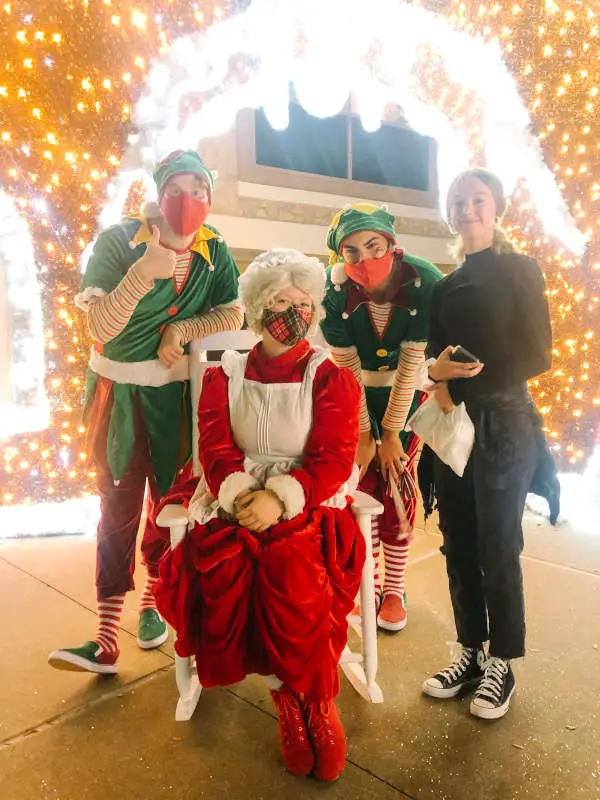 So, would I recommend going to the Gaylord Texan at Christmas, even though that they don't have ice this year?
Yes, I would. There are so many interesting things to do, and it has the most beautiful backdrop. I would also suggest planning on having a real meal while you're there. While there are lots of little food vendors in the holiday area, they are mostly sweets. My advice is to play your day around a few activities (the tickets are a la carte), schedule a real meal in one of the restaurants in there, some treats from the food vendors, and wrap up with the holiday lights. 
 Christmas at Gaylord Texan Discount Code
Not only do I highly recommend it, but I have a 50% discount code for you! Go to the website Christmas at Gaylord Texan and use the promo code: TRISTA to get half off of your tickets (some conditions apply). And you can use that for both the Merry & Light and Mission: Save Christmas featuring Elf™.
There are select dates and restrictions that do apply, but definitely take advantage of that half off. 
Merry Christmas!
PS – If you like the ugly Craftmas sweater I am wearing in the video, you can grab one for yourself or a friend, right here.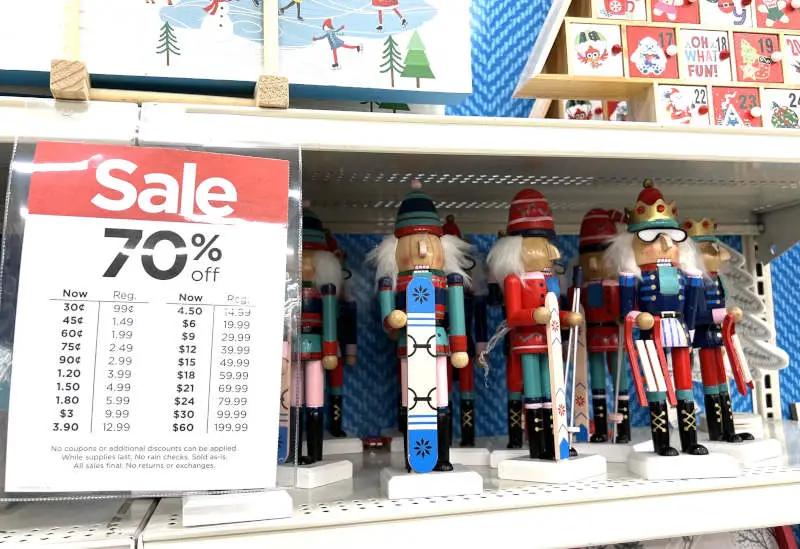 The Christmas Clearances are great for finding crafting bargains. Here are 8 items I always look for that I'll use through the year.
read more