What in the what is happening right now? Wave 2 of the virus is hitting us right when we were all planning our Friendsgiving, darn it. If Judge Clay J telling Dallasites to cancel Thanksgiving — but if you can't cancel it, have a "silent" Thanksgiving with family wasn't your clue, I'm sure he's poo-pooing any plans you had for a girlfriend get-together for Friendsgiving.
Like everything else 2020, we will survive and adapt. And wear cute masks.
Here's an alternative for your girlies. Since you can't order a round of vaccines for everyone (yet), here are some Friendsgiving gift ideas. Put together a little basket with your favorite mini bottles, cocktail accessories, and meaningful jewelry and porch drop it to your favorite gal pals. Do a virtual happy hour to cheers and after the booze is gone, they'll have something special to wear so that they'll know you're thinking of them even while you're apart. AND, we have some gorgeous free printable cards and tags to fancy it up! Use these beautiful cards to dress up your girlfriend gift.
(Keep scrolling to see where I got the goods.)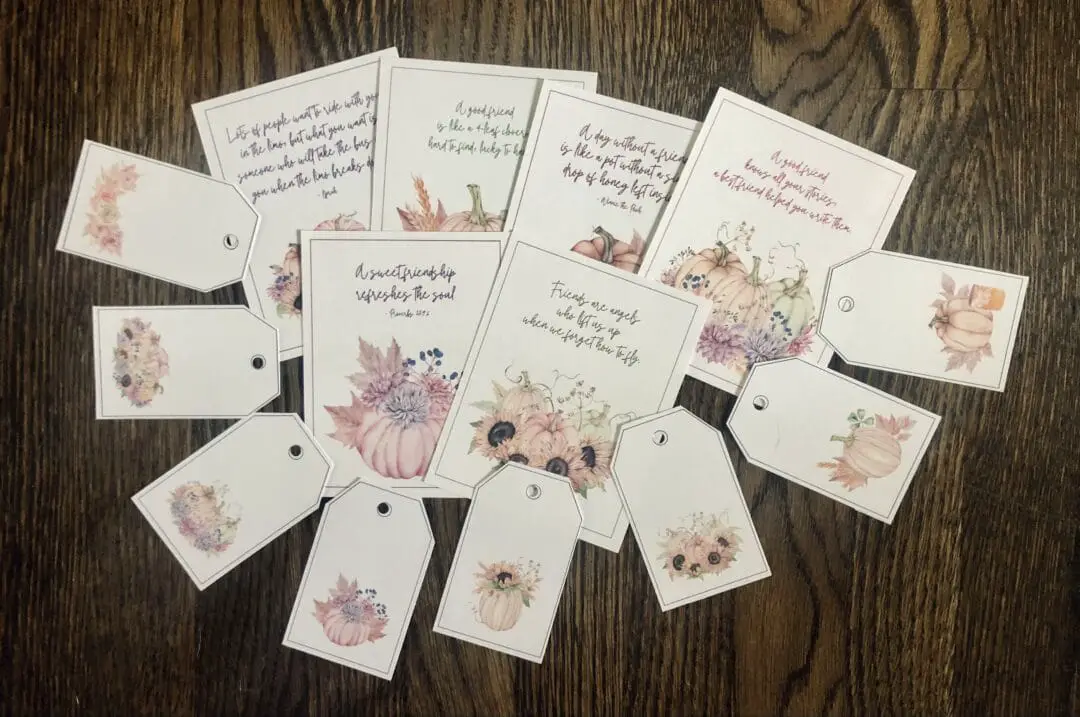 This is my basket – it has some fun things in it for my bestie.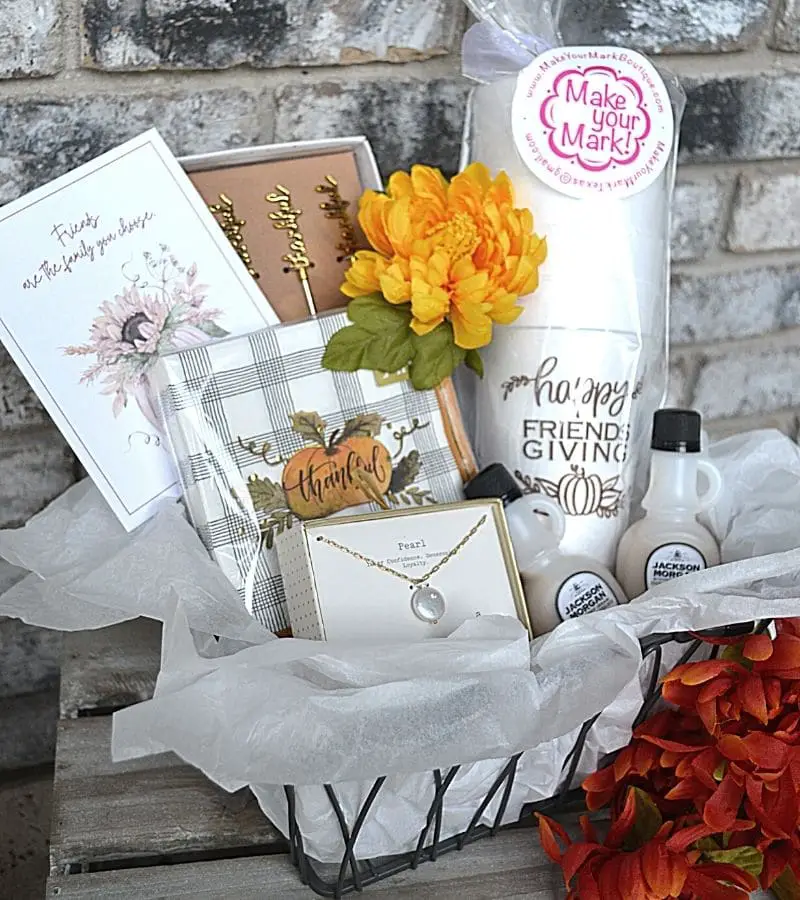 Friendsgiving Gift Ideas – here's what's in the basket:
The Styrofoam cups are from Make Your Mark and make perfect roadies if Friendsgiving becomes a tailgate. Use code TRISTA for 10% off their site! Soooo, so many cute things there. I think you should get the one that says, "Life needs more prayers and pumpkin pie." Amen to that. (PS – Shown in photo with only ½ sleeve.)
Napkins, because spillage happens. Find inexpensive but pretty napkins galore at Homegoods. Why? Because spoiling yourself with pretty napkins is usually low on the list. Treat your friends to something pretty to wrap their drink in because they won't buy them for themselves.
Fun cocktail stirrers because your friends are "the straw that stirs the drink." You couldn't do it without them, so these "thankful" stirrers are absolutely perfect for those girlies that you couldn't live without. These are also from Homegoods.
The adorable mini-bottles are from Jackson Morgan Southern Cream. They scream "presh" because they are literally a shrunk-down version of the regular bottle. I love how cute, and fun these are, and the flavors (like brown sugar cinnamon or peppermint mocha) go so well in hot chocolate, coffee, or — straight. Don't judge. Include their recipe cards for fabulous drinks – download Including a full-size bottle? Remember the ribbon on top and monogram it for extra points. (Kidding, but this brand is super Southern and I'm here for it.)
A necklace from 'a new day' found at Target. I really like this line because the packaging has the symbolism printed on it. This pearl necklace says, "inner confidence, generosity, loyalty." What more could you want in a friend?
Yes, 2020 is a bust – but you can still show your friends how thankful you are for them with a thoughtful gift. Tie one of our sweet tags to it and tell them why they're the reason you still have your sanity!
How are you celebrating your friends this Thanksgiving/Friendsgiving? I'd love to hear your ideas!