The cool kids invited me to sit at their lunch table.  I have arrived.
Yes, I guess this is the point at which I am allowed to admit that I am a Mommy Blogger.
@TexasHolly of June Cleaver Nirvana and @DFWBloggers teamed up with the Texas Beef Council to sponsor a luncheon for blogger mommies to teach us how to cook meat. Oh yes, and to teach us how nutritious and easy said beef is to feed our families with in the hopes that we would impart this newfound knowledge onto you. No matter the persuasion, I was game, because…
Wow. How did they know that I was in a total rut on making dinner? Between working full-time as a business broker and marketing consultant, and wanting to make up for the daily guilt feelings of day care drop off in the morning by selfishly spending every second playing with my Princess when I pick her up in the evening, making dinner for the poor hubs at night has sort of fallen in priority.
He doesn't really complain. Although the time that I grabbed a bag of frozen meatballs from the end cap at Krogers which even the pugs turned their nose up at and hubs carefully suggested I not purchase them again could have easily gone in that critical complaint direction.
He deserves more. Anyone who answers the call of civil service at City Hall deserves better than the smells of Marie Calendars frozen lasagna to greet him when he walks in the door.
Getting back into the kitchen is second on my list. That cherished unattainable list titled, "Things I would do if I didn't have a toddler attached to my leg 24/7 and wasn't working until midnight almost every weeknight." Sleep tops this unattainable list, cooking is a close second. Well, maybe third. I'd like to get back to scrapbooking but I haven't touched that since I was pregnant. Cooking is a much more realistic goal since we all have to eat, right?!
So when I got the invitation, I responded "yes" without hesitation. This might be the inspiration I needed to impress the hubs again. It has been a while since I wooed his stomach with culinary delights. But honestly… come closer, I have a confession. (Whisper) Thinking about it just makes me tired.  The shopping with toddler, the cooking with toddler, the cleaning up with toddler….
But I had faith. Faith in Holly. Faith in the Texas Beef Council. And faith in my fellow Mommy Bloggers to show me the way. To light my fire. To lure me back into the kitchen.
The event was hosted in the gorgeous Milestone Culinary Arts Center and Viking Cooking School. I felt under-dressed just walking in. What I wouldn't beg, cheat, steal or borrow to have a kitchen with these amazing appliances. Drunk with envy, we were offered appetizers and ushered into the presentation room where we were introduced to a pediatric dietitian. She spoke from her mommy heart and gave actionable practical, non-judgmental advice on how to help our kids eat more nutritiously.
Then the big show started. We were treated to a cooking demonstration by none-other-than the dreamy Chef Richard Chamberlain, owner of the successful restaurants Chamberlain's Steak and Chop House and Chamberlain's Fish Market in Addison. He's been featured on the Today Show (here's a clip) and even written a cookbook called "The Healthy Beef Cookbook." (Link to it on the right in "my picks")
And bam! (Whoops, wrong chef. Oh well.) The book was in our bag! With paper clipped pages of what he was cooking, plastic coated recipe cards and an apron. Fantastic! These fab ladies at the Beef Council had thought of everything. No excuses now. (Recipe below)
Chef Chamberlain showed us how easy it was to make Beef and Heirloom Tomato Salad with Balsamic Syrup and Beef Pot Roast with Maple Sweet Potatoes and Cider Gravy — and in an Oprah-like flourish, the side door flew open and little chefs came hurriedly out bearing plates of food with samples of the little pieces of heaven that he had just prepared. I was getting excited. Were we getting cars next?
No, no cars sadly. But we were going to be making several of the recipes ourselves. Yikes. Time to dust off the rust and get in the kitchen. Aside from @MommysWishList, I didn't know anyone here. But I knew they all blogged so staying anonymous when I set the kitchen on fire would not be an option.
Chef Chamberlain assured us he would be there to assist, as well as the ladies of the culinary institute. My blood pressure went down a notch. We divided into teams and I was on the Farmer's Market Vegetable, Beef, and Brown Rice Salad team (recipe respectfully copied from the cookbook and provided below) with @mommyswishlist (yea!), @TexasHolly (yea again!) and @IHeartBowheads (who I hadn't met yet, but was a fast triple yea!).  Go team!
We scanned our recipe card and @MommysWishList and @TexasHolly declared they "didn't cook" and resigned to "documenting" the prep. Say what? OMG. Talk about performance anxiety with the CHEF walking around. Which wouldn't have been such a big deal, except that we had to cook the meat in the … wait for it….
BROILER.
I don't know about you, but I find the broiler totally intimidating. Whatever I place under the broiler is either not done or it's charred black beyond recognition with the fire alarm bleeping and smoke billowing. No in-between. Never. Our oven may as well not have that function because it's of no use to me. And what's worse, in this super chef kitchen that we were set lose in, we had the Star Trek Infrared Broiler to conquer so even what poor past experience I may have had with a broiler, was now irrelevant. This was a whole new ball game.
I still don't know how I got job of cooking the meat, but @IHeartBowheads was assembling various vegetables, @MommysWishList and @TexasHolly stood with cameras and captured me confessing that "I don't touch raw meat," and then had to take a seat from dying of laughter. (Seriously, I don't. I don't eat meat that looks like it was when it was alive either. I'm probably one teetering step away from being a vegetarian. Or a trip to the therapist if you ask the hubs.) I struggled with these massive slabs of beef and tongs to get them on the platter without my skin brushing into contact with them — with no offer for assistance from either @MommysWishList or @TexasHolly I might add. This wasn't cooking girls, this was "assembling." Whatever…. I think I succeeded without Chef Chamberlain seeing this part. I snuck them into the oven before he smelled the fear on our side of the room and came over to survey the damage.
His timing happened to be roughly about the split second I had begun goofing around with the vegetables that @IHeartBowheads and I were sautéing on the stove. I was pretending to flip them in the sauté pan without a spatula-thingie. Pretending because I in no way know how to flip anything in the air over a hot stove with open flame. Ask my husband what happens with me and fire. Not a good mix. But I was busted. Chef Chamberlain felt obligated to give me a jedi-chef flip lesson. Just wait 'til I show the hubs my new skillz.
But that's when it went south. Our meat wouldn't finish cooking so he cranked up the heat. Made me neeerrrvvvooouuus. And the Viking chef told us six more minutes. SIX?! We started out with only 12. That seemed too much. But I am just a mere mortal so we took her word as gold and I timed it on my iPhone. @IHeartBowheads and I watched by the second for it to finish. When the alarm when off, we pulled it out and I KNEW IT. I am cursed.
Black meat.
I'd be the laughingstock of a whole roomful of mommy bloggers. And it was my coming out party at that. I wanted to die.
And here comes Chef Chamberlain. And my red face.
He says, "It's perfect." Now granted, it's not black all over, but that's what I'm seeing through my amateur eyes. It is black on the edges and apparently that's what it's supposed to be? We'll go with that. Chef Chamberlain sets to cutting against the grain to make it more tender and helps with the presentation of our masterpiece. And I will say, it turned out to be one.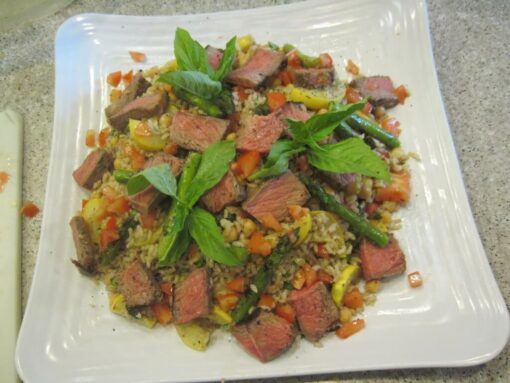 I give Chef Chamberlain a lot of credit. He has the patience of a saint. In fact, he may have the patience of two saints rolled into one. He cruised the room fixing many mistakes and teaching us tricks to finesse the presentation in such simple ways that we could really wow our families. I'm so happy that the cookbook he gave us is chock full of all of these recipes, which according to him (I have yet to test the theory) most have fewer than 10 ingredients and take less than 30 minutes to prepare – and they are heart healthy. I think it would make a great housewarming gift or something to give to a new mom when you bring her dinner during her postpartum delirium.
After we had prepared all of the dishes, we got to sample our handiwork and it was all DELISH. Really simple to prepare (especially when you have a team of mommy bloggers to help, a chef to coach and assist, and the magic clean up crew of the Viking Cooking School) and darn it, you just felt healthier looking at the pretty food sitting there.
So how has my inspiration affected me so far? Um, let's just say it wasn't the best timed weekend to say "Where's the beef" with three days of festivals to attend and funnel cake to eat. But there's still hope hubs, there's still hope.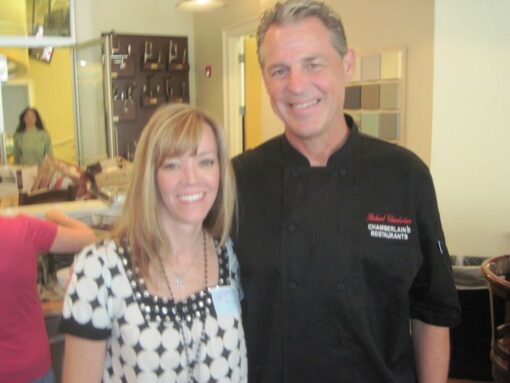 Special thanks to the Texas Beef Council for sponsoring the event, all the goodies and delicious food, Holly Homer for inviting me, Angela Lemond for teaching us how to be practical and nutritious with our children, and to Chef Chamberlain for his graciousness when I burned up the steak. I had a fantastic day and learned more than I thought I could.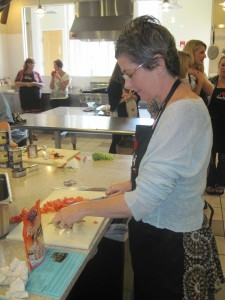 Farmer's Market Vegetable, Beef, and Brown Rice Salad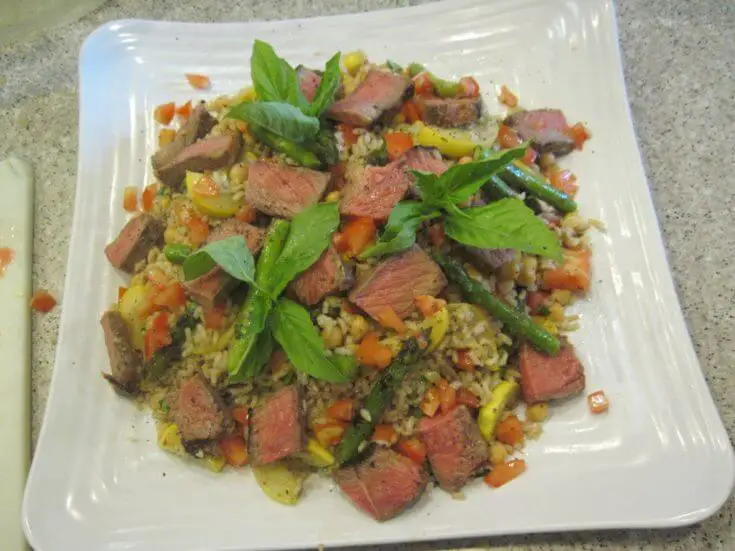 Total Time
6 hours
33 minutes
Ingredients
Marinade:
¼ cup olive oil
2 tablespoons fresh lemon juice
1 tablespoon minced garlic
1 tablespoon honey
2 teaspoons fresh chopped thyme
2 teaspoons chopped fresh oregano
¼ teaspoon salt
1/8 teaspoon pepper
Other:
1 beef top round steak, cut ¾ inch thick (about 1 pound)
1 teaspoon olive oil
2 cups asparagus (2 inch pieces)
1 medium yellow squash, cut lengthwise in half, hen crosswise into ¼-inch-thick slices
3 cups hot cooked brown rice (We used the Uncle Bens microwave in pouch kind!)
1 cup diced, seeded tomatoes
1 cup canned garbanzo beans, rinsed, drained
¼ cup fresh basil, thinly sliced
½ teaspoon salt
Instructions
1.Combine marinade ingredients in small bowl. Place beef steak and ¼ cup marinade in food-safe plastic bag; turn steak to coat. Close bag securely and marinate in refrigerator 6 hours or as long as overnight. Reserve remaining marinade in refrigerator for dressing.


2.Remove steak from marinade; discard marinade. Place steak on rack in broiler pan so surface of beef is 2 to 3 inches from heat. Broil 12 to 13 minutes for medium-rare doneness, turning once. Remove; keep warm.


3.Heat oil in large nonstick skillet over medium-high heat until hot. Add asparagus and squash; cook and stir 7 to 8 minutes or until tender. Toss with rice, tomatoes, beans, basil, salt and reserved marinade in large bowl.


4.Carve steak into thin slices. Serve over rice salad.