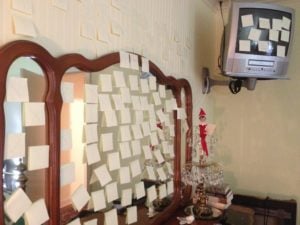 Have Elf. Will travel.
The Cupcake woke me up this morning, "Mom, hey mom. LOOK!"
She's pointing at the mirror at my in-laws house. 250 miles away from home. "Look, look at that paper on the wall!"
"What? Paper on the wall? How'd that get there?"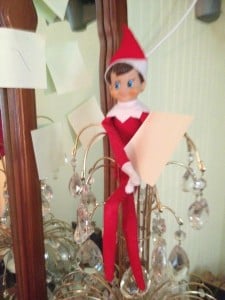 "MOM! There's an ELF!"
I can't articulate how blown away she was that Chintz had found her in Louisiana. She was baffled. Must've asked me 10 times how he found her. I had to explain that Santa always knows what you're doing and he told Chintz where to go last night.
"WOW."
Chintz discovered the hard way that sticky notes do not stick to wallpaper – as they fluttered down one by one a few minutes after he had spelled "Merry Xmas" with them on the bathroom wall.
So poor little Chintz had to take his handiwork into the bedroom and tried to do the same thing on that wall — which unfortunately was the color of the sticky notes. Poor Chintz. Sometimes it's tough to be a mischievous elf…
 Chintz has been a regular visitor at our house for the last three Christmases. Find out some of the mischief he has been up to including our Elf on a Shelf Fails and some of our best ideas.