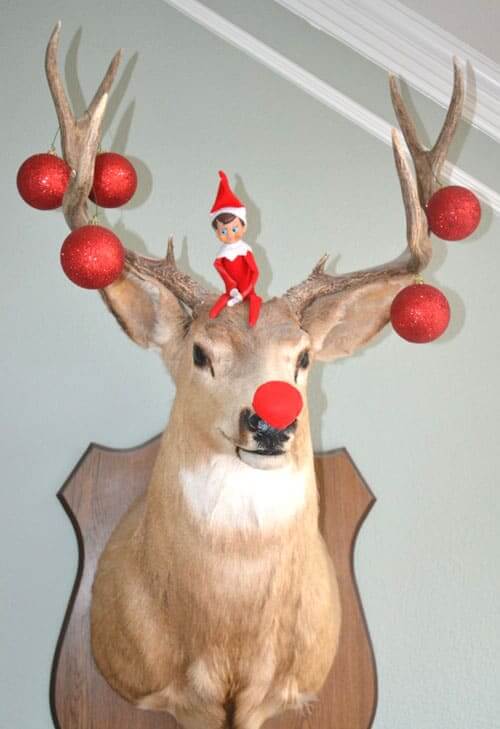 So I made the mistake of asking the hubs for a few elf on the shelf ideas. He thinks we should just take a night off. I explained that was really not possible. Princess Cupcake gets out of bed every morning expecting to see what mischief Chintz has gotten into during the night. We have reached the point of no return. He said he didn't feel compelled to try and one-up ourselves each night. I pointed out that he does that every time he steps onto the golf course.
Then he suggested that the elf sit on the deer.
Yes, I said DEER.
Please don't judge me. I left one weekend shortly after we were married (about 11 year ago), and this is what I came home to. Minus the elf. And the ornaments.
Princess Cupcake calls it the "goat." Periodically, she asks me to lift her up to pet "the goat."
I don't even want to have discussions about "the goat." I pretend that it's not there. I am not really a "goat" on the wall kind of person. I have never hunted, and absolutely never will. But I know that it appeals to some. And I know in our case that "the goat" reminds the hubs of happier days when his dad was alive and they went hunting together. And I also know it was more about spending time together than the actual — well, I don't even want to think about it. And actually, I don't think he's hunted since this "goat" was acquired. Regardless, the "goat" is my cross to bear.
Sigh. Marriage is a journey of compromise. And also teamwork. And therefore, you know we had to take this to the obvious next step. While Princess Cupcake calls this the night that Chintz met Rudolph to hubs and I this scenario will always be the Elf on a Shelf Stag Night.