This post is sponsored by Chevy who provided me a 2018 Chevy Traverse Premier to test drive for a week for my honest review. All opinions are my own.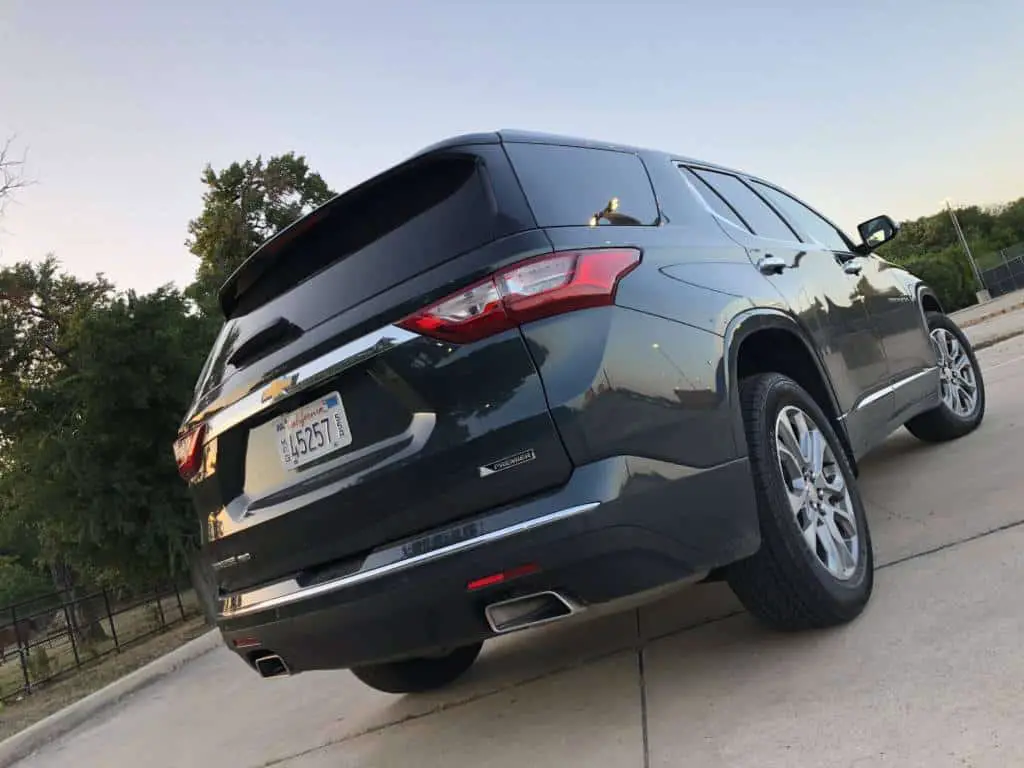 "Hi, this is Doug. I'm calling to schedule a pick up of the Chevy Traverse you have on loan."
"That's going to be a problem."
"Oh? Why's that?"
"Uh, yeah. I don't want to give it back. I mean, we named her and everything."
Charlotte would rather stay with us, I'm confident of that. And you know if you name a car, you are totally in love with it. That's us with the 2018 Chevy Traverse Premier. Or CHARLOTTE as she's known at Chez Perot.
Me and the little are road warriors. Between her many sports and trainings, on any given day we are probably crossing the metroplex — twice. So we got some QT in with Charlotte to really get to know her.
Aside from the dreamy ride, both the Cupcake and I had slightly different features that we adored about our best new four-wheeled friend.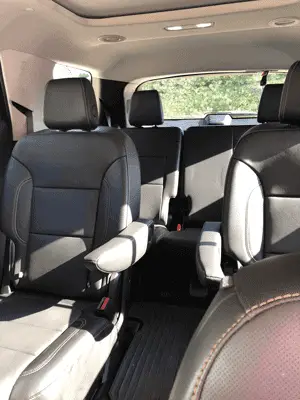 Cupcake likes the captain's chairs in the second row, and how easy it was to get to the third row. She also likes that she can see out the window from the seats, she's not sunk down below window height. She also likes that Charlotte had some righteous speakers to play tunes and audiobooks on. (I like how super easy it was to sync it up to work.) And her most favorite feature of our fab friend was the onboard WiFi for up to seven devices.
Charlotte didn't play favorites with that one, I have to say. It takes a sports mom's productivity to a whole new level when you can use WiFi at the field – or catch up on Netflix, whatever keeps you sane, right? 😉
The second Charlotte and I met, I was instantly obsessed with her camera rear-view mirror. It took a little adjusting to, a bit like wearing readers for the first time, but once I got used to the difference in the depth of field, I can't understand why all vehicles don't have this. The range of view it provides the driver is so expansive, it's a huge safety boost.
Pair that with the lane assist and blind spot warnings and you've got what must be one of the most driver responsive vehicles on the road.
I was also drawn to the steering wheel touch control diagnostics. At any time, you can view oil levels, tire pressure, and a zillion other indicators of Charlotte's well-being. If only human's had the same level of diagnostic capabilities! And check out her secret compartment for your valuables.
And because it's the little things that really make you fall from like to love, I have to mention the lights in the hatchback that light up the back cavity so you can actually see what's back there when you're unloading groceries and soccer shoes. And the Chevy light on the ground when you get close to Charlotte at night?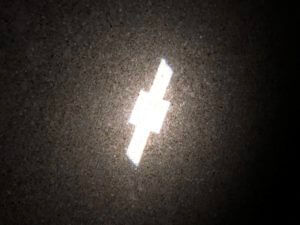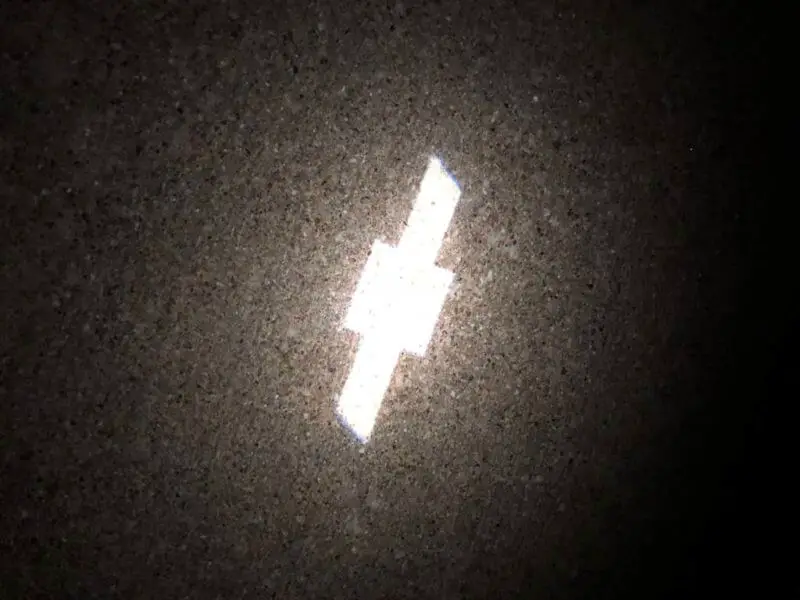 It was like she has a little bat signal for me, saying, "I'm right here. I'm your ride. Let's do this."
Gosh, I love this vehicle. There's really only one legitimate thing that I don't like about it, and I'll tell you about it in the video below.
This 2018 Chevy Traverse is loaded with tech and safety features:
4G LTE Wi-Fi Availability
This feature allows you to stay connected on the road, Skype or video chat, stay on top of work if needed, and stream movies, etc. from the road. Can connect 7 devices at once- that means your family will be entertained and can download movies, TV shows or books to your device on the road without using any data!
Monitors and alerts you of anything left in your back seat. Provides an alert when the rear doors are used during or just before a trip, prompting you to double-check for valuables left in the back seat when you exit the vehicle. When a second-row door is opened and closed during or just before a trip, this feature reminds you to check the back seats with five audible chimes and a message in the driver information center. Helps parents be more aware of the Texas heat during the summer.
A digital "report card" for parents that displays a rundown of the teen's driving habits on the vehicle's screen. It records the fastest speed, how many times safety features are activated, mutes the music if seatbelts are unbuckled and was developed by a mom-of-two engineer. Available on nearly all of Chevy's cars, trucks, and SUVs, Teen Driver provides parents with peace of mind and encourages safe driving habits for teen drivers.
A technology that displays a view of the entire perimeter of your vehicle, by using strategically located cameras on all sides of the vehicle to provide a 360-degree bird's-eye view of the vehicle, helping drivers quickly view the surrounding area at a glance.
OnStar Technology
OnStar offers Turn-by-Turn Directions with the touch of a button and simply telling an Advisor where you want to go. Directions can also be sent to your in-vehicle navigation system by asking the Advisor to download directions to your vehicle. OnStar AtYourService is a new way to discover value in the places you go, providing you with better ways to eat, shop, and play. AtYourService connects drivers with retailers and merchants on their drive, providing information, convenience and money-saving values tied to their specific destinations. When you're not driving, get valuable offers delivered directly to your myChevrolet app or through an Advisor with a simple press of the blue OnStar button.
Apple CarPlay/Android Auto
Apple CarPlay takes the iPhone features you'd want to access while driving and puts them on the vehicle's display- so you can make calls, send/receive messages and listen to your favorite playlists right from the touchscreen or by voice via Siri. Android Auto is built around Google Maps giving you the ability to talk to Google and use several different apps straight from your cars display screen.
myChevrolet Mobile App
The myChevrolet app turns your mobile device into a command center for your vehicle. This app allows you to start/stop your engine and lock/unlock your doors from your smartphone. You can even send destinations to your available navigation system, view diagnostic information, customize Wi-Fi settings and set parking reminders from virtually anywhere.
Active Safety Features
Chevy vehicles are loaded with additional new safety technologies to help ease parents' worries, including forward collision alert, lane departure warning, lane keep assist, a rear-view mirror camera, and a distance indicator (uses sensors to let you know how far ahead the next vehicle is).
For more information about Charlotte, I mean, the Chevy Traverse, visit https://www.chevrolet.com/suvs/traverse-mid-size-suv
Thank you, Chevy! This was a great week with your amazing crossover!