Okay husbands, listen up! Here's what your Downton Abbey-crazed wife would love for you to buy her for Valentine's Day. I've made it easy for you by creating a round-up of gift ideas that's sure to make her smile. (A few of the items have affiliate links below.) You must  start with a great card. What's better than a great card, but a great card that's free? These printables from Cobalt & Dash are hilariously punny and sure to make her smile. Download yours here.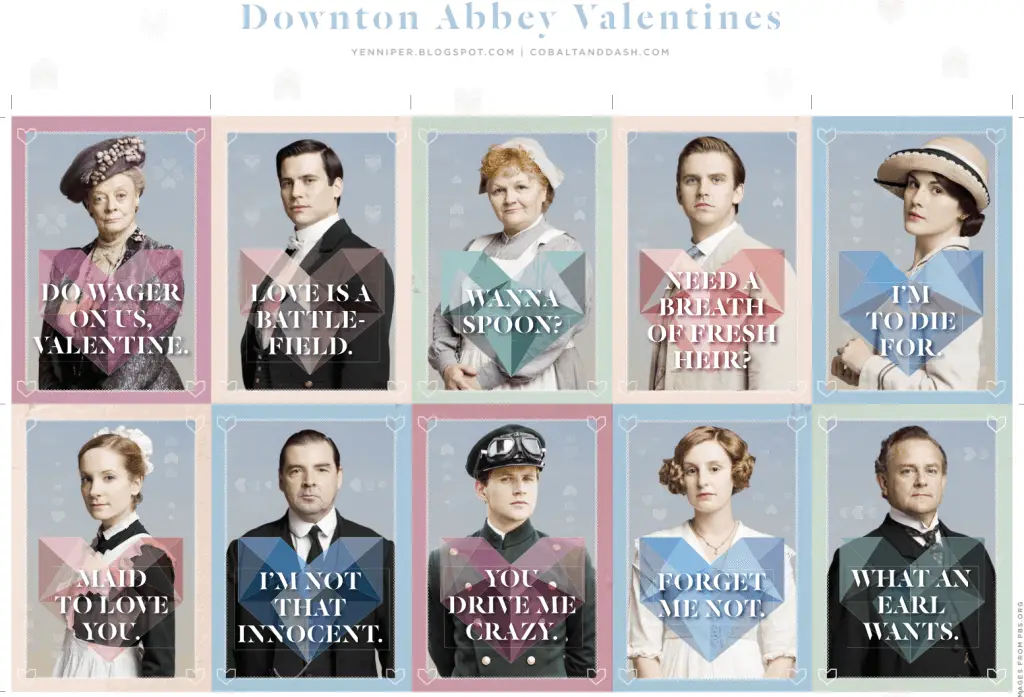 If a trip to the UK isn't on the calendar yet, how about a virtual tour to her favorite castle? New to iTunes is the Highclere Castle app providing gorgeous tour of the famous castle where Downton Abbey was filmed, and many interesting details about it's history.
Speaking of tea, she should have a proper mug to drink it from. How about this favorite Dowager quote, "Top Funny What Is A Weekend£¿ Morphing Coffee Mug or Tea Cup,Ceramic Material Mugs – 11oz
  What is a Weekend?"
Or what about this other classic from our Lady Violet? Found on PBS.org.
You might make her some cookies to go along with her tea. Here's a custom teapot cookie cutter that will surely make her day. Check out this tea set.
When it comes right down to it, most women do like jewelry. Any lady fan of Downton Abbey would surely love to channel her inner Cora and wear these Downton Abbey Gold-Tone Belle Epoch Oval Ruby Stone with Crystal Accents Drop Earrings
ruby ear bobs on her night out with her very own Lord Grantham.
More Valentine's Day Posts
A little in love with these miniature apothecary jars. Maybe a lot in love with them.I ordered a dozen of them as a tiny treat for the teachers for Valentines Day. I thought they'd be perfect to hold some heart shaped candy. Aren't they cute?And because I can't just...
read more