UPDATED with answered questions, 07/20/20 I loved Shrinky Dinks® as a kid. I love Shrinky Dinks® as a parent.
I was thrilled to see them make a reappearance on store shelves during a recent birthday party stock-pile trip. I snagged some for The Princess Cupcake at Toys R Us for what I now consider to be an obscene amount of money. That's the upcharge for a licensed Disney Princess print I suppose. The package had six measly little images on miniature plastic chips of Cinderella and Snow White and company accompanied by the shortest colored pencils you've ever thought possible.
A 3 year old will blast through coloring this package in approximately 38 seconds a piece of plastic and then be ready to shrink them in the oven. In case you're wondering, that's about 4 cents per second.
Good stuff.
Then I started thinking… isn't there somewhere we can buy plain sheets of Shrinky Dinks® material? Like Staples??? I dunno. Maybe, I couldn't find any online, but what I did find were several tutorials on how to make your own Shrinky Dinks® at home.
Even better.
All the tutorials I read said that the best plastic to use is recyclable #6 plastic containers. And to use the whole thing. How do you tell if it's the right container? Flip it over and look for the small embossed triangle of arrows on the bottom. If it has a 6 in it, you're good to go.
So naturally, as I do, I then became obsessed about finding a restaurant take out that used #6 plastic containers and Panera quickly became my muse. After three lunch trips I was beginning to see that not only was I getting fatter, my ROI was falling far less than the store-bought Disney Shrinky Dinks®. And yes, I asked Panera for extra boxes at drive-through visit. (This was always met with strange looks from the employees)
None-the-less, I had a handful of containers to test run.
Against my better judgment, I got out the oh-so-permanent Sharpie markers and let the Cupcake draw to her artist's heart's content.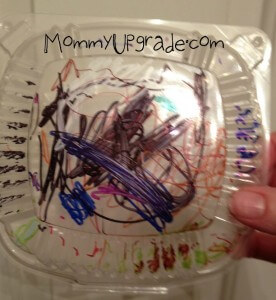 Once complete, we put them – square container and all — one at a time into a preheated to 375 degree toaster oven and watched them automagically shrink to a fraction of their previous size in a matter of 30 seconds or so. If you try this at home, be sure to leave the box in until it completely finishes twisting and scrunching around and lays flat.
****VERY IMPORTANT**** be sure to put parchment paper or non-stick aluminum on your baking sheet before you put your #6 plastic on it. If the #6 plastic sticks to it, you may not be able to use your baking sheet for food again.
Admittedly, we had less than stellar results the first time around. I have determined that it was because the oven was not fully preheated (our toaster oven doesn't tell us when it's at the programmed temp). The longer we left the oven on, the better the shrinking turned out.
Note that if your oven isn't hot enough, they won't shrink to a flat square.
The very last Shrinky Dink we did shrunk perfectly, but in my excitement I realized that I didn't wipe all the crumbs out of the container first and they were like little freckles in the finished piece. Head smack. Argh.
So now that we had our Shrinky Dink mojo on – I was completely out of my Panera stash — I got desperate and tried shrinking another plastic box that I saved from the Daddy Daughter Dance corsage.
Do not do this. It did not turn out well.
Frustrated but not deterred by our original results, I went to Sam's Club that weekend and purchased a bag of 125 #6 take out containers. They were much larger than I was getting at Panera. We tried a shrinking a couple of the boxes whole and we were again disappointed. They were just too ruffled.
So THEN I used my brain and we cut out a sheet from each side of the box (giving me now 250 sheets! WOOT! I do love a bargain) and shrunk those with absolute perfection.
The Cupcake has been shrinking for the past two nights and has the ROYGBIV Sharpie stains on her hands to prove it. My cost for those sheets is about 12 cents PER homemade Shrinky Dink now so she can plaster her room with them as far as I'm concerned.
I even started punching a hole in them before shrinking. I am thinking of making jewelry with her artwork, suncatchers, making Christmas ornaments, and… the possiblities are endless.
My apologies, I don't have a good video of the shrinking process. I tried. Really, I did. The reflection on the oven made a great video of me and the Cupcake staring intently at it but falls short of riveting or educational viewing as you can't see what's happening inside at all. I'll try again, promise.
Even though we broke the code on our DIY Shrinky Dinks®, I was still curious as to why #6 plastic works best. I sought out the wisdom of a Shrinky Dink expert to find out why. The one who first introduced me to Shrinky Dinks® a very. long. time. ago.
My dad. The chemical engineer. And he hearts polymers.
I asked Dad to explain the science behind plastic shrinkage to me. I have edited the below to remove all polymer-speak – hopefully appropriately – to appeal to the regular moms, and not just the previous engineering student moms, so you and I can also benefit from Shrinky Dinks® 101. This public service message is also provided in hopes of deterring you from melting all the plastic boxes you have in your home like I did.
So Dad, what up with the #6 plastic for DIY Shrinky Dinks®? Why does that work so well and what else can I shrink at home?
Good question about "Shrinky Dinks®". Plastics code 6 is Polystyrene (PS) and it is the material of the "Shrinky Dinks®" and the containers you used.
To form the original PS containers you used, they were "thermoformed," in other words, they started out as sheet, sometimes flat sometimes somewhat shaped, then heated during processing at a similar temperature to what you used in the oven. Then while hot, they were pressed into the container shape. Next they were cooled rapidly while still box shaped in order to prevent distortion from the take out container form.
When you put the take out containers in the oven, you allowed them to relax to about their original shape – and that includes shrinking since they were stretched in the original forming of the box. If you have the oven too hot then they will not shrink as evenly because different parts of the shape are different temperatures and relax at different rates. (Hmmm, so maybe my oven was too hot instead of too cold?)
The different codes on the bottom of your recycled containers indicate different basic polymers with different properties:
Code 1 is Polyethylene Terephthalate (PET) from which most soft drink and water bottles are made and also is the material of polyester fabrics and mylar® sheets. You need a higher temperature for PET since its softening temperature is higher.
Code 2 is high density Polyethylene (HDPE) that is fairly crystalline and melts unevenly and needs a slightly higher temperature than PS.
Code 3 is polyvinyl chloride (PVC) and although it is glassy and could deform like PS it should be avoided due to the possible Chlorine compound that can be generated if the temperature is too high.
Code 4 is low density Polyethylene (LDPE) and has a lower softening temperature than HDPE and near PS. LDPE still will melt and deform unevenly.
Code 5 is Polypropylene (PP) and like Polyethylene is fairly crystalline and PP softens at a higher temperature than HDPE, so may be used in the dishwasher without too much trouble but again will deform unevenly when heated above its softening point.
Code 6 is Polystyrene – The ONLY plastic that should be used! This plastic is usually well-marked so if you don't see the triangle with the 6 in it, don't risk it.
Code 7 is for other polymers, i.e. a catch-all category, and should be avoided for "Shrinky Dinks®" since the composition and potential problems are not known and the specific properties are not given for this general category. Excessive temperatures where the material starts to smoke or odors are given off should be avoided for any of these materials.
I also asked Dad if I could fix some of the Shrinky Dinks® that were ruffled and stuck together by reheating? Or ??
Trying to fix samples that shrunk unevenly is difficult since they become tacky (sticky) when hot and would stick to an iron's surface. If you must try to reshape them, try redoing the heating at a lower temperature. If that does not work then place them between Teflon® coated sheets with the Teflon® sides contacting the sample and a hot iron on a non-coated surface, but even that would not be very successful. Putting them in the oven between Teflon® sheet with a weight on the top could work. Reshaping with the Teflon® sheets exposes the users to many burn hazards and is not recommended.
Right. Since I have no "Teflon" sheets at home (Dad, seriously. Do you? That sounds like something you have in your lab, can I have some for Christmas???) I think those mistakes are just getting trashed.
UPDATED 07/20/20 – Another question for Dad: Why do some of the take-out containers turn white when they heat up?
As we discussed the #6 plastic is polystyrene. With regard to why some polystyrene pieces become clear when heated and others turn white is related to both the heating profile and the additive content of the piece. Almost all plastics have a small percent of additives included to improve properties for different applications. Turning white after heating is because the more volatile components become gaseous and form small voids in the material and therefore scatter light, causing whitening. A related example is a foamed styrene cup (often called "styrofoam" cup). This cup is white since the polystyrene had an intention volatile additive and the material was heated in controlled fashion during forming Into the cup shape.
Would heating at a lower temperature keep it from turning white?
Slower heating and a lower temperature for a longer time would lessen the whitening but some pieces may have too much of the additives that lead to void formation.
Thanks Dad! 🙂
I've got about 225 more sheets to use – what do you think we could make with them? I'd love to hear your ideas!