Looking for something merry and bright — and socially distanced — to do with the family? Round everyone up into the car, grab some hot cocoa, tune into your favorite Christmas music station, and head out and enjoy some of these top DFW area Christmas light displays. Some of these require tickets, and some are free. And to kick it off, here's a video from my neighborhood. 🙂
ADDISON
Sparkling Nights. Dazzling Sights. Holiday Lights Spectacular. 3966 Vitruvian Way, Addison. See the Events Calendar for detailed information. @VitruvianPark
ARLINGTON
Holiday in the Park at Six Flags Over Texas
It's the most magical time of the year filled with enchanting experiences that will help create those special family fun outings again and again. The breathtaking winter wonderland, Holiday in the Park at Six Flags, features a variety of delightful and interactive activities to help capture the holiday spirit. Seasonal food favorites and holiday-themed entertainment. 2201 Road to Six Flags, Arlington (near I-30 and Highway 360). Click for INFO or TICKETS. @SixFlagsOverTX
Interlochen
This Arlington neighborhood has gained legendary status as one of the largest holiday light displays in North Texas with more than 200 homeowners usually participating. Directions: From Interstate 30E, take the Fielder Road exit and go south to Randol Mill Road. Turn right on Randol Mill and follow it to Westwood Drive. From Interstate 30W, take the Eastchase Parkway Exit, turn east on Meadowbrook Boulevard to Randol Mill Road, then right on Randol Mill Road to Westwood Drive. FURTHER INFORMATION
The lights have been a tradition for more than 40 years. NOTE: The route has official hours and police direct traffic on some dates near Christmas. (There tends to be lots of traffic near the holiday.).
BEDFORD
If you're looking for a free, family-friendly activity this Christmas season, you won't want to miss the amazing Christmas light display at Daystar Television Network's international headquarters in Bedford, Texas! Each year, Daystar strings up hundreds of thousands of bright white LED Christmas lights across the property – visible from state highway 121 to passersby, and this year's display is better than ever before! @Daystar
COPPELL
Deck the Halls House – 836 Lakeview Ct. Tune your radio to 107.3 FM.
DALLAS
Dallas Zoo Lights Presented by Reliant
Presented by Reliant Energy® this year's Dallas Zoo Lights will be a socially-distanced drive-thru event, so you'll get to enjoy all of the Zoo's holiday cheer without leaving your vehicle. You'll cruise along a newly constructed pathway through the Zoo while marveling at over one million lights in elaborate displays, silk-covered animal lanterns depicting all your Zoo favorites, an ice palace fit for a trio of penguins, and so much more along the way. 650 S. R.L. Thornton Freeway, Dallas.
$65 per car. Dallas Zoo Members get $15 off tickets to Dallas Zoo Lights. They will be selling timed tickets for this event to help control traffic and minimize wait times, so tickets MUST be purchased online in advance and will not be available at the gate. PURCHASE TICKETS @DallasZoo
Kessler Park
A wonderful neighborhood to view holiday lights in the fabulous Oak Cliff neighborhood. Directions: From downtown Dallas, go west on I-30. Take the Sylvan exit and turn left (south) on Sylvan. Travel about a half a mile on Sylvan to Colorado, then go right (west) on Colorado. Travel another half mile on Colorado to the intersection of Colorado and Lausanne. Look for a big traffic triangle at that intersection with five large colorfully lit trees in the street island. Check out the beautiful Dallas Skyline in the background.
Elderoaks
This quiet and charming neighborhood near Red Bird turns up the volume during the holidays with its light displays. Take the West Camp Wisdom exit off 67 South and you'll be in the thick of the twinkling when you hit South Hampton Road. It's close enough to downtown Dallas to be a convenient tiptoe off the beaten path.
Christmas Lights, Chocolate & Sips Tours– presented by Dallas by Chocolate
Taste scrumptious treats from premier local dessert venues, then glide past some of Dallas' most spectacular holiday displays in the Park Cities and downtown Dallas OR Frisco/Addison (including Vitruvian Lights) sipping terrific beverages! Alcohol tours for adults only. NEW! Socially distanced lights tours (in your car)…lights, holiday treats, and hot chocolate!
DENTON
Denton Holiday Lighting Festival
This year's holiday lighting in Denton will include TWO socially distanced drive-thru holiday opportunities including a free Santa goodie bag giveaway, a safe photo op with Santa (*reservation required) plus a toy drive.
Highlights:
500 FREE Santa goodie bags filled with candy, arts & crafts, glow in the dark toys, local coupons and more to pass out to each car that drives through (while supplies last).
A "safe" picture with Santa who will be inside a giant snow globe and each car full will get to hop out and pose for a picture! Spots for this are limited so be sure to reserve yours before they fill up by making a suggested donation on Eventbrite of just $5.
Bring a toy to donate to Elves Shelves for children in need this holiday season or donate a toy virtually.
*For those interested, upgrade your socially-distanced drive-thru holiday experience – for $25 this bag includes candy, arts & crafts, a light-up toy, their 2020 Gnome Cone ornament, A Very Merry Denton CD & 2020 Pan Ector holiday t-shirt, and you get expedited in the line for your picture with Santa.
Friday, 4 December, 2:00-6:00 pm and Saturday, 5 December 2020, 1:00-5:00 pm, First Denton, 1101 Malone St, Denton, TX 76201
Facebook: @DentonHolidayLighting
FARMERS BRANCH
Celebrate the season with over a month of holiday festivities in Farmers Branch! Enjoy Skating Under the STARS at their outdoor ice skating rink. Stroll under twinkling lights in Santa's Village. Shop local vendors for unique gifts at the Holiday Marketplace at the Grove. 13000 William Dodson Parkway, Farmers Branch, TX 75234. See event website for pricing.
–Skating Under the Stars – Now through January 3, 2021 (*Reservations required)
–Christmas Tree Lighting & Holiday Marketplace – December 5, 2020
–Holiday Marketplace – December 12-19, 2020
Facebook: @discoverfarmersbranch
FORT WORTH
Modern Art Museum of Fort Worth
The Modern will be illuminated with a spectacular array of festive lights this holiday season. Enjoy nightly viewing opportunities with extended museum hours for a "must-see" holiday experience. Passersby will be treated to a stunning display, and visitors are invited to enjoy evening viewing opportunities. 3200 Darnell Street, Fort Worth 76107. @themodernfw
Gift of Lights at Texas Motor Speedway
Texas Motor Speedway turns into a winter wonderland for its annual drive-through attraction, which stretches two miles and features nearly three million LED lights! Only one ticket per car is needed. @TMSGiftofLights.
$2.00 off for first responders or military ID or $2.00 off (per car) with 5 canned goods.
FRISCO
Christmas in the Square – Frisco
Christmas in the Square returns for its 16th year, full of established favorites and new surprises. Grab the family and enjoy the largest choreographed holiday lights and music show in North Texas. Visitors may tune in to 107.3 FM on the radio in their vehicles, or listen to the music piped through speakers as they take a walk through the Square. The light and music extravaganza is choreographed by Frisco's own Jeff Trykoski (Illumimax, LLC) and features over 180,000 lights, 200 dancing snowflakes, 10 miles of wiring, and 8 miles of extension cords. Newly upgraded to feature 4,000 feet of roof edge LED RBG lighting and 3,000 feet of RBG color-changing canopy. MORE INFO.
Burkman Holiday Home of Frisco
The Burkmans have been decorating their home inside and out for over 20 years. And every year they get bigger and better! Check out their holiday light display out at 3809 Hazelhurst Dr, Frisco @burkmanholidayhome
Radiance! A Holiday Light Spectacular
Gather the family and sip a cup of hot chocolate as you marvel at two million lights, animated to the tunes of your favorite holiday classics from the safety and comfort of your car! Enjoy the wonder of RADIANCE! A Holiday Light Spectacular now through January 3, 2021 at Dr. Pepper Ballpark, Frisco, TX. Check hours HERE. PURCHASE TICKETS Facebook: @radiancechristmas
GARLAND
More than 100,000 lights bring the holiday season to life during the City of Garland's Christmas on the Square at 520 W State St. Whether you're walking or driving through, this event will bring out your holiday spirit throughout the entire season. Viewing of the lights is FREE. @VisitGarlandTX
GRAND PRAIRIE
Four million lights twinkle along a two-mile path throughout this drive-through holiday attraction. Visitors can hop out at Holiday Village to view the updated Holiday Magic Walk-Through Forest and the new Indoor Holiday Show — both of which are included in general admission. Holiday Village also includes photos with Santa, a carousel, carnival rides, concessions, a gift shop, and other vendors. Have an "out of car" experience with Prairie Lights! TICKETS. @PrairieLights
GRAPEVINE
Gaylord Texan, Lone Star Christmas
There is no better way to celebrate the holiday season in the Dallas/Ft. Worth area than gathering your family for holiday fun during Lone Star Christmas at Gaylord Texan. Explore acres of twinkling lights & decorations and exciting holiday activities, shows, and events, from snow tubing and ice skating to their all-new I Love Christmas Movies™ pop-up and Yuletide Bright outdoor light & lantern experiences. 1501 Gaylord Trail, Grapevine. @GaylordTexan
A Reverse Style Parade of Lights experience. This year, from the safety of your vehicle, you will be able to enjoy the floats, bands, and dignitaries that will remain stationary on Main Street. @gograpevine
HIGHLAND PARK
The community of Highland Park will be glittering with classic light decorations spanning approximately 20 blocks (bordered by the Tollway on the West, Preston on the East, Mockingbird on the North and Armstrong on the South)! Start your FREE self-guided light tour at Armstrong and Preston and use your GPS. This is one of the most prestigious areas around for holiday lights!
Highland Park Christmas Light Tour by Brazos Carriage
Make this a holiday season to remember – Ride through the elaborately decorated neighborhoods of Highland Park Texas in a beautiful horse-drawn carriage. Touring the beautiful lights and homes of Highland Park has been a grand tradition of the holiday season for many years. The leisurely pace of a horse-drawn carriage ride allows you to see and appreciate the beauty of the homes and lights of Highland Park at this joyous time of the year. The pickup location is the Transwestern Building, 3811 Turtle Creek Blvd., Dallas. Facebook: @brazoscarriage
HIGHLAND VILLAGE
The Shops at Highland Village: Let it Glow Holiday Light Show
Enjoy this magical display that lights up Central Park. The light show includes a 60-foot Christmas tree and over 245,300 efficient LED lights synchronized to festive holiday music. 1701 Shoal Creek, Highland Village, 75077. @TheShopsHV
IRVING
Centennial Park Holiday Lights
Free and open to the public, the Centennial Park Holiday Lights display affords a leisurely stroll through one of the jewels of Irving's Heritage District (at 444 W. Second St.)
Over 200 trees are covered in thousands of strands of lights and each strand has between 150-300 lights. Even the park's walls, fences, and bridge are covered in lights. Walkways are lighted on each side to keep pathways visible for visitors after dark. No bike riding is allowed through the display. @thecityofirving
LCA installed over 150,000 individual lights across Las Colinas!
Take a look at Las Colinas' holiday events.
KELLER
Keller families will have 40 opportunities to enjoy a FREE holiday-themed laser light show that uses Town Hall's front facade as its canvas. The 12-minute show paired with Christmas music will run every 30 minutes beginning at 6 p.m. The final show each night will start at 9:30 p.m. There will also be a Hot Cocoa Pop-Up each night starting at 6:00 pm. The first 50 people (ages 12 and up) will receive a free Keller Parks and Recreation mug. They will serve until 8:00 pm or until they run out, whichever comes first. December 9-13, 6:00-9:45 pm at1100 Bear Creek Pkwy, Keller, TX 76248
Facebook: @cityofkellergovernment
LEWISVILLE
1860 Cindy Lane
1320 Summertime Tr.
*1308 Colony Court
*1428 Creekview Dr.
*209 Ridge Haven
*1157 Tanner Dr.
*1555 Glenhill Lane
*Timberbrook Neighborhood (Just southeast of Bellaire and Edmonds)
*Homes that have had displays in the past, but have not been verified recently.
MCKINNEY
Festive Tour of Trees, Trinity Falls
Model homes in Trinity Falls will shimmer with holiday finery during the Tour of Trees event happening throughout December. Ten of the 17 professionally decorated model homes in the community will be further decorated with Christmas trees and other seasonal accents. In addition, visitors on Dec. 19 can stop by The Club at Trinity Falls, 7801 Trinity Falls Parkway, for free cups of gourmet hot chocolate and the chance to take photos at the decorated tree stationed there. Mondays-Saturdays, 10:00 am to 6:00 pm, and Sundays, 12:00 to 5:00 pm through Dec. 31. FREE
PLANO
Plano's most popular FREE self-guided Christmas light display featuring merry penguins, glittering gift boxes and plenty of Santas. The neighborhood covers a large area north of Legacy Drive between Preston and Coit roads and draws A LOT OF TRAFFIC so follow these tips:
Driving: Enter from Legacy Drive on Colonnade Drive or Archgate Drive, noting one-way and restricted-turn signs along Old Pond Drive and Hallmark Drive. RED and BLUE routes are suggested main thoroughfares; be sure to visit side streets and cul-de-sacs along these routes. Use Quincy Lane or Legacy Drive to connect both routes. Watch all signs and drive carefully.
Walking: Park north of the Clubhouse on a less busy street.
There's a map of the recommended driving route on the homeowners' association website.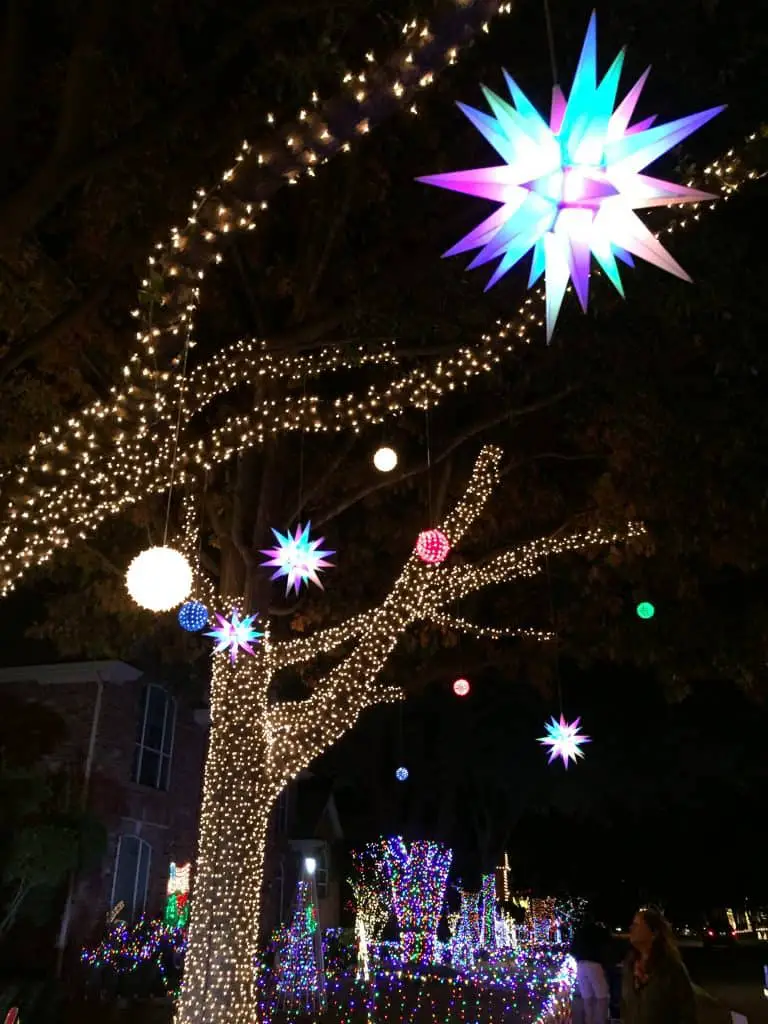 THE COLONY
Stewart Creek Park Parade of Lights
Experience a "reverse" Parade of Lights at Stewart Creek Park. A reverse parade is where the parade entries are stationary along the road and the attendees drive through looking at the floats, marching groups, etc. December 5, 2020, 6:00-7:00 pm at Stewart Creek Park, 3700 Sparks Rd., The Colony, TX 75056. @VisitTheColony
GET YOUR HOLIDAY SPIRIT ON WITH OUR LIST OF DFW FAMILY HOLIDAY FUN!
---
MERRY CHRISTMAS FROM TRIED & TRUE BY TRISTA PEROT!
Have a great holiday light display to add? Send it to us so we can add it to the list! Also, don't forget to tag #TTT in your photos so we can see all the holiday fun you and your family are having!