If Texas's wild weather in February had any upside for me at all, it was that I had lots of time to binge-watch all the crafting videos. I'm a junkie for all the how-to's for dollar store craft supplies, but it's painful that there's no dollar store near me! But I do have something else: a YEN store! I love me some Daiso!
I think we can agree that buying crafting supplies and using crafting supplies are two VERY different hobbies! I live for doing both but I would need a bigger house if I continue hoarding crafting supplies without actually using them, so in part, this video is so that you can help me be accountable to actually make amazing things with these fun products.
Watch as I unbox my latest Daiso haul of crafting supplies and make loose plans for how I might use the items I bought. Then, come back at the end of the month after I have updated the post to show what I actually did with the supplies.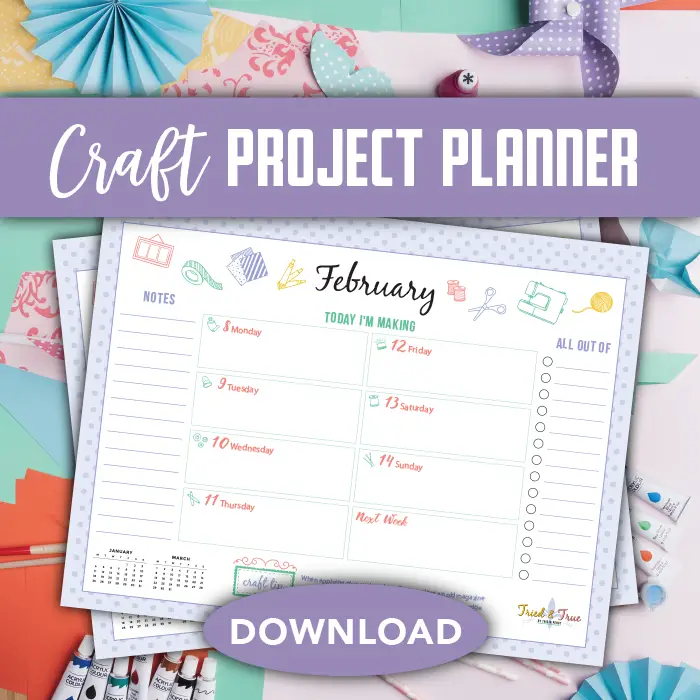 Use this weekly planner (subscribe by month) to keep on task and organized when making gifts for family, decorations for the holidays, or a DIY to spruce up your home. Includes crafting tips and coupon codes!
Price: $1.99 per month
Or text 214.609.1648 to get for FREE!
Most of the items were $1.50 and in total the entire haul cost around $40 with tax.
Cookie cutters. Possibly for stained glass cookies?

Stamp set for cookies. With the words Yummy and Happy! Too of my favorite things to be.
Heart-shaped straws. These are just perfect to dip into my teenager's drinks.
Paper flowers. My head nearly exploded with all the ways to use these.
Boxwood garland. Let's not discuss how expensive this is at "other" stores.
Pantry signs. These will be great for organizing the pantry for my husband who "can't find anything."
Washi tape. My love for washi tape runs deep. Adding this to my collection.
Glass tile. Use these for an update on mosaic crafts (see How to Make a Mosaic Cross)
Palette. 5 in package! Ideal for painting OR bead/jewlery making, or even Lego building.
Diatomaceous Drying Egg. Whaaaaa?
Wicker basket. I'll most likely use this in an Easter Project.
Astroturf. Again, this is super fun for Easter and soccer-theme crafts.
Scarf. Intended to floof up my Bogg Bag. It's adorbs!
Fabric section – Give me all the gingham. This Japanese-sized fat quarter is perfect for so much.
Stamp blocks. Again, silly expensive at other stores.
Long stand – Not sure what I'll make here, but the shadow box feature made me buy it.
Round, clear stand – future farmhouse-themed project
Double-sided tape – excited to test this out
Mini French press coffee – feeding my java addiction. And everything's cuter in a mini!
Not from Daiso, but new supplies:
Posca markers – Not from Daiso, but I will use them to update my DIY Shrinky Dinks post!
Removable Wallpaper samples – I see a Mother's Day craft with these!