That jingle, it sticks with you… "Wayfair, you've got just what I need." And I bet you do the dance with it too, amiright? No shame in that game.
So many of you know that we moved recently and this house just doesn't fit us like the last house. I've been looking at upgrading the puggie princess' bed — as you do — and then I saw this press release from Wayfair about their new Archie & Oscar exclusive line of furniture and accessories for pets. I about fell out. There's such cute stuff!
According to Wayfair, this exclusive line features "more than 500 unique and stylish items ranging from aquariums and gerbil cages to food and toy storage containers, to outdoor chaise lounges and Murphy beds thoughtfully designed for dogs and cats." A Murphy bed for my dog?!? GERBIL CAGES. I *might* actually let the Cupcake replace her hamsters after all. Mmmmm maybe not.
So Wayfair consulted with pet experts (not me, let's be clear) while developing their line so they could provide a variety of products and styles that were convenient, stylish and would match shoppers' existing décor. I'm so excited about these affordable and fun pet-friendly offerings. You've got to check them out! Here are some of my favorite items for dogs and the cat I wish I had: (affiliate links)
BEDS
Let's start off with sheer brilliance. This stylish coffee table dog bed was clearly designed by a dog. It includes a full-length, fabric covered cushion (with a removable cushion cover) and is the perfect spot for your pet to hang out in comfort!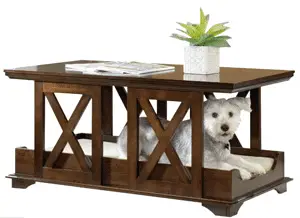 Show your dog how much you love them with this comfortable and attractive mid-century bed. It even has a drawer to keep the pet's toys nearby. Talk about functional.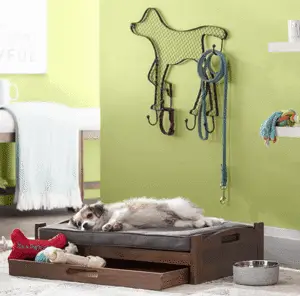 Your cat probably already thinks she's a princess so treat her like one with this Anson cat bed.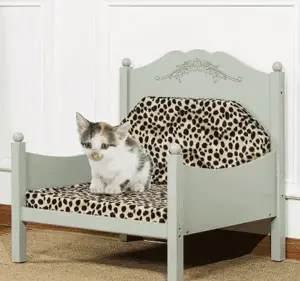 Dominic Ecoflex Murphy Pillow Dog Bed
This comfortable and stylish Murphy bed includes the dog bed cushion, perfect for those small spaces. When not in use, the bed can be folded and stored to blend in with your furniture. And, it comes with a 10-year manufacturer's warranty.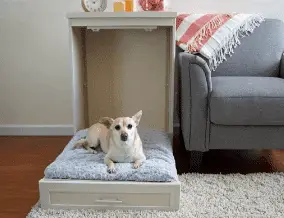 Dustin Outdoor Dog Bed with Cover
My beast would LOVE this kingly lounger out by the pool. Its protective and waterproof cover will shield your pet from the elements. The bed is made of Ecoflex, a non-toxic recycled plastic polymer composite material that won't warp, crack or split. Additionally, it has a waterproof cushion with a removable cover.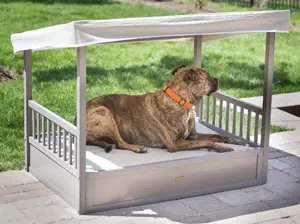 Echo Dog Bed with Nightstand and Cushion
Again, a brilliant use of space. Keep your lovable pet nearby with this stylish and functional nightstand which includes a built-in dog bed and cushion.
It's the ultimate hall tree. Check out this cozy and functional entryway dog bed! This comfy retreat also provides a lower pull-out storage drawer and four hooks for leashes, clothes, etc.

FURNITURE
Algonquin 60″ Modern Folding Cat Tree
Name one cat that wouldn't love to have this in their house? This multi-level cat tree will give your cat endless amounts of fun! And, it blends nicely with your décor. This easy to assemble cat tree can be folded flat for storage or transport around your home. Each shelf is carpeted for traction.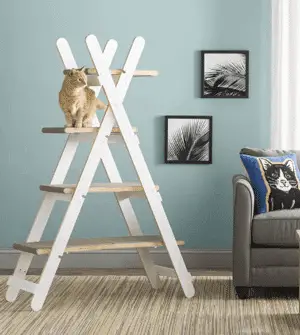 Apollo Sophisticated Decorative Dog Love Seat with Curved Back
This sophisticated and decorative pet bed is made to fit your home décor! Featuring trend-forward design features, this dog loveseat will be the perfect place for your four-legged friend to lounge in style!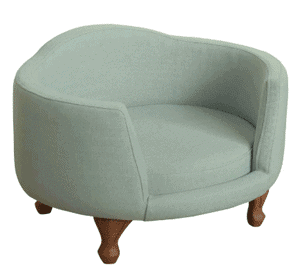 The puggie princess prefers to be carried, but when she's not, this would be a great solution to her elevation requirements. Small, elderly or sick pets will enjoy the benefits of this functional 3-step pet stair, and you'll appreciate its elegant look. The steps are built from sturdy MDF with mahogany wood veneer construction and each step includes felt on the run to prevent slipping. As a bonus, the side can be opened to store your pets' treats or toys.
Humans shouldn't be the only ones to enjoy a comfortable sofa! And if you had this, maybe your pets will stay off your good furniture. This stylish rectangular dog sofa bed made of faux leather is the perfect relaxation spot for your four-legged friend.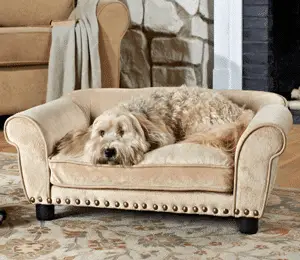 CRATES, GATES & FEEDERS
Diana Steel Pressure Mounted Pet Gate
The Diana adjustable steel pressure mounted pet gate can be used indoors and outdoors. Its door swings in both directions, and can be easily opened with one hand and securely closes and locks behind you. The gate can be expanded to fit wide spaces from 29.5 to 38 inches and additional extensions can be purchased separately.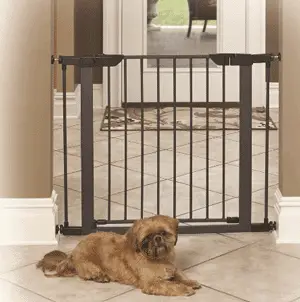 Ian Double Bowl Elevated Feeder
Veterinarians attest that feeding dogs from an elevated feeding dish can aid in the pet's healthier digestion and improved comfort. This elevated feeder is functional and its anti-slip feet help keep things neat and tidy. The feeder has a warm finish that will naturally fit your home and lifestyle.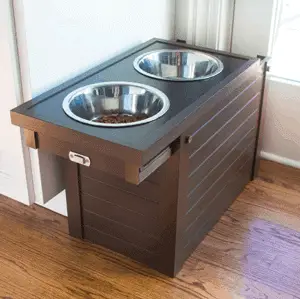 This mission style wooden end table pet crate is both fashionable and functional. Its open side slats and mission style door provide ample airflow, the front gate locks, and the crate is made from chew-resistant solid wood. Need something bigger? Take a look at the Brooke Double Wide Medium Credenza Pet Crate.
Pamper those pets! Archie & Oscar, "you've got just what I need!"
CLICK HERE to view the entire Archie & Oscar collection on Wayfair.
Photo Credits: Wayfair.com