One of the really fun things that I get to do as my job for Global Data Vault, is to plan the company events. Events happen all year long but the biggest is the annual Crawfish Boil. It's a big party to celebrate how long we've been in business and to give back to everyone who makes our business successful. No presentation, just hot mud bugs and cold beer and you can't forget the Cajun music. We invite everyone: employees, resellers, vendors, family, friends, etc. and it's a GOOD time!
Even the dogs show up for this gig!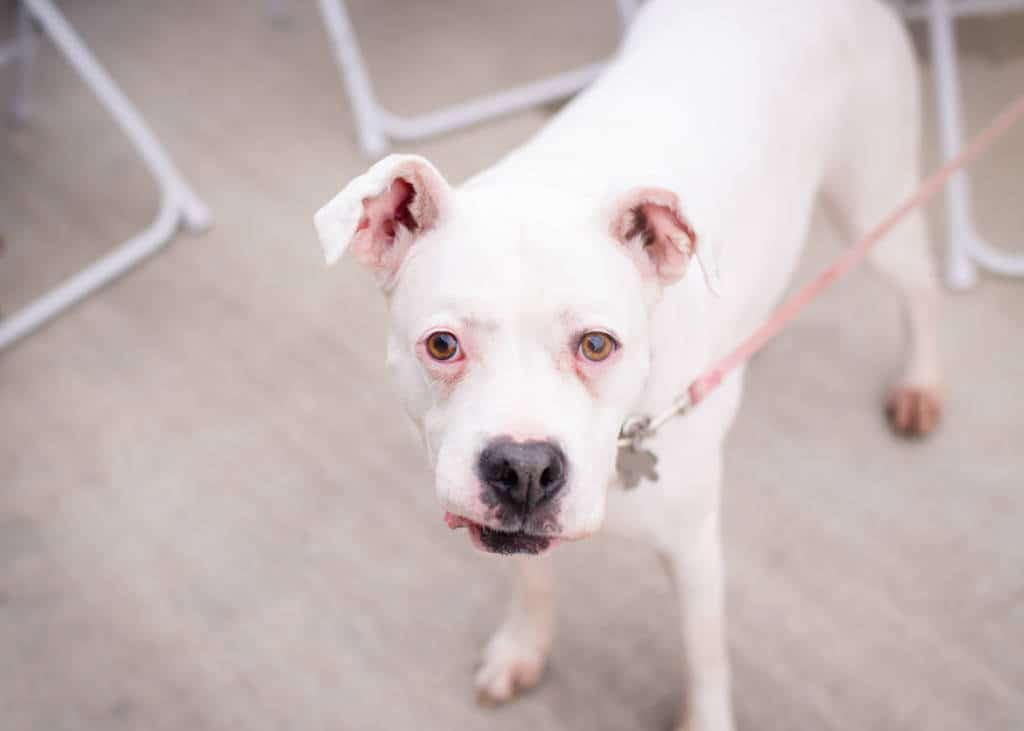 Here's a little tour of this year's festivities, the great vendors I used and links to their websites in case you're wanting to throw your own mudbug party. You have to have great crawfish first and foremost. We catered from the Cajun Crawfish Company — they did a fantastic job! The seasoning on these "selects" was perfect,
and they rolled their trucks right into the venue — which this year, was at the Texas Ale Project in Downtown Dallas.
(Table flags were made with the Silhouette Cameo.)
These photos were early on — early birds get the crawfish, right?! As soon as those crawfish hit the tables, everyone swarmed in. The area to the upper right of the photo is a cool beer garden with tables in it as well.
Check out this view of downtown!
What I really loved about the Texas Ale Project: they served all the beer on tap, you could walk through the brewery,
and they had ping pong and corn hole all set up and ready for our guests. (And they are super accommodating.)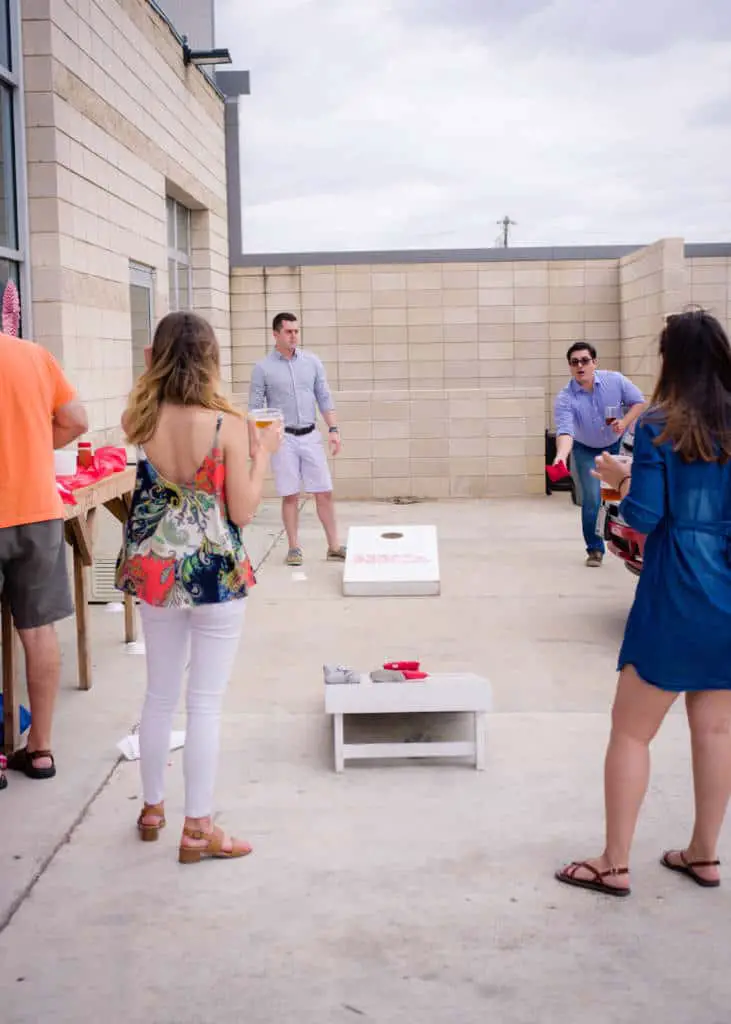 I had my friend Anna make our crawfish boil cake, which was a show stopper to say the least.
The layers of lemon custard and raspberry cream were clearly a hit with my kid as you can see her shoveling it in her mouth.
And isn't this awning adorable for the dessert table? It's from Oriental Trading. As is the gingham plastic runners you saw on the tables above.
And the inflatable drink buffets. And a bunch of the decorations on the windows.
I ordered some fancy schmancy cupcake toppers from Cherry Bay Cakes, (the 14 is for our 14th year)
which were the perfect compliment to our invitation design and t-shirts.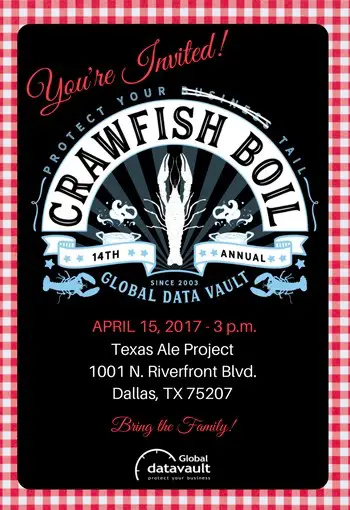 The shirts were printed at Groggy Dog. I love that they have multiple locations so I can pick up at my convenience, and they make it so dang easy to order and get them made. But of course, I had to wrap them by size… (tags also made with the Silhouette Cameo.)
As you can see, we had "daisies for days" – and they were the perfect Springtime flower for a casual outdoor party. Those just came from my neighborhood Tom Thumb, who was also super helpful in planning for this. AND, the left-overs are still looking great on my counter 2 weeks later.
Also incredible: our DJ Bernadette from Awesome Parties & Events. I've hired Bernadette for several parties now, and she always delivers. This time, we had her bring the photo booth too and everyone got to take home two copies of some classic pictures. She was even able to match our red gingham theme to the photo background. Love that we also got copies of all the photos so we can send them digitally to our guests afterwards. And to make sure no one snuck off without getting their picture taken, I might have told the Valet that no one could have their keys unless they showed their photo strip first. (Muahahahahahahaha!)
Speaking of Valet, I hired Pinky's Valet of Dallas and that all woman crew knows how to move some cars. And I can't forget to mention the girl who made the post come alive, Becky Branch of Becky Branch Photography. She took all the photos you see (with the exception of the photo strip). You'll recognize her work from our Harry Potter party, and from our Valentine's Day shoot.
Seriously, ALL the vendors mentioned above were GREAT and made our event go so smoothly. I can't wait to do it all again next year!