There's something about a dazzling crystal chandelier that makes my heart flutter. I get all gah-gah when I see the sparkly rainbow that it throws against the wall. Add something unexpected like wrought iron or a splash of color and I'm a goner, totally mesmerized. I could easily spend a few hours in a lighting store and enjoy it way more than a museum. Sad, isn't it? I know. Total lighting geek. I'm weird but I've learned to embrace it.
Recently we brought a few heavily crystaled lamps back from my MIL's Louisiana home. We – okay I — just couldn't let these go in the estate sale.
This grand beauty just screams Downton Abbey, so naturally we gave her prominence next to our (reupholstered) cowhide chair in the foyer. I love that it is so ridiculously antique and dramatic and one of the first things you see when you walk in our home.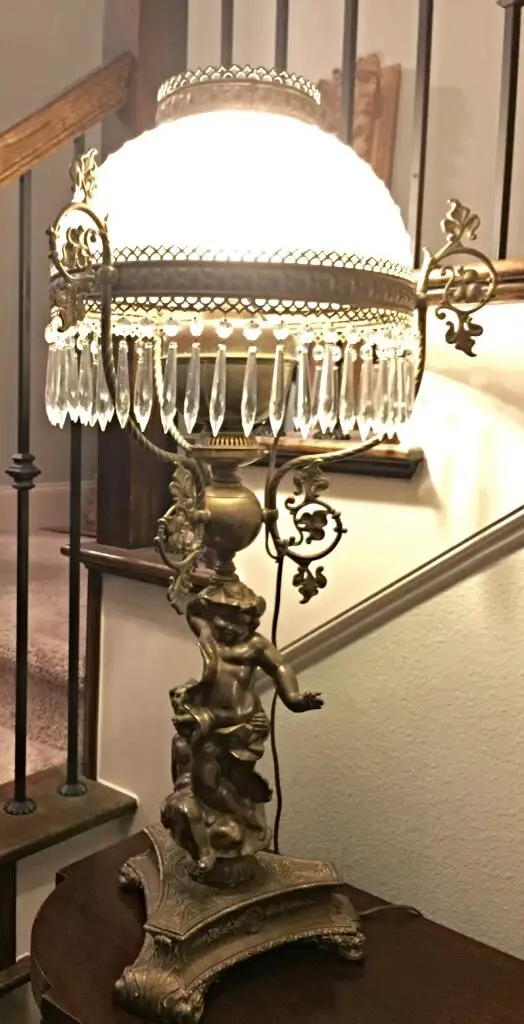 A girl and her crystals are not soon parted, and a pair of these little lovelies now find their place bedside. When I get some time, I'll be decorating the room around them like you build an outfit around a fabulous accessory. This is also a clear statement that my husband loves me that he'll willingly have a crystal bedside lamp and not complain about it.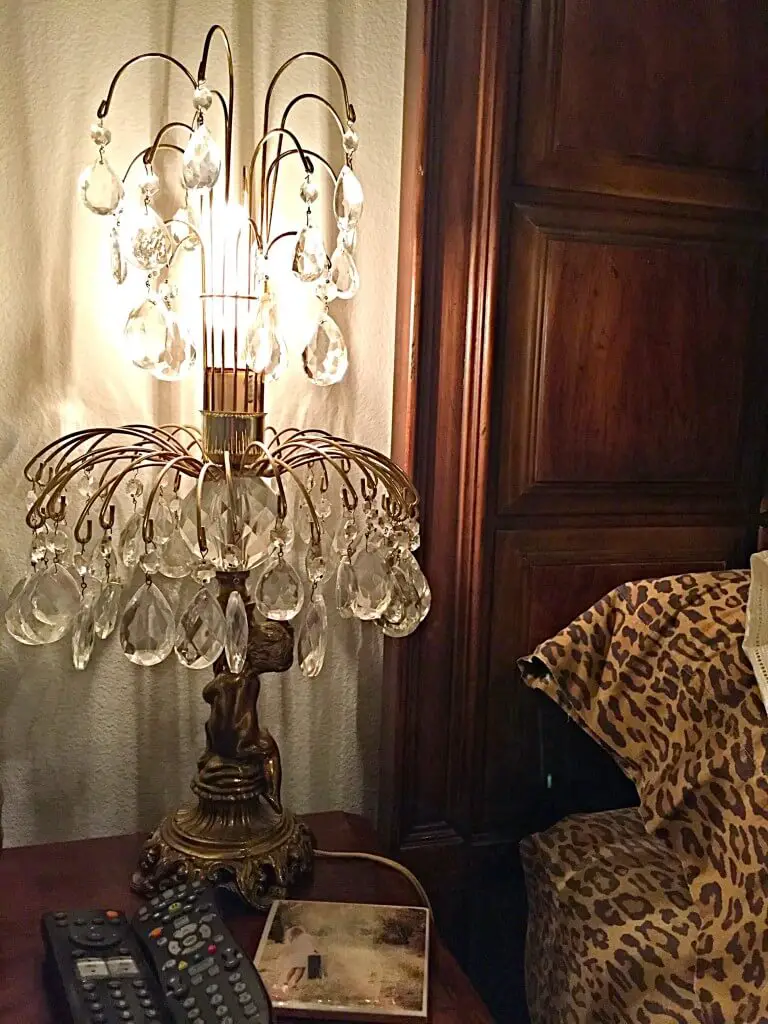 One of my favorite parts of building our house was when it came time to choose lighting.  I'll admit I did ZERO research on what we SHOULD consider when picking lighting for a room. Don't get me wrong, I adore all of our lighting and have no regrets, but if and when we build again, I'd (maybe — I can be a bit heart strong when it comes to lighting) take these tips from my friend Nick Elam with real estate website Zillow into consideration. He's my guest writer today and has helpful tips for choosing the best lighting for your home.
What to Consider When Selecting Light Fixtures
By Nick Elam of Zillow
Lighting draws attention to the purpose of a space. At the same time, a light fixture is a statement for homeowners to introduce personality into a room. How do you blend purpose with personality? Finding the right light fixture is complex, and the many different types of lighting make this balance even more difficult.
Ambient lighting is a combination of most of the lighting sources in a given room that accumulate into an overall level of illumination. It includes recessed lighting, soffit lighting, track lighting, sconces, chandeliers and pendant lights. Task lighting aids specific tasks such as cooking, office or school work and grooming. Examples of task lighting are table lamps on a desk, under-cabinet lighting in the kitchen and smaller pendant lights over the dining table. Finally, accent lighting highlights an object or architectural area of interest with smaller, yet bright fixtures.
Understanding types of lighting only gets you so far. Use these three practical steps to achieve a healthy balance of convenience and style when looking for the right light fixture.
Determine Function
The first step to select a light fixture is to determine the function of the room. What is the room used for and how will lighting emphasize function? For example, you prepare food in a kitchen. Install task lighting below cabinets to increase visibility when preparing meals. For reading areas, placing a task lamp within reach allows for convenient, easy reading. Craft rooms often require extra ambient illumination such as overhead track lighting, while TV rooms may need dimming light sources. In a family or play room, you might opt for recessed lighting that's concealed in the ceiling to avoid damage from rowdy playtime.
Defining room function indicates the placement of the fixture. Each fixture should be balanced with other elements from the room. A big dining room table can handle a large pendant fixture, while a small breakfast nook needs a small, simpler piece to pair with function.
Control Total Illumination
Once the function of the room has been decided, you need to determine how much light to bring into the room. Follow this equation to create comfortable lighting and avoid too bright or too dim illumination. Multiply the length of the room times its width, and then multiply that result by 1.5. The product is the amount of wattage needed to comfortably light a room. For example, the amount of wattage needed for a dining room that is 18' long and 12' wide is 324 watts. Purchase light bulbs for the rooms' fixtures accumulating a total of 324 watts.
Reflect on placement after you've determined the appropriate amount of light for a room. Does the room work best with one or two large fixtures or would a few small-sized pieces provide more balance? Selecting fixtures based on total illumination guarantees a comfortable, well-lit room. Plus, adding the desired task and accent lighting assists in narrowing down the quantity and size of remaining fixtures.
Match Fixture Design
Finally, match fixture design to complement room decor. Shop for pieces made with similar materials as other features in the room. Contemporary designed homes often include two matching lamps on each bedside table. Rustic styled homes often include wall sconces made with aged metal to emphasize natural textures and patterns. If you have a Victorian-style home, consider an ornate chandelier hung in the entryway or above the dining room table.
Finding the right light fixture is like a treasure hunt for design-forward homeowners, while others can land the right piece at their nearby home furnishing store. Follow these steps to choose lighting that is perfect for your  home. Whether you're in the process of searching for a new home or apartment, or you're just trying to update an old room, lighting can aid the purpose and personality of rooms.