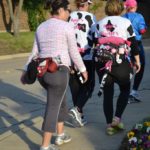 The parking lot of our neighborhood athletic center was invaded on Friday afternoon with an army of port-o-potties.
Like 20 of them landed together – odd for such a small park. I wondered what was up. After a few phone calls, I learned that the Susan G Komen  3-Day for a Cure was routed straight through my 'hood. What a coincidence because we had three pledged friends committed to the cause.
And I am in awe of them. These ladies had committed a whole weekend to trudging their heiney's all over Dallas in the name of breast cancer research. They slept in a sea of fushia tents in low 40 degree temps, secluded from their families for two
nights and three days. Geez, they weren't supposed to use their mobile phones, and they couldn't even watch the LSU Alabama game. If their fortitude wasn't enough, in order to participate in this grueling journey, they had to earn $2300 in donations – not surprisingly for this lot, they well exceeded that goal.
The 3-Day walk is a good thing because I hate cancer. Hate with a capital H. Anything to rid our world of Cancer has my vote. If that means blistered feet and open wallets, okay. I'm in.
Cancer continues to shape our lives daily in ways that I struggle to explain to my little one. She will never know Mommy's mommy. My mom's been gone for 13 years – a victim of colon cancer. The Princess Cupcake will only be able to retain a few memories of her other grandma when she grows up because that grandmother is currently battling multiple myeloma – which is terminal. What she knows now is that Daddy keeps leaving to take care of Mimi and she wants him to "not stay away very long." My uncle has had prostate cancer and now touches of melanoma which has us all scared. Princess Cupcake's "faux" grandpa lost his battle with stomach cancer leaving her "faux" grandma widowed and lonely. Her Aunt Molly's mom passed of lung cancer a year after my mom lost her fight. Her across-the-street friend's mommy is a melanoma survivor – and sadly that mommy lost her mommy too – to the same disease when she was much younger. The list goes on, and on, and heartbreakingly on…
The "C" word strikes fear in my heart.
Knowing that these powerful – and empowered — women were going the distance to help stamp out breast cancer (puns intended) literally made my heart swell. I am so proud of to call them friends, to know them, to be inspired by them. One special (such an understatement) woman was walking in the 3-day that I literally think the world of. Not only was she in for the parade, she's faced this dreadful disease head on.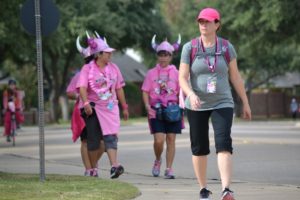 Twice.
Cindy exudes a spirit about her that makes your day brighter just being near her. She has such a love for life and a kindness about her that draws people in. Her smile and her joy is infectious, not to mention she's smart as a whip. Its' no wonder the "CC's Sisters" rallied to her side for this touching journey. And it's so unfair that such a generous spirit should be taunted by this horrible affliction, and yet her suffering has lead to so much good. God truly works in mysterious ways.
I wasn't walking, but I was drawn to help Cindy's cause in my small seemingly insignificant way. I resolved that I would cheer on all three of my girls.
But that's kinda where the thought ended. Amidst the scramble of banners and cupcakes and last t-ball game preparations, I didn't really think it through. I just knew I was doing it. I was going to take my lawn chair, my iphone and my camera to the route and wave to the pink passerbys. That was about the gist of my plan. I even forgot to grab the Cupcake's pink feather boa.
But it was better than nothing. If those women could spend three days on their feet and shiver in the cold dark night, I sure as hell could sit on a street corner for an afternoon.
I was prepare to go it alone. But then one, became two. My mini-me wasn't about to let mama have all the fun.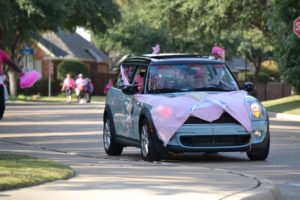 Despite this being prime naptime, we added a wagon, a teeny-tiny tailgate chair, an ipad, some M&M's, a couple of drinks and a blanket.
I didn't have much hope that she'd stick with me for very long. I honestly gave it about 30 minutes tops.
Little did I know that she was committed. As in, in it for the long haul. If mama was staying, she was staying. Period, the end.
She had plenty of outs, but she held firm by my side, echoing my cheers, "Way to go! Thanks for walking! You're awesome! Just a little bit further today!"
We were the two community cheerleaders shouting at the pink battalion.
After a bit, we called Daddy and asked him to bring us some pom-poms. Oh, "and a LOT of food Dad!" Cupcake was hungry after all that yelling.
We waved at our neighbors who drove by. I realized most of them had no idea what we were doing. Crazy Perot's sitting on the corner with their LSU chairs. WTH?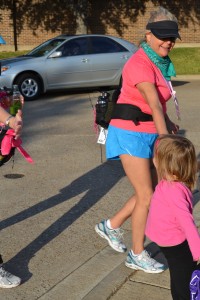 And then the groups of walkers began to swell from a handful to serious masses of pink tutus and bras and boobs and glitter as far as the eye could see.  We were both on our feet now, little one dolling out fist bumps and high fives. I swear they were walking faster to get to her. No one, no one passed us without smiling.
We danced to the music blaring from the "Walker Stalker" cars and vans that looped by to give everyone a needed energy boost.
It was even reminiscent of Mardi Gras, the walkers slowing their pace to drape the little munchkin in pink and purple beads, or to pin on Komen buttons. Princess Cupcake couldn't fully comprehend why we were there, but those pink beads were all she needed to confirm that this afternoon's activities were a win-win for everyone. Even me as I hoped that somewhere in her itty bitty soul, this would instill a sense of purpose one day.
And then low and behold, Daddy showed up with his lawn chair and our four-legged family members. And so the two of us became three + 2 puggies. We all shouted encouragement to these pink energizer bunnies.
We still hadn't caught sight of our three friends but honestly, it didn't matter anymore. Even if we somehow missed them, we would keep cheering until the last walker passed.
Then the neatest thing happened: three + two became four + three when a neighbor (who we didn't know) came out with her dog and joined us.
And before we knew it, four + three became eight + three because a whole family (who we didn't know either) came to join us too.
We hadn't planned this. We were all bonded knowing it was the right thing to do.
We finally did get to hug on our sweaty friends as they came marching by. Legs quivering, they told us how impactful it was to have people along the route shouting encouragement. Because THIS WALK WAS HARD. And emotional. The tributes that were stationed along their 3-day path were inspiring and saddening at the same time. The sideline people gave them step-by-step resolve to keep going.
These 2800 women – and men – who participated in the 3-Day were battered. Their feet torn apart, the hearts stretched to capacity, and yet their pride swelling. They were young, they were old. They were fluffy and they were thin. There were athletes and there were amateurs. But most of all, they are all heroes.
Support the 3-Day  Walk for a Cure
First off, walk in the Susan G Komen 3-Day for a Cure event. If you're not walking, I highly encourage you to cheer on the 3-Day for a Cure participants in your city. Visit HERE to see the calendar of events nationwide.
Here's my personal list of 10 things that we'll do next year to make our cheer squad even better:
1)   Get additional people involved. Find some friends to help you and take shifts if you need to. You'll spend half a day in order for all the walkers to pass through. But really, that's NOTHING compared to the sacrifice they are making.
2)   Hang photos of your loved ones who have been touched by cancer. It really does reinforce the "why" for this weekend insanity.
3)   Hang a thank you banner with lots of glitter on it. If you think you have enough glitter, dump more on it.
4)   The more boobilicious your signage the better. There's no modesty during the 3-Day. I saw cars with nipples and bras, men with boobie shirts, and scarves with fabric felt full-frontals on them.
5)   Have noise makers and a radio. They may be walking, but they're dancing too.
6)   Wear pink. And a lot of it. Better yet, put on a tutu too.
7)   Bring a trash can so they can dump their trash. I saw one person carrying a banana peel because she didn't want to litter. Can you imagine carrying a banana peel for miles?
8)   Bring some bottled water, mints or gum, wet towels, misters, band-aids, tissues, etc to offer them. Don't make them carry something they don't want, but if they need it, you'll have it.
9)   Bring you're a-game humor. These guys and gals love a good laugh so give it to them. I saw one house on our neighborhood route that took a pink t-shirt, stuffed two balloons in it and put a sign next to it that said, "Rub for good luck."
10) Bring your camera. You will never see your friends as happy to see you as when they find you on that route. Not only will they like to see those pictures later, their photos are a reminder to you of what's good in the world.