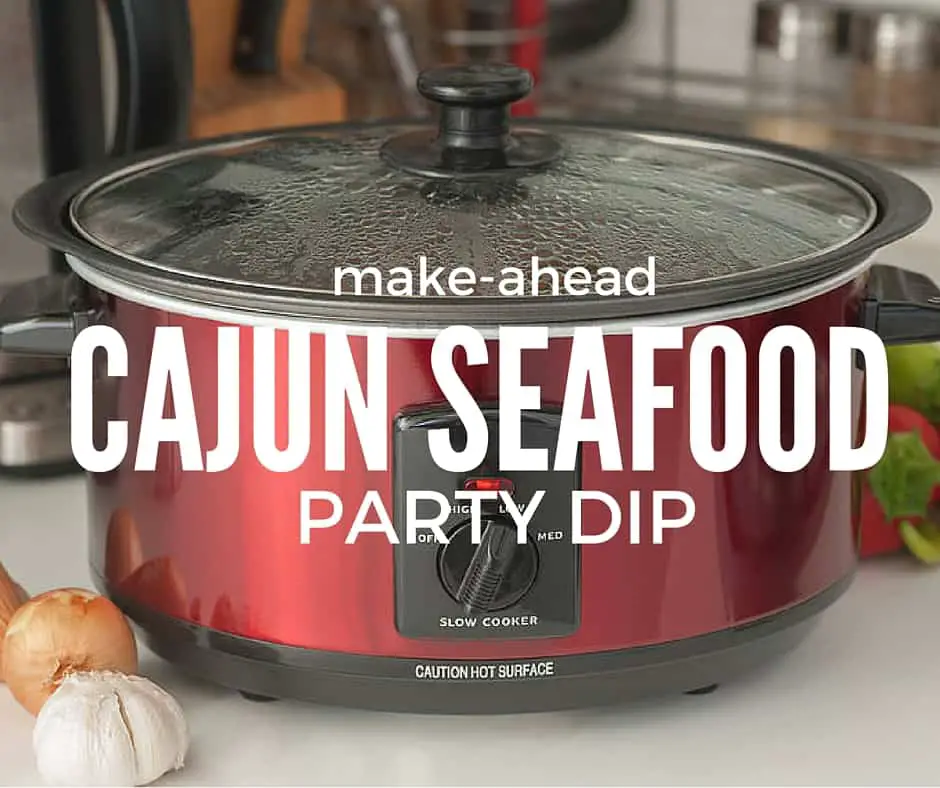 Make this delicious Cajun seafood dip in a slow cooker ahead of the party! I created this recipe for a Cajun Christmas party and it completely disappeared (with rave reviews) — so I made it again for Christmas dinner as an appetizer and you guessed it, it was gobbled up. This recipe makes a lot, so halfsies unless you plan on sharing, or wearing some seriously stretchy pants.
What you need:
16 oz. bag spinach frozen chopped
½ + ¼ cup butter
(2) 6 oz cans of fancy lump crabmeat
1 can cream of mushroom soup
1 can Rotel tomatoes, regular
1 lb frozen crawfish, drained and rinsed
1 tablespoon all purpose flour
4 ounces shredded Monterey Jack cheese
3/4 cup shredded cheddar cheese
4 ounces Philadelphia Cream cheese, cubed
1 bunch scallions chopped
½ pint sliced fresh mushrooms
½ small onion
3/4 cup half-and-half
1 teaspoon salt
1 teaspooon Tony Chachere's Creole Seasoning
1 teaspoon Worcestershire sauce
1 teaspoon garlic powder
1/2 teaspoon pepper
1/4 teaspoon ground cayenne pepper
What you do:
Microwave spinach according to package directions.
Drain liquid and set aside.
Melt butter in medium skillet.
Add crabmeat to butter and sauté 3 minutes over medium heat, careful not to break up crabmeat too much.
Add scallions, onion and mushroom and flour. Saute for 3 – 5 minutes and remove from heat.
Put remaining ingredients into slow cooker.
Add crab and vegetable sauté.
Adjust seasonings to taste (I go heavy on the garlic!)
Warm on low in slow cooker for 4 – 6 hours.
Serve with tortilla chips, but not those thin ones. Get the kind that will hold up your guacamole!