The bar for gas stations has just hit the stratosphere. Buc-ee's has moved into North Texas and we are forever spoilt.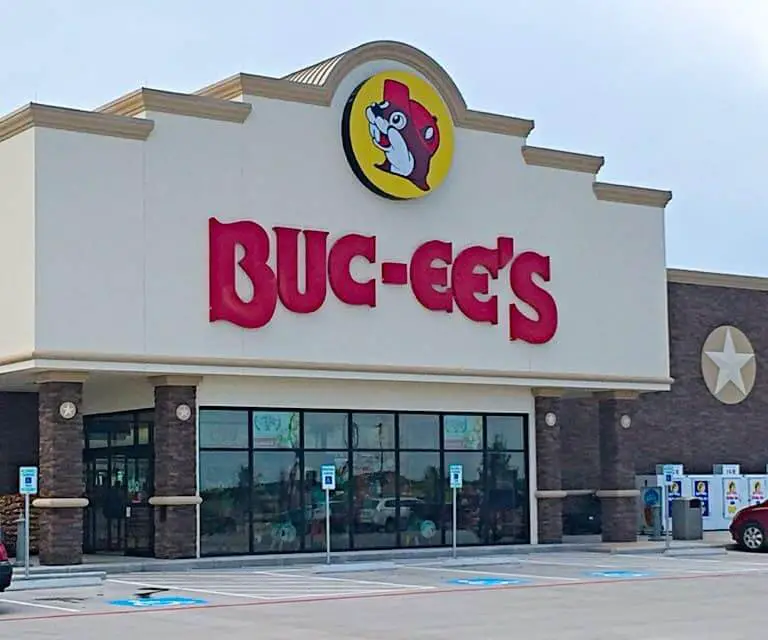 They say things are bigger in Texas, and I think the founders of Buc-ee's took that as a double dare. Massive doesn't begin to describe the travel stop now open just outside of DFW. If you're traveling on I-20 near Terrell (specifically I-2 and FM 148) it'll be hard to miss the tongue-in-cheek signage breaking up the landscape, all of it featuring a red-hatted beaver with an overbite. "Never Drive On An Empty Stomach" and "A Bigger Kolaches? I Never Sausage A Thing." Or how about, "Your Throne Awaits. Fabulous Restrooms."
All true.
We stopped at the Buc-ee's Terrell mega station on our way home July 4th – and it was seriously a trip within a trip. I should have known this was no typical gas station when I saw outdoor grills — and firepits for $549 before we even entered the store.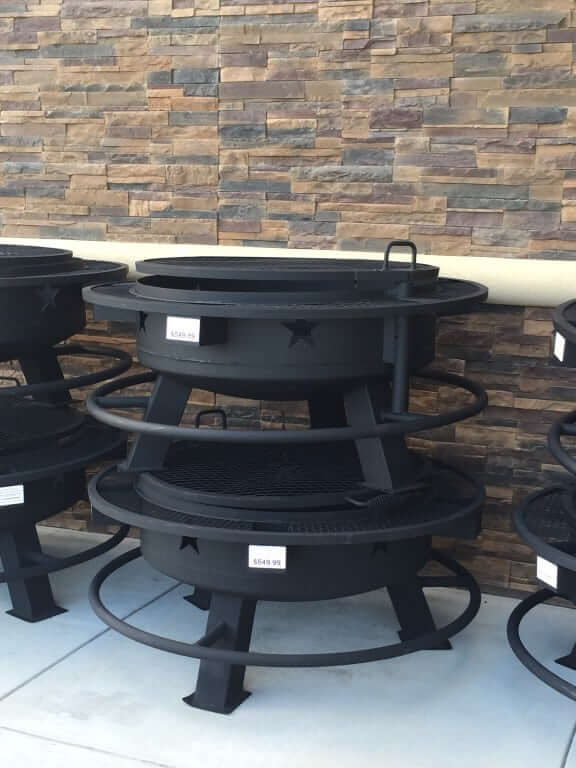 I couldn't even count how many gas pumps there are outside and NO 18 WHEELERS allowed. Truthfully, we didn't even gas up. We only came to explore.
The parking lot is humongous and the retail area even bigger.
Can we start with the food? There's a giant carving station in the middle of the store that's pumping out BBQ sandwiches by the truck load.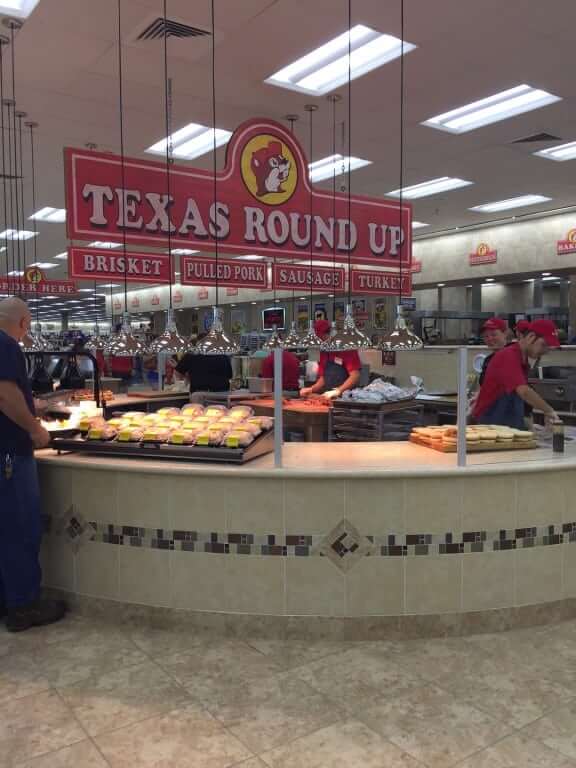 We sampled the cordon blue sausage and even the discriminating taste buds of the 7 year old Princess Cupcake declared it "awesome."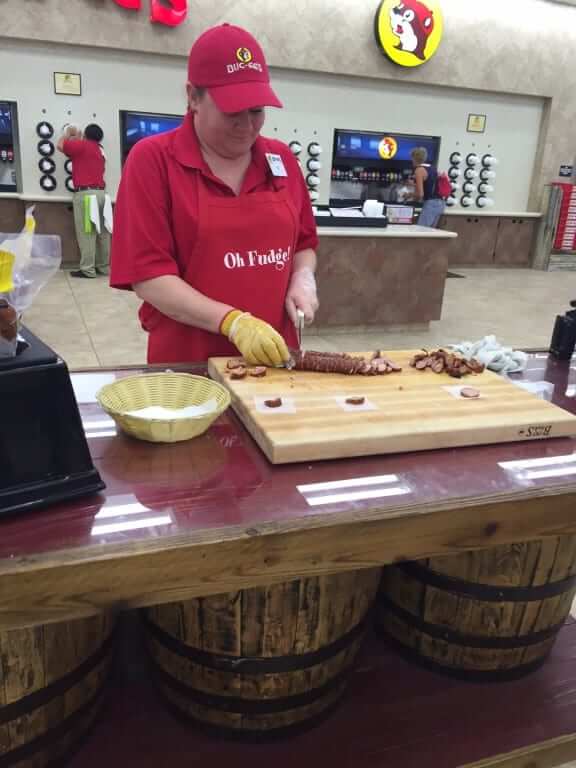 There are aisles and aisles of bulk candy, snacks, and hot sauce.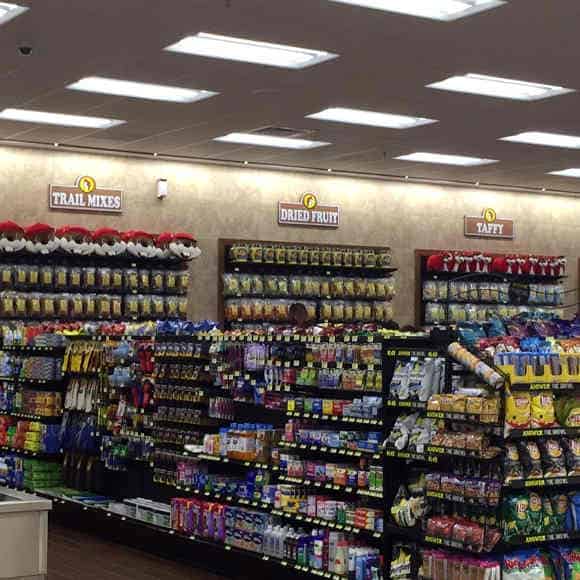 I mean, there are 9 kinds of rock candy alone!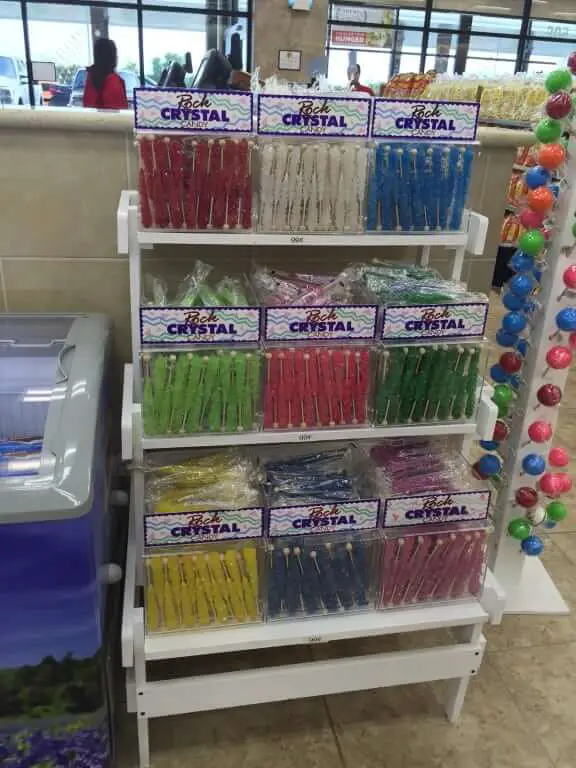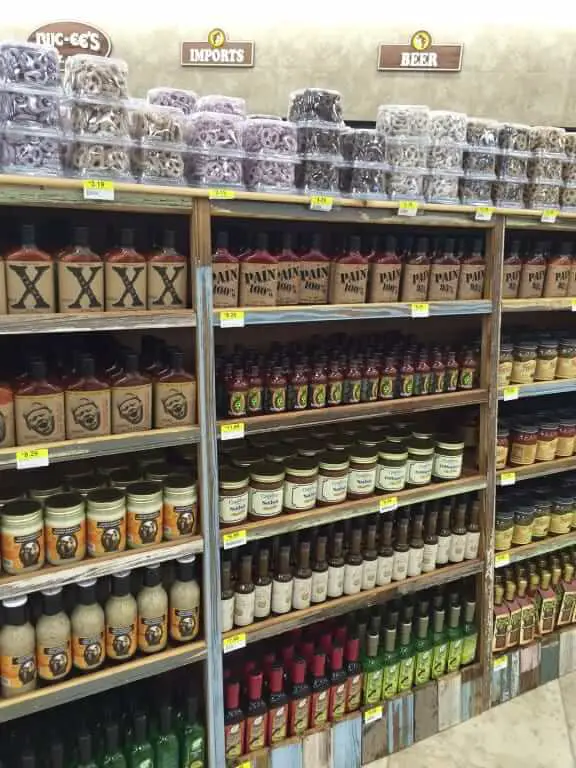 Coolers line the edge with beverages of all kinds. There's pretty much any travel food you can imagine in here – and more.
The restrooms are the stuff of legends and yep, you'll cross your legs until you can reach Buc-ee's before you ever stop at that nasty gas station where you have to hold your nose and don't touch anything. They even have hand-sanitizer AND seat cleaners in each stall with an actual door that nosy people can't peek through.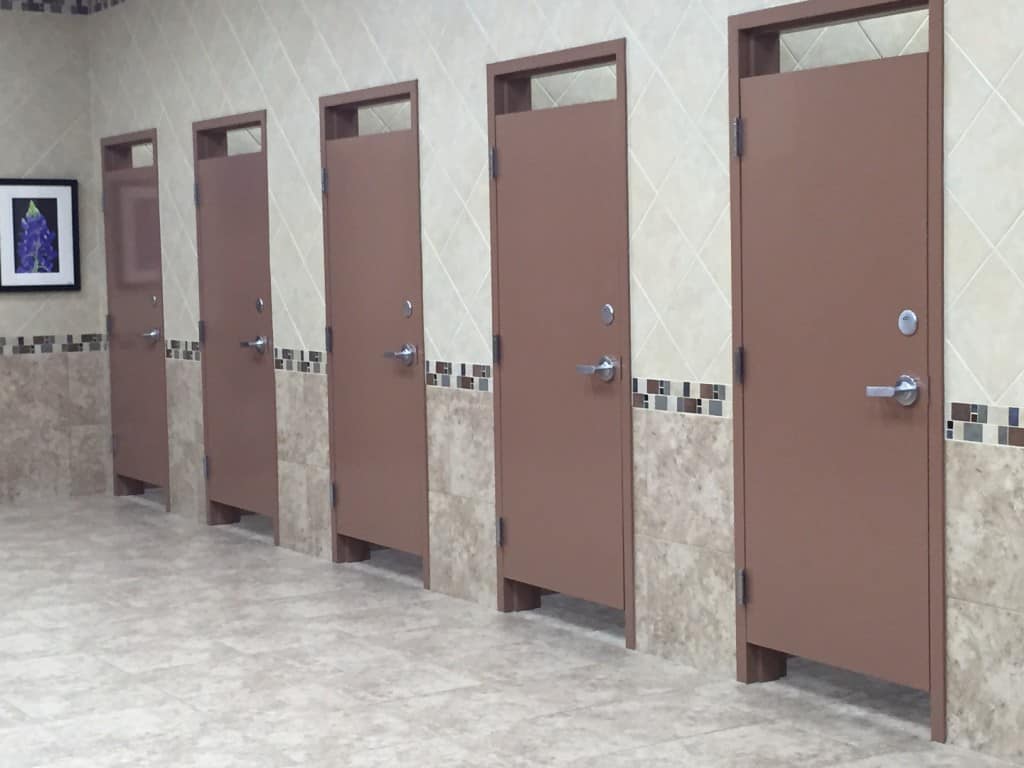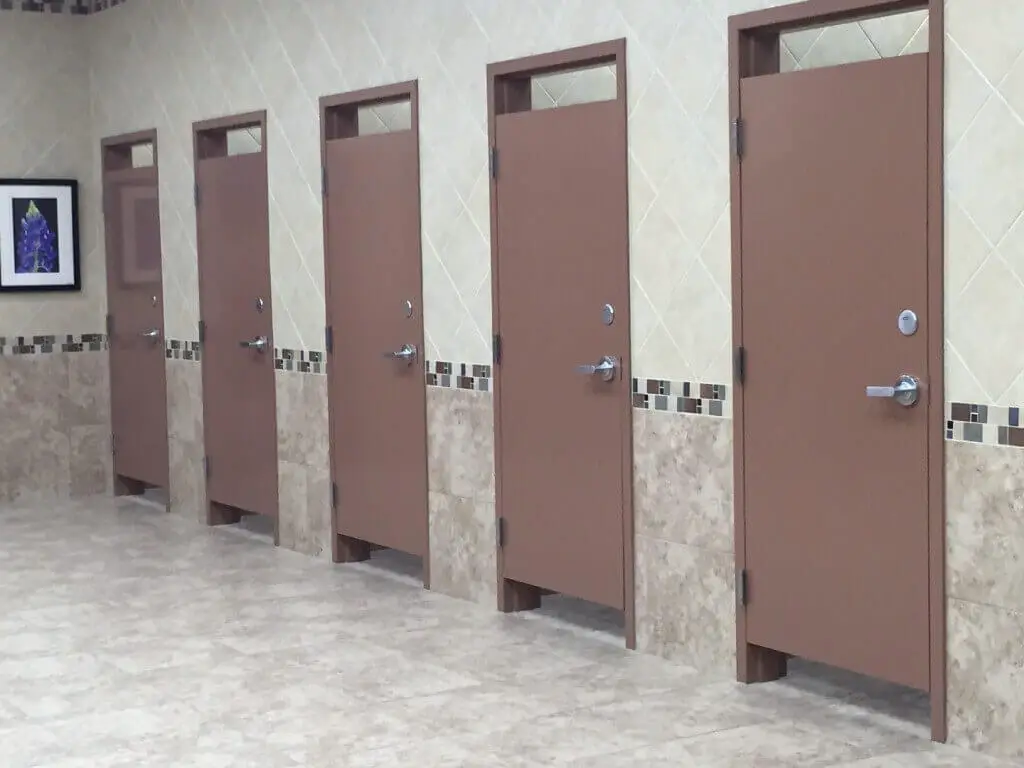 Okay, so that's all fun and all, but when I tell you the retail shopping there was impressive, I mean it. You can find everything from Go Pro Cameras, to Yeti Coolers and travel mugs,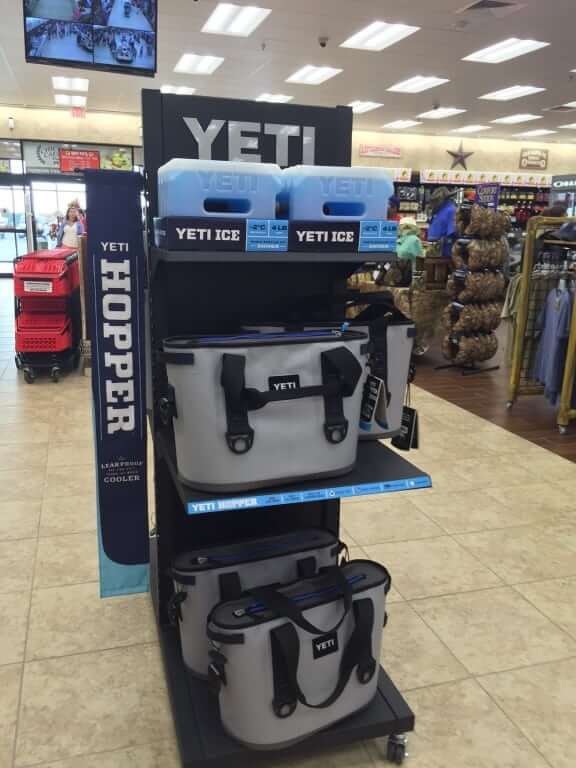 gorgeous turquoise crusted longhorn heads,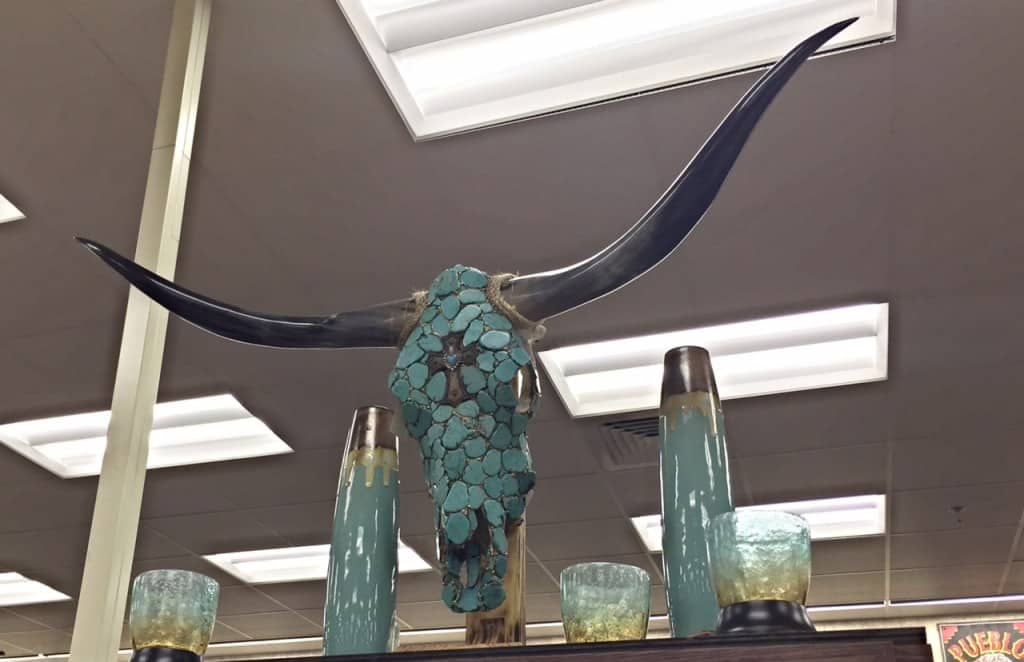 western jewelry, purses, hats, cookbooks, decorative vases and candles galore.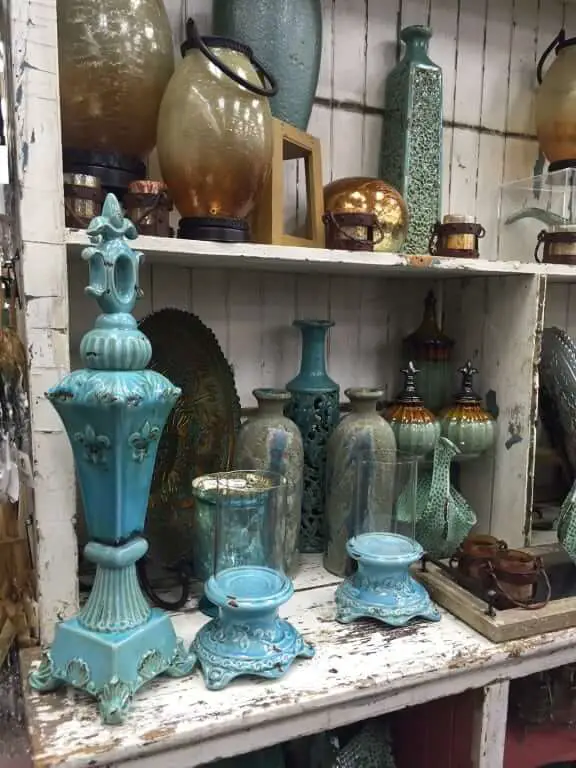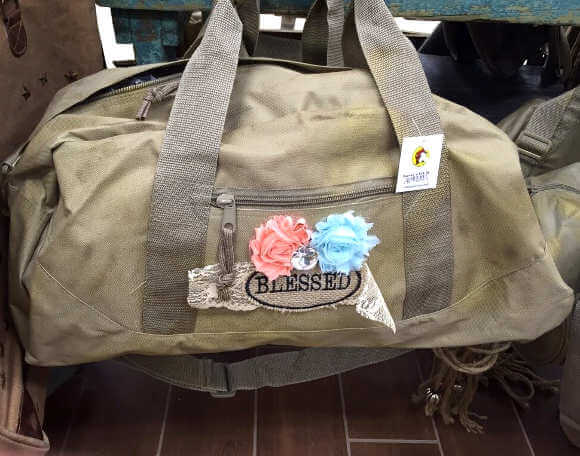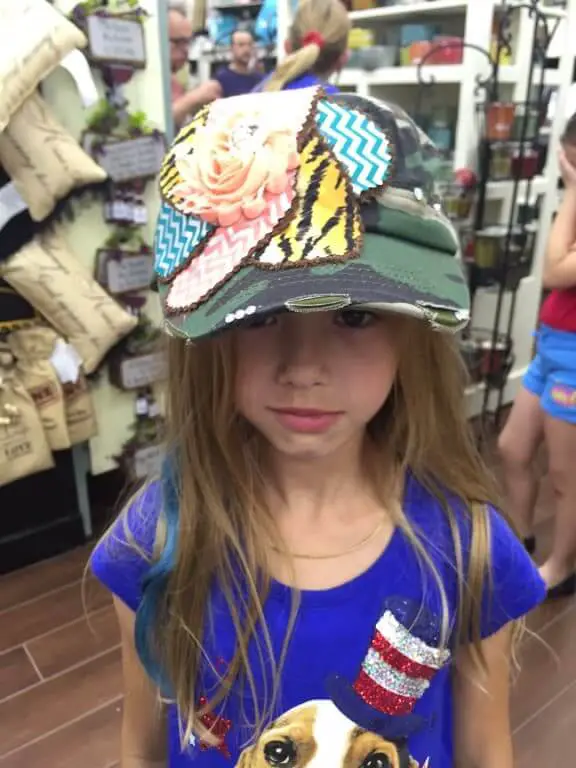 Okay, she didn't like the hat but I did!
And check out the size of these cowhide flasks!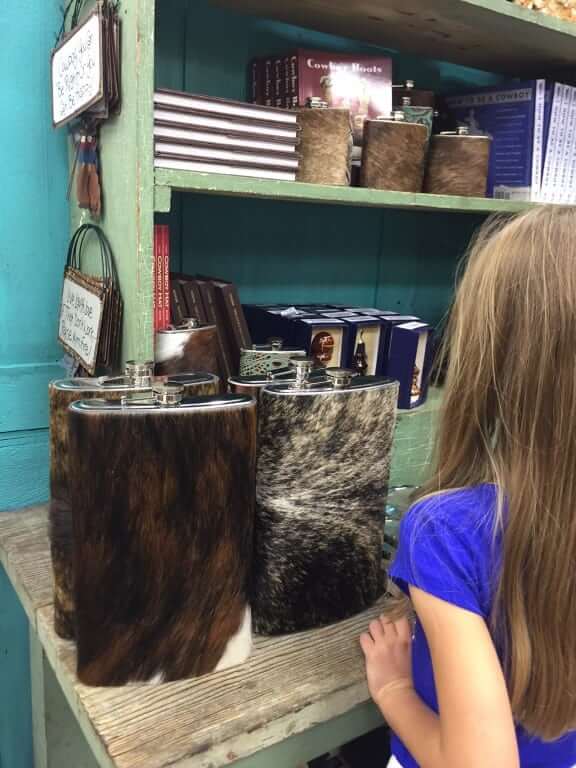 The kids section is considerable – you could easily pick up a last minute birthday or baby gift here without being ashamed that it came from a "gas station!" Of course there's some serious Buc-ee's merchandise throughout the mega retailer and I dare say you'll be jonesing for one of those tie-dye beaver shirts before you leave.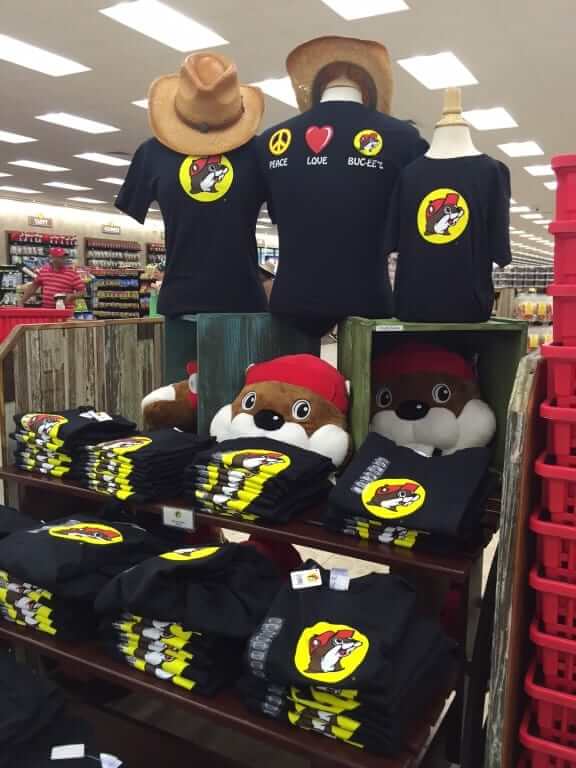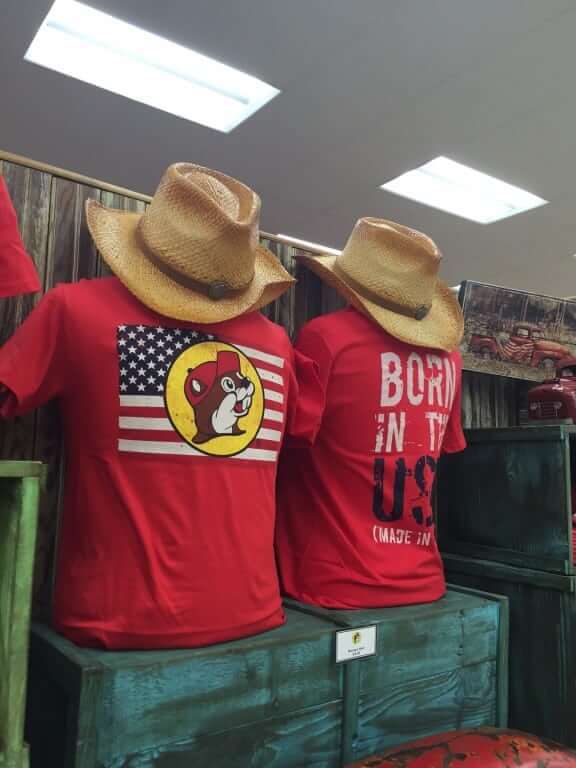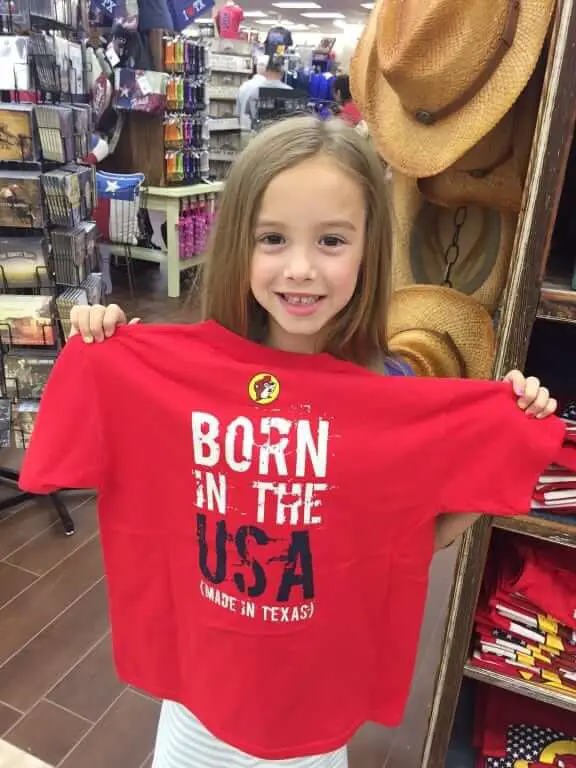 When you go – that's a "when, not an if" — be sure to try their meats, some sweets from their fudge shop and their specialty "Beaver Nuggets" which is some sort of cross mating of Cheetos and syrup or something (we'll try that on our next trip).
I expected a big store, but I didn't expect it to be an EXPERIENCE. I am officially a "Beaver Believer." The 30 minutes we spent exploring Buc-ee's wasn't nearly enough to investigate all the corners of this service giant but it's on my list to return to. Heck, we'll probably even bring out of town guests here. Even the employees seemed excited to be a part of it all.
With 30 stores in Central and South Texas, the Terrell Buc-ee's is the furthest north, (for now) so plan your summer beach trip by mapping out Buc-ee's to Buc-ee's and you'll be well fed and have plenty of retail therapy to break up the monotony of those miles.
Don't forget to pose with the Buc-ee's statue out front before you leave!