Celebrity does not easily sway my kid.
I'm pretty sure that's a good thing. Occasionally, I will  toss out an opportunity for my daughter to meet someone that she might consider somewhat of a role model, only to learn she is SO not impressed. However, she is a bit of an HGTV junkie and loves watching endless rebuilds, home decorating, and the house hunter shows. She may also be smitten with anything by the Property Brothers, Drew and Jonathan Scott. Like most of us, she thinks they are charming, funny, talented and smart. When I saw that they were coming to our area to promote their new kids' book, Builder Brothers: Big Plans, I thought I'd try again. She responded, (shockingly), "I'd really like to go to that!" and I spit out my coffee. Well then,  Challenge accepted.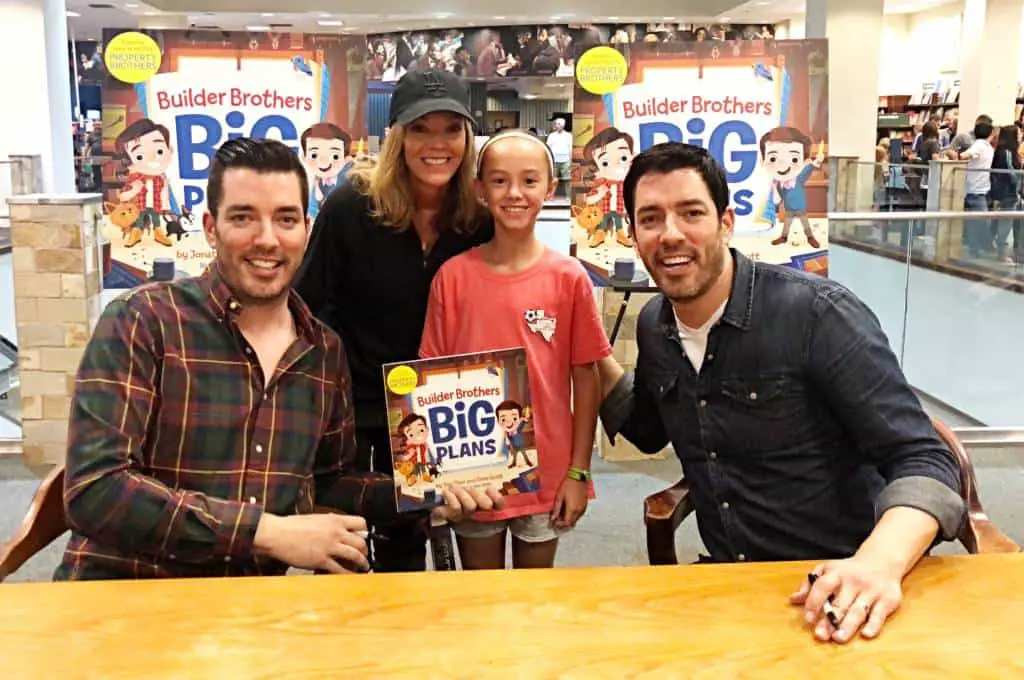 Standing in Line Pays Off!
While standing in the massive line with all the other fans (not shocking, mostly women), we saw one of the Scott brothers' other books, It Takes Two: Our Story. I grabbed it and flipped through it quickly. Truthfully, I wanted to make sure I had enough things for for Jonathan and Drew to autograph and ultimately extend our time with them.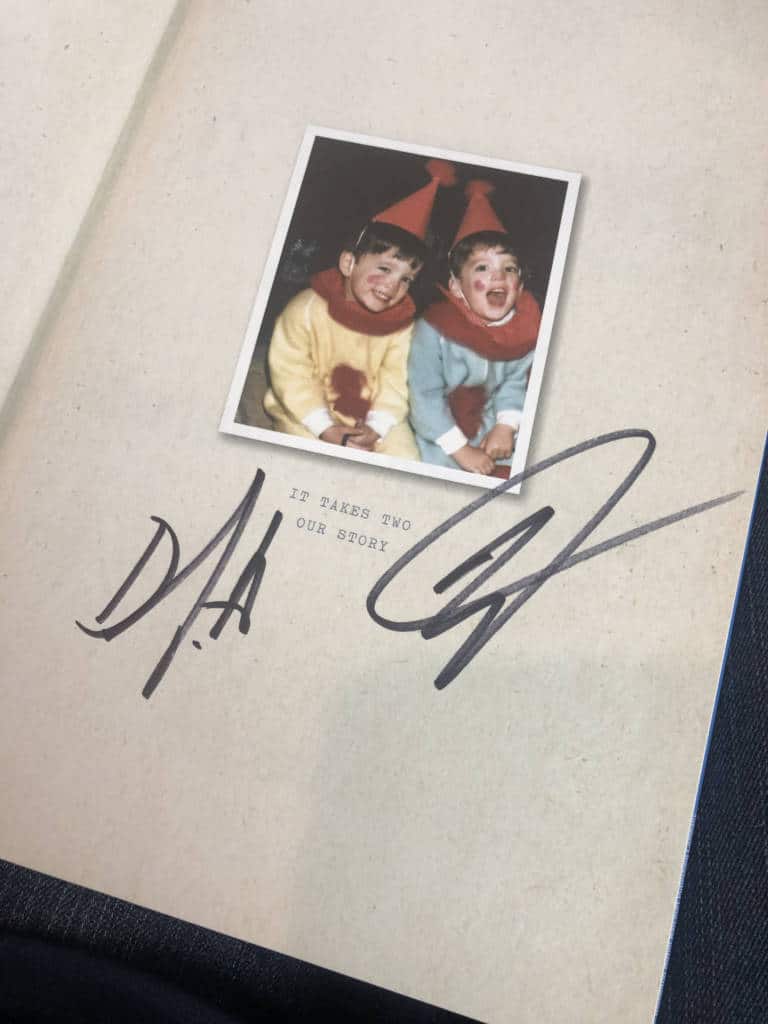 Her shyness took over and she didn't say two words to them — including when Drew patiently asked about her soccer and other sports interests —  so I was left to do an embarrassing amount of gushing. All. The. Gushing.
No matter. It turns out that purchasing that book was the best impulse buy I have made in a bookstore in a long time! I figured it'd be a light read, which it is, but it is also incredibly interesting and entertaining. This is a book that a lot of people will really, really enjoy.

About Jonathan and Drew Scott
Their story starts when they are very young. As an only child, having siblings is something I'd always wished for, and twinning is downright fascinating to me.  I was especially drawn to the depth of the relationship between Jonathan and Drew.  As brothers (and twins), the men are incredibly connected but also very different. I found it interesting how deliberate their parents' actions were to foster each man's  thirst for business and "going after your dreams" attitude. While Drew and Jonathan's paths were not identical,  both were entrenched in an entrepreneurial mindset from their youth to their teen years, and on into adulthood.
I was also surprised to learn that Jonathan has an extensive magician's background which led to him building many of his own set designs. Those complicated designs led to his love of construction and real estate. Drew, on the other hand, had a deep passion for athletics (explains why he tried to connect with my suddenly mute daughter wearing a soccer league shirt) and a strong desire to get into acting. Both men used real estate as a fallback career, and relied on it as they pursued their passion paths.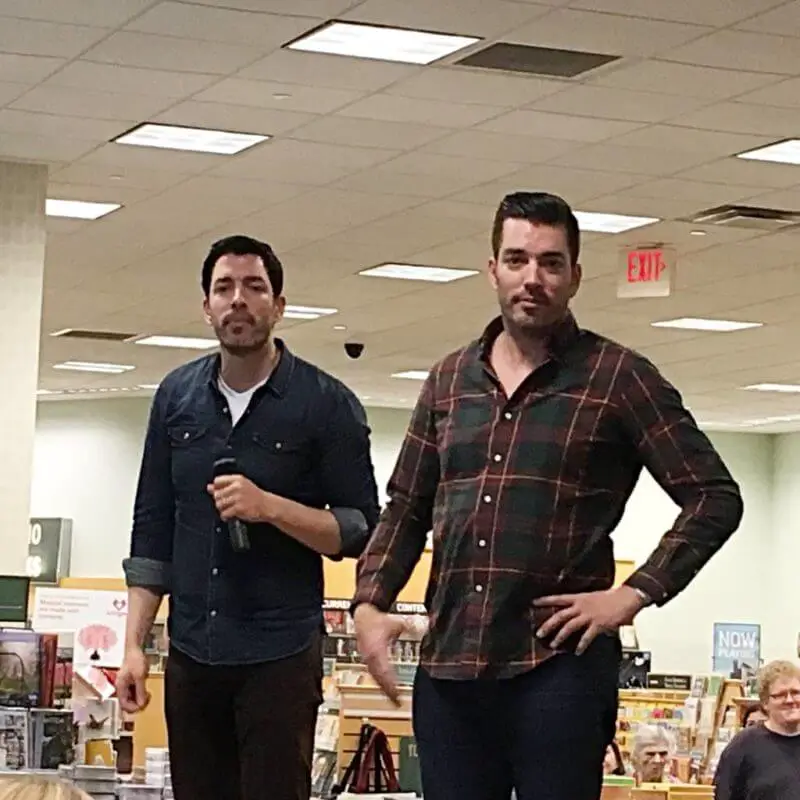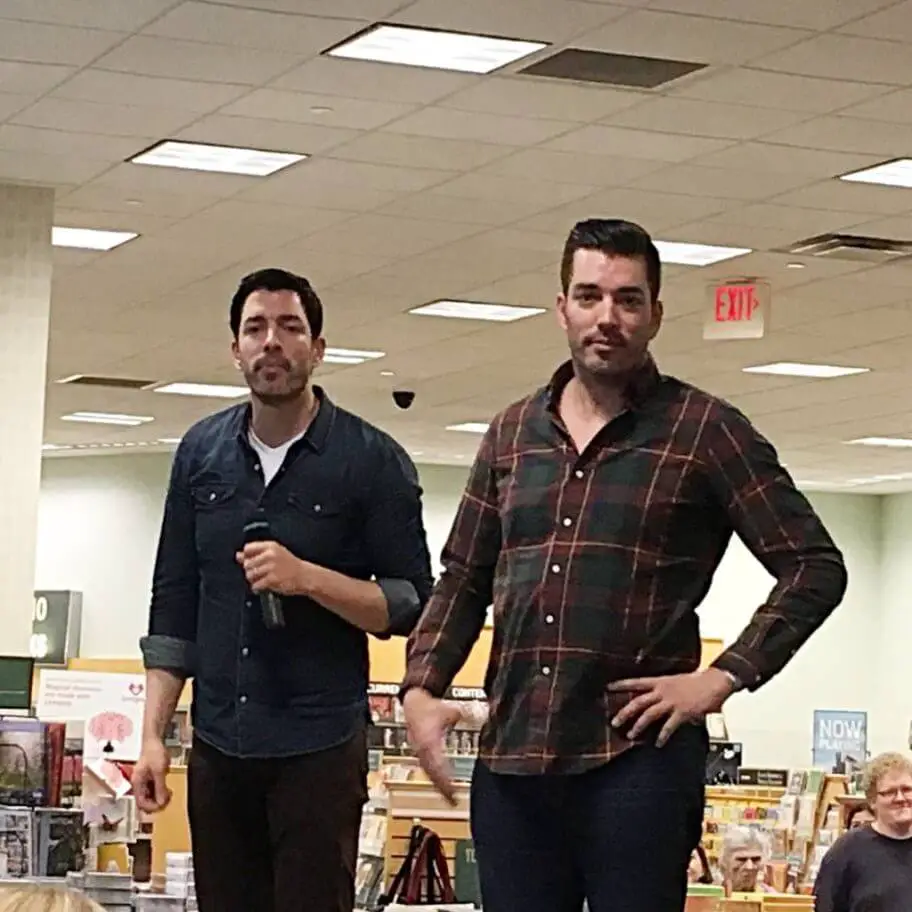 It Takes Two: Our Story — A New York Times Bestseller!
It Takes Two: Our Story is a fast and engaging read. There are an album's worth of family photos and stories to go with them, about Jonathan and Drew's mischievous younger years. While I don't typically like multiple points of view from an author, I really loved it in this format. The book was written from each man's perspective and also included "hand written" commentary–typically a teasing or snarky remark (go figure!).
After finishing the book, I had a huge appreciation for how full-throttle the Scott brothers' lifestyles are, and how deeply their passion runs for their work. You can easily surmise this from watching Property Brothers, but when you read the book, it becomes crystal clear to the point where you might even experience empathy fatigue.
You also may feel a bit of heartbreak when reading the bits from Jonathan as he recounted the story of his young love and ultimate divorce, and then shared about his relationship with then girlfriend, Jacinta. Both women were supporting characters in the book and I was rooting for him as it seemed he had found love the second time around. It was a bittersweet to read those parts after I learned of his and Jacinta's breakup.
Overall, the book reads very conversationally, like you're hanging out with the two of them in your favorite restaurant having drinks. Readers will leave the book with that warm feeling you get after a great visit with an old friend. It perfectly exudes the same self-deprecating fun, yet confident and charismatic style that Jonathan and Drew display on their show. The only bad thing about the book … was that I wanted more pages. Ah, but their story is far from over, isn't it? I can't wait for the sequel.
My Recommendation
It Takes Two: Our Story is a great read for any fan of HGTV's Property Brothers. Readers who enjoy stories about remarkable people who have embarked on enterprising paths will also find it appealing. It reads easily enough that I would give it to my 11 year-old. Just like their programming, the book is straight up G-rated, and funny, and the words aren't too big for young readers. This is the ideal book for everyone who has ever loved watching Drew and Jonathan on television. You can buy it at any local bookstore, or you could Prime it to yourself at the Amazon affiliate link below. I've also included a link to the cute Property Brothers' Big Plans book, too.
Happy Reading!
It Takes Two: Our Story 
Builder Brothers: Big Plans