I recently learned about the life-altering Believe in Yourself Project through one of my fashion/charity bloggers and thought some of you might be interested. As the mom of a preteen girl, I LOVE that there are organizations out there fighting for the success of young women!
One year ago, Sam Sisakhti, the founder of UsTrendy, the world's largest independent fashion e-commerce site, started the Believe in Yourself Project,  a 501c3 non-profit charity organization. The organization's mission is to provide brand-new, unworn designer dresses for girls to wear at school functions. According to their website, "Many teen girls are up against unobtainable social standards placed upon them which are not just unhealthy, but often times unaffordable. In an effort to close this gap, The Believe In Yourself Project is dedicated to the gainful advancement and empowerment of young women with a gift of confidence." I LOVE this!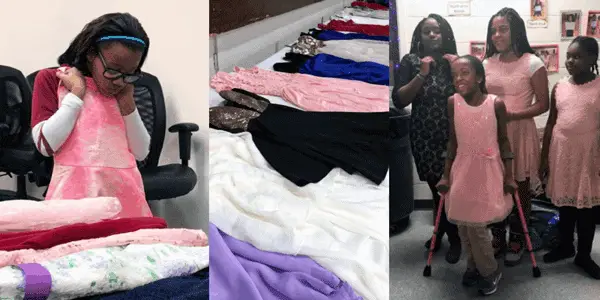 The organization believes that "every young woman should feel confident regardless of her physicalities or financial circumstances." Furthermore, they "seek to revolutionize and reverse some of the negative present-day messages into one of positivity and encouragement so that all girls may believe in themselves." They aspire to promote positive body image in young women, fight cyberbullying, and combat the financial pressures low-income girls and their families face when trying to keep in style. What parent wouldn't want this for their child?
Here's the process:
Girls are registered in the organization's system and receive dresses throughout the school year for various special occasions.
Future dress donations are then tied to and tracked by each girls' progress in achieving their goals (whether towards improving their academics or pursuing an extracurricular interest such as music, dance, sports, etc.).
Believe in Yourself is also part of a broader initiative. They bring in mentors and speakers to motivate the girls to believe in themselves. The mentors also provide tips for developing a positive body image, combating bullying of any kind, and motivation to help the girls achieve their dreams and goals.
Consider getting involved in the foundation's mission by donating dresses, making a monetary donation, or being a voice as a community leader, speaker, or spokesperson.
Being a preteen or teenager in this day and age is difficult, and having a positive body image, pursuing dreams, and setting goals can be a difficult task for girls of all socioeconomic status. I love that the Believe in Yourself Project ties the donation of future dresses to each girls' progress in achieving their goals.
The Believe in Yourself Projects will soon be donating brand new "in style" dresses to girls in the Dallas area to wear to their upcoming school Valentine's Day dances. Contact Believe in Yourself for further information.