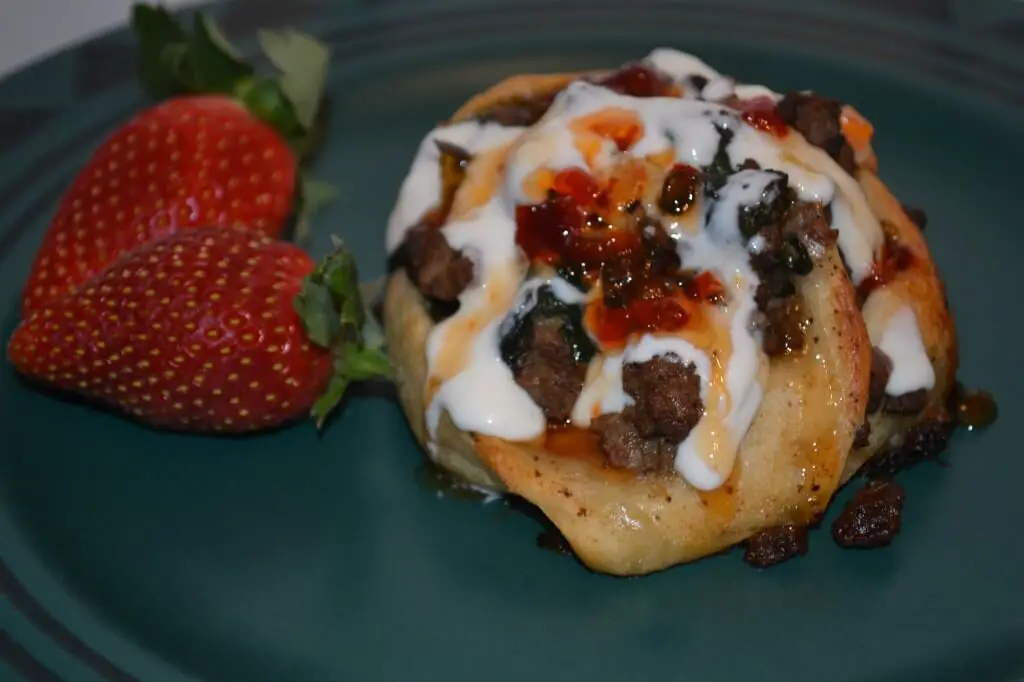 My Elf on a Shelf green oatmeal for breakfast this morning is making me regret having our Beef Sticky Rolls left-overs as lunch the day before. Why didn't I save those for this morning? Oh yeah, because they are DE-LIC-OUS and if I didn't eat them, the hubs surely would and in this house, you have to go for it or its gone.
The official recipe name, "Beef Sticky Rolls" is weird. Being a cinnamon roll aficionado of sorts, when you tell me "beef sticky rolls" I immediately conjure an image of a warm, sweet spiral squishy doughy roll of flaky cinnamon heaven, topped with the perfect saturation of mouth-watering sugary glaze … tire screech! Okay, no sugar glaze, topped with beef.   Maybe that's good? I dunno, there's a lot of things on a menu I'd order before that. But when it was presented to me as one of the recipes for the Texas Beef Blogger program, I decided to take another look.
I even tried it.
I will tell you that this recipe is GREAT – my family LOVED it, I loved it. And so we're renaming it (sort of like I did with the beef football appetizers):
Give Me More Beef Brunch Rolls
I may even make it again this weekend.
It's nothing like a cinnamon roll – and it's still fabulous.
Ingredients
1 recipe Basic Country Beef Breakfast Sausage (see below)
1 cup sliced button mushrooms (I don't know what a "button" mushroom is, but I used the regular grocery store variety and they worked great.)
3/4 cup diced onion
3 cups fresh baby spinach
1/2 cup reduced-fat shredded cheddar cheese
1 package (13.8 oz) refrigerated pizza dough
1/2 cup jalapeno pepper jelly, warmed (optional – but do it) or Cream Cheese (we did both) 
Basic Country Beef Breakfast Sausage
12 ounces ground beef (96% lean)
1 1/2 teaspoons chopped fresh sage or 1/4 teaspoon rubbed sage
3/4 teaspoon garlic powder
3/4 teaspoon onion powder
1/4 teaspoon salt
1/8 – 1/4 teaspoon crushed red pepper
Cream Cheese Frosting
1/4 cup softened reduced-fat cream cheese
1 tablespoon milk
Combine ingredients in a small bowl and stir until smooth
Instructions
1.  Prepare Basic Country Beef Breakfast Sausage by combining all ingredients for this recipe in large mixing bowl and mix thoroughly.
2. Add "button" mushrooms and diced onion to beef and spices.
3. Heat large non-stick skillet over medium high heat.
4. Place beef mixture in the skillet; cook 8 – 10 minutes, breaking into 1/2″ crumbles and stirring occasionally.  (Cooking times are for fresh or thoroughly thawed ground beef.  Ground beef should be cooked to an internal temperature of 160 degrees.  Color is not a reliable indicator of ground beef doneness.)
5. Add baby spinach to skillet to wilt.  Makes 2 cups of crumbles.
6. Stir in 1/2 cup cheddar cheese.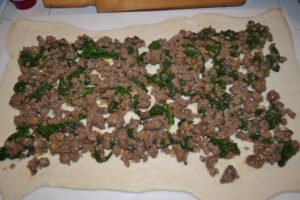 7. Set mixture aside for 20 – 25 minutes or until mixture is cooled completely.
8. Preheat oven to 425 degrees.
9. Unroll pizza dough on flat surface; pat or roll dough evenly to 14 x 10 inch rectangle, pinching together any tears, if necessary.
10. Spread beef mixture on dough, leaving 1/2″ border on short side further from you.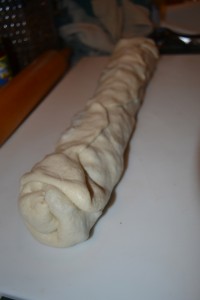 11. Starting at closest short end, roll up jelly-roll style, pinching to close.
12. Slice dough into 8 pieces using serrated knife and careful sawing motion; place cut-side-up on greased baking sheet.
13. Bake in 425 degree oven 18 – 20 minutes or until golden brown.
 14. Remove buns to cooling rack.
 15. While still warm, drizzle with melted jalapeno pepper jelly, if desired, or Cream Cheese Frosting. We did BOTH, and they were GREAT!
This was week 2 of the Texas Beef Bloggers Holiday Challenge, "'Tis the Season Breakfast and Brunch". Be sure to see last week's recipe for Beef Crostini with Balsamic Drizzle, next week's recipe for Petite Roast or the last week's recipe for Cowboy Chili and Black Bean – yee haw!
Be sure to visit the TexasBeef.org site for more tasty recipes and tips to make other fabulous brunch recipes. While you're surfing, check out the other 9 bloggers who are participating in this beefy challenge and their recipes:
Allie at Screwed Up Texan, Amy from Mom's Toolbox,  Arena from The Nerd's Wife,  Brenda from Meal Planning Magic, Christina from A Closet Writer, Crystal from Crystal and Company, Holly from June Cleaver Nirvana, Jessica from My Baking Heart,  Lori from A Day in the Motherhood.

AND mark your calendar for Tuesday, December 13 from 8 – 9 CST.
I will be participating in the #TXBeef Holiday Menu Twitter party. There will be LOADS of prizes give away (23 to be exact), not to mention tips for making holiday menus easier. There will even be a butcher, a nutritionist and a chef tweeting with us. I promise you'll have fun and learn at the same time. Hope to see you there!
Disclosure: I have partnered with the Texas Beef Council for the next four weeks and am being compensated, however all opinions are 100% my own. The recipes are courtesy of the Texas Beef Council.