Sit down. I have some news.
Are you ready?
Donut holes are not completely round.
I know, crazy because it seems like they are, but they're really not. You'll figure this out as soon as you try to use them to make baseballs on top of cupcakes. See?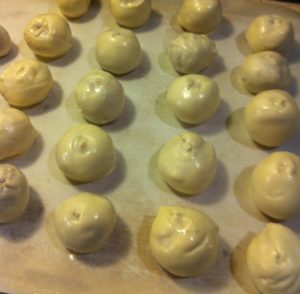 They look like run-over baseballs.
Oh, and even though you have 24 funfetti cupcakes, don't even think that the box of not-round donut holes that you picked up at the store would have 24 donut holes in it too. No. It has exactly, precisely, 23.
Right.  And one more thing, don't even think that your red food writer is going to write on top of the white chocolate that you covered the not-round donut holes to make them look like baseballs. Because it won't. In fact, it will shave off the chocolate in a very unfortunate way when you try to press harder.
Since it's 10 p.m. the night before the last t-ball game – which of course is less than 12 hours before the 9 a.m. game, and you still have to sleep, wash uniforms and make a gigantic banner – with glitter —  you'll have to improvise with what's in your pantry.
If what's in your pantry so happens to be a red candy pen, you'll have to put your patient face on. And unless you want about 5 ginormous stitches per baseball, you'll have to take a toothpick and INDIVIDUALLY draw your stitches on the ball by dragging the toothpick from the center of your red stripe outward in to a "v" shape.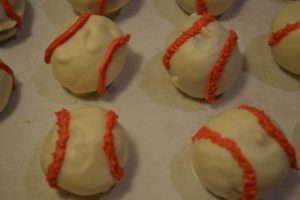 And because you can't just leave it alone, you'll want to add every slugger's number on the cupcakes to ensure confusion when distributing the celebratory squashed aka not round donut hole disguised as a baseball with drag marks all over it sitting on top of a cupcake. Since you hadn't thought of doing that when you were actually buying supplies to make this genius idea, you'll have to resort to using a black gel icing writer to write all the numbers, which has the tendency to slide off of the not-round chocolate covered donut holes disguised as baseballs.
"Look at them through the eyes of a 3 year old." = Sage advice of a friend. And despite their very un-Martha like perfection and no little one to blame it on, I did.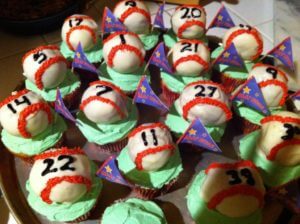 And I learned that not-round donut holes covered in chocolate to look like squashed baseballs with red drag mark stitching on top of cupcakes is EXACTLY what 3 year olds love to eat after their very last game of their very first t-ball season.
Look here for more baseball cupcake inspiration. You could also get brave and use this technique to make soccer ball cupcakes.