I have been obsessed with the polka dot cakes on Pinterest since they first hit the boards.
The trick is in the dots. You need to make the dots before you put the batter into the pan. We're not talking dots which are cake balls in the traditional sense where you mix cake with icing into a ball and dip into chocolate. For this cake ball you have to actually bake the cake into little balls to put into the batter for the polka dot cake.
So here's what I did. I went to Bed Bath and Beyond to find a cake ball pan, which only to my disappointment, they don't carry anymore. They had a donut hole pan that they claimed it worked just as well, or they had this: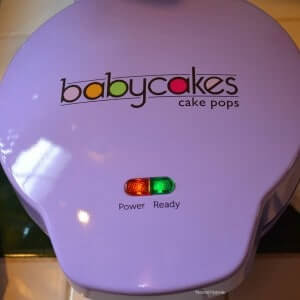 Hold on. A cake ball maker? In 4 – 6 minutes? YES! Bed Bath and Beyond assured me that if I didn't like it, I could return it – even if I had used it. SO Sold. Even without their prolific coupons.
Let me tell you, this little purple cake ball maker / cake pop maker  is a dream. Warning: The handles do get a little hot so I wouldn't recommend having little ones help with the cake balls. But overall, it's very easy to use, easy to clean (just wipe with a moist towel), and small enough for storage but big enough to make a dozen cake balls at a time.
Here's how I found it to work best:
If you're using a cake mix, add a box of instant pudding to the batter. Don't change anything else, you just want it to be extra moist since these cook fast.
Put your batter into a zip lock baggie and squeeze into the reservoirs. It's less mess, you have more control over the amount in each spot, and you can move much faster than if you tried to spoon it in. The cake balls start cooking immediately so you don't want to dawdle trying to get the correct amount of batter into each cake ball spot because then your batch will not be baked evenly.
Since I was using these for a polka dot cake, I actually under baked them to 2.5 minutes – 3 minutes. If you wanted them for baked cake pops then I would leave the batter in for the full 4 – 6 minutes.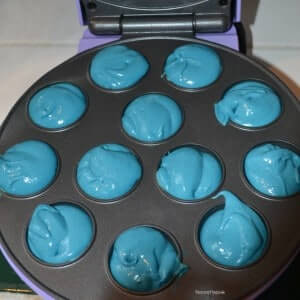 Use care when removing the balls. If you underbake them like I did for the polka dot cake, I found that when I removed the cake balls with tongs, they maintained the pinched shape. Wasn't a disaster, but it did annoy me. The next time I used it, a fork and a toothpick solved my squishing issue.
Since I had plenty of leftover batter, I made some extra balls and baked them the full recommended time. We'll just say that the cake thieves in my house stole them before I could even decorate them! The little bite-size shape is addicting, just like a mini muffin or Lays potato chips – you can't eat just one.
Your kids (small, big and four-legged) will love having this little gem around, and you'll love how fast you can whip out a dozen "cake balls." Go grab your Bed Bath and Beyond coupon and make some cake!
Since I am recently obsessed with pie… I'm dying to try  the BabyCakes mini pie pop maker! Have you used it?