My worst kept secret is my love for coffee. I have a fresh cup of coffee on my desk throughout the whole day. I dunno why, but having that warm cup of magic just completes me. I don't like to slug it down though. I'm a sipper, which creates a problem because as much as I love coffee, I really don't like lukewarm coffee. Intentionally iced or hot, please. No in-betweens.
Knowing hot coffee is my kryptonite, you can imagine how giddy I was when I found ember, the coffee mug that is temperature controlled by a mobile phone app. I swear the angels were singing when they presented me with this brilliant invention.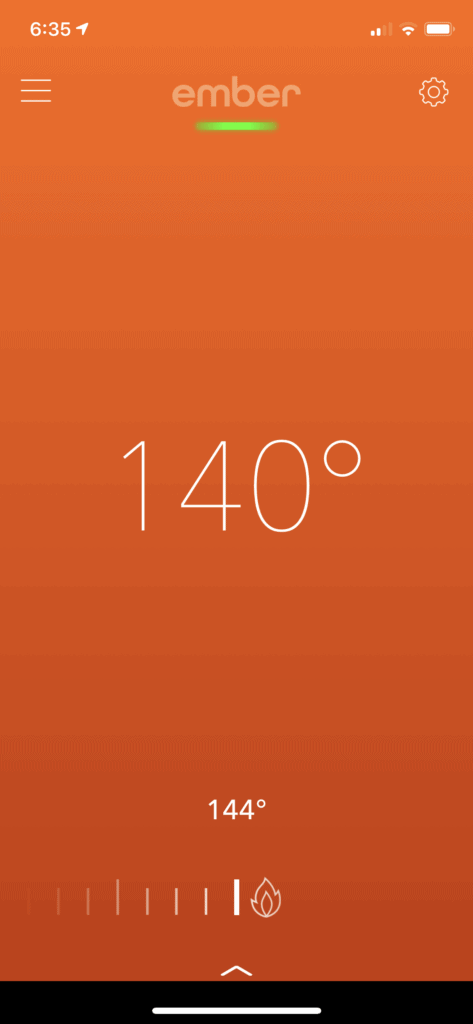 I mean, I've tried it all to keep my coffee warm. I've tried cup covers, keep cups, and drinking from travel mugs, everything to maintain the warmth for longer. To be truthful, it's really not a perfect system. Every effort still leads to cold coffee. And besides, who wants to drink out of metal all the dang day? I want fun, chic and if you add a little geekiness, I'm here for it.
Available in black or white (or a pricy copper version), ember definitely upped my coffee "cool" factor, to like, secret handshake cool. I have to admit, I feel a little like a coffee elitist with it, but YOLO, right?
I chose the black mug for two reasons: I was afraid the white might stain over time and I thought the indicator light would show up better on black – annnnd that's my nerd flag flying for you. 😉
I love the idea of this technology – but I think the mug could still be perfected.
Here is my tried and true ember mug review after using mine for several weeks.
Ember Mug Pros –
ember definitely keeps liquids warmer longer, primarily on the bottom of the mug, which makes perfect sense based on the construction. (I think it may be ideal for hot chocolate fire pit duty.)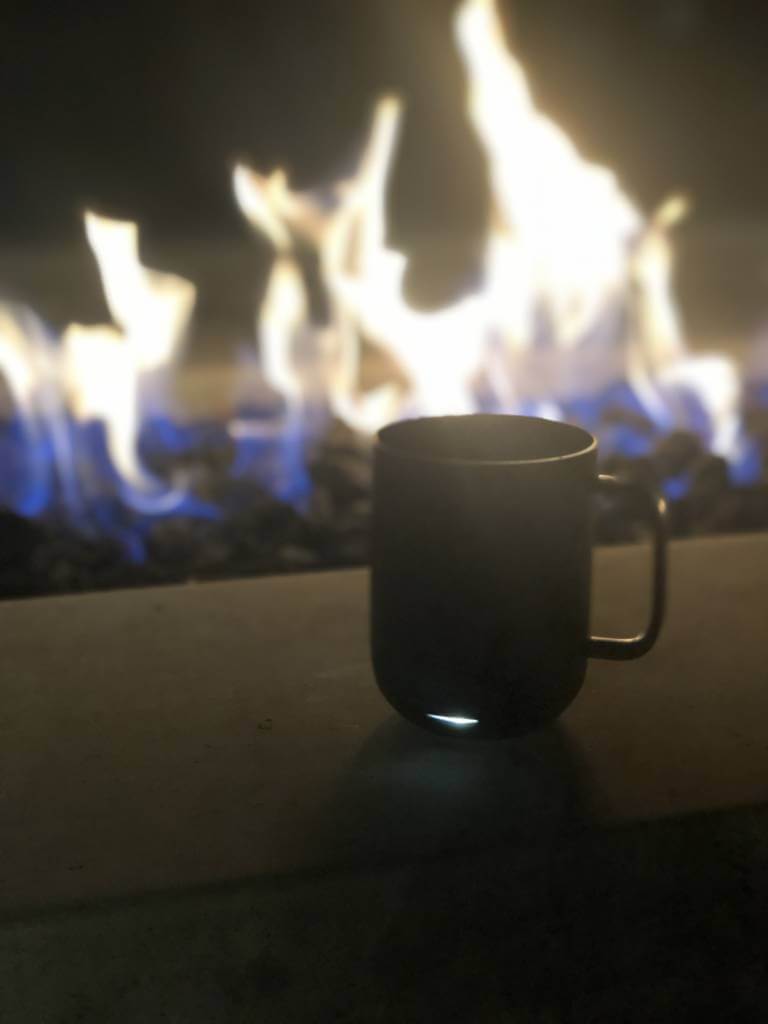 The design is aesthetically pleasing. I feel like it's a work of contemporary art that I have on my desk, and the ceramic just feels good in my hands.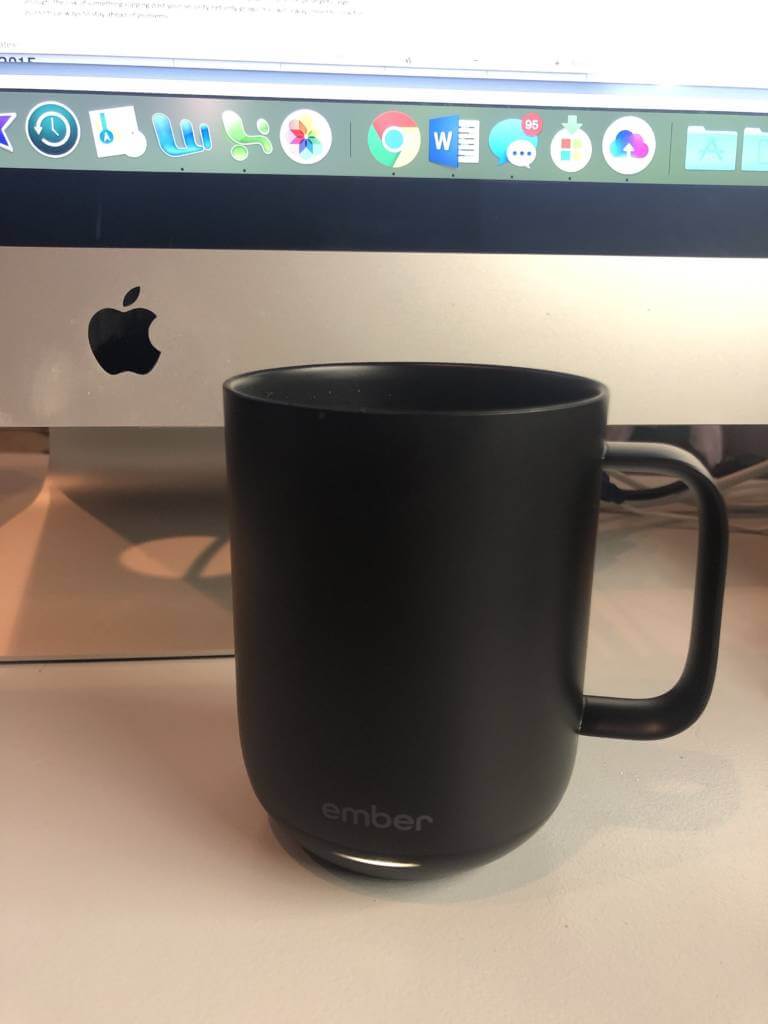 Personally, I'm blissfully unconcerned with my caffeine intake, but should YOU be interested, the ember will connect with Apple Health so you can monitor your consumption.
The nerd factor is high, and I'm a card-carrying nerd. Having a coffee mug that I control with my phone somehow validates my coffee prowess. I feel like there should be a secret society for us coffee codependents.
Ember Mug Cons –
The warmth gauge doesn't quite go high enough. This is likely not an issue for most people, but much like the sleep number beds have taught us how to customize our comfort, I've learned that my ideal coffee temperature is right at 150 degrees. ember tops out at 145. Sigh.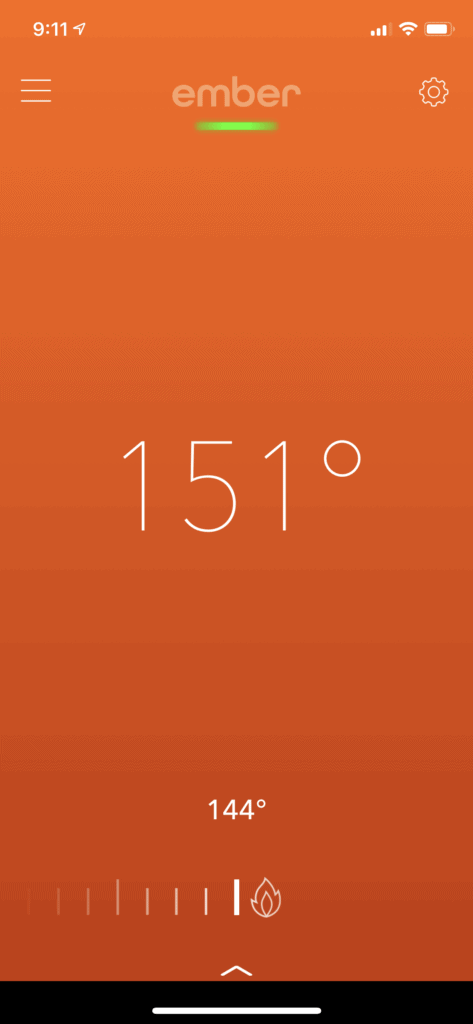 Also, it doesn't really maintain the temperature that you set it at. It's close, but not perfect. Perhaps my sensor is off?
I feel like I have to "connect" my ember each time I use it. I'd prefer to have the app confirm that it's readying my mug automagically because sometimes I forget, and think that the mug isn't working and the chilling of my coffee makes me check in. *This could be completely user error. And further, may drain my battery if I have it searching at all times. so let's stay neutral on this point.*
Biggest complaint? The mug isn't big enough.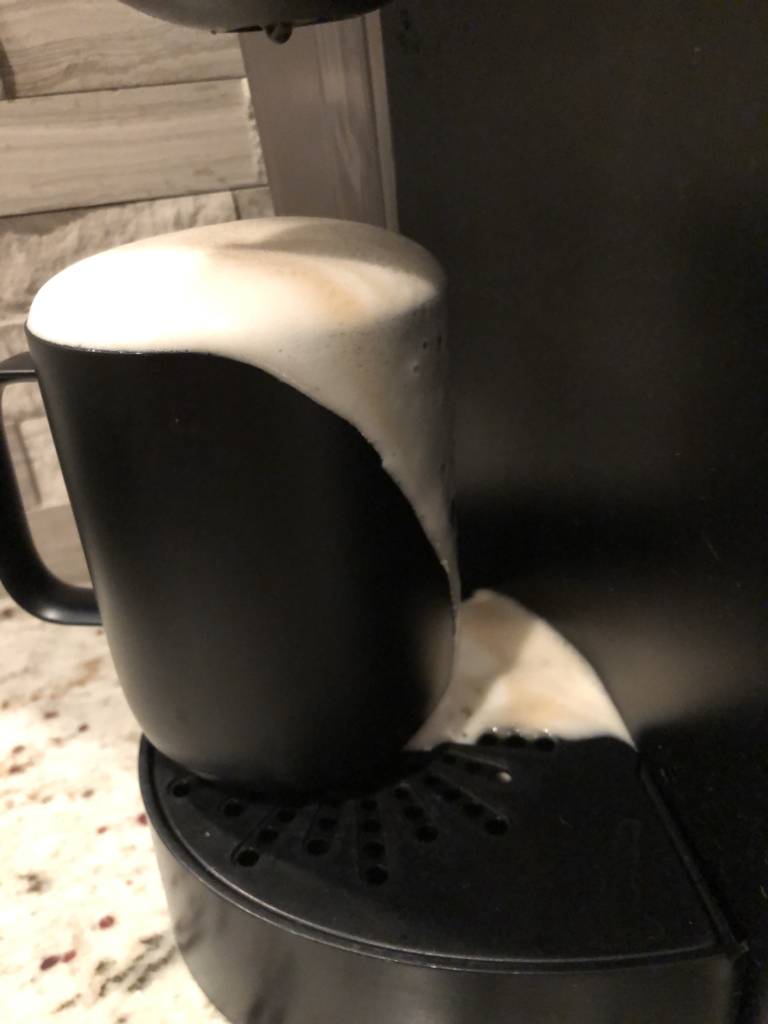 For those of us who like to add froth their coffee, (I do love a frothy coffee) it cannot safely accommodate more than the medium cup setting on a Kuerig sans froth. If you froth, forgettaboutit. You'll have a mess. Case in point.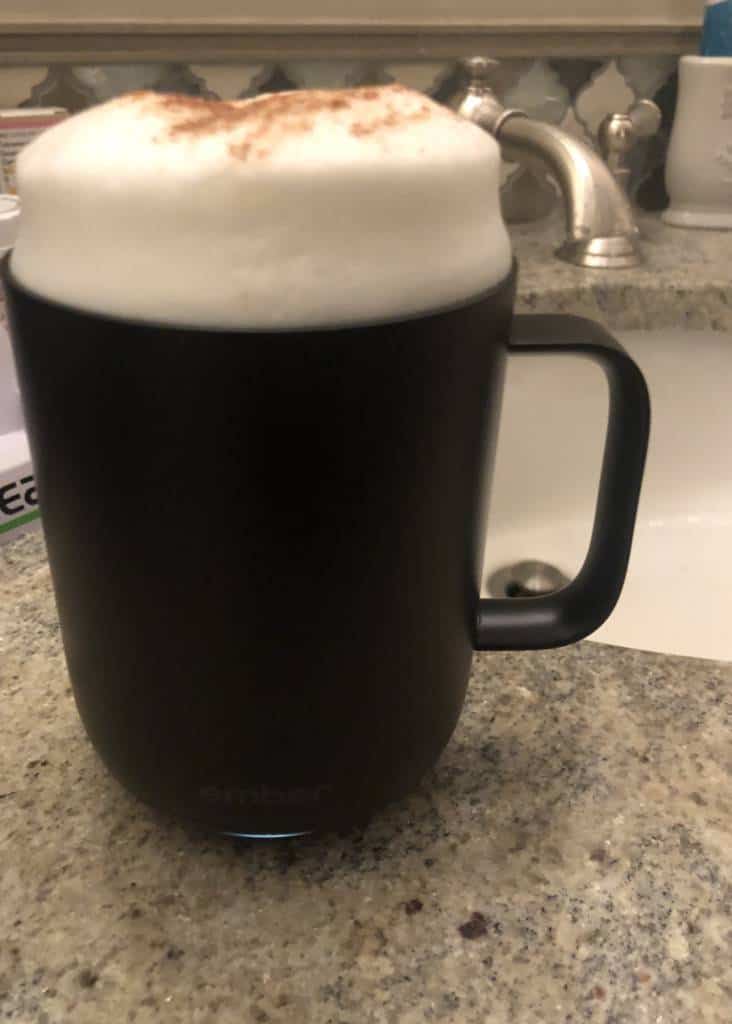 You have to charge it every other day, at least for a frequent user like me, and the saucer sits on your counter. Not a big deal though, I just wash the cup (has to be hand-washed, okay, there's another con) at night and then it's charged and ready for duty the next morning.
It's expensive. I chose the cup and saucer version of ember because it was (only) retail $80. The travel mug, which I thought was possibly more accommodating to my froth requirement and stylishly displays your temperature on the outside, was $150 and that seemed obsessive for a travel mug when I've gotten on with my YETI just fine. Also, I want Apple Care for this because there's a good chance I drop it or (someone who will remain nameless) runs the dishwasher with it in it and ruins the sensors.
It's not motivating. This is a ridiculous con, I know, but I actually enjoy a variety of mugs. They set my mood for the day. Big days, I choose my "I can and I will. Watch me." mug. Struggle bus mornings earn the "Fuel" mug. Creative days, I have to have a pretty mug. Soccer mornings, Rae Dunn's "MOM" fits the bill, or if it's a Girl Scout day, I reach for my GSNETX mug I received as recognition for volunteering. My ember is just black. My favorite color, but still, just black.
Ember Mug Review Conclusions –
Overall, do I like my ember? Yes, I do.
Do I like it and use it $80 worth? Ummmm sadly, noooo.
In conclusion, I'm keeping my ember coffee mug, and even with my requirement for hot coffee, it's certainly a luxury not a necessity. I DO however, think it would make a great gift for a dude who likes coffee, is a gear-head gadget guy, and is impossible to buy for. So basically, it's the perfect gift for every coffee-slugging dad, tech hipster, and rich uncle you know.