I hate shopping for cars. Maybe if I was ready for a new car, it would be different but I love my car. I want to keep my car. It's messy and has 5 year old snacks jammed in every crevice imaginable and probably even under the hood, but it's a fun car to drive and it doesn't feel like I'm driving a lazy boy sectional down the highway. Unfortunately the long list of things wrong with my car make it not the wisest financial decision to keep it and borderline crazy to be so attached. Not to mention cold, always low on oil, the shower Princess Cupcake takes when we go through the car wash and it's currently without good road traction.
So I've started the unpleasant car hunt with a ticking clock. My registration runs out on Friday and you know the second I leave my private road Saturday morning, there will be a fuzzie out there with a magnifying glass and a flashlight looking for my expired registration. He'll probably camp out overnight in the median just to wait for me. And seeing how me and Bessie are ticking towards the 100,000 mile mark which apparently makes her unattractive for financing when you she gets turned out to the pre-owned pasture and the dealership looks to resell her. Sniff, sniff.
As I'm laser focused on this task this week it's occurred to me that when Mom's car hunt, they take a vastly different approach than their Dad counterparts.
1)   Mom's start online. We research safety ratings 1st, MPG stats second, price third, add-ons last. If the price is out of bounds, then we reshuffle until we find the right mix and make a hit list. If the dealer websites are not organized well, or are not mobile friendly, we are annoyed before we ever test drive. Ain't nobody got time for that. Dad's on the other hand, have the patience and luxury to dedicate months to online research and comparison analysis to find the best dollar per dollar purchase available. They can make it their hobby while we're packing lunching, doing laundry and cleaning up dinner.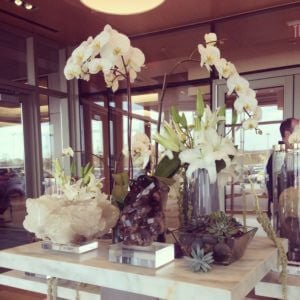 2)   Dealerships are important. For whatever reason, Mom's get relegated to car responsibilities. It's that whole perception of the "flexible schedule" I suppose. If I walk into a dealership and it doesn't make me want to grab a cup of complimentary Starbucks and sit down for a minute while I post a photo of their floral display to instagram, you'd better have a freakin' amazing car that you want to show me. I expect I'll have to spend time here no matter how wonderfully manufactured your vehicle is, so make me want to be here. I've been in a dealership recently that quite frankly I'd rather wait outside. Guess where I'm NOT going to buy a car at? Dads… they don't give a flip. If it has a chair, they are good. Add a TV and a vending machine, they're golden.
3)   Salespeople get ready, Mom's bring our kids. If the mini-me can't see out the back passenger window, I'm sorry but it's a deal breaker. She needs to be able to work the doors, the seat releases and have her own outlets to charge electronics because those are all things I'm ready to let go of having to do. And yes, I expect that she be allowed to try these things on the sales floor or even during a test drive. Yes, I am also going to bring the grimy car seat with the layer of goldfish permanently affixed to the cupholders to place into the backseat of your beautiful vehicle. If you wanted this to be clean and easy test drive, provide a booster when you ask for my driver's license. Dads don't bring kids to look at cars, they deliberately and magically find time in their day to go without them. Furthermore, they aren't the ones toting the demanding little humans around all the time and subject to their every whim. The idea of an in-car entertainment center seems a frivolous luxury to Dad's, while to Moms, it's a much needed and priceless sanity break.
4)   We are offended by the forward sales tactics. I actually had a salesman bring his boss over to say, "What do we need to do to get you into this car," and then he graciously offered me to take a new model to go pick up my child 20 miles away in solid rush out traffic and come back so he could continue his sleazy antiquated sales speak and I could then drive 35 miles back in rush hour traffic. I'm sorry, you're an idiot. I don't want to hit rush hour traffic once, let alone 3 times just because you work until 8 p.m. and are clueless about adventures on the Tollway after 5. If we buy a car from here, my husband will come and get it because you'll never ever I mean ever see me again. (See point 2 above.) Dads however, do not see that as offensive speak. They see that overused line as a challenge to battle. Let's see who wins this negotiation! Game freakin' on!
5)   Mom's are wise to the fact that we likely will never see our salesperson again after we drive that new car off the lot. The service department will be ground zero for our frustration going forward and believe it or not, we do read reviews online. I have eliminated a whole line of cars because all the reviews were stellar about the sales department, and horrid about the service. I expect bad reviews because people are more inclined to complain than to rave, but seriously. If nothing good is said at all, buh bye. Dad's don't care so much as long as the car comes with a warranty because they stop listening after they hear "free maintenance," and we all know they aren't the ones juggling the many family schedules… see item 2 above where Mom's get relegated to car duty.
I've been test driving a few cars but truthfully I've been more interested in the dealerships than anything so far. If you've seen the new Lexus Park Place dealership on the tollway you'd understand why. Their bar-setting gorgeous facility is ridiculously upscale. You can office there for a day while your car is getting worked on and feel like you're on vacation.  I've also visited the Goodson Acura dealership on Lemmon (pales in comparison) who's done pretty well with their limited footprint, but I'll say the Classic BMW client waiting area seems to have been an afterthought, (surprising since it's brand new) although they have made up for it in their sincere non-pressured sales approach and follow-up, not to mention their apparel selection — you gotta love a dealership with shopping opportunities. It's a nice waiting area, but I walked right by it before someone told me that was it. Uh… okay. Good thing I like your cars. 🙂
My quest continues… What's been your best / worst car buying experience?