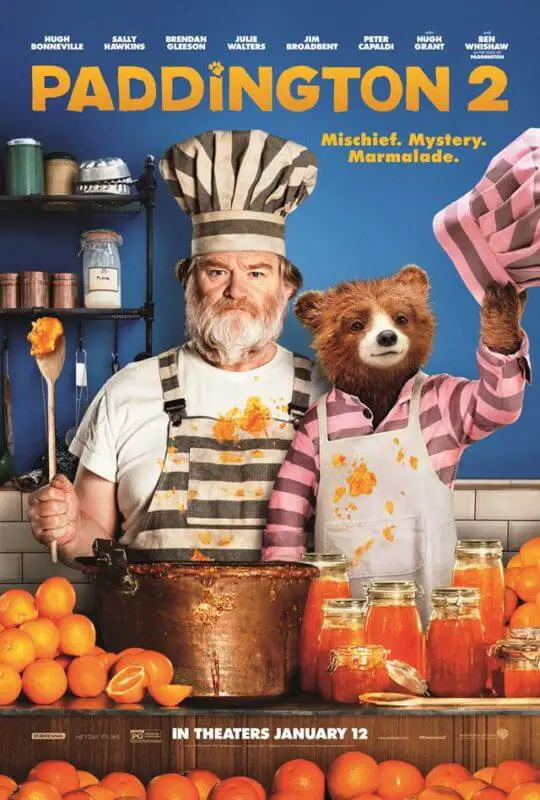 I'm a bit of a Paddington junkie. I still have all my Paddington books from when I was a kid. Reading the best-selling and internationally adored books by Michael Bond with my Dad is a memory I super cherish: we would laugh at that British bear's antics to no end! When the first movie came out in 2015, I may have been one of the most excited adults in the theater to see it. Thanks to modern cinematography, that little bear magically came to life right on the screen and it made my 9 year old self tear up all over again for that scruffy old raincoat-wearing bear and his heartwarming stories. Yes, I needed Kleenex for Paddington. What a hot mess I am.
It's really hard to make a movie better than a book.
It's really hard to make a sequel better than the original movie.
I kinda feel like with this whole Paddington thing, we just keep getting better.
I say that because Me and the Cupcake went to preview Paddington 2, and yes, I was AGAIN super excited. I suspect I wasn't the only adult in the theater gasping at the suspense, laughing at the silliness and almost spilling tears at the touching points. Okay, I did tear up. I'll admit it. Go see it and I bet you can guess which part it was. Anyway…
I LOVE THIS MOVIE. I want to own it. I have to watch it again. It's delightful. And no, you don't have to be a Paddington junkie to fall head over heels for it.
No spoilers, but the main story plot is that Paddington wants to buy his Aunt Lucy a special present, an antique pop up book,  for her 100th birthday, and he's working REALLY hard to earn the money to buy the perfect gift that he's found. However, he witnesses said gift being stolen and then Paddington is framed for trying to stop the thief from getting away! Paddington lands himself in jail with some rather unsavory cellmates, which as you can imagine, leads to rather comedic situations with marmalade A bear, in jail. With big mean guys. Anyway… Meanwhile his family, the Browns, led by charming Hugh Bonneville, are trying desperately to piece together who actually made the heist. And because I won't spoil anymore of it for you, I will say that the villain is actually quite easy on the eyes ladies, so… there's really something for everyone in this film. (Wink, wink.)
True to form, there's lots of marmalade. (So much marmalade.) There's loads of laughter. There are heartfelt moments. There are memorable lessons for the littles, "If we're kind and polite, the world will be right." There's family above all else. And there's that ADORABLE bear. Really, what more could you want from a movie for all ages?
Here's a short preview of the film which was produced by multiple award-winning producer David Heyman (the "Harry Potter" films, "Fantastic Beasts and Where to Find Them," Oscar nominee for "Gravity").  It opens in Theaters on January 12th.  "Paddington 2" is rated PG for some action and mild rude humor.
Common Sense Media's review offers that the film has "messages about compassion, empathy, kindness, and the importance of families", and has recognized PADDINGTON 2 with the Common Sense Seal, a special designation for movies and TV series/specials that offer families an exceptional media experience.
PADDINGTON 2 will be in theaters across the country on January 12, 2018. 
#Paddington2
facebook.com/PaddingtonMovieUS
twitter.com/PaddingtonMovie
instagram.com/thepaddingtonmovie/