Stop it, Texas. Just stop it with your overachieving self and your record high temps over and over this month. You know who's over and over it?
Me. There's a reason I'm in a bad mood from May through October.
Seriously though, there's no relief in sight so grab your sweater because Texas AC is also legit, load up the littles, here's 10 suggestions for family activities in DFW.  Your kids will love you for it and you can stop throwing shade at Mother Nature because she's not giving you any until Fall. 
1. Summerfest featuring the SMURFS
Helllooo @gaylordtexan – we hear there's something SMURFY happening at Summerfest this summer??? Perot girls could NOT be more excited to hear the Smurfs are taking over with a TON of family-friendly events, including breakfast with the Smurfs, Papa Smurf's Search Party Scavenger Hunt, two Smurf-themed escape rooms, Gargamel's Wizard Academy, Le Smurf Art Corner and Sweet Shop, and a dance party parade. We had to get our blue friends together to tell them the good news. They agree, it's going to be a Smurftastic Summer! (Ad) You can find out so much more at the Gaylord Texans website here. 
When: Through September 3rd
Where: Gaylord Texan Hotel, Grapevine, Texas
Cost: Varies per activity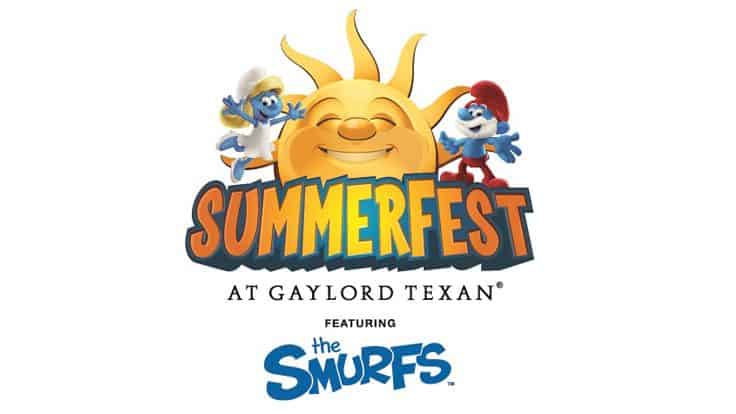 Join in on the fun for the second annual Nature Expo, a gathering of community organizations and others interested in facets of the natural world that is all around us. There will be informational tables, exhibits of live animals, and more
When: Saturday, July 28, 2018, 1:00 – 4:00 pm
Where: J. Erik Jonsson Central Library, 1515 Young Street / Dallas, TX 75201
Cost: FREE
An interactive family-friendly improv show for all ages! Each show is completely different and fun for the whole family.
When: Saturday, July 28, 2018, 6:00 pm
Where: Dallas Comedy House, 2645 Commerce St., Dallas, TX
Cost: $5.00 – $12.00. All tickets are general admission, so seating is first come, first served. Check-in begins thirty minutes before the show and doors open for seating 10-15 minutes beforehand. Outside food and drink are NOT permitted inside DCH.
@Dallascomedy
Enjoy one of four shows indoors at the 80-seat Noble Planetarium: Our Solar System, Texas Sky Tonight, One World, One Sky: Big Bird's Adventure and Thundering Herd.
When: Dates and times vary. VIEW CALENDAR.
Where: Fort Worth Museum of Science & History
Cost: Varies. Admission includes entry to all exhibit galleries, select showings at the Noble Planetarium and Cattle Raisers Museum. Omni Theater, IMAX tickets are sold separately.
5. WellieWishers Friendship Tea Party at American Girl
Put on your wellies and hop into American Girl for a special WellieWishers Friendship Tea Party! Parties will take place through October and include a special menu, crafts, fun WellieWishers-inspired conversation cards, and a cupcake-decorating activity. Reservations required. For girls ages 5 and up.
When: Friday, August 3, 2018, 2:00 – 4:30 pm
Where: American Girl – Galleria Dallas, 13464 Dallas Parkway, Dallas, TX 75240
Cost: $13.50 per person, (gratuity not included)
Note: The WellieWishers are a line of all-vinyl dolls released by American Girl in June 2016. The line is named after wellies, a term for Wellington boots/rubber rain boots that were popularized in the United Kingdom.
@American_Girl
Collectors and enthusiasts gather at the first Saturday of every month to trade, buy and sell toys, comics, and collectibles. The show features Hot Wheels, action figures, comics, collectible toys and more!
When: Saturday, August 4, 2018, 9:00 am – 3:00 pm
Where: Dallas Events Center, 4343 Sigma Rd, Suite 600, Farmers Branch, TX 75244
Cost: Admission is $2.00 (Under 12 are FREE)
Additional dates: Sep 1, Oct 6, Nov 3, and Dec 1.
@NDallasToyShow
Experience hands-on exploring like never before. Explore unique exhibits that are completely one-of-a-kind that encourages creativity, imaginative play and problem-solving. It's the perfect destination to unleash your child's boundless imagination while recharging YOUR batteries! While all ages are welcome, their indoor play area is geared towards children aged 12mo. to 8yrs. old.
For BIG humans:
Complimentary cappuccinos, lattes, coffee, tea and bottled water
Free high-speed Wi-Fi
Comfy places to sit and relax
When: Daily: Mon.-Fri. 9:00 am – 5:30 pm, Sat. 9:00 – 10:30 am, Sun. 9:00 – 11:30 am
Where: 2440 Eldorado Parkway, Suite 100, Frisco, Texas 75033
Cost: $13 for the first little human, $11 for each additional child. Big humans are always FREE. Children under 12 months and older than 11 years are free with one paid admission
@littlehumansbf
This is a FREE community event designed to provide resources to students and parents. The event includes services such as sports physicals, haircuts, and backpacks with school supplies. There will also be carnival rides, face painting, food, and health vendors. Pre-registration does NOT guarantee services and supplies, items are available on a first come first served basis. Backpacks will only be given to students.
Everyone is welcome to attend, however, services and supplies will only be provided to students in PK-12th grade. Students under 17 MUST have a parent or guardian present in order to receive services and supplies. No pets please except service animals. 
When: Saturday, August 11, 2018, 9:00 am – 12:00 pm
Where: The Old Friendship-West Baptist Church, 616 West Kiest Blvd., Dallas, TX 75224
Cost: FREE
@FaithFormula
Discover the fun of science together with your whole family on the second Saturday of each month! Try out real experiments, design and build new creations, and check out dynamic performances each month with guest scientists, educators, and artists.
When: Saturday, August 11, 2018, 10:00 am – 4:00 pm
Where: 2201 N. Field Street Dallas, TX 75201
Cost: Included in general admission of $19, $12 for youth 2-17, and $13 for seniors 65 and older, and FREE for children under 2.
@PerotMuseum
Summer family activities in DFW do not get more epic than this one of kind, 80,000 sq. ft. indoor waterpark in Grand Prairie (with a retractable roof). Epic Waters Indoor Waterpark is celebrating its first summer in North Texas.
Not allowed in the waterpark: Outside food and beverage, glass, pool noodles, chairs, umbrellas (they have seating available on a first come, first serve basis), floats, tubes, arm floaties that inflate, snorkels, fins, and mermaid tails.
Parking and tubes are free! An adult must accompany children under the age of 14.
When: Daily. CLICK HERE for the calendar.
Where: 2970 Epic Place Grand Prairie, Texas 75052
Cost: Varies. CLICK HERE for information. 
@epicwatersgp
When: Now through January 6, 2019
Where: 1600 Gendy Street, Fort Worth, TX 76107
A science-in-disguise exhibition where kids get the answers to many of the slimy, oozy, crusty, stinky questions they absolutely love to ask about the human body. Designed to be the first of its kind, the exhibition gives kids, along with intrigued adults, an opportunity to:
Climb a human skin wall with warts, hairs, wounds and other objects that act as hand and foot holds. Discover more about features such as pimples, blisters, pores, bruises, and scabs as they relate to the epidermis. Stop by the Toot Toot exhibit to create different sounds that replicate the physics of gas. Play surgery and attempt to remove organ parts from a body without touching the sides of the patient. And so much more!
So that was actually 11, eh? Well, that's me. I'm just so extra. Enjoy DFW. Stay cool!
Have an event to add? Send it to us so we can add it to the list! Also, don't forget to tag #mommyupgrade in your photos so we can see all the fun you and your family had this summer.